People often do things that might seem crazy to others. They fly to the moon and back in a metal box, eat weird foods and spend huge amounts of their lives staring at device screens... And then there are triathletes.
We do sport for various reasons: fun, social engagement, to stay fit, the thrill of competition. But triathlon is in a league of its own. There is perhaps no other sport that is so physically and mentally demanding, so challenging, so difficult. It is the ultimate sport with the ultimate rewards and that, ultimately, is why people are drawn to it.
---
"You don't play triathlon. You play soccer; it's fun. You play baseball. Triathlon is work that can leave you crumpled in a heap, puking by the roadside. It's the physical brutality of climbing Mount Everest without the great view from the top of the world." -Chris McCormack
---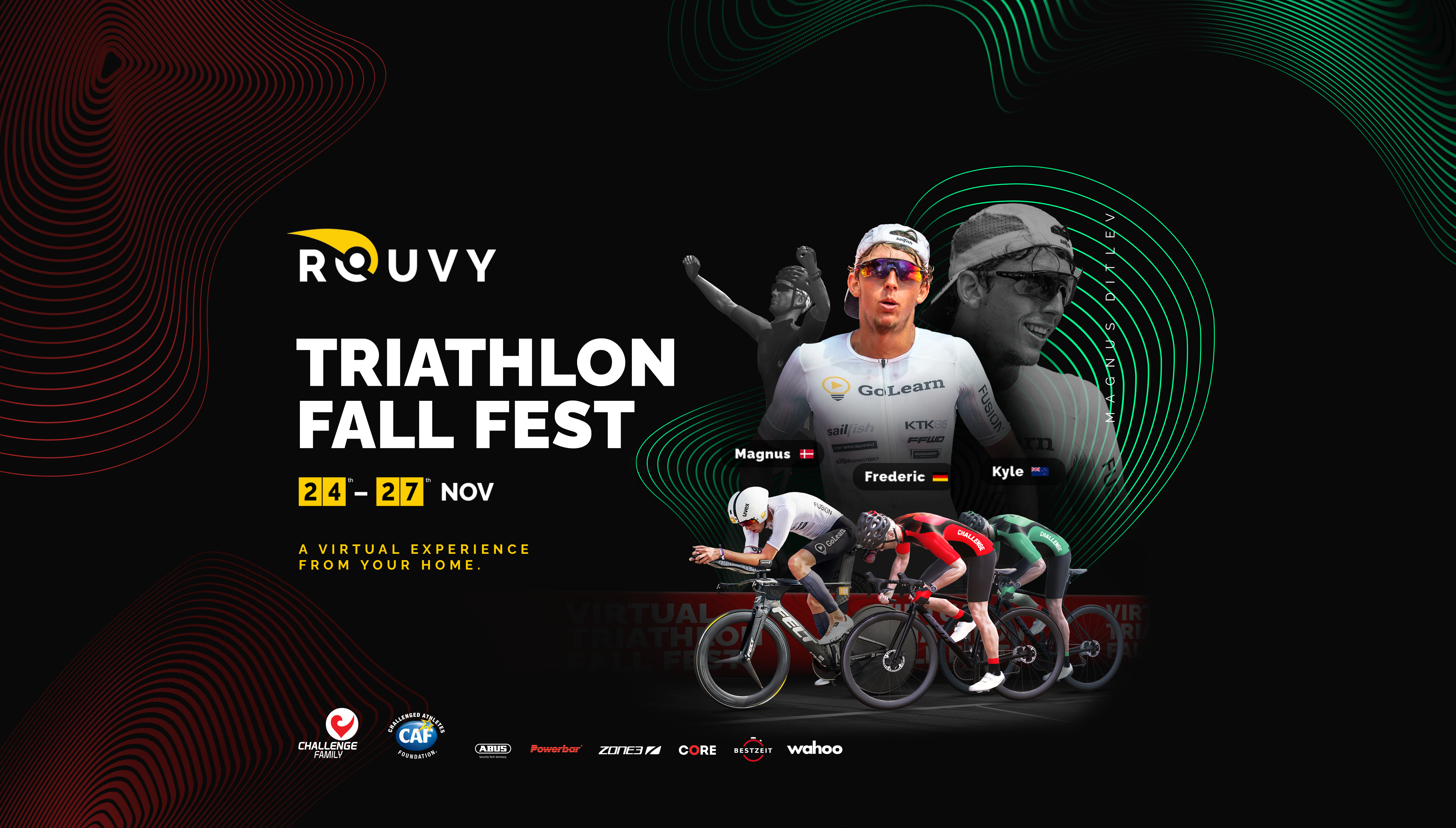 What is Triathlon Fall Fest?
Triathlon Fall Fest is an online celebration of Triathlon sport. The emphasis is on cycling but it encompasses all three sports and it's aimed at both experienced triathletes and athletes who are new to the sport and want to find out more. Sometimes the sheer physical and mental demands of a triathlon can seem daunting to many, so we want to inspire and encourage.
As well as giving you the chance to ride in races and challenges, Triathlon Fall Fest also provides the unique opportunity to find out more about the best practices of the sport directly from some of the best triathletes in the world. You can do this by tuning into the live broadcast or by personally joining them in some of the Group rides or races.
We've got group rides at Almere in the Netherlands and Samorin in Slovakia. Then we've got a race in Wanaka in New Zealand and the closing race will be at Challenge Roth in Germany. This finale will also be streamed live and have running commentary from legendary triathletes Belinda Granger and Simona Krivankova and Challenge Family's Jort Vlam in the ROUVY studio. This is an event you won't want to miss.
All these routes are from famous triathlon events run annually by Challenge Family - the leading global triathlon festival race series - who are partnering with us on this event.
We've got lots of familiar faces from the world of triathlon taking part or making an appearance and WE'VE ALSO GOT LOTS OF FAB PRIZES TO GIVE AWAY!
So while triathletes might be crazy… you'd be even crazier to miss this event.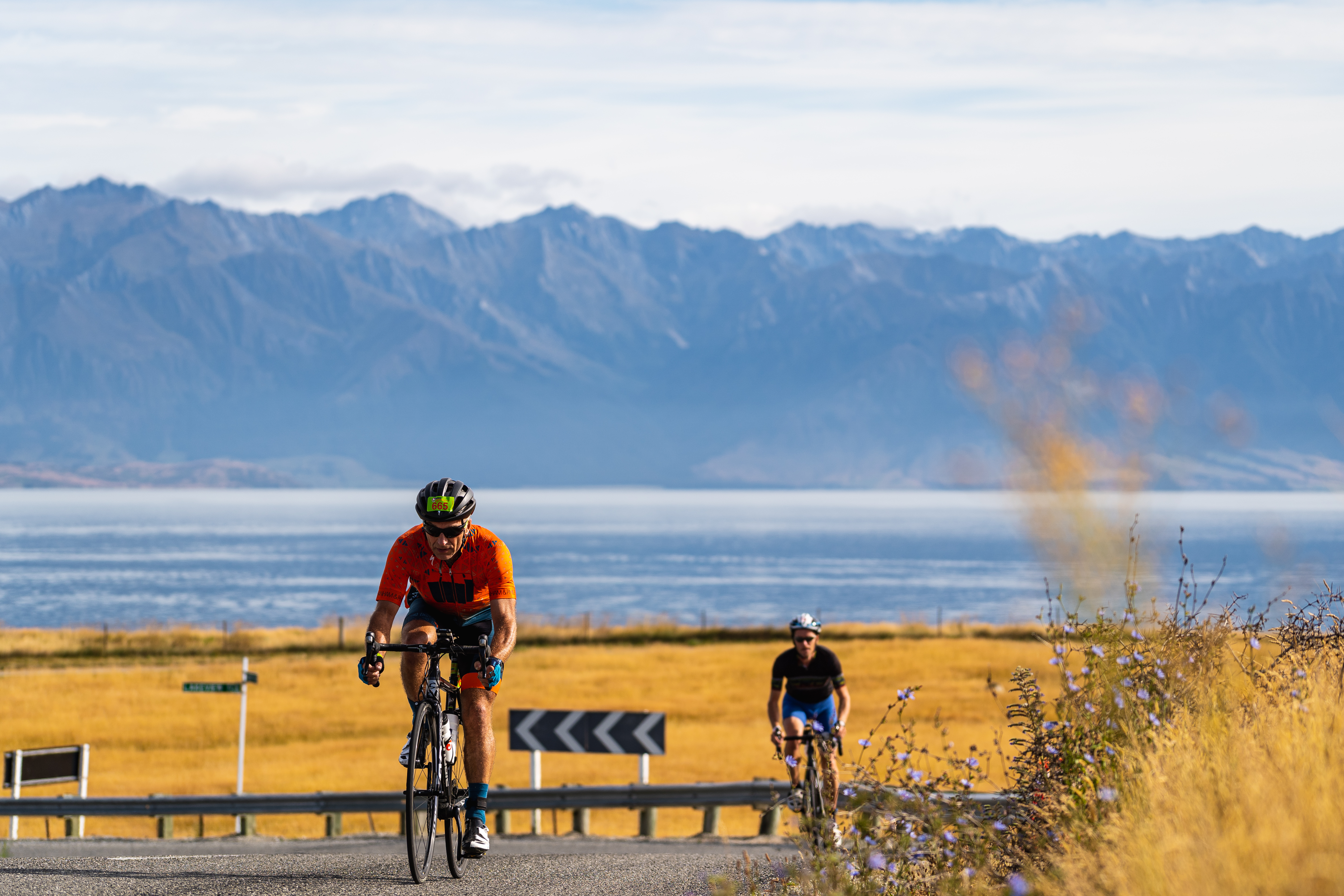 Triathletes cycling on the Wanaka route
Training for Triathlons
Participating at the top level in a triathlon requires hours and hours of year-round training and preparation. The race itself is only one part of it. Even a single triathlon shouldn't be attempted without an effective training programme. So to prepare you for the main 4 days of races and rides, we are running 3 weeks of workouts and challenges in advance of the start to build up your performance levels.
While ROUVY's central focus is on cycling and cyclists, many triathletes use ROUVY for training so triathlon is something that is close to our hearts here at ROUVY. Indoor cycling provides an effective way of maintaining and improving their performance throughout the year as well as giving riders the chance to train on (and get to know) the actual routes of many of the world's most famous triathlons.
Triathlon is such a demanding sport that the training itself is absolutely crucial and has almost become a science in itself. The three key components that improve endurance sports performance are aerobic capacity, lactate threshold, and economy. 'Running a lot' is not enough. Training on just a single activity can have increased risk of injury. Instead it's important to cross-train so that different muscles throughout the body are kept in shape in complementary ways and no one area is overloaded. Triathletes often include yoga, pilates and weight training in cross-training programmes.
---
"You can quit if you want, and no one will care. But you will know the rest of your life." -Craig Alexander, three-time Ironman world champion
---
Meet the Ambassadors and Guests
Some of the top triathletes in the world have been invited to the Triathlon Fall Fest and will take part either in races, group rides or live chat - so it's a great opportunity to see them in action or connect with them personally and you'll be able to pick up some great expert advice along the way. Check out the website for the full list of guests but make sure to look in on:
MAGNUS DITLEV
​​Magnus is one of the most exciting new talents on the triathlon scene. In 2022, he came second at Ironman Texas and won Challenge Roth in Germany. He'll be leading a group ride on Sunday 27th Nov before taking part in the final race immediately afterwards.
FREDERIC FUNK
Frederic is a German triathlete who became European champion at the half-distance Challenge Walchsee-Kaiserwinkl in 2021 and second at the Ironman 70.3 Kraichgau in May 2022. Frederic will be kicking off the Fest on the Wanaka Challenge race on the 24th Nov along with Petr Vabrousek.
RACH McBRIDE
Known as the "Purple Tiger", Rach has been racing full-time as a professional triathlete since 2011. They are a four-time Ironman 70.3 Champion and have numerous podium and course record results across several distances. ​​
LUCY BUCKINGHAM
Lucy Buckingham (nee Hall) is a British triathlete, Olympian, and U23 European & Challenge champion. Also known as "la Sirène" or "mermaid", thanks to her powerful swim, there are few who can keep up with her in the water.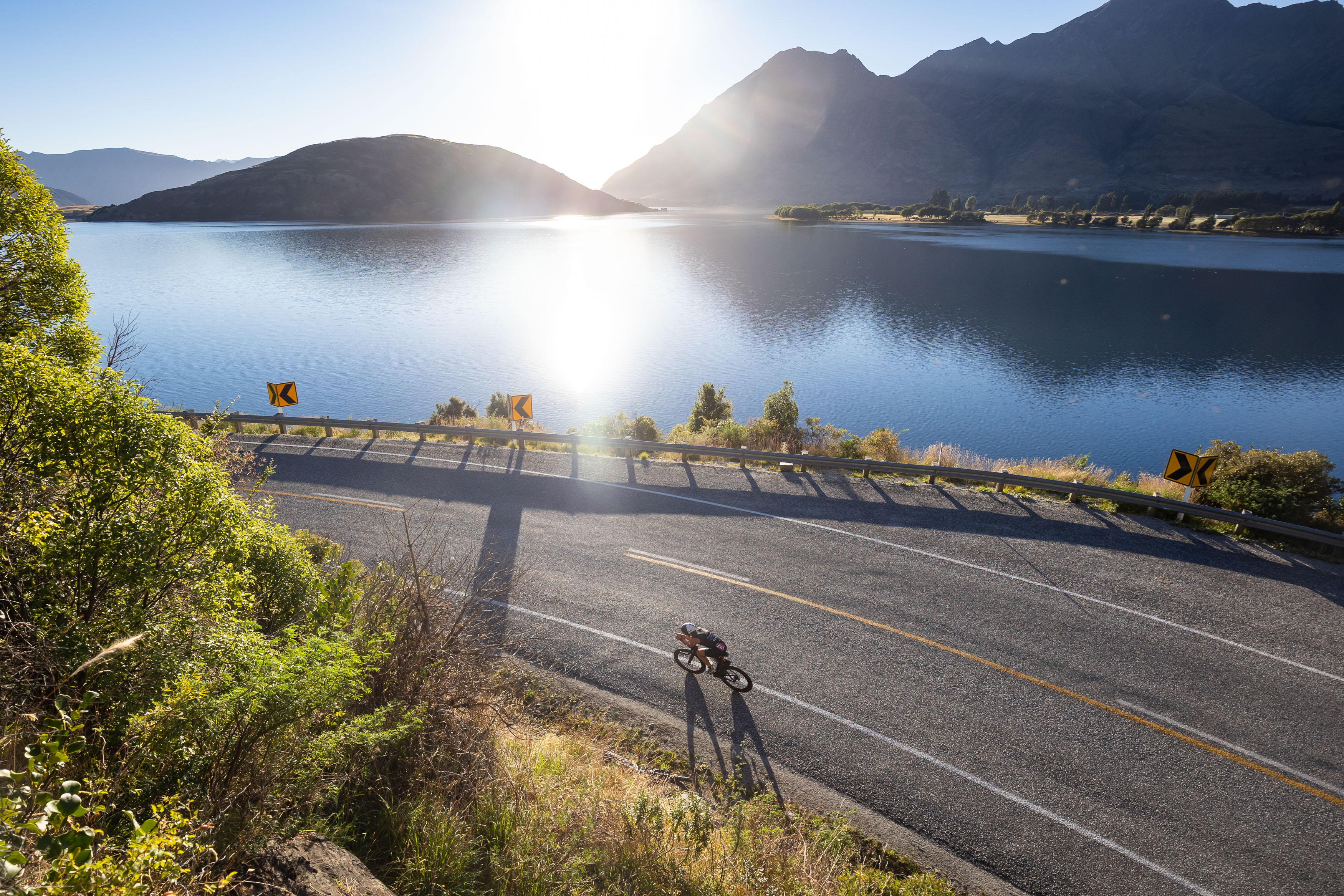 How did Triathlons Evolve?
Time for a very quick history lesson. The origins of Triathlon began over 100 years ago in France with the concept of combining three different sports into one event. A tri-sport event in 1902 involved running, cycling, and canoeing. In the 1920s, an annual event was held at Joinville-le-Pont called "Les trois sports" or "La Course des Débrouillards" which switched canoeing for cycles. Variations of the format continued over the decades.
The first triathlon to use the name and the format we are familiar with today, was held on 25th September 1974 at the San Diego Track Club in the US. Originally devised as a training exercise, it involved a 10km run, 8km cycle, and 500m swim. The first triathlon in Europe was held on 30 August 1980 in Plzen, Czechoslovakia. It swiftly spread from there and the sport's popularity increased. It became an Olympic sport at the 2000 Sydney Olympics in Australia and today, Triathlon is recognized and enjoyed worldwide.
Triathlon races can vary in distance but the four main race distances are:
Sprint Distance
Intermediate (or Standard)
Long Course (also known as a half-Ironman)
Ultra Distance - also known as Ironman or the 140 mile - which comprises a 3.8km swim, 180.2km bike ride and 42.2km run (226.2 km or 140.6 miles in total).
There is also the Olympic distance triathlon, which is a 1.5-km swim, 40km bike, and 10km run.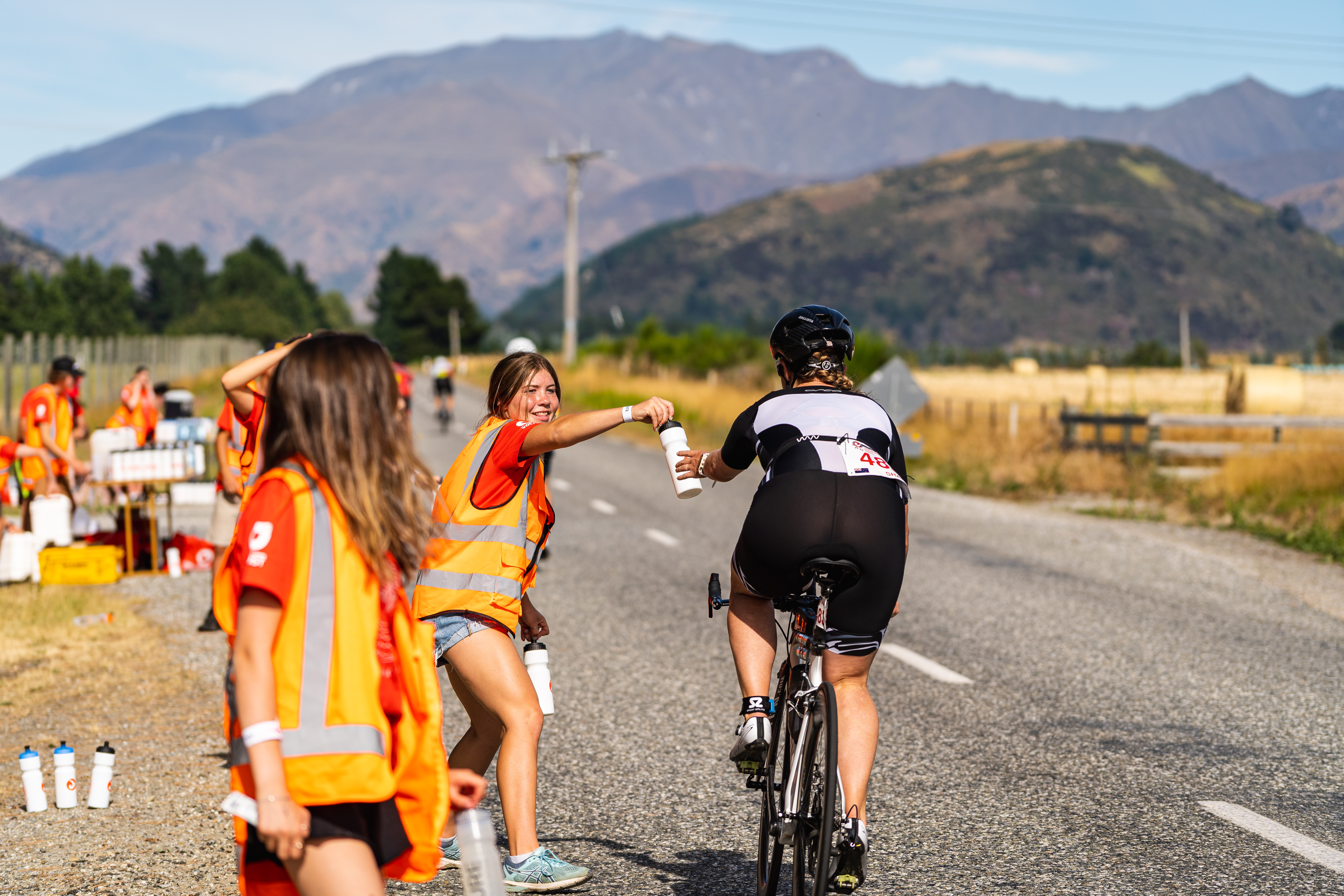 The Appeal of the Triathlon
As the popularity of triathlons have increased, the myth that they are only for elite athletes has been busted. With more events being added to the calendar each year and a wide variety of race distances available, today there are far more options for athletes. Most athletes who are trying the sport for the first time begin with the shorter distances and then move up to the longer distances as they build up their fitness. The longer distances have more appeal and so most athletes, once committed to the sport, are drawn by this greater challenge to Ultra Distance - the 'Holy Grail' of triathlons.
Why Tri?
So why do people try triathlons? Fitness? No, there's easier ways. Fun? We don't think so. To get a sense of the commitment and effort involved, you can read some first-hand accounts from triathletes like Leah Hiller and Petr Vabrousek in our blogs but the true answer is often hard to pin down.
Triathlons force athletes to tap into the deep psychological reasons for why we do anything worthwhile in life. They remind us that we are alive.
---
"You do triathlons for emotional and irrational wants and fears.
You do triathlons so you can prove something to yourself. What is your worth? Do you have what it takes? Can you conquer your personal Mt. Everest? Can you show everybody who was better at you in sports growing up that you're just as good, maybe better?
You do triathlons to prove something to other people. I really am that good, that fit, that motivated, that focused.
You do triathlons because you did just one, this one time, and then you got sucked into the vortex and you had to keep coming back and trying to beat your performance from the previous year. In other words, you want to prove to yourself that your body is getting better, not worse." -Ben Greenfield
---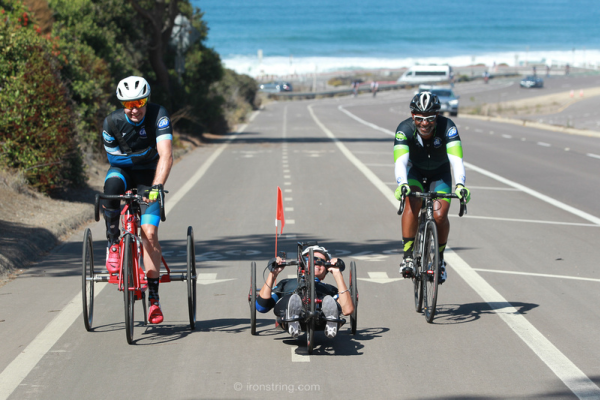 The Challenged Athletes Foundation needs your support
While we have your attention, we wanted to make a shameless plug for the Challenged Athletes Foundation If you haven't heard of them already, CAF is a well-known charity in the triathlon world, although it doesn't just support triathletes. Bob Babbitt, who co-founded the foundation in 1997, is a total legend of triathlon. CAF has impacted the lives of millions of young people, removing the barriers between their disabilities and being able to participate in sport. These include those who have had physical challenges since birth as well as those who had life changing accidents, allowing them to achieve their sporting dreams. It is one of the most inspirational and motivational organisations on the planet and the work they do, and the opportunities they provide, is extraordinary.
So if you are still reading this and would like to give something back to sport and make the world a slightly better place, please consider scanning this QR Code or visiting the site and donating to CAF. Thank you so much!