Whether you're an experienced athlete or just starting out, a triathlon can offer a fun and yet fulfilling challenge. So, let's dive in and explore why a triathlon might be the perfect choice for your next adventure!
What is a triathlon?
As a multisport event that combines swimming, cycling, and running into a single race, triathlons are rapidly gaining popularity as one of the most demanding of all endurance sports. If you're interested in triathlons but don't know where to start, here are a few basics.
Types of triathlons and distances
There are four primary types of triathlons, each over varying distances:
1. Sprint: 750m Swim, 20km Bike, 5km Run
2. Olympic: 1.5km Swim, 40km Bike, 10km Run
3. Half-Ironman: 1.9km Swim, 90km Bike, 21.1km Run
4. Ironman: 3.8km Swim, 180km Bike, 42.2km Run
The most common type of triathlon is the Sprint, which is the ideal starting point for beginners. The Olympic distance is a little more challenging, while the Half-Ironman and Ironman are for more experienced triathletes. The incremental demands of each type mean that a triathlete can move up to tougher challenges as their fitness and performance levels increase. In addition to these standard distances, there are also variations of the sport such as off-road, relay, and aquabike events.
The 3 Parts of a Triathlon
1. Swim: The swim portion of a triathlon usually takes place in open water, such as a lake or ocean. Swimmers start in waves, separated by age groups and gender. This is usually the shortest section of the race, and participants should wear a wetsuit if the water temperature is too low.
2. Bike: After completing the swim, participants then transition to the cycling section. The bike course is typically a looped route with aid stations along the way. Participants must wear a helmet and are not allowed to draft or receive assistance from other participants.
3. Run: The final portion of the race is the run, which is usually a 5k, 10k, or half-marathon. The course has aid stations along the way, and participants finish at the finish line to a well-deserved round of cheers and applause.
Tips to help you get started
Focus on technique: Hiring a coach or joining a triathlon club at the beginning of your triathlon journey can be hugely beneficial for improving your technique in all three disciplines. Understanding and applying correct technique can help you conserve energy and avoid injury.
Invest in a quality pair of shoes: Running is a high-impact sport, so getting yourself a good pair of footwear can help prevent injury and improve performance.
Practice transitions: Transitioning between events can be a time-consuming and energy-draining process, and make a huge difference to your overall time if done correctly.
Start slow and build up: Begin with shorter distances and gradually build up to longer ones. Listen to your body and don't push yourself too hard too soon.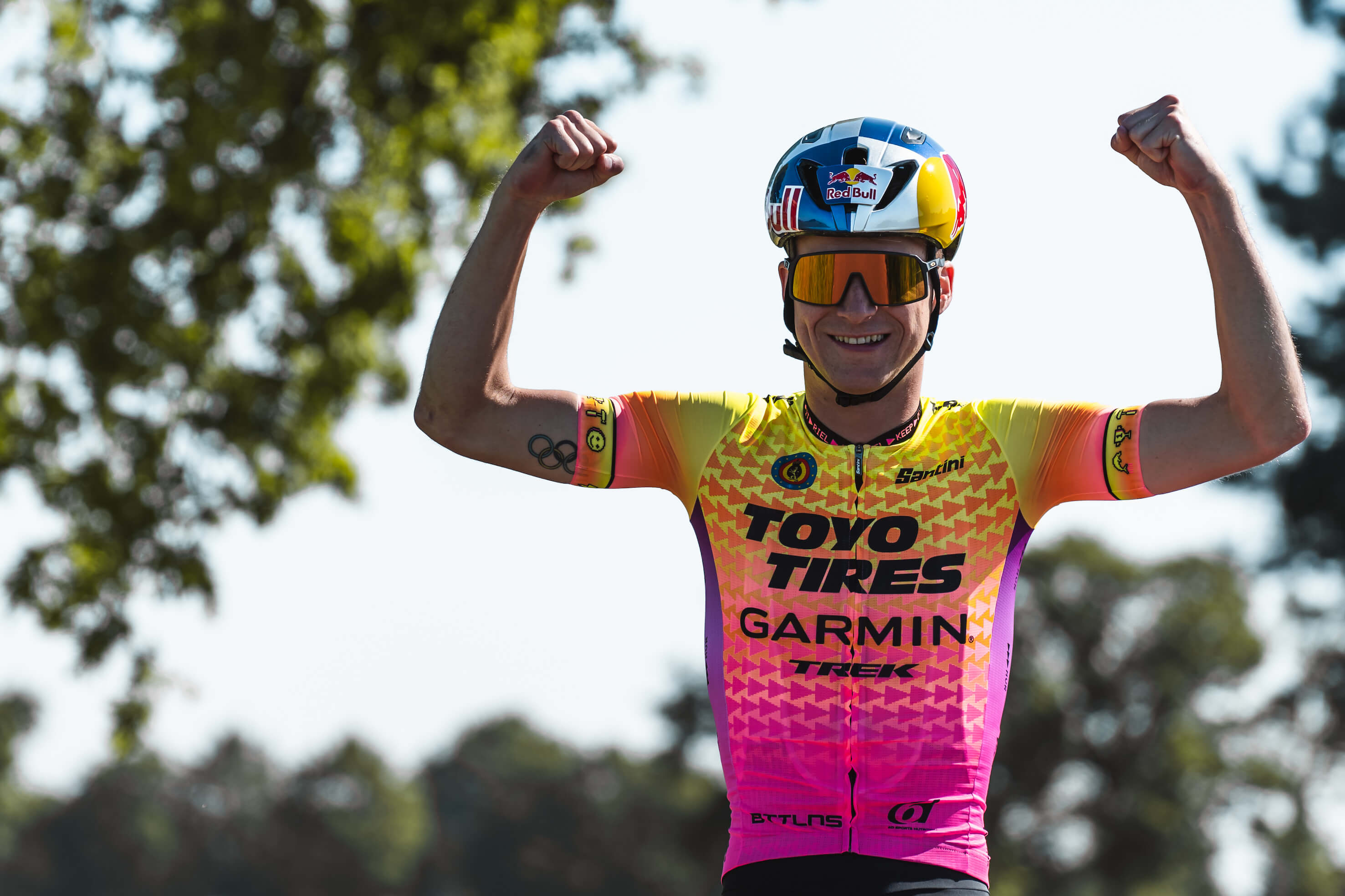 5 Reasons to try a Triathlon
If you are still undecided on whether to take the plunge, here are 5 good reasons that may help to persuade you.
1 A New Challenge
Completing a triathlon is a massive accomplishment, and it requires participants to push themselves in ways they may have never done before. The combination of swimming, cycling, and running makes a triathlon race more exciting and challenging than just cycling alone. You'll not only have to focus on your cycling skills but also develop your swimming and running abilities. This variety will make the race more interesting and fulfilling, providing you with a new goal to work towards. By taking on a new challenge, you'll also have the opportunity to step out of your comfort zone and gain new experiences, which can lead to personal growth. For many, triathlon is more than just a sport - it's a way of living and a journey of discovery to better understand yourself and the world around you.
"because it is there"
George Leigh Mallory, on being asked why he wanted to attempt to reach the summit of Everest
2 Improve Your Fitness:
Training for a triathlon race will push you to new levels and improve your overall fitness. By engaging in a variety of exercises and disciplines, you'll increase your cardiovascular endurance, strength, and flexibility. Cycling, swimming, and running all place different demands on your body and use different muscles, which will challenge you to develop your fitness in new and varied ways. Triathlons require athletes to have a well-rounded fitness level, which will then help you become a more balanced and healthy person. Moreover, the discipline required to train for a triathlon can lead to positive lifestyle changes, such as better sleep, healthier eating habits, and overall improved well-being. Triathlon will help you reconnect with your body - you'll hone your strengths and address your weaknesses. The other health benefits are endless - losing weight, having more energy and feeling better about yourself is just the beginning.
"Triathlon is about pushing yourself to the limit and beyond. It's about finding out what you're made of."
Scott Tinley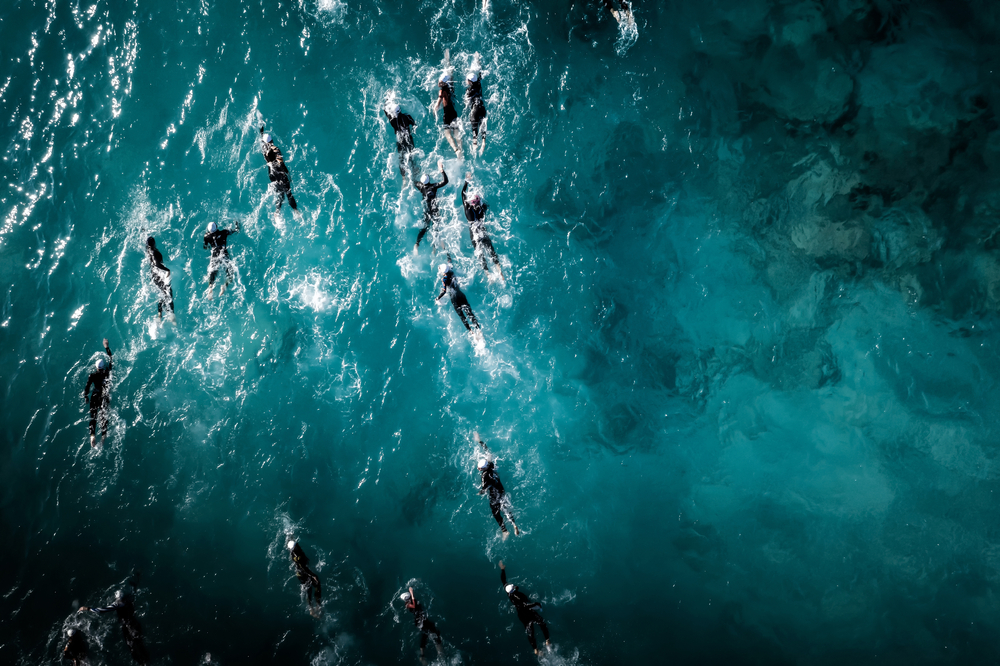 3 Find your tribe
Triathlon races bring together a community of like-minded individuals who share a unique passion for physical fitness and endurance. Participating in a triathlon will give you the opportunity to make new friends and connect with others who have similar interests. The shared experience of training and racing in a triathlon can also foster a sense of camaraderie and teamwork among participants. What's more, being part of a supportive and encouraging community can help you stay motivated and committed to achieving your goals.
"Triathlon is an individual sport, but it's also a team sport. You're out there with others, but you're also out there for yourself." - Simon Whitfield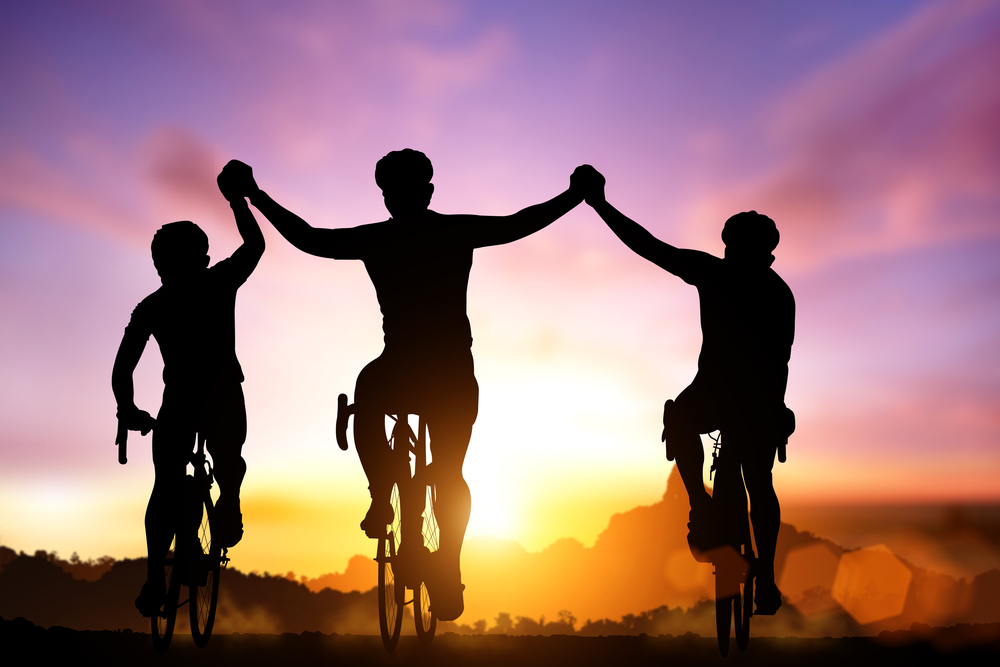 4 Sense of Accomplishment
Triathlon is possibly the most demanding sport out there. There's nothing else quite like it. Completing a triathlon race is an incredible accomplishment that can provide a significant sense of personal achievement and self-confidence. Crossing the finish line after completing three separate disciplines is a moment that you will never forget. That sense of accomplishment will leave you feeling motivated and inspired, and may even encourage you to take on more challenges in the future. Once you start, it may be hard to stop. Triathlon races offer the opportunity to test your mental and physical limits to the max, and the satisfaction of overcoming those challenges is immeasurable.
"It always seems impossible until it's done." - Nelson Mandela
5 Travel to new places:
Triathlon races often take place around the world in beautiful locations with stunning scenery. From beachfront races to mountain terrain, participating in a triathlon can offer a unique experience and provide you with the opportunity to explore new places that you've never been to before. Triathlons can also encourage you to get outside and enjoy nature, which can have positive effects on your mental health and well-being. By participating in a triathlon race, you'll have the perfect opportunity to combine your love of cycling with exploring new and exciting places.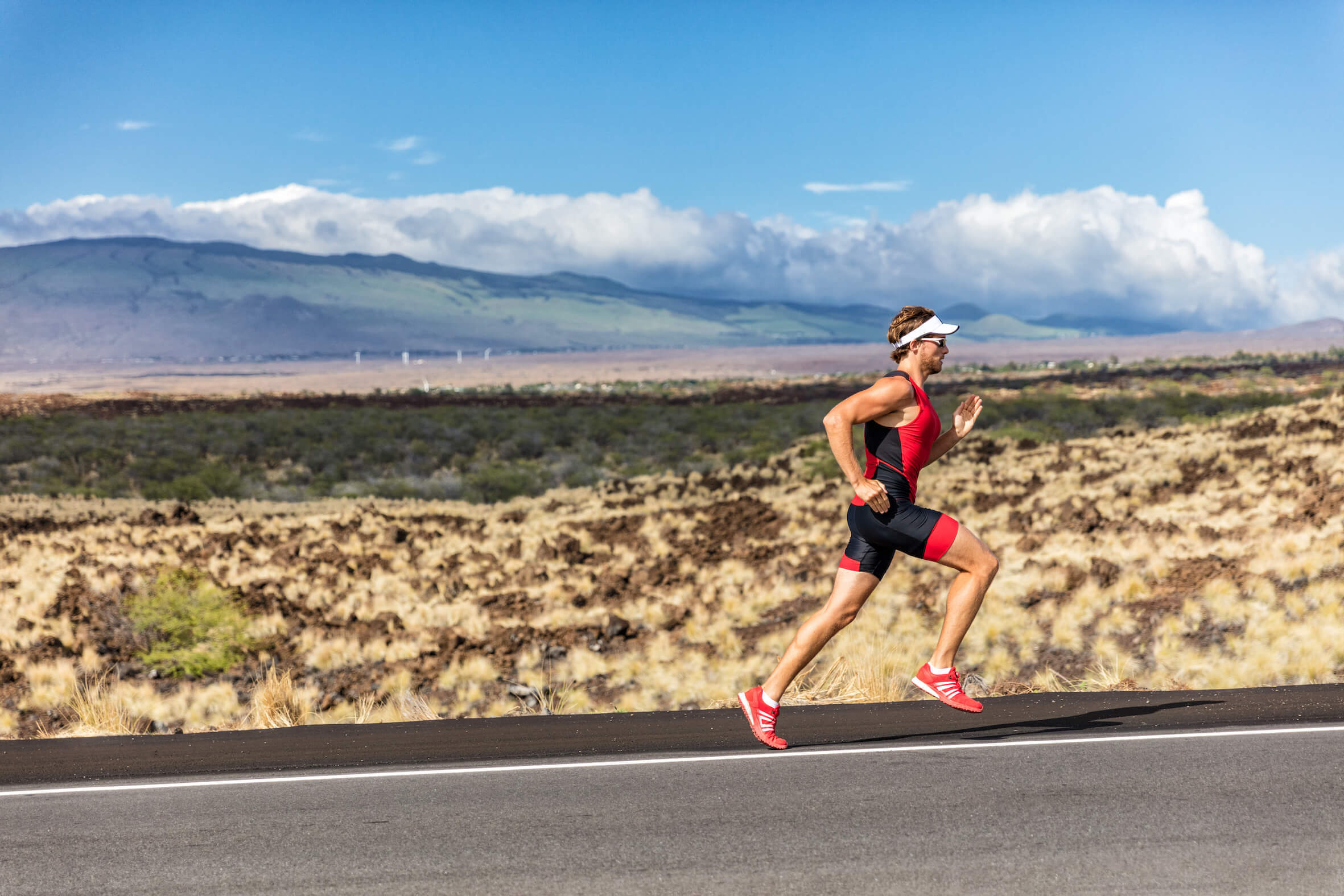 "The world is a book, and those who do not travel read only a page." - Saint Augustine
There are many other reasons too, like increasing mental toughness or helping to make a difference in the world by participating to support charities or NGOs.
Triathlons are not for the faint of heart and require serious dedication and training - but the rewards, both physical and mental, can be huge.
And finally, for some more inspiration, take a look at some of our amazing Triathlete Ambassadors like Sean Farrugia, Terri Buryanov and Ramon Costa who, at some stage, were in the same position as you.
ROUVY is a fierce supporter of the triathlon community and that's why we run events like Triathlon Training Camp as well as regular weekly races for triathletes to train and compete.
ROUVY is the perfect platform for triathletes to train all year round and also allows you to ride and train on iconic Triathlon routes so you can prep for upcoming events. So whether you're an experienced triathlete, or looking to try one for the first time, be sure to try the ROUVY experience and join our supportive community.