Indoor cycling has been growing in popularity in the past few decades. With the convenience of not needing to go outside, it offers a portal to a world in which you can ride in different locations, or work out, whenever you want. It is a fantastic way to stay fit all year, and in this article we present reasons why you should consider it - if you haven't already!
As the temperature slowly dips in the northern hemisphere and the days get darker, now is the perfect time to consider the ultra-convenient phenomenon of indoor cycling. You don't need to leave the comfort of your own home to ride in faraway regions such as North Island in New Zealand or the Paracas Peninsula in Peru – "teleporting" yourself to the most scenic cycling locations for you to explore!
Whether you're a casual, hobby cyclist or a passionate rider, ROUVY has you covered. This immersive platform uses Augmented Reality (AR) technology, placing your virtual avatar among real-life footage as you ride, featuring over 15,000 kilometres of AR-based tracks. With over 10,000 routes to choose from, you will never run out of places to visit.
Why indoors…?
Indoor cycling has been around for decades, but riding in front of a plain wall - or a dashboard presenting just your ride statistics - is not the most appealing workout. Modern technology has allowed us to enhance our indoor-cycling experience, enabling riding in different, real-life locations from anywhere. Online social networks have also been tailored to allow athletes to share their indoor rides, helping people stay connected across borders with ease.
You may – very validly – ask yourself: why ride indoors, when I can explore nature on my cycle outdoors? There are several reasons why indoor cycling is becoming trendier, and more beneficial, than ever.
Indoor cycling saves you time: you can jump on your home saddle and get riding anywhere in seconds, rather than needing to fetch your physical bike and pedal to your desired location. A winner of one of our recent competitions is a perfect case study: he mentioned that because of work and family commitments, he doesn't have time for outdoor cycling, so indoor is the better option.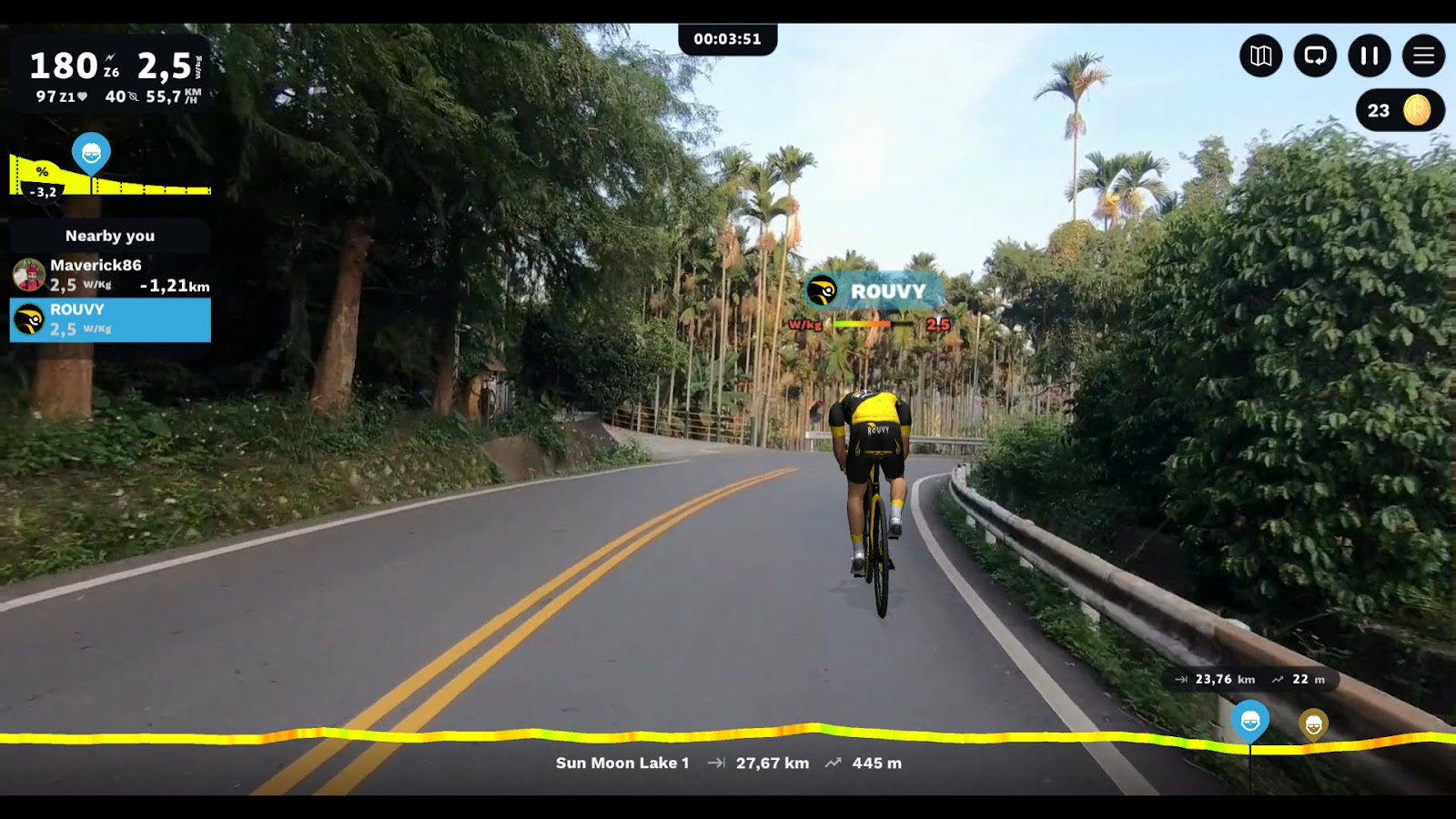 screenshot from ROUVY app on the soon moon lake route
The same applies for rides with friends: organising a meet-up physically can be time-consuming and tricky (or impossible, if living in different continents!). Riding virtually removes these barriers, connecting you with the outside world, and your friends, in seconds.
Further, it is a year-round alternative. No matter how rainy, windy, cold, hot or dark it is outdoors, racing indoors safeguards you from adverse conditions. You no longer have to cancel your Sunday coffee rides with your friends because of bad weather!
The ability to sync and log your indoor and outdoor rides together is also a huge benefit. This means that you will always be able to upload and view your progress, wherever you ride.
Indeed, there are so many benefits that we have written an article covering why indoor cycling is so good - check it out!
Tracking your progress
During (and after) your ride, indoor-riding applications give you the chance to see detailed analyses, such as wattage, cadence, elevation, training stress score, heart rate and more! This helps you monitor your progress over time, to constantly improve.
The exciting introduction of Strava Live Segments into our virtual routes adds another dimension to your rides, where you can see in real time how your speed compares with a segment's top performer and your own personal best! With this new feature, you can see how you compare with other cyclists on Segment Leaderboards as you discover new methods of becoming faster and stronger.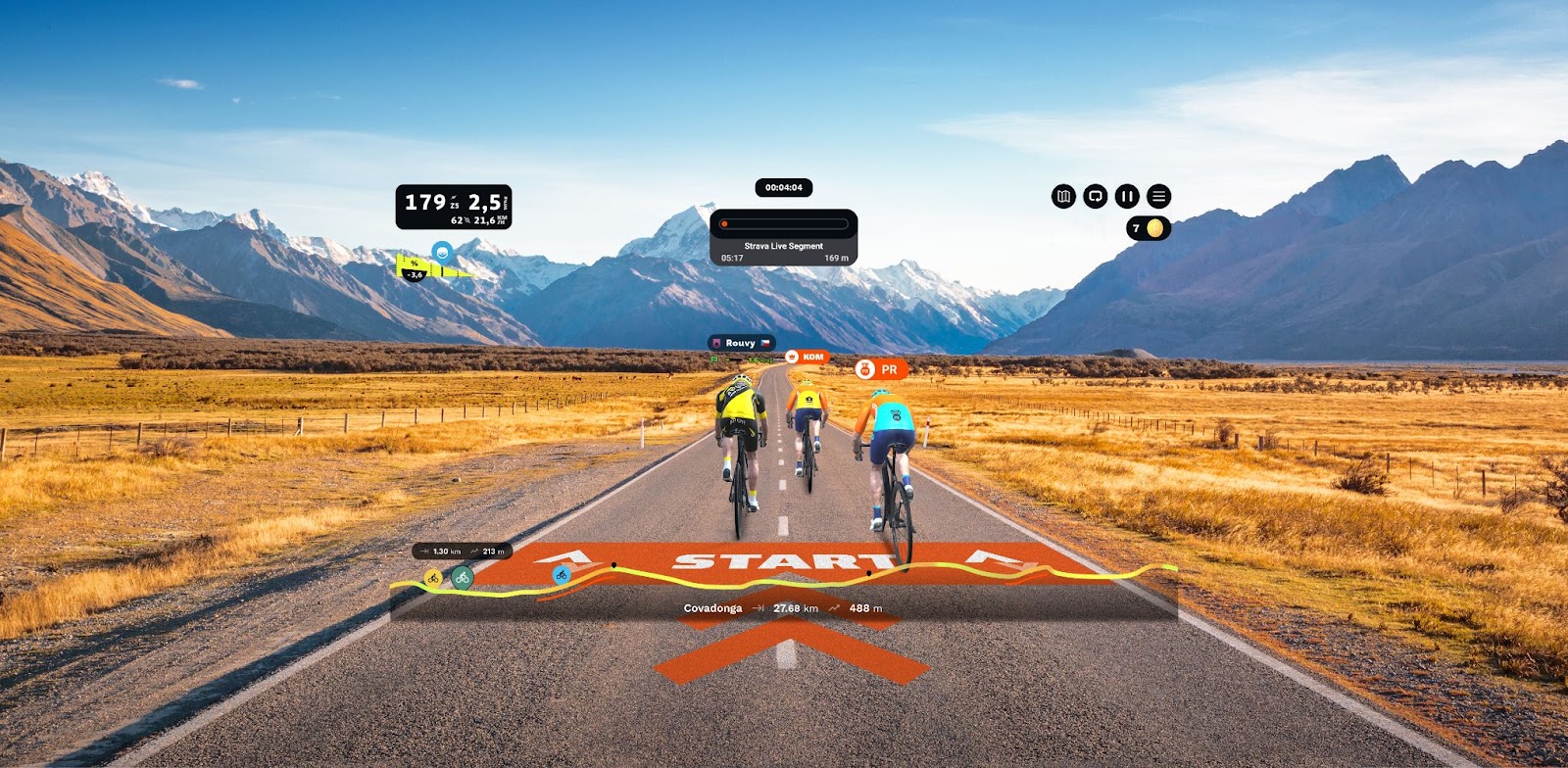 strava live segments in rouvy app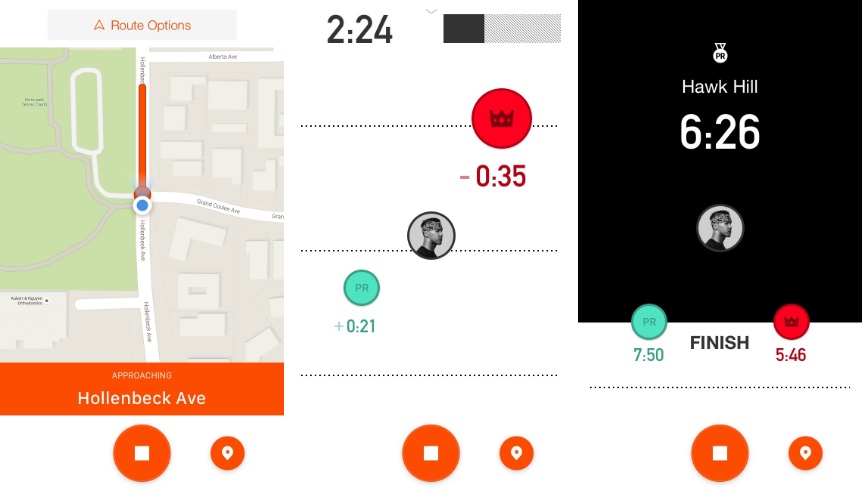 data from rouvy visible in Strava app
Racing with the pros in real time, or just riding
Indoor riding allows you to join real races from anywhere in the world and race alongside the world's best. On our platform, you have the chance to race in real time alongside the pros and others on famed cycling series such as the Giro d'Italia and Tour De Suisse. In fact, recently we hosted 15 virtual stage races from the renowned La Vuelta race (one of the biggest cycling tours on the planet), in which ROUVY athletes took the chance to ride alongside elite-level cyclists.
Indoor cycling also allows you to meet a range of notable figures in the cycling world. ROUVY has ambassadors in the form of current and former professionals, such as Olympic medalist José Hermida, who can lead you on group rides and give tips on how to be the best cyclist possible. And the best thing is that you don't even have to leave your front door!
Building your own career
Indoor cycling's purpose is not only for occasional rides, but also to support and enhance your entire cycling evolution. You can look back at rides that you completed 6 months ago and see how far you have come. With ROUVY's Career mode, you can log all your rides, unlock new levels and gain Career Coins. You can also get Coins by completing fun, regular challenges (from easy to hard) that take you to various parts of the globe from home!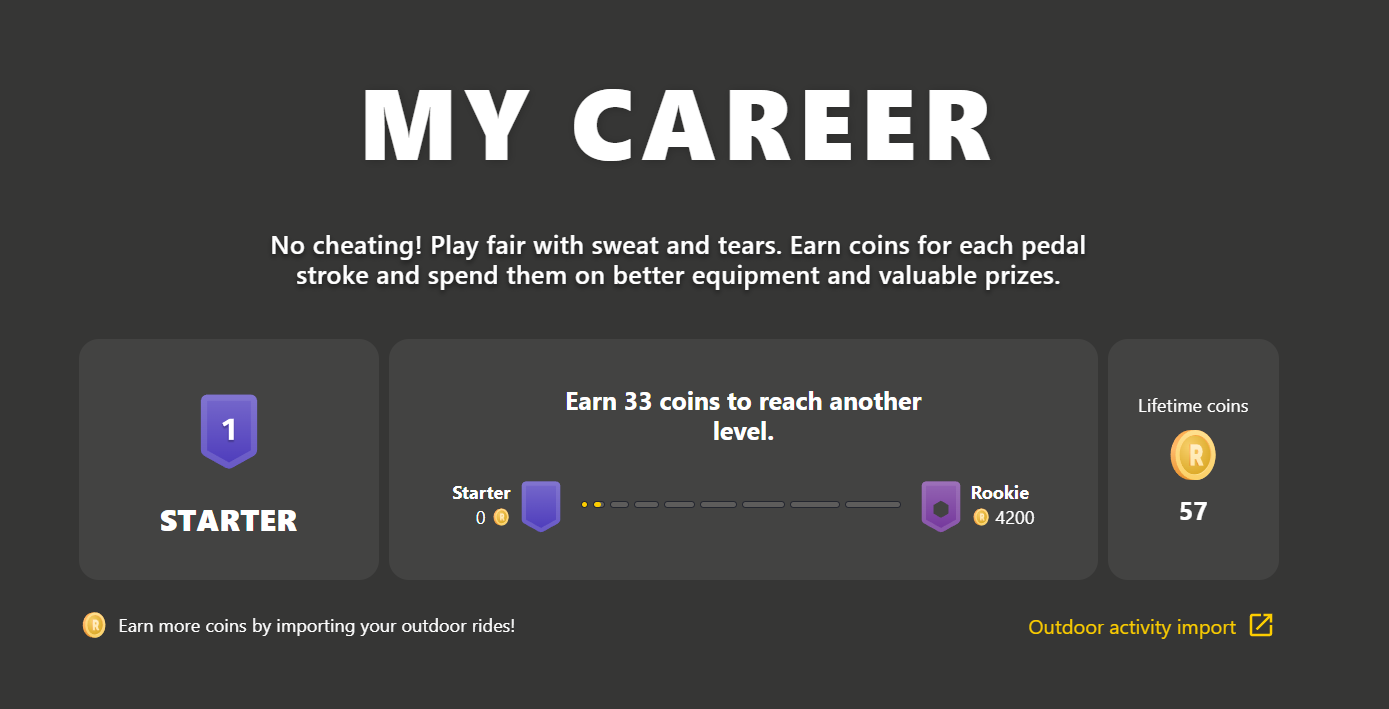 career mode in ROUVY app
Although you ride virtually, you can also redeem real-life rewards the more you ride, such as discounts on various cycling products!
Focusing on training
Indoor training is also an optimal and easy way to have workouts from your own home. For those who want to make training their priority and get fitter, ROUVY has specialised and comprehensive training programmes featuring various workouts for all fitness levels!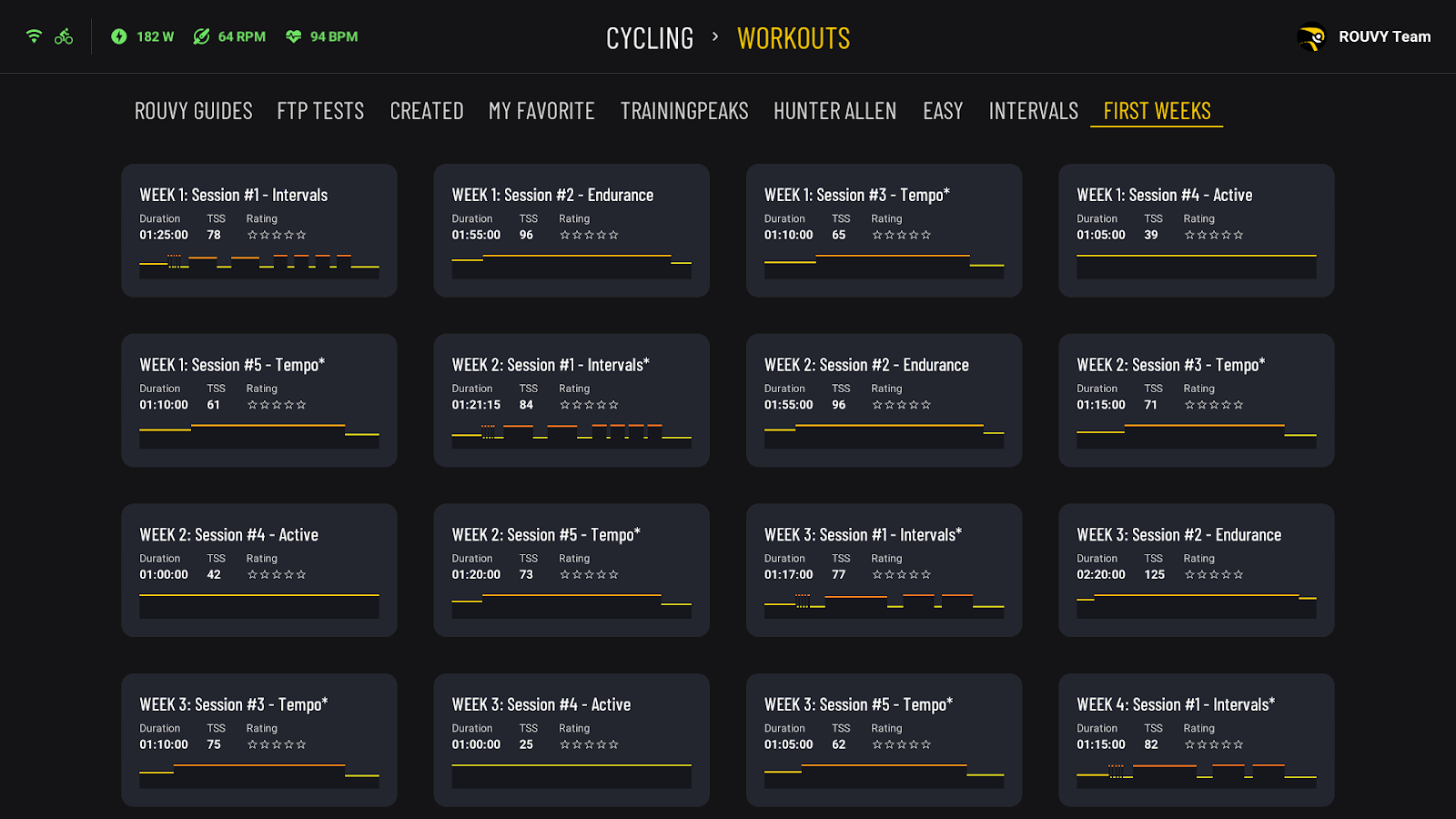 variations of workouts in ROUVY app
What's more, having an indoor trainer gives you more scope, comfort and ability to undertake structured, intense workouts and forming your own "pain cave"! ROUVY's compatibility with the TrainingPeaks exercise portal will make monitoring your progress even easier.
Keeping connected with your network
A great feature of indoor-cycling programmes is using them alongside other, outdoor-based apps. You no longer need to worry about whether your progress will be lost or not logged!
ROUVY's cross-functionality with Strava, the leading platform for athletes and the largest sports community in the world, allows you to share your rides with a larger number of people. All your indoor rides on ROUVY can be automatically imported to Strava (along with all relevant stats). This gives you the perfect opportunity to show your friends the different locations you have been riding in – from Africa to Asia!
Highly conveniently, this compatibility also works the other way around. Outdoor rides that you complete on Strava can be synced with ROUVY, enabling you to update your progress and continue collecting Coins, furthering your ROUVY Career!
A community focus
It is easier than ever to stay connected with fellow cyclists – indoor and outdoor. By using ROUVY, you gain access to a large network of users (around a quarter of a million from six continents) with whom you can ride and interact.
Feel free to join the official ROUVY Facebook group, with over 15,000 members, where you can keep others updated, exchange tips, ask questions and make friends! We also have an official Strava Club, with about 45,000 athletes, in which you can track one another's progress and see how you fare on the Club Leaderboards!
Get started now
There are several indoor-cycling apps on the market, each offering different features. With a huge variety of real-life routes and a focus on augmented reality, ROUVY offers the best option for pure realism.
It takes just minutes to set yourself up. All you need is an account on ROUVY, our official app, and a compatible smart or classic trainer! See our handy guide for a simple and visual walkthrough on how to get started. Don't forget: we offer a 14-day free trial upon sign-up, and no card details are needed!
From the comfort of your own home, you can ride thousands of routes across the world – without needing to worry about the weather. Indoor cycling offers a portal to a new dimension of cycling, where you can race alongside the pros on the exact same roads they compete on, in real time. Your rides will also be synced with your outdoor activities, meaning that all your progress will be up to date. With challenges, events, training programmes and a large community, ROUVY offers an immersive indoor-cycling experience that will complement your long-term cycling journey.