You might think that the Monte Zoncolon climb is a tough challenge, but these days, it's often tougher to simply maintain a regular cycling routine. With today's busy lives, riders need every bit of help they can get to motivate themselves. So with new year resolutions still fresh in everyone's minds, that's why we've relaunched ROUVY Regulars to give you some inspiration, variety and incentive. Here we take a look at the programme that offers you a wide range of regular rides and races to suit everyone's lifestyle and fitness level.
Why Regular riding is important
While an occasional afternoon spin is always great fun, to get the maximum health benefits from cycling, it needs to be done regularly. Regular cycling will help lower your body fat levels, build muscle, increase your metabolism and burn more calories. There are additional benefits like lowering cholesterol levels, reducing the risk of cardiovascular disease, reducing stress, improving posture and increasing overall feelings of wellbeing by releasing endorphins. The benefits are huge but, as with most things in life, they don't come for free. You need to put the work in.
What is ROUVY Regulars?
ROUVY Regulars was a feature that had been quietly introduced to the platform last year, but now it's getting the full launch that it deserves. It's a comprehensive programme of rides to allow you to quickly find the activity that you want and build up your own convenient personalized schedule.
Campaign manager Lucie Kubinova describes it like this:
---
"The campaign is a follow up to people's New Year resolutions when they are more keen to start with something that will keep them fit. Unfortunately, the majority of these resolutions fail due to lack of consistency - so we are here to help. That's why we are releasing ROUVY Regulars - weekly scheduled rides that will help riders to build up their cycling routine and keep them fit. We prepared a variety of rides and races to match riders' fitness levels. Riders can choose from 4 categories - Hobby cyclists, Avid cyclists, Femmes cyclists and Triathletes. Each category has its own unique selection of rides and races that are happening on a specific day and are repeating every week. Some will be challenging, while others will give you some breathing space. The main goal of this campaign is to reach as many people as possible and convince them that riding on a regular basis will help them to build a positive habit."
---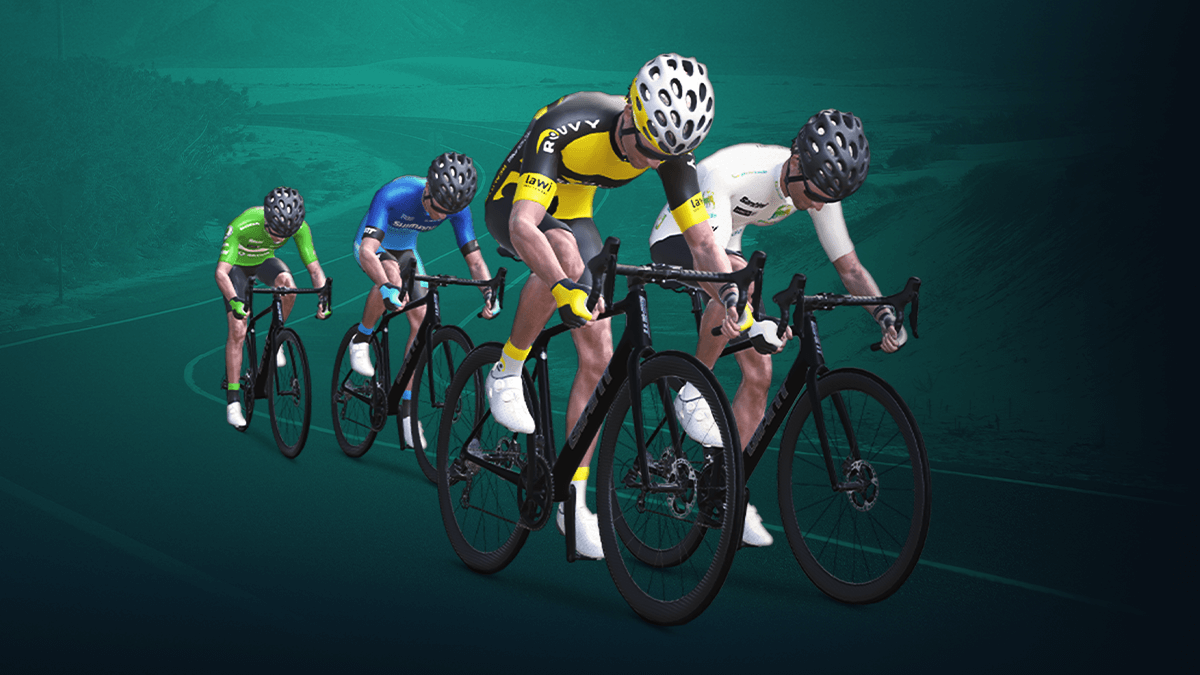 Create a routine that works for you
There are four key categories of rides: hobby, avid, women and triathletes. These will help you find the kind of ride you're looking for that suits you. Within the four categories, there are various rides available. Each of the rides has a regular weekly time-slot (with different time zone start times to suit your global location) so you can pick and choose the ones that appeal, put them in your calendar and then create a routine that works for you.
The rides will be available in the app all year long. You can join anytime and schedule the rides in advance etc. Our companion app (coming very soon!) will help you browse through the rides and plan ahead. Even though they are regular, the routes are constantly rotated so you'll never get bored and constantly explore different places.
There's also an improved social aspect with ROUVY Regulars. Having a regular schedule will help you build up and strengthen your social network of riders and friends.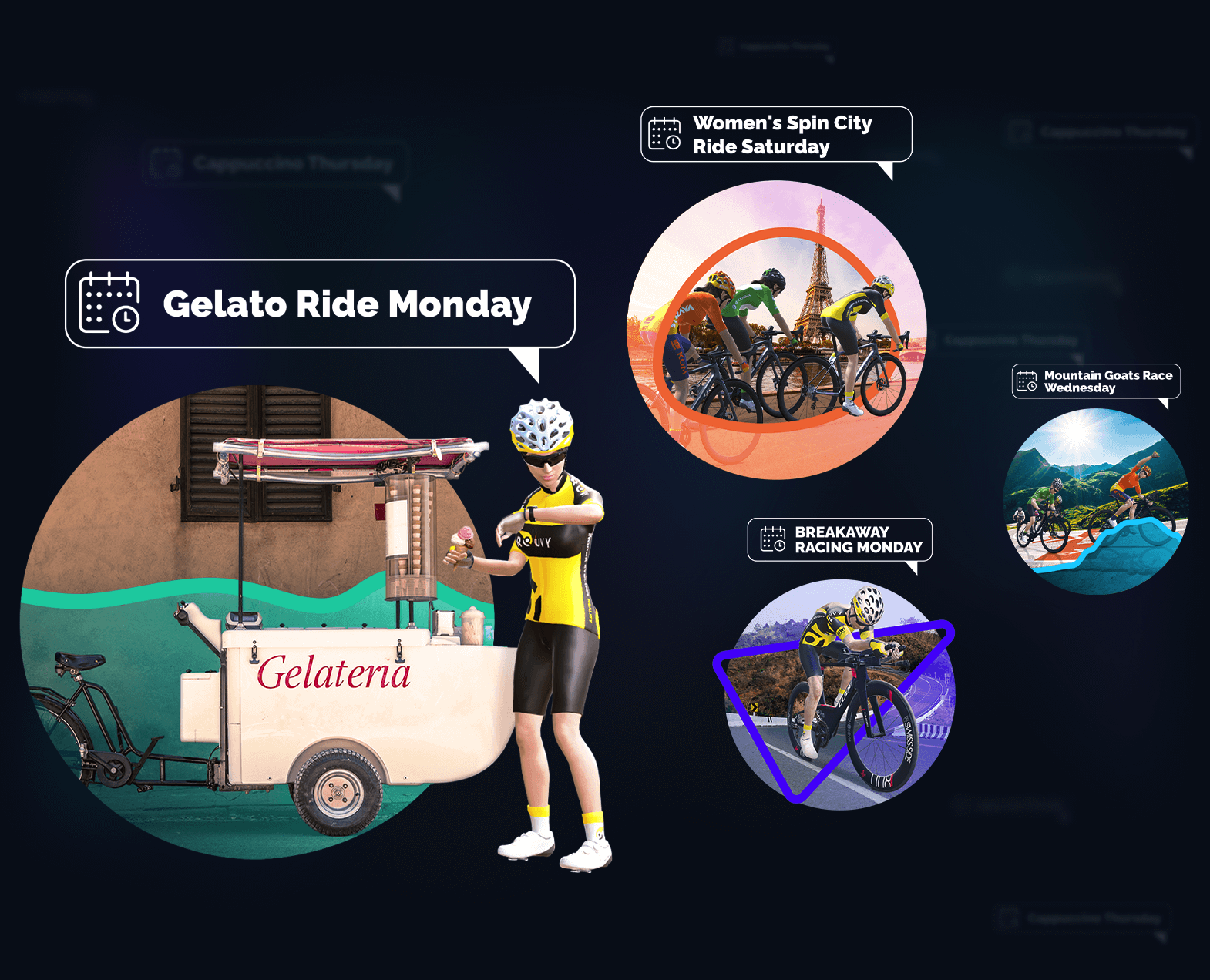 Here's the full list of the different rides:
Hobby riders are designed primarily for fun, relaxation and exercise.
Effort level: 2.0 - 2.5 W/kg
GELATO RIDE MONDAY
MONDAY CRIT
KEEP IT LOW WEDNESDAY
WEDNESDAY CRIT
FRIDAY SOCIAL
FRIDAY CRIT
SATURDAY COFFEE
FRIENDLY ASCENT SATURDAY
Avid cyclists are more strenuous for those who take their cycling seriously.
Effort level: 2.8 - 4 W/kg
MONDAY PROLOGUE RACE
MONDAY TEMPO RIDE
MOUNTAIN GOATS RACE WEDNESDAY
FOUNDATION MILE WEDNESDAY
UP TO THE SKY WEDNESDAY
KEEP IT ROLLING FRIDAY RACE
CATCH THE LEADER FRIDAY
SATURDAY CRIT RACE
ZERO GRAVITY SATURDAY RACE
Femmes cyclists will provide a friendly, accessible atmosphere for women only rides.
Effort level: 1.5 - 2.3 W/kg
We're on a mission to encourage more women to ride with ROUVY in 2023 so look out for more initiatives in the coming months.
WOMENS' SPIN CITY RIDE MONDAY
WOMENS' COASTAL CRUISE WEDNESDAY
WOMENS' COASTAL CRUISE FRIDAY
WOMENS' SPIN CITY RIDE SATURDAY
Triathletes rides are specifically geared towards triathletes - for building up stamina and endurance in a racing setting.
Effort level: max
BREAKAWAY RACING MONDAY
NO SOCKS RACING FRIDAY
Virtual Group Leaders
All the rides (except the races) in ROUVY Regulars will incorporate the new feature of Virtual Group Leader. VGL's are there to guide riders through the route, controlling the pace at a steady, predefined level. You can see the pace up front in the W/kg selection. Now you have the option to challenge yourself with a higher pace and stick with the virtual leader or just choose a calmer, easy paced ride.
What's in a Name?
All the rides have been given names to make them more memorable and help evoke the feelings and emotions that outdoor riding can bring.
Gelato and cycling go hand in hand so we created Gelato Rides. There's often no better feeling than a cold gelato on a hot day in the Italian Alps. Not only does it taste great, but Gelato is loaded with calories, sugar, and fat so it's an ideal way to fuel yourself for a long ride. But don't over-do it and keep the portions small!
Coffee and cake is another classic cycling ritual that cries out for a Saturday Coffee. Hanging out at a cafe with fellow riders is part of the whole package. You may not be able to experience it so completely at home… but it's the next best thing.
There's a strange sado-masochistic appeal about climbs. No pain, no gain? Sure, so try the Mountain Goats Race every Wednesday to be the GOAT.
The Women's Spin City Rides are a great way to travel around the iconic cities of the world without hassle from traffic and a pit-stop for coffee awaits at the end.
A quick message to men: - as the sign says, these rides are for women only and you won't be welcome on them. There are plenty of other rides for you to enjoy, so please respect this.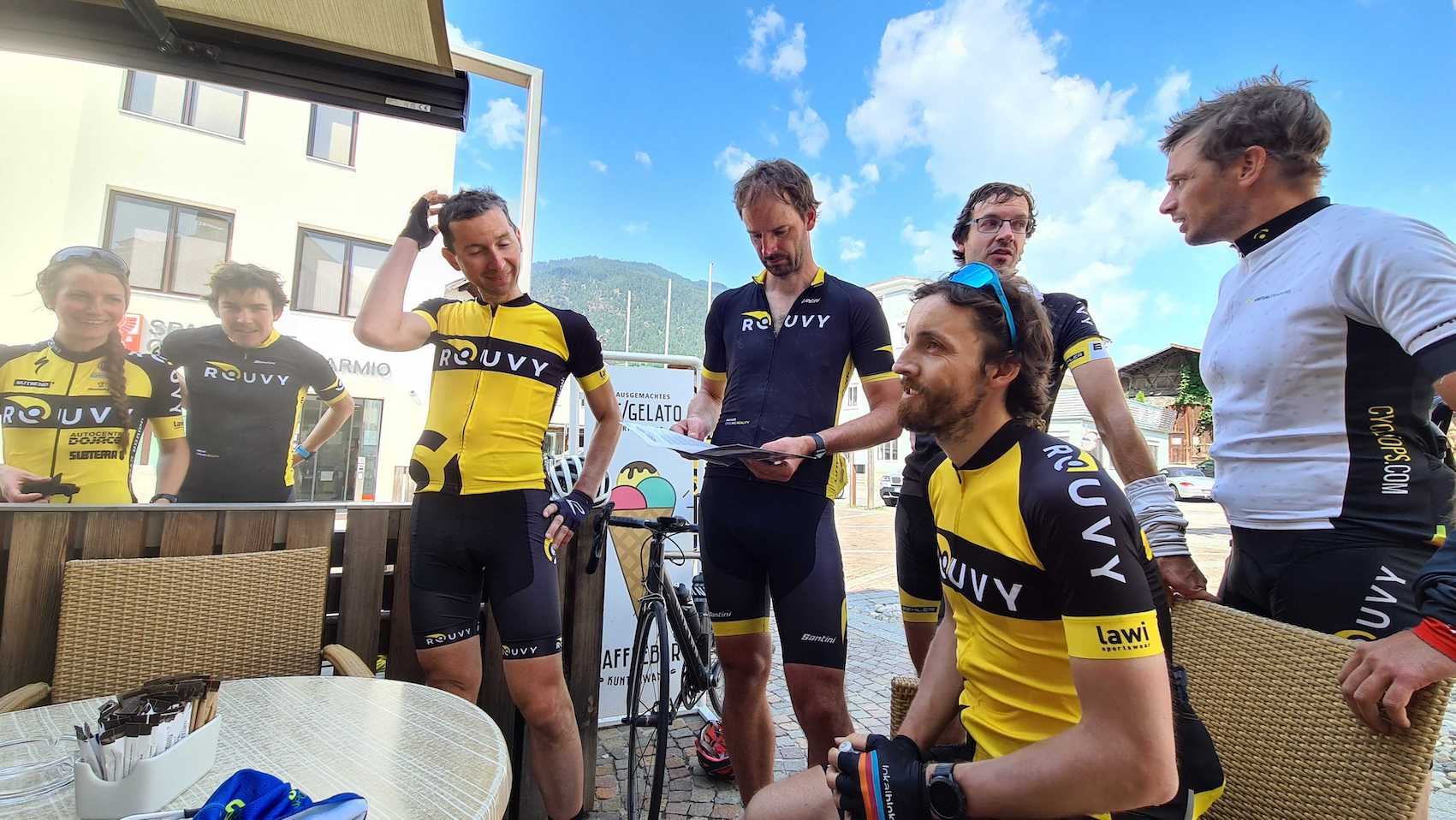 Team ROUVY just can't decide whether to have gelato or coffee and cake in Italy.
OUTRO
So if you are struggling to keep up your new year resolution of getting fitter, or are looking for a personalized way of creating a regular exercise regime, ROUVY Regulars could be something to try. It's a fun, convenient way of staying motivated and building up a social circle of cycling friends. Riding with ROUVY Regulars all year round will get you fitter and healthier. Don't forget to take advantage of a 12 month ROUVY annual subscription to get the most benefit and save money.
We've done the first part of the work for you. You just need to spin the pedals and let ROUVY take you round the world.