ROUVY recently chatted with Petr Polasek, a python developer at ROUVY and keen cyclist. He completed the Okolo republiky race two months ago, an epic challenge in which one rides around the whole of the Czech Republic. Following this impressive feat, it was worth asking him several questions about his journey…
Petr, good to meet you - tell us a bit about your cycling background
I have been working at ROUVY for about two years and work as a developer. I would describe myself as an enthusiastic amateur cyclist, riding about 3-4 times per week. It is my "main sport" in general, and per year I ride about 8,000km. I have entered competitions on occasion, but never with any real ambitions to win them.
You completed the Okolo republiky race in August. What made you do it?
The main inspiration was actually from my girlfriend! She did the race two years ago, and motivated me to do it this year. If she had done it, I thought it would be a shame to not do it, too. We decided to both do it this year.
Another reason was because I wanted to step out of my comfort zone…from a daily routine of luxuries to a "simple" life, where you think only about the most basic things - where to sleep, what to eat, and so on. It is like meditation; you don't have the capacity to bother with news, with social networks... I also wanted to find out how far I can go with almost no sleep. I like this, because I know that such events push forward my "mental boundaries".
So..what is the race about? What does it involve?
The race involves riding around the rough circumference of the Czech Republic. The full version of the race is about 1,400km, whereas the shortened version is 900km. During the ride, participants must pass through 9 checkpoints in order. Regions included Bublava, Brestovec and Malá Morávka. However, participants are free to take any route or road they wish in between the checkpoints.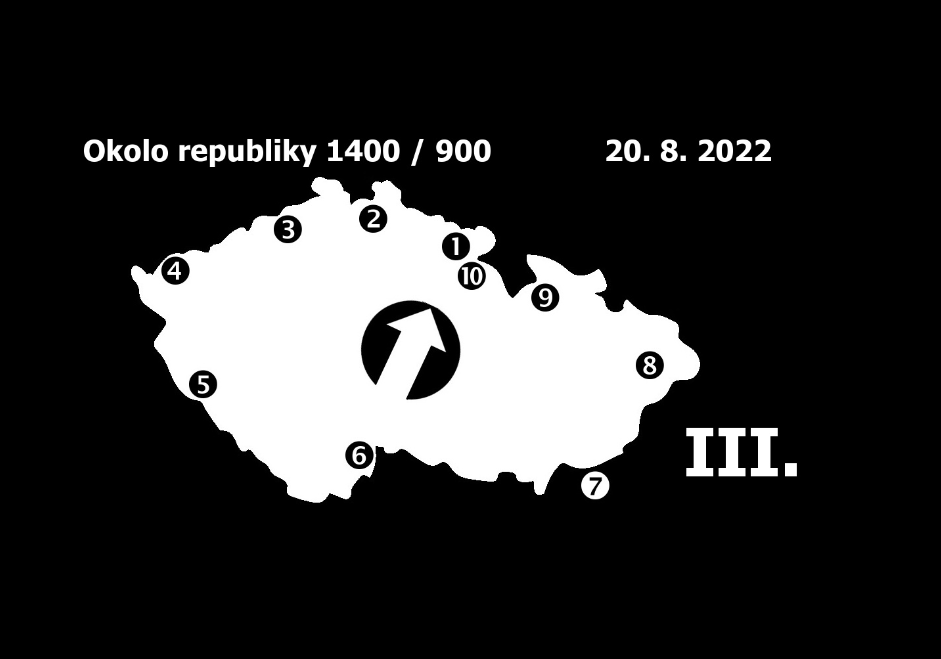 Credit: Okolo republiky - Facebook
That's a very long time! Are there any specific rules?
Yes..it is a self-supportive race, so you are not allowed to have friends give you food or provide you with accomodation. However, you are able to buy your own food at shops during your ride. You have to arrange everything (nutrition and accomodation) during the race - you are not allowed to plan things in detail beforehand. All riders should have the same opportunities, therefore riders should not sleep at a friend's home or take food from someone.
What type of preparation did you undertake to get ready for the race?
Basically, I tried to ride my bike as much as possible! I did some night rides, to be prepared for the darkness. One week before the race I did a longer ride (300km long, with almost 7,000m of elevation gain), to be mentally ready for the all-day sessions of cycling. I also mounted all the stuff that I planned I'd carry with me during the race, so that I could get used to the weight.
This is a very long race that takes more than 72 hours…how did you sleep?
Sleeping was a difficult aspect! Most riders ride with sleeping bags on the journey. However, this of course is heavy and not the most comfortable option.
At the middle point of the race, there is a checkpoint whereby riders can collect various items (such as sleeping items, clothes) that they ordered to be sent before the race. I sent my sleeping bag there, and collected it around half-way through the race.
Also, it is at the midway point that you can decide whether to do the full race or the shorter version…I continued my plan to do the full ride.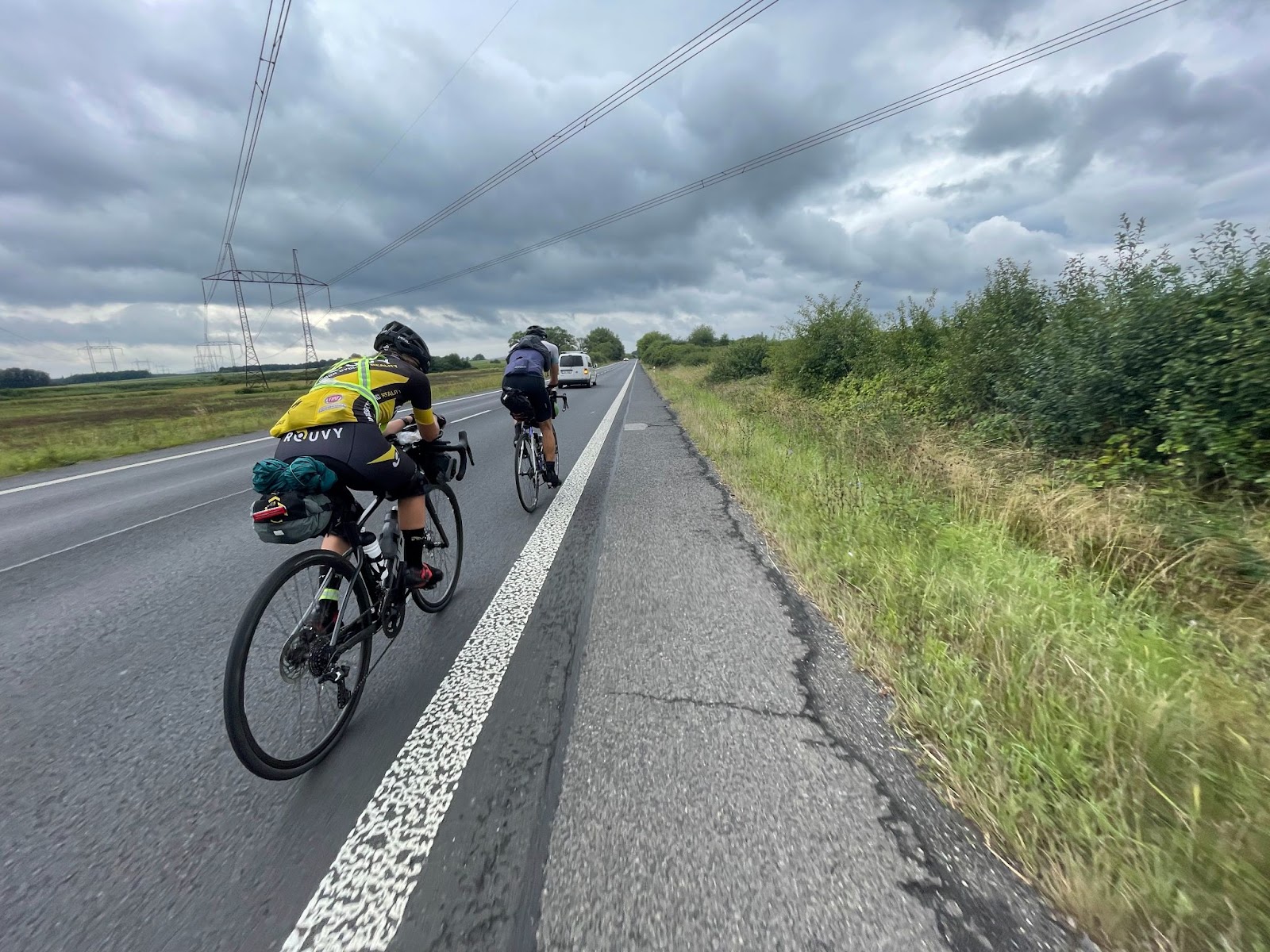 So…before the mid-way point you didn't have a sleeping bag? What did you do?
I pretty much didn't! I had to make it through two nights before I reached the halfway point. During the first night, I decided to not sleep and just ride – this was OK and doable. On the second night, I became very tired and had to get some rest. I had a feather jacket and a bag, and I slept for a few hours on them, by the roadside, before I continued.
My sleep was disrupted, though: after about one hour of sleep I woke up because it was so cold. I warmed myself back up by cycling a few kilometres before falling back asleep. I woke up again shortly after for the same reason, at which point it was becoming light and I decided to continue with the ride.
And after you picked up the sleeping bag halfway, did you sleep better?
Throughout the whole race, sleep was at a minimum in order to save time…on average I slept about 2 hours per night. I was a bit worried about the sleeping aspect before the race, however, during it I found that I can cycle quite well on such low sleep. The worst feelings were just before the sunrise, especially awaking after about two hours of sleeping.
As for your girlfriend, did you ride together during the race?
We started off riding together, but we then split ways after 300km. During periods when she slept, I continued riding. Before the race began, she decided to do the shorter version, at 900km.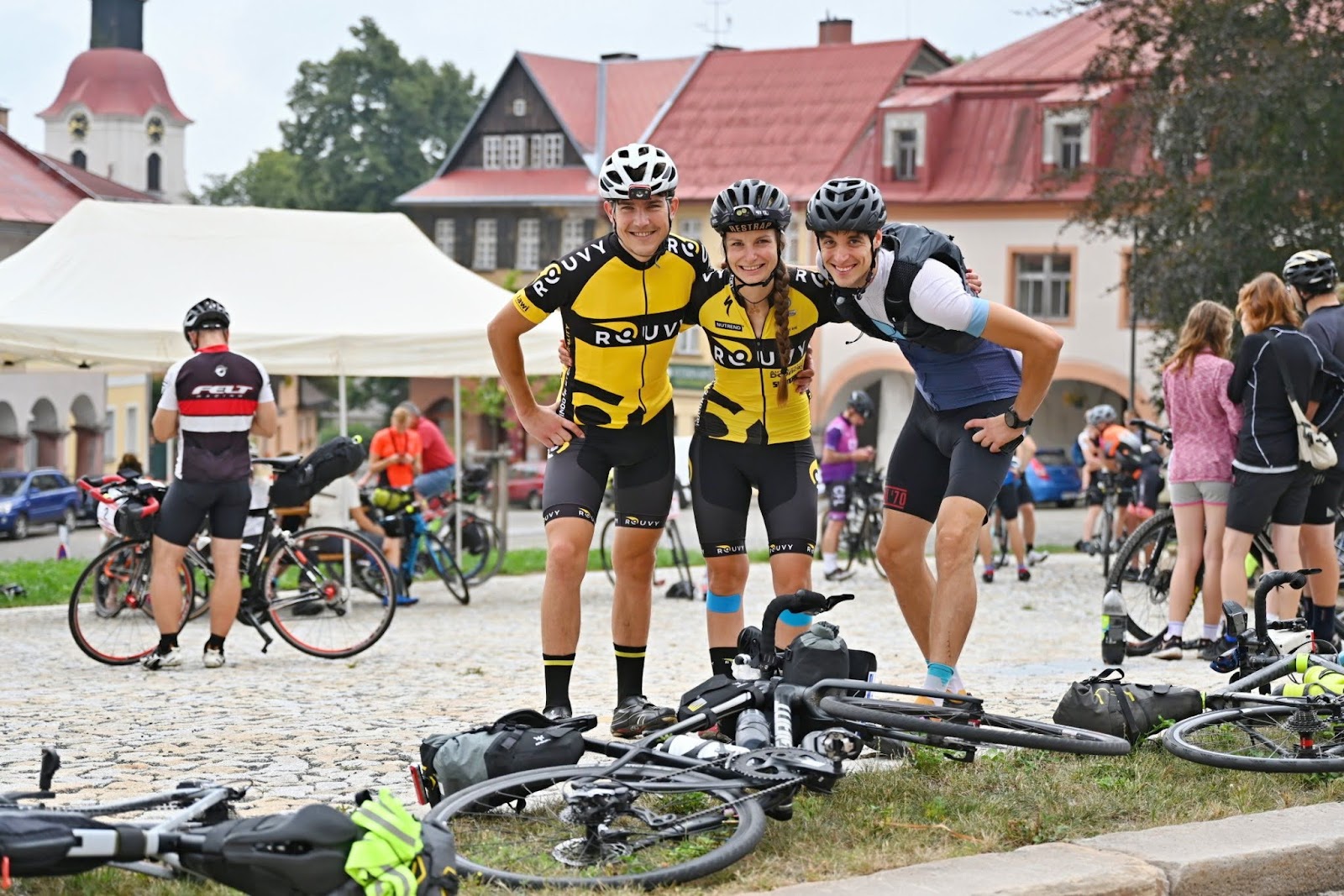 Food is another crucial thing during this ultra-long ride…how did you sustain yourself?
I took as much food as was possible for the first day. This was to avoid shopping stops during the opening 24 hours and to avoid losing time – this would be one of my main pieces of advice.
I had bananas, sandwiches, energy bars - basically carbohydrate-filled foods that release long-lasting energy. I also bought food (such as hotdogs) from service stations/shops during my ride, and also made a few stops at restaurants. This made my overall load to carry a bit lighter, too.
And drinks?
I drank water, energy drinks (Red Bull and coffee, for example) and Coca-Cola as a way to stay hydrated and energised.
Were any parts of the route particularly challenging?
Probably the most challenging was the climb to the top of Velký Javorník. It was a really steep climb with an unpaved surface. I was there at night and the visibility was very low, due to fog. Therefore, the downhill ride from the top was also challenging. I was really lucky that I didn't have a puncture there!
Another big challenge was climbing to the top of Praděd: it was one of the longest climbs during the race, with an elevation gain of about 1km and a distance of more than 20km.
What was your favourite part of the course? Which section was the most beautiful?
I particularly enjoyed riding up Krušné hory (in the north-west, bordering Germany), which offered a very scenic viewpoint owing to its high elevation. I also liked the section in Rychlebské hory and the area near Náchod (in the east of the country, bordering Poland). Those parts were almost without people – you could feel the real wilderness there.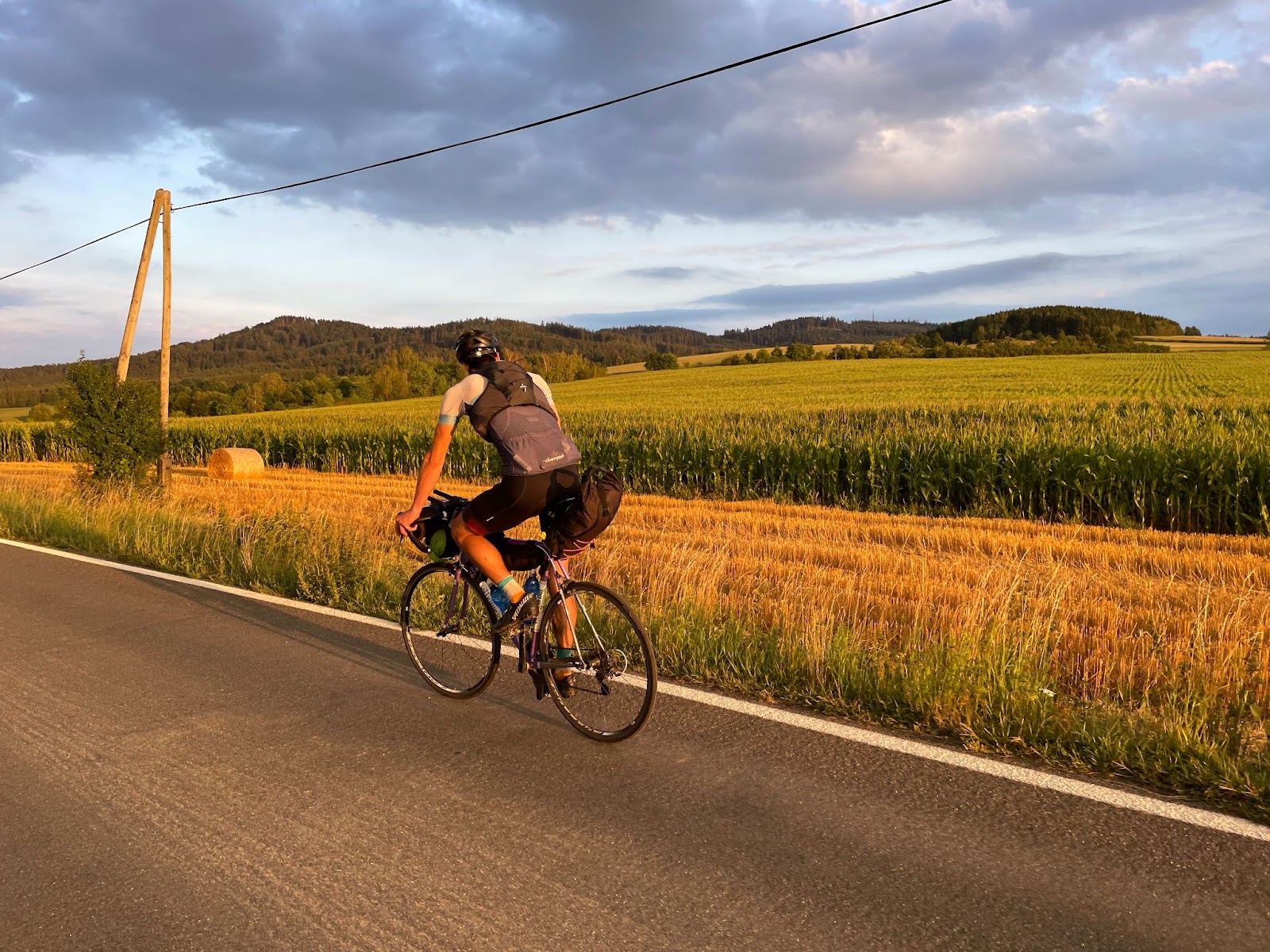 Did you have any strategy in terms of which roads you decided to ride on?
I prefered paved routes over unpaved, even if the overall distance was a little longer. I hate to fix punctures during a ride. My strategy was also to plan the route with minimal elevation gain – the uphills hurt the body the most! I also tried to avoid main roads with lots of traffic.
Were there any moments you doubted yourself; where you felt you could not continue?
Actually, yes. During the second day, I was riding alone, on zero sleep, and I thought to myself: "why am I doing this?". I felt isolated and exhausted.
I was then overtaken by two random cyclists (who were not part of the race), and I rode to catch up with them. We spoke while pedalling, and I explained the details of the race – they were very impressed and complimentary. They told me that they would follow me over online GPS tracking, and encouraged me to work hard and continue. Their kind words and admiration spurred me to continue and complete this challenge.
How long did it take you to complete the race?
From start to finish, it took me a total of 4 days and 14 hours to complete the whole ride.
And what was your final classification?
I finished in 9th place, out of a total of 40 participants – only 17 finished.
And which bike did you use?
I rode my carbon, gravel bike from Corratec, with road bike wheels.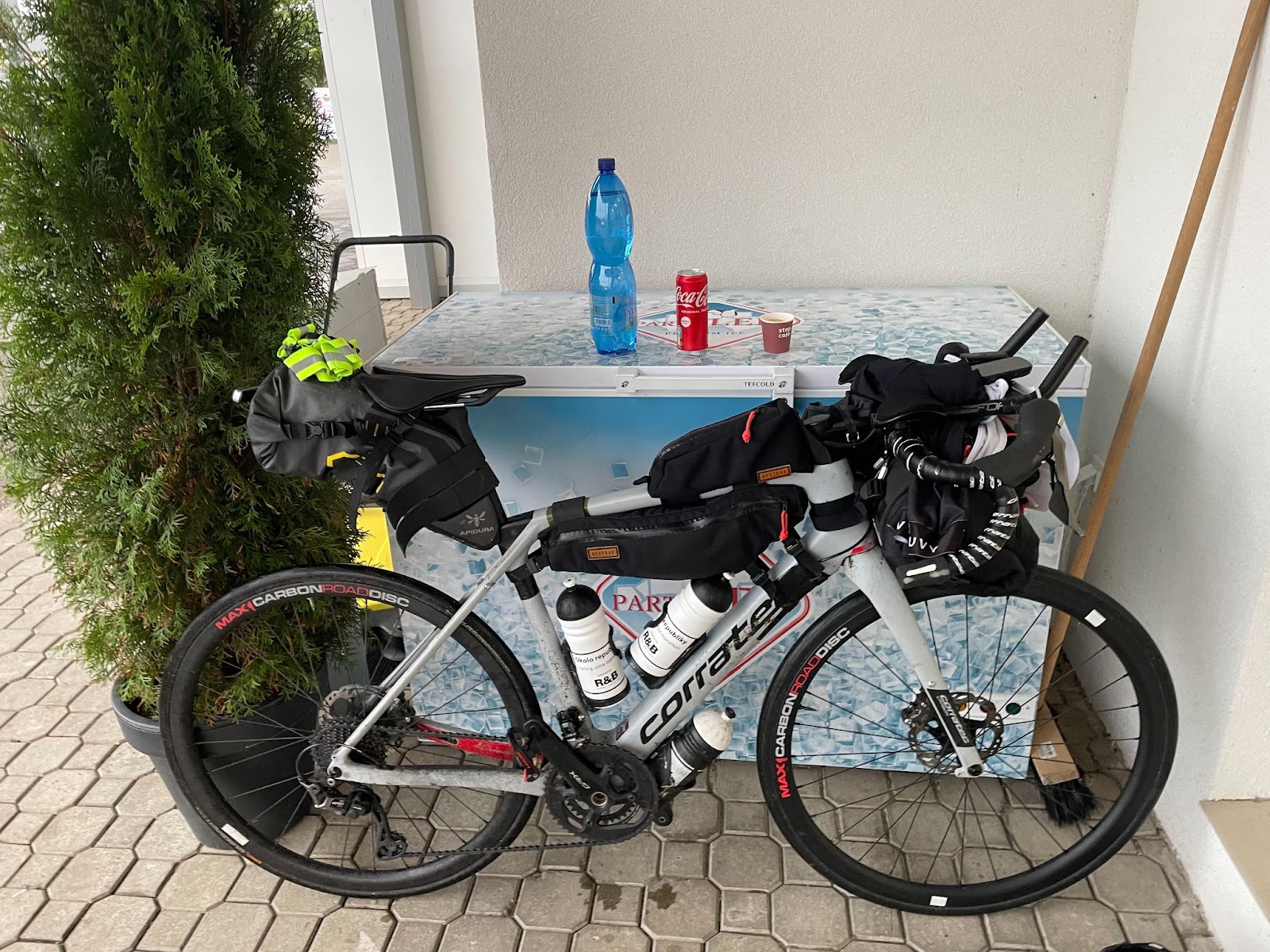 Did you use any fitness devices to track your ride? How many calories did you burn during the entire ride?
I used the Garmin Edge 530, which is a really handy device for navigation. To save battery, I did not measure my heart rate. I only know the burned energy estimate from the Strava app: the total was 35,897 kilojoules [8,579 calories].
It's obviously a very intense ride..how did your body feel after?
The main thing that really affected me was my hands – for as long as 2 weeks after the ride, they were feeling very sore. In fact, even during the ride, I was in considerable pain - especially towards the end. As for other parts of my body, such as my legs and feet, they were moderately sore during and after the race, but the pain only lasted about 3 days after the end of the race.
Would you do it all again?
Yes, I would do it again: however, I would like to try something a bit different. I am thinking about a similar ultra-long mountain bike race.
Are there any other similar events you would take part in?
There is a race called the Bohemia Divide in the Czech Republic, where you also ride across the country [it is a race through the Czech Republic – from south to north – that is about 800km].
What is the main piece of advice you would give to anyone thinking of doing this ride?
It is said that long races like these are more about the head than physical strength. So my advice is to try a really long ride beforehand, to be mentally prepared for similar emotions you'll experience during the race. The more kilometres you do before the race, the more comfortable you may feel during the ride.
For this particular race, Okolo republiky, it is important to spend some hours planning the route properly. Otherwise, it is likely you'll spend more hours needlessly cycling up hills, which could be omitted with a different, flatter route. And you really don't want to experience extra pain in your legs after riding over 1,000 km with almost no sleep..!