In case you didn't have the privilege to explore the beauty of New Zealand on your own, you can now take advantage and taste the atmosphere of this natural and sport paradise in the South Hemisphere. 'Name a sport and you'll find any amount of people here who are on a world class level,' explains Andrew, who himself aspires to be world class. How many athletes in the world can finish a double full distance triathlon?
Read on to find out how Wanaka is a special place to live and stay active, and motivate yourself to explore the amazing New Zealand routes on ROUVY.
If you want to challenge Andrew face to face, be sure to sign up for the virtual twin of the Challenge Wanaka race that is to be held on Fri, 17th Feb, 2022.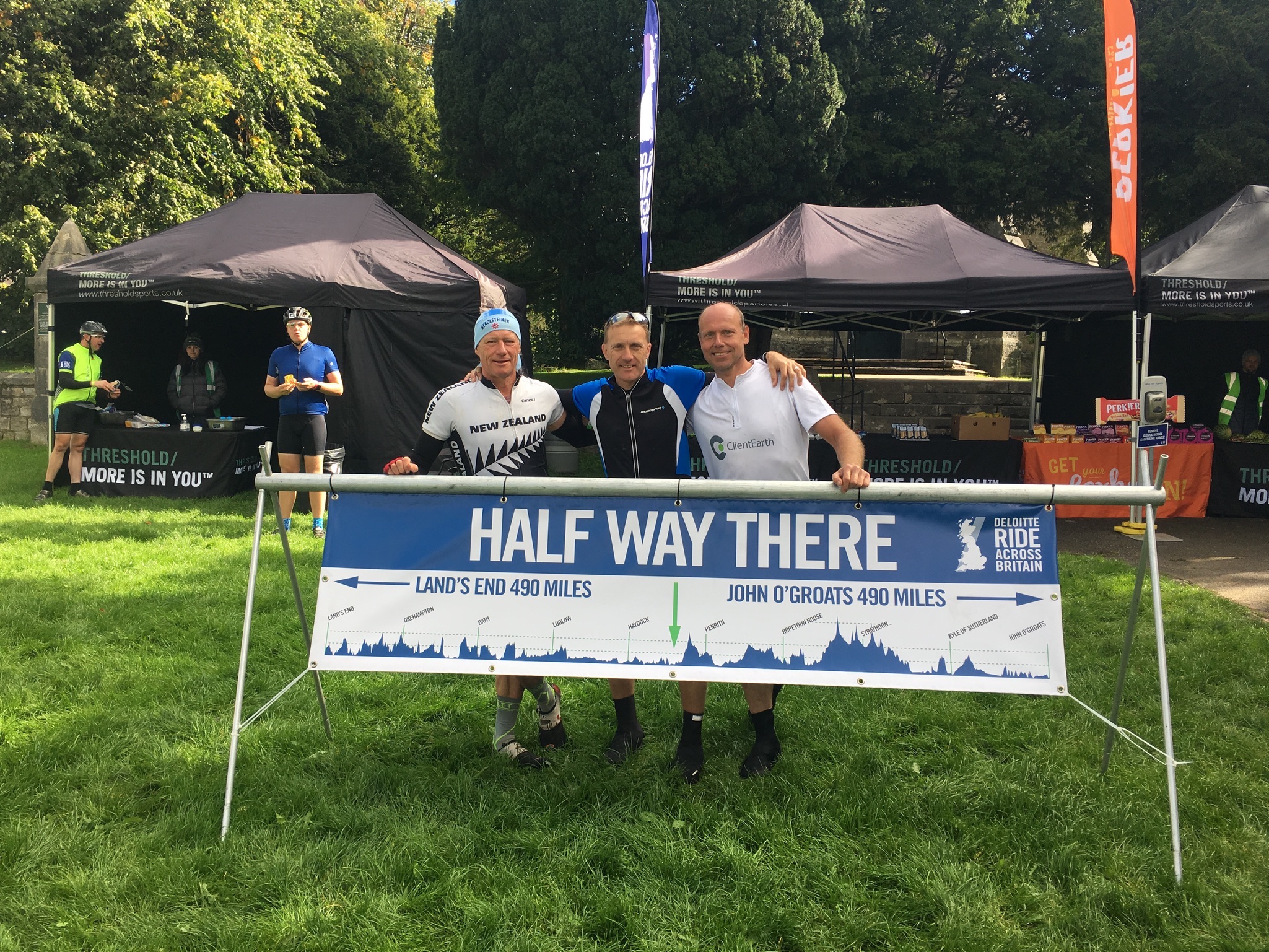 Andrew (first on the left) on Ride Across Britain endurance event
Andrew, I believe you replied to my recent email at 3AM New Zealand time. Have you been up, training already?
(Laughing) I think I was probably quite a bit sore after the Coast to Coast race last week (local 2-day endurance multisport event). I had a couple of restless nights after the race. I think I was probably looking for some pain relief.
Good lord, what a hell of a race! How did it go?
The two day event was cancelled because of Covid. Unfortunately, we also had a bit of a bad weather event so that the paddle had to be altered and consequently, I didn't make it on time to the paddle part. That resulted in a first DNF in a very long time!
Looking at your completed endurance races, I've been in doubt as to whether you count as a human being! Now I believe that more. Was that the only DNF you ever experienced?
It's literally only the second race, of about 120 half distance or longer distance races, that I did not finish. So, it's quite unusual. If I was faster I would have got there!
What does your training look like?
I'm fortunate enough to be able to find races in both south and north hemispheres, so I train pretty much year round. One of my strengths is that I'm quite consistent without too many injuries.
I can train in the winter, for instance, for Challenge Roth (you can look forward to seeing this race on ROUVY too) which is the next event I'm doing. Also having a trainer and being able to train indoors is huge for that. I average around 2.5 hours a day.
A lot of the time it's swimming but that can change. For the Coast to Coast, I changed from swimming to kayaking. I'm really fortunate to have the lake (Lake Wanaka) literally 500m from the house, so I can just take the kayak off the roof and go down. The same goes with swimming. I can just go down and jump in the lake.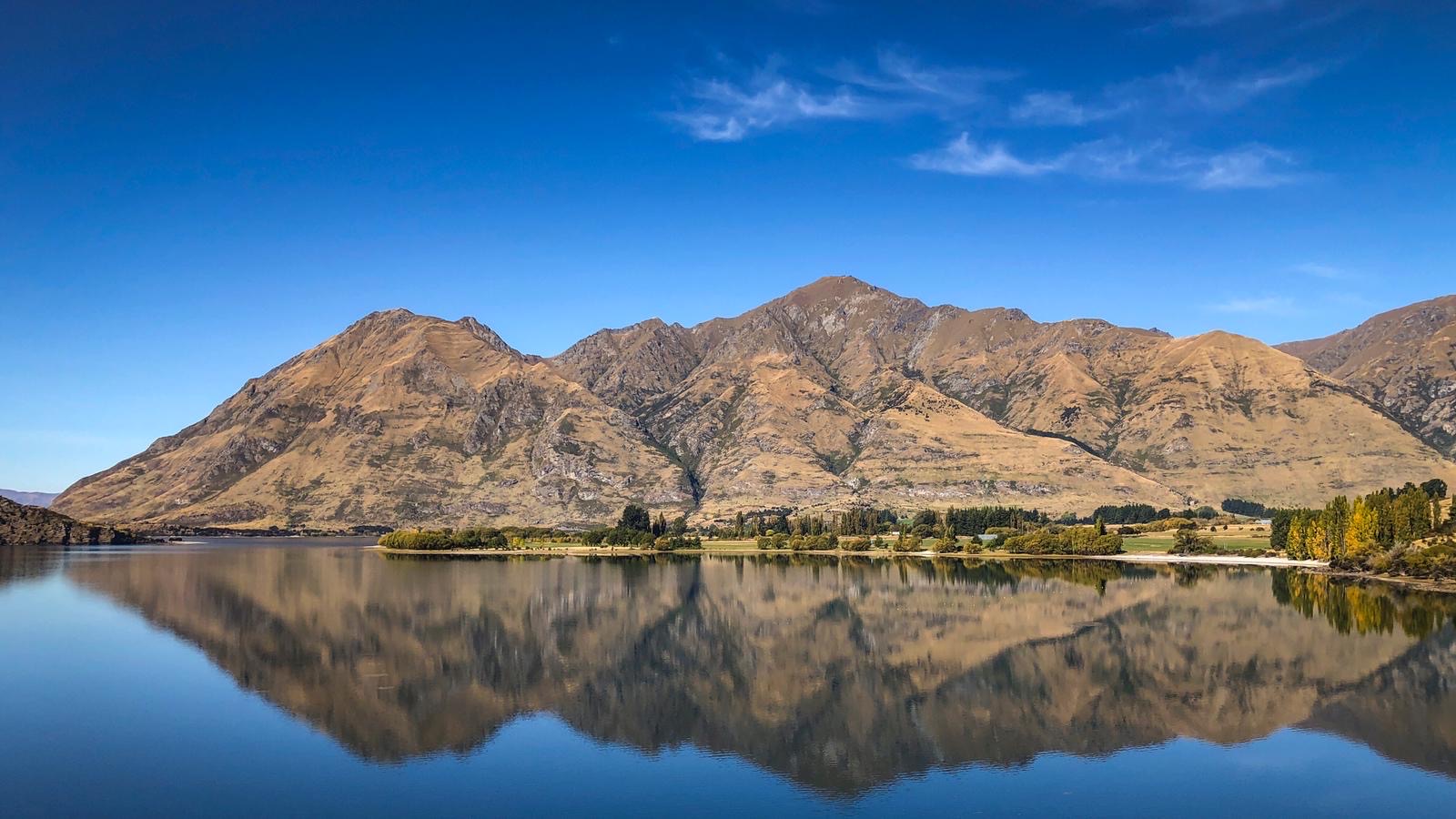 Lake Wanaka below Andrew's house
So even with the amazing environment you have around, you still do indoor sessions!
We were supposed to do a bike tour in Croatia in July 2020 and we ended up doing most of the route on ROUVY; we got a bit of a sense of being in the North hemisphere in the summer, while we were stuck in here because of Covid in winter. My wife and I are big fans of ROUVY - have been for a long time now.
It may sound like an off-topic question. But do you use Merino wool?
I have quite a bit of Merino gear and especially for the multi day and multisport events it's very useful. There is quite a bit of Merino sheep farming around, so it's a very popular product here. Also, there is some Merino production right here in Wanaka and I'm trying to support locals!
Can you name any brands?
Mons Royal is designed here in Wanaka. Icebreaker is produced in another New Zealand location but it's worth mentioning that the founder of Icebreaker lived in Wanaka previously.
That just underlines the fact of a special community that is based in Wanaka!
Absolutely. World class climbers and athletes of all sorts are based in Wanaka. We just had a 20 year old local Zoi Sadowski-Synnott win a silver and a gold in the Beijing Olympics.
What are the greatest values of living in Wanaka for you?
It is always the community. It is a town of around 13,000 people but still everybody is looking after each other; everybody is taking pride in where they live. It is wonderful that people find a way to get here from all around the world and from all around New Zealand.
The environment is just so friendly whether it's walking, ultra running, mountaineering, mountain biking or triathlon.
There are some of the world's best multi day hikes in your neighbourhood. Did you ever attempt some of them as running courses? I learned that Routeburn Trek is a popular choice as an ultra trail-run.
Sure! About 10 years ago, a group of us ran the Routeburn Trek in Queenstown; the following day, the Milford Trek and the day after, the Kepler Trek (it usually takes hikers about 10 full hiking days to complete these three treks).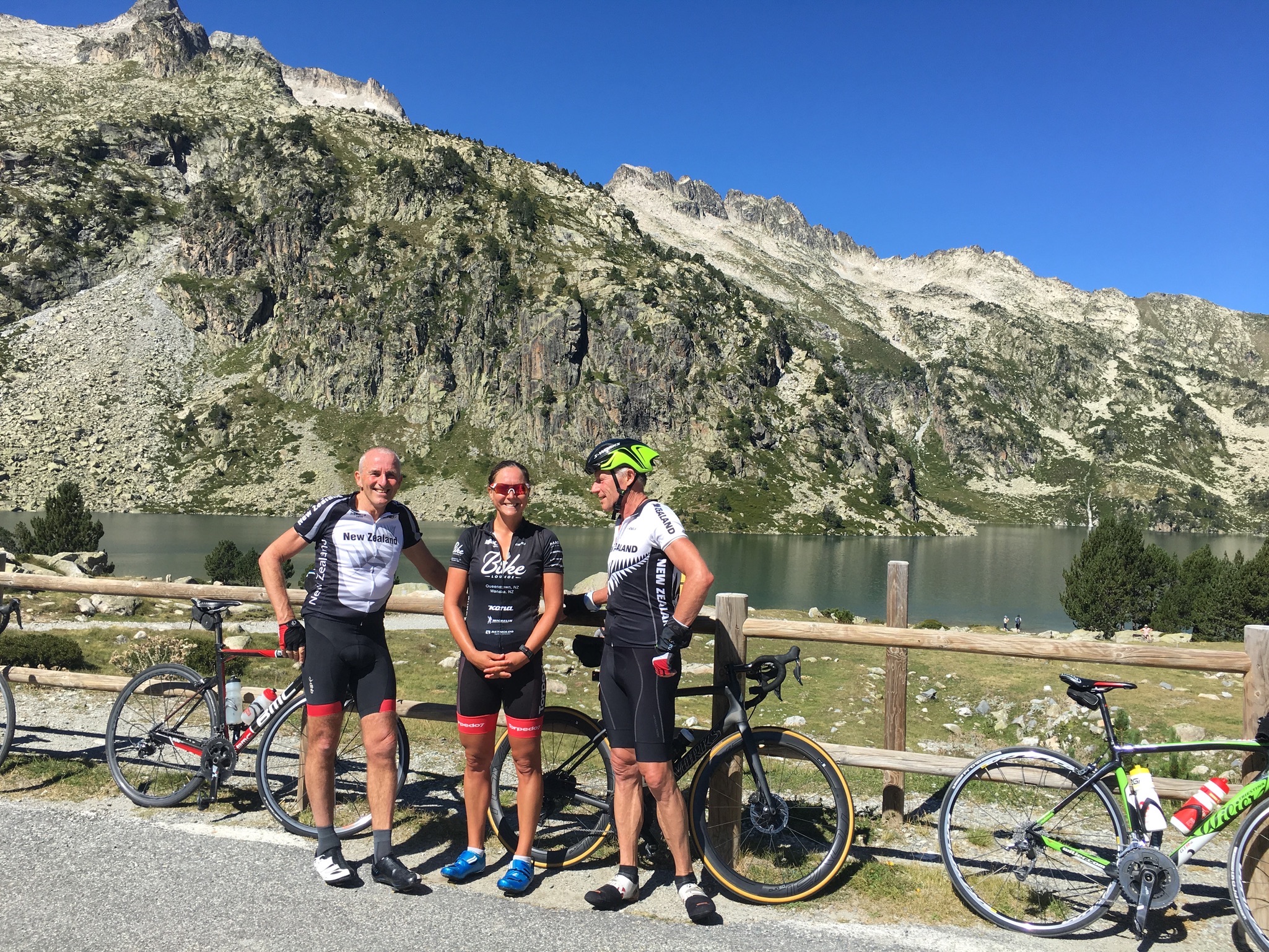 Is trail running popular around Wanaka in general?
Well, you name a sport and you'll find an amount of people here who are on a really high level!
When I lived in Central Otago in 2015, I don't think there were any cycling paths around Wanaka. Do you feel safe while road-cycling?
Correct! I've started training with the Garmin Vario radar that gives me a degree of confidence. But unfortunately, drivers in New Zealand are not very appreciative of road cyclists, so there are a number of people who don't feel safe on the road and prefer to train indoors. And that is a tragedy because there are such good roads!
So that also gives you a reason to do trips to Europe and see your family!
The contrast is incredible - the experience of riding in France or anywhere in Europe where people will very carefully wait for a cyclist instead of going and causing a near death experience.
What would be your favourite Saturday afternoon ride with a bunch of friends?
My favourite ride is riding towards Lake Hawea and then to what we call The Neck which is a bit of land that separates Lake Wanaka from Lake Hawea. As you ride up there, you're looking at snow capped peaks beyond Hawea and then you're looking towards Makarora and the Southern Alps. I always feel like it's Switzerland - big white mountains, lakes and relatively quiet roads.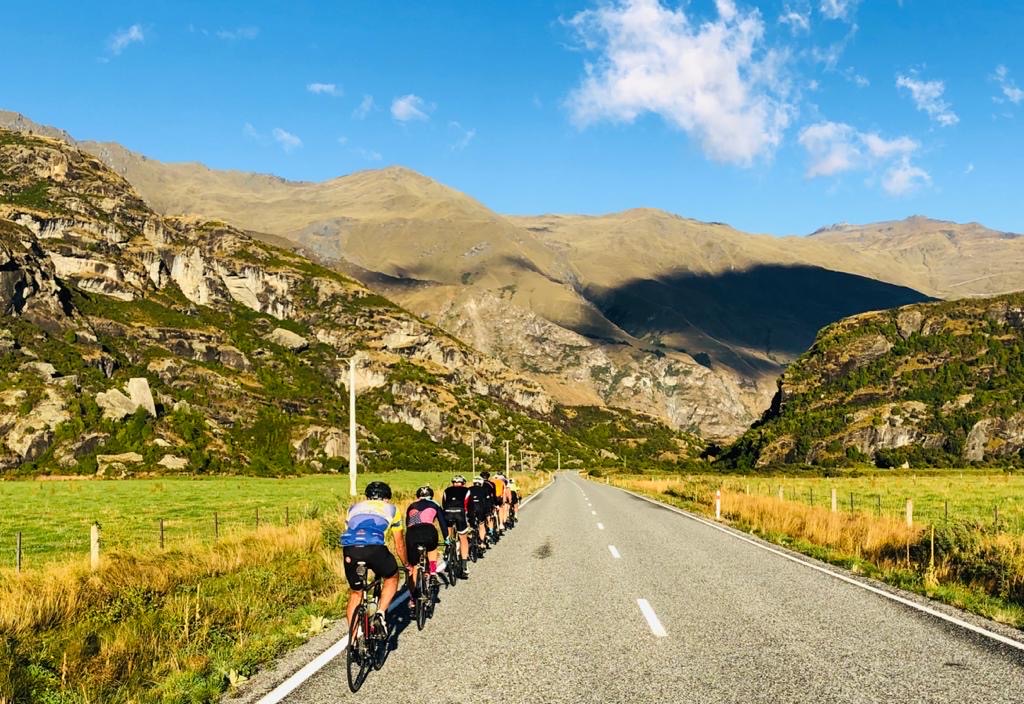 On the Treble Cone ride
The other particular ride is going up the Treble Cone which is often a part of the Challenge Wanaka course.
New Zealand is a relatively small country. Are there enough endurance races happening to keep you entertained?
Until I retire, there are plenty of races! Some people like to do a race once and then do something different. I like going back to races, seeing friends and getting familiar with the location.
Also, it's relatively easy to fly to Sydney and do the races on the East Coast of Australia.
Challenge Wanaka changed from a full distance to a half distance triathlon in 2019 I believe. Do you see that as progress in a good direction or do you feel sorry for it?
Races in North America and Europe sell up relatively quickly and it's easier to fill up the field. It's much more difficult to operate a race here with the small population. I love the idea of the full distance event and there is still a chance we will get back to this option but Covid is currently making it very difficult. I'm sad to see it go but I'm delighted we are still able to offer the half distance race.
How many editions of the race did you attend?
All of them!! 13 or 14 or something like that. More recently, I've been doing the Aquabike race which is really good even for ageing knees.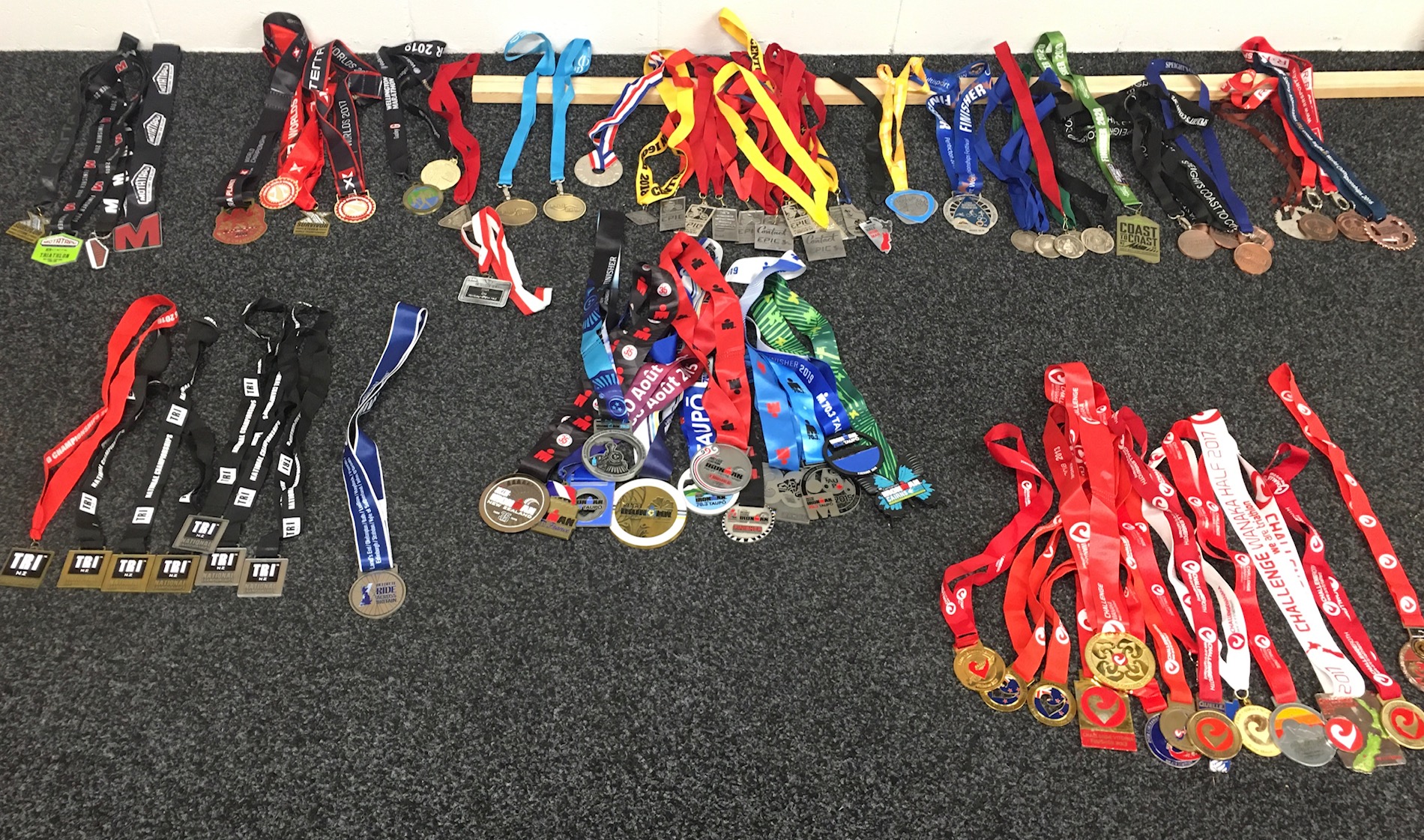 How many Challenge Wanaka medals can you count?
How many attendees are there that finished all Challenge Wanaka events?
I think there are about 8 people who have done the event each year that it's been.
Haha, then it really makes you one of the best people to ask about the location and the race itself!! What is your sweetest memory?
My first ever triathlon was the Challenge Wanaka full event. I had never done the standard or sprint distance before. I hadn't even swum 3.8 km, so my sweetest memory was waking up at the challenge morning and realising the lake was dead flat so that I had at least half a chance to complete the swim!
Getting off the swim and completing the first full distance event was quite an extraordinary experience.
I suppose it's noteworthy that I completed a double challenge here some years ago. I did the swim course twice, after the full bike course twice and finally the marathon twice. It was a wonderful thing to finish that with a group of friends and supporters who kept me through it. It took me about 26 hours to finish.
Sadly, the 2022 edition has been cancelled. Luckily, there is a virtual twin going to be held on ROUVY. Are you going to attend?
Yes, sure; I plan to attend!
See you on the starting line, then! Thank you very much Andrew for your time and I wish you all the best with your races this season!