2022! What a year! Like most of the years this decade, a lot of bad stuff happened. But a lot of really good stuff happened too… like the breakthrough in creating clean fusion energy and the decline of the Covid pandemic (for now). So let's take a little time to celebrate the good stuff.
For ROUVY too it was a really good year and here's an end of year review to sum up what's been happening at ROUVY HQ.
Once Upon a Time there were Two Brothers…
ROUVY is the brainchild of two brothers, Petr and Jiri Samek, from the town of Vimperk in the South Bohemian region of the Czech Republic. They had been developing the concept of combining an indoor trainer with video footage for several years before ROUVY was launched in 2017. Every year since then, ROUVY has released updates, new features and a busy events calendar to gradually increase the realism and engagement of the ROUVY experience.
But 2022 seemed a bit special. There were more updates and they were bigger… and better. ROUVY was on the rise.
So let's toot our own horn for a moment and go through the key milestones of 2022 - the developments, the events and the things we enjoyed.
2022: the New Features
Career Mode
All that hard work should count for something right? With the new Career Mode, released at the very beginning of the year, it was now possible to keep track of your achievements with an avatar, coins and an up-to-date overview of your status. In terms of self-motivation, this was a crucial new innovation.
Strava Live Segments
With over 80m users, Strava has quickly become one of the key cycling and running apps out there, with a strong emphasis on building an athletic community. When ROUVY introduced Strava Live Segments into the app in September, it opened up a whole new world to the indoor cyclist, who could now check their stats on their favourite routes in real time and compare them with others. It brought a competitive edge for riders who are constantly looking to challenge themselves.
Ghost Riders
Some people prefer riding alone, some people prefer riding in groups. With this feature you can now choose either, with the option of riding with other (up to 10) bot avatars to keep you company. And no, it's not at all spooky.
OmniMode
Looking straight ahead is the default mode for most cyclists. But what if you wanted to see all around you too? Why shouldn't it be possible for cyclists to be able to see all the great scenery on ROUVY's realistic route videos all around them? This was the initial premise that the ROUVY dev team asked themselves and the solution, released in the fall, was OmniMode.
New technology is now being implemented to allow a new approach to creating routes, with an improved 360o viewing experience that can be customised to suit your preferences. Throw in some cool new upgrades and improvements as well, and riders got a glimpse of the future of indoor riding. And this is just the beginning.
---
Jiri Samek, Chief Technical Officer:
For me the highlight of the year was OmniMode, which was the result of discovering a new way of creating AR routes. In 2023, we will continue with improvements in OmniMode and explore offering regular users the ability to create routes.
---
Companion App
The ROUVY community had been asking for this for a while, so as a final new feature of 2022, we delivered. The launch of the beta version was so successful and with such high demand, that we actually had to pause the roll-out. The full-version will be released in all its glory next year. The new ROUVY Companion App can be downloaded onto your phone and kept within reach while you ride, giving you more control and options without the need for annoying breaks or dismounts. There's also an improved search engine that lets you create your personal playlist - searching for and storing routes that you want to ride in the future.
2022: The Big Events
Along with the challenges and races, events are a huge part of the ROUVY community and are something we put a lot of love and energy into. A strong online cycling community needs regular online events to keep it motivated, provide social focus and make it feel like it's part of something. Those have always been the three key aims of ROUVY events and in 2022, they were ramped up - the annual event calendar is now bigger and better than ever.
La Vuelta & La Vuelta Virtual 2022
This year we teamed up with the iconic Spanish race in August and September for our biggest action yet. With 15 virtual sections of La Vuelta on offer, it was a chance for riders to really get a sense of what it's like to compete in the Spanish Grand Tour. Riders who took part from home then had the chance to compete in the Grand Final in Madrid itself. The race was won by Ward Simons from Brussels who described it as an incredible experience.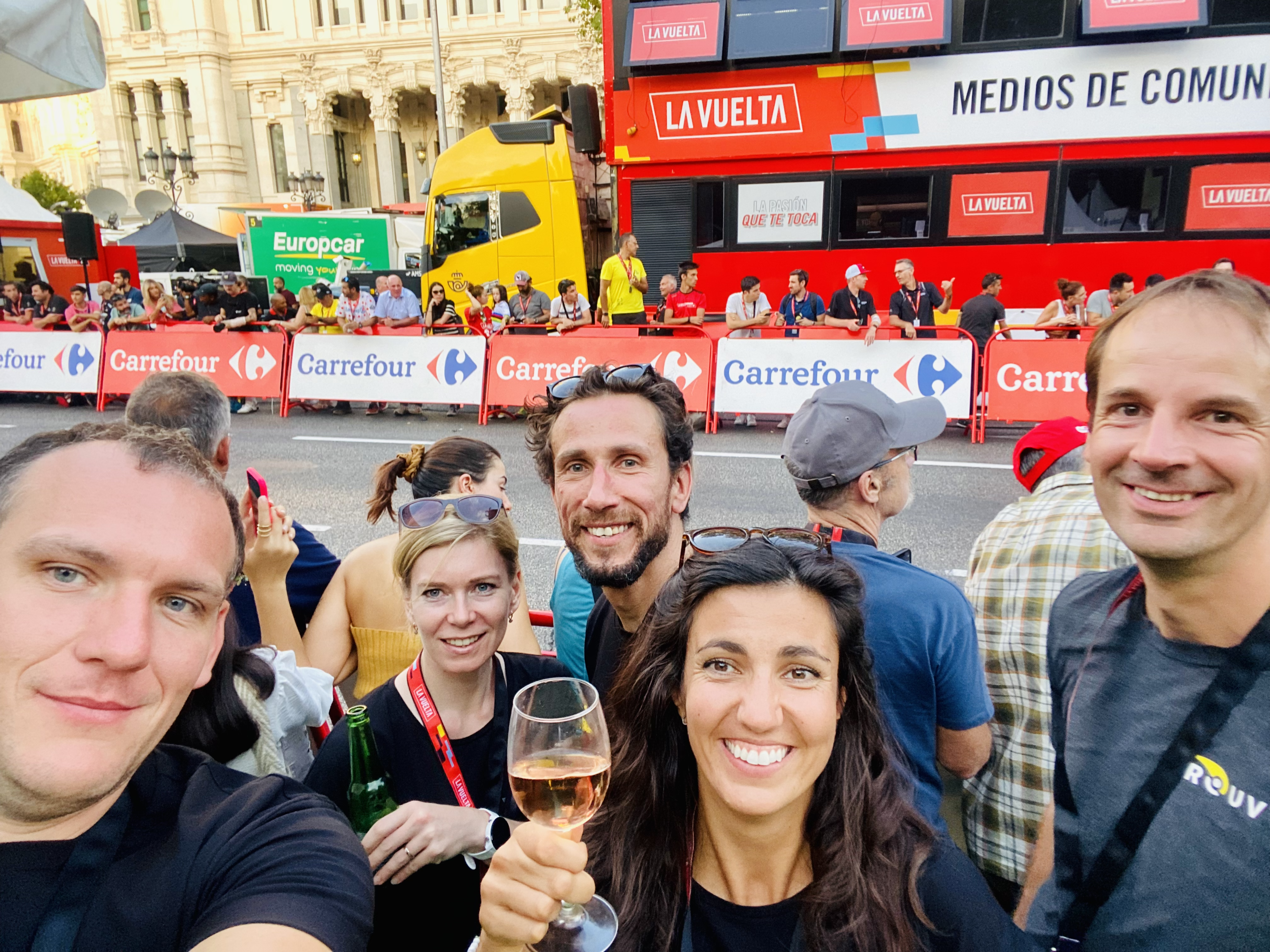 The route-side ROUVY team at La Vuelta
Triathlon Fall Fest
About 30% of the ROUVY community are triathletes and we wanted to create something special for this elite group of athletes. So in November we launched the world's first ever online triathlon event with Triathlon Fall Fest.
This unique and ambitious 4 day event was designed for triathletes as well as cyclists interested in trying one for the first time. It involved races, group rides, a webinar (with top insights from the pros) and it's something we want to continue in the future.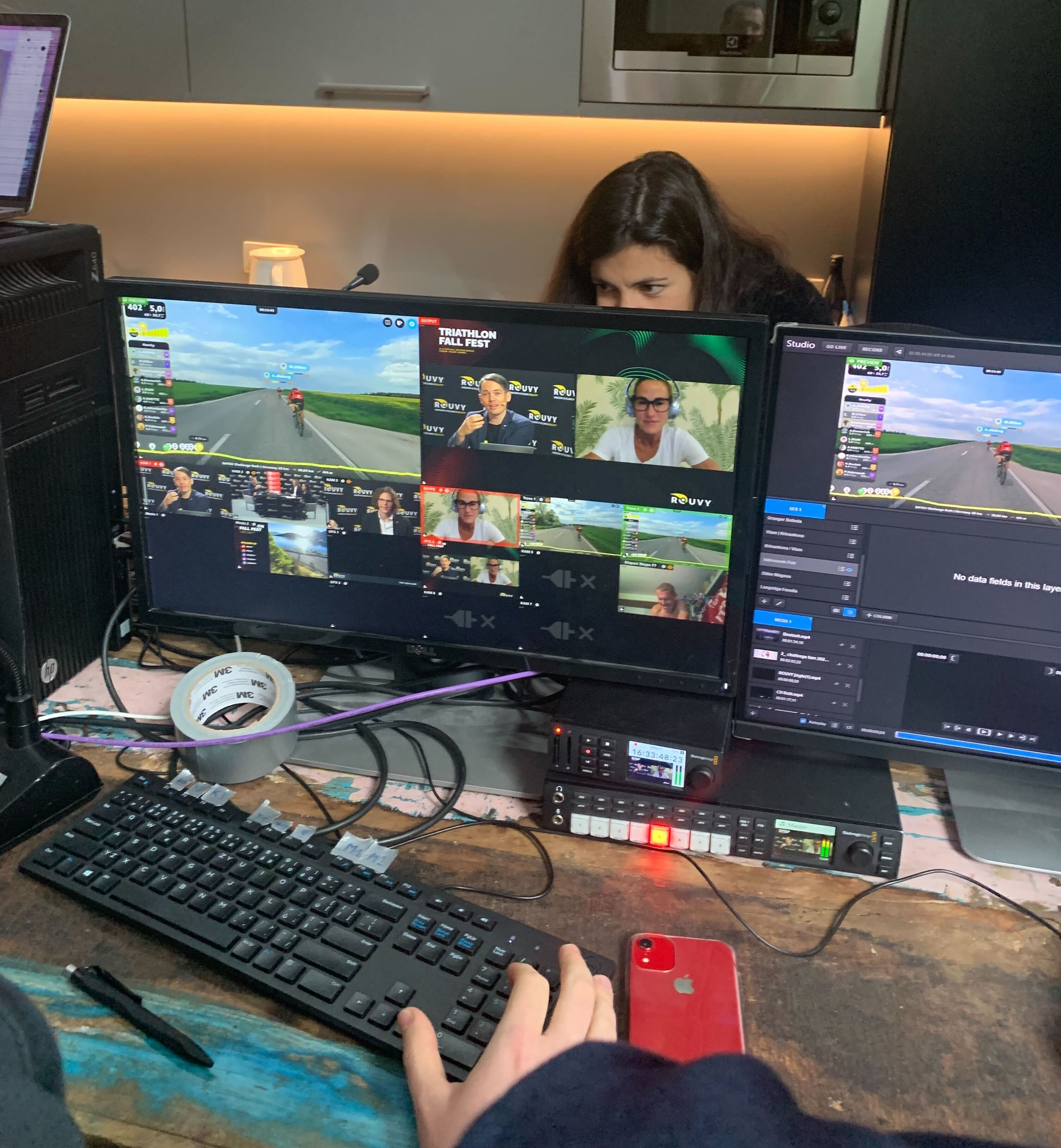 Live streaming Triathlon Fall Fest in the ROUVY studio.
The Tour de World
This was one of our most popular events of the year and a whole lot of fun. Running over 6 weeks, it offered riders 6 challenges and 12 routes across 6 continents. It was a great way of exploring the corners of the globe with some of the world's most interesting and iconic routes chosen for the event. It's a great way to get the full flavour of what ROUVY can offer and we look forward to building on it in 2023.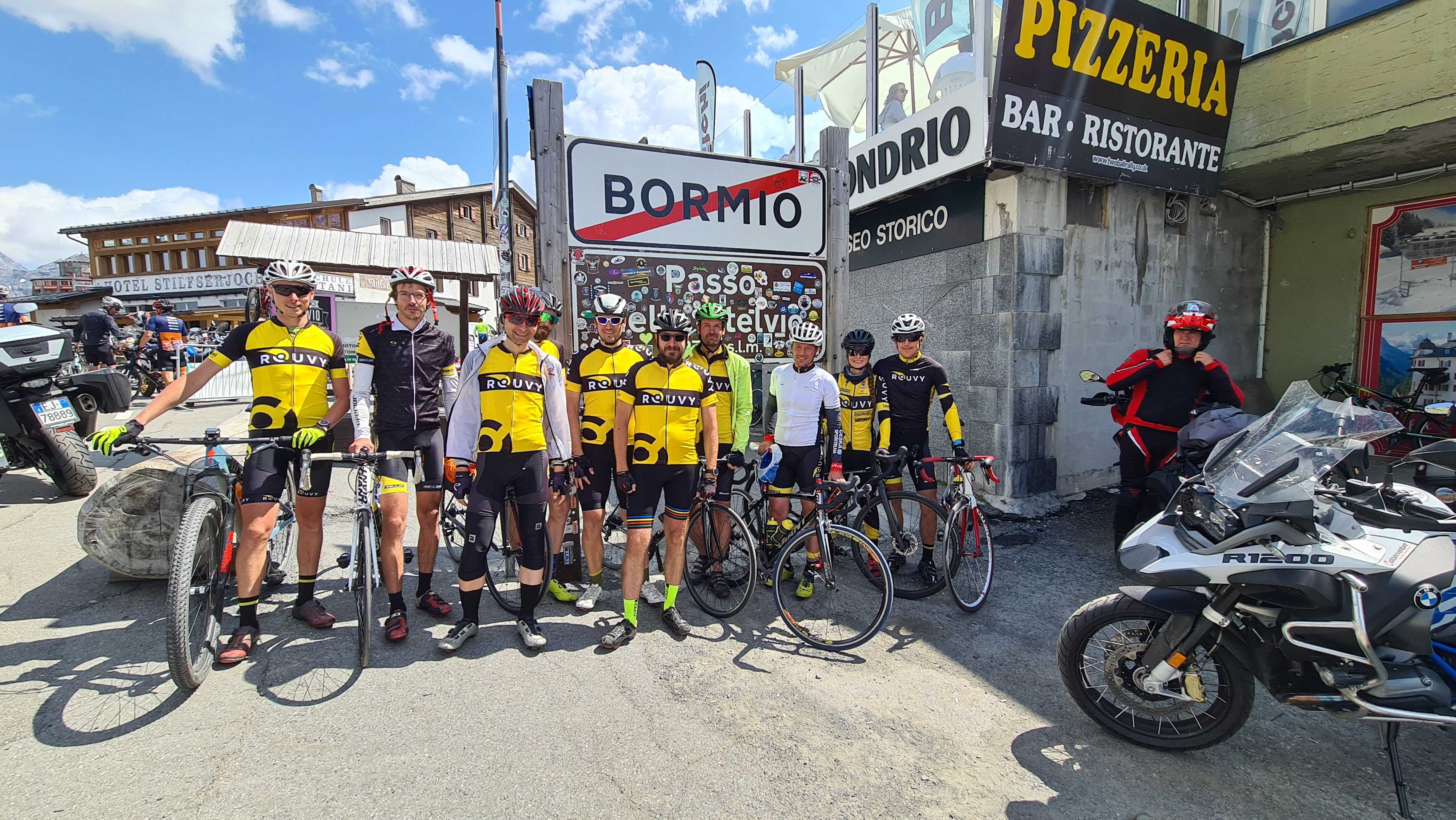 Team ROUVY on a working holiday in Livigno, Italy.
What's been happening at ROUVY?
---
Petr Samek, ROUVY CEO:
There were so many highlights to this year, honestly. Let's start with La Vuelta this year because it was a great start to the indoor season. After that we released many new features like Strava Live Segments, and OmniMode. But most important for me was that we were able to bring so many improvements and so much new content on a regular basis which really improves the experience and that's great I think.
---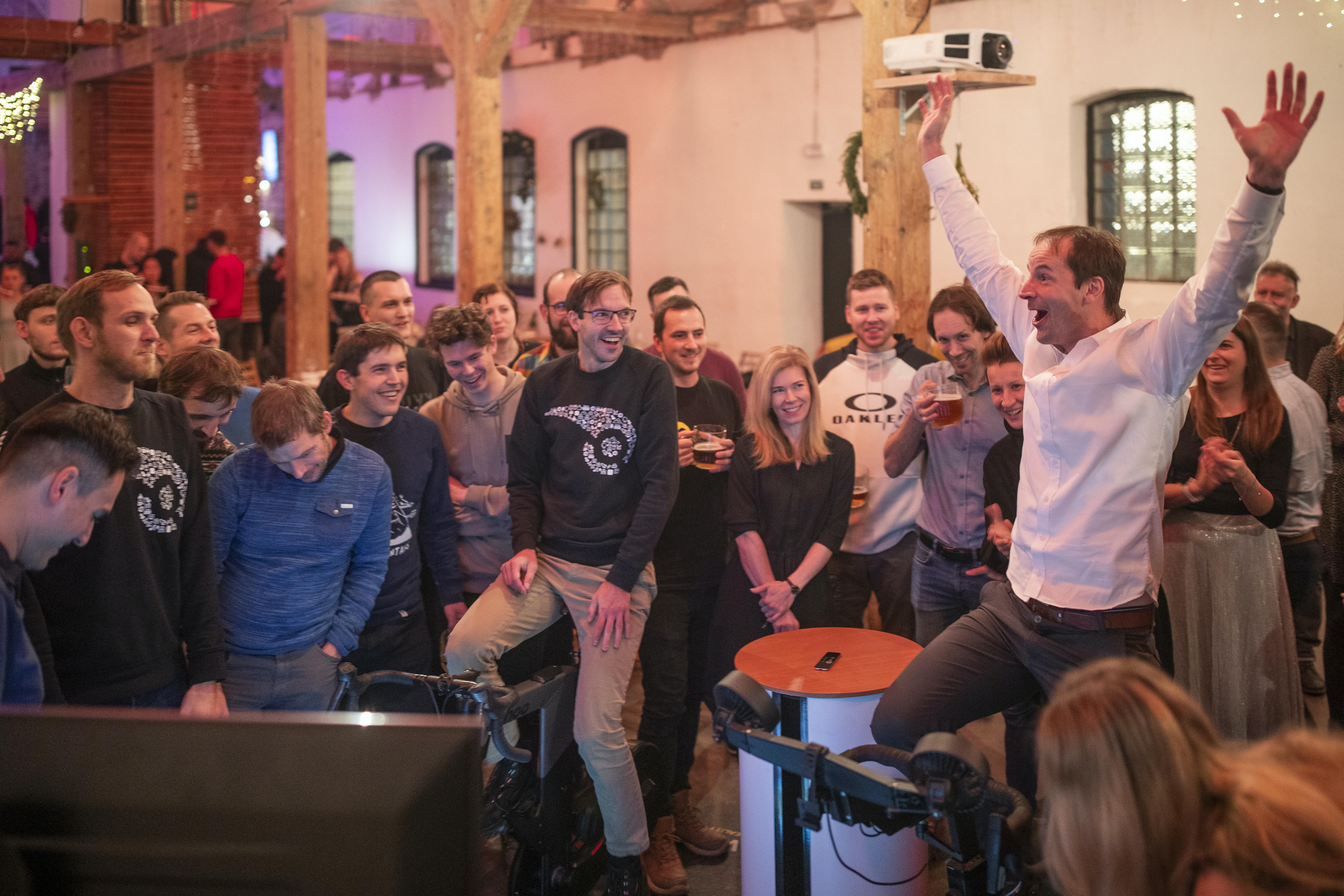 Petr Samek beats his brother Jiri at the Christmas party Cycling Challenge… just!
The company itself has expanded a lot over the last 12 months. The team has now grown to a global crew of over 130 people around the world. HR have been busy recruiting a crack team of talent with a passion for cycling and success. The Dev team and Marketing team have been on overdrive and we've built up our partnerships with influencers and ambassadors. A lot of work goes on behind the scenes that is not doesn't get the praise it deserves, so here's a big shout out to the route creators and beta testers who do an amazing job. This all, hopefully, has seen a marked impact on the quality and scope of the ROUVY experience and we will continue to push and improve the service.
The social-media team have been busy on our socials and pumped new life into them. An increase in videos, memes, and great posts in general, has seen a whopping increase in engagement and organic reach. Here's our most popular IG post of the year with the magnificent Malena.
We'll also be introducing a new blog format early next year which will be even more sexy and swanky! Woot!
Martin Mrva joined ROUVY as the new CMO this year and here's his thoughts on 2022:
---
The highlight of my year was definitely coming to ROUVY. I've learned a lot about the indoor cycling world and met many talented people that help make ROUVY what it is. I'm proud to be part of such a successful company with a great vision and to work with all the talented people in the marketing team. We really are a dream team - we've built amazing chemistry in such a short time in the marketing team.
The biggest challenge of the year was moving to Prague, starting a new job and working with new people. It was a leap of faith with many unknowns, but I believe that we grow when we face the unknown and overcome the challenges it brings. I'm looking forward to 2023 and some great marketing campaigns that we will create. We have many plans for next year and I can't wait for them to materialise.
---
His year was capped off with ROUVY being awarded a prestigious place among the 50 fastest-growing tech companies in Central Europe in the Deloitte Technology Fast 50 CE. Martin and Petr Samek picked up the award on a very satisfying evening.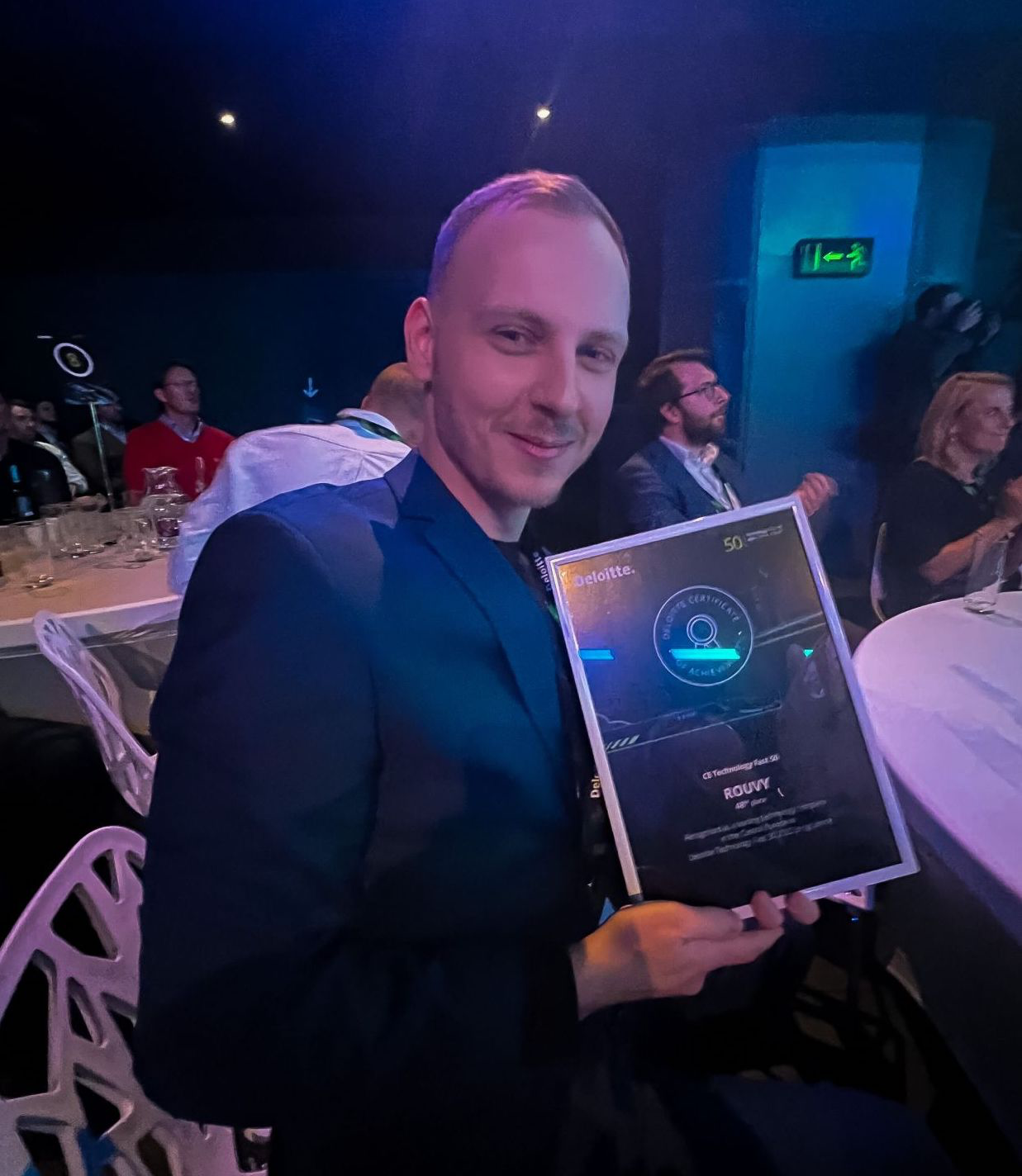 Martin with the award
What's up in 2023?
LOTS will be up in 2023. Some of it, like the Virtual Garage, the full version of the Companion App, more routes, more features and the welcome arrival of the Femme campaign to bring more women to the platform, are pretty exciting and we can't wait to unleash them. Other things, we're just not allowed to tell you… yet. Sorry :( But be sure to watch this space!
This decade has been full of surprises and 2022 was no exception. There's sure to be plenty more next year too but let's hope there will be more good than bad ones.
And don't forget, if Kate Bush can get to Number 1 with Running up that Hill, there's nothing to stop you Cycling up that Slope on ROUVY.
And finally...
Everyone at ROUVY would like to wish you and your loved ones an amazing 2023. Keep on Rolling!
Tell us how your ROUVY year was in the comments below and let us know what you are looking forward to in 2023.