What is DRAFTING?
One of the benefits of group riding is experiencing the drafting effect while being in a paceline of another cyclist.
Drafting occurs when a cyclist moves into an area of low pressure behind another cyclist, reducing the wind resistance and the amount of energy required to pedal. Doing this correctly can reduce the amount of effort you're putting in by 30%, meaning you can go further, faster and get more PRs!
Racing becomes not only about your power but also about your tactical skills. It will also make racing more fun because of the tactical elements. Scan the profile of the route, save some power and attack in the key moments!
Grand Prix Bad Homburg is the first public race on ROUVY where you can try the drafting feature and show others your tactical skills. The drafting feature in BETA will be enabled exclusively only for this race, so don't miss the opportunity to try it!
What do you need in order to experience the drafting feature on ROUVY?
You have to run ROUVY on the LATEST VERSION OF ROUVY AR APP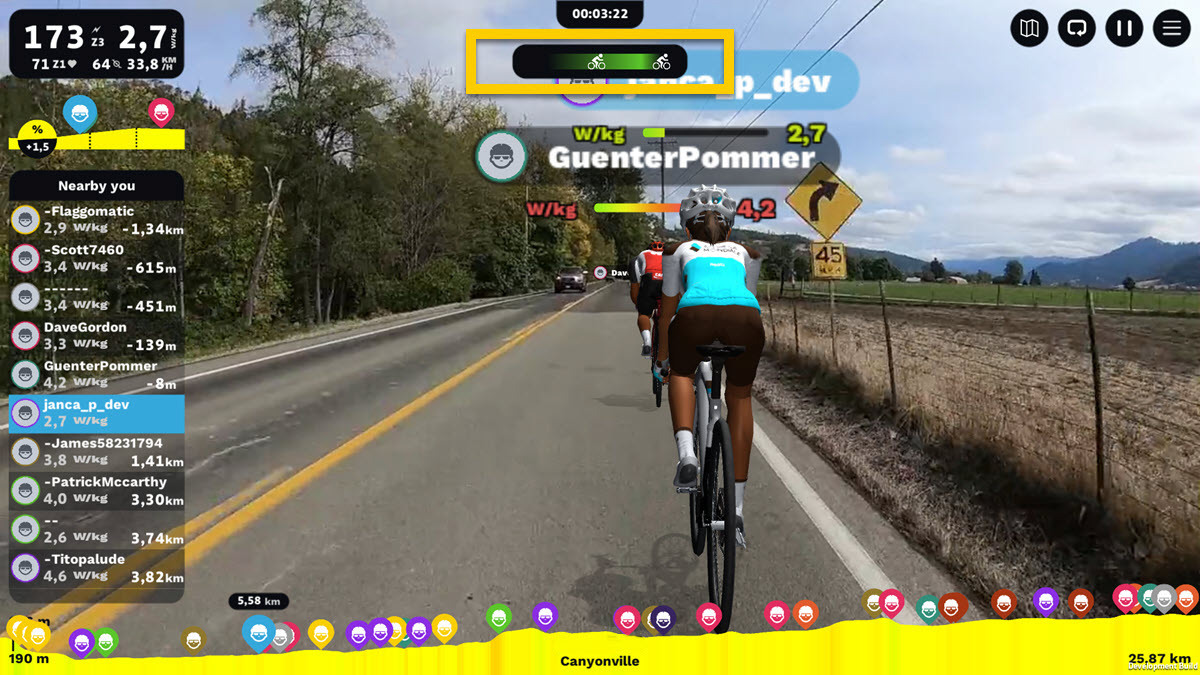 How much energy does drafting save on a bicycle?
Interestingly, there seems to be little consensus among researchers that have investigated this topic. Studies have shown drag reductions of between 27% and 50% for riders who are drafting. The exact reduction depends on several variables — the size and the location of the bike in front, likewise with the drafting rider, the distance from the wheel in front, the direction and the wind speed.
How does DRAFTING work in ROUVY AR?
In the new DRAFTING feature on ROUVY, the experience of following behind a rider with a steady speed is replicated. Naturally, the benefits of the drafting effect also depend on the route profile and performance of the rider in front of you.
Based on the drafting position, your power and heart rate values will increase or decrease. When you are close to the rider in front of you, you will notice the decrease in resistance & HR values. On the other hand, once you are not in the slipstream, the resistance will increase.
In the picture above, you can see the drafting indicator - the green bar shows the distance between 15-0m. For the best drafting effect, you need to be as close as possible to the cyclist in front of you in order to maximise the effects of the feature.
HOW CAN YOU TRY THE DRAFTING FEATURE ON ROUVY?
The drafting feature is in beta testing right now. It is still being developed in order to mimic reality as much as possible.
Your feedback helps our ROUVY community bring the experience of riding outdoors into your home. Anyone can try drafting in a few online races.
So, what are you waiting for? Register for the 40.1 Grand Prix Bad Homburg race now to experience drafting.