In my previous blog post, I shared some scenic and short courses that one can ride to fit into a busy schedule, such as a lunch break. These would be a great place to start, whether a beginner or avid cyclist. Once you have managed these comfortably, you can move on to the following suggestions for longer courses for endurance training and riding longer rides.
Remember that one hour of continuous riding indoors (no downhills) equals almost two hours of outdoor riding. One can focus on maintaining effort, power and speed without distractions and obstacles such as intersections, road hazards and traffic. You get more bang for your buck! Endurance routes, ridden 3-5 times a week with no downhills, will keep your endurance training on track and prepare you for the summer season and for introducing longer distances outside together with your ROUVY indoor training. Combined indoors on ROUVY and outdoor riding, the two are a powerful combination for improved fitness. The combination increases muscular endurance, aerobic fitness, and fat-burning capacity. Remember always to include a short warmup before and a cool-down spin afterward.
Finding your endurance zone
To build a fitness base, we need to start with base work in Zone 2 power and find out what one's power zones are. You will need to find your FTP number (Functional Threshold Power). To do that, you can either do one of the FTP tests found in the Workouts section in the app or use a steady climb route with no downhills that will take you around one hour to complete at the fastest pace you can maintain while carefully pacing yourself. You may need to do this twice to get a consistent number, and it's best to do this test on rested legs for an optimal result.
Once you know this number in watts, manually insert this in your zone settings in the dashboard under your profile settings, and then allow ROUVY to estimate it in your power Zones settings on the website. You will see a power Zones graphic with coloured blocks showing your different zones. Look at your zone 2 and what these watt number parameters are. Then, set your in-app ride settings to show the percentage of FTP (as opposed to W/Kg). You'll focus on keeping roughly 60-70% of your FTP number when riding a route or an endurance Zone 2 workout. Try and keep a high cadence of between 90-100rpm. This will take some time to adapt your pedaling style but it will improve your speed.
As you get fitter, your heart rate drops over time, and your power numbers increase. Use the 80/20 rule, and you will stay on track to make fitness gains. Do 80% of your rides in the endurance zone and 20% in a high-intensity watt zone (racing or high-intensity workouts). This ratio can be in the order of 5 days of endurance, including one rest day, to one or a maximum of two race or high-intensity days. Training in such a way can easily be maintained all year and will keep you fit without overtraining or plateauing. So let's now improve our endurance while exploring some beautiful routes.
The spectacular Clear Creek Canyon, Colorado
(FTP testing route)
2W/kg - about 1 hour
3W/kg - about 50 minutes
This gentle climb is the best place to start to get an estimated FTP number in the least painful way possible. Ride as hard as possible on rested legs for under an hour and then try it again on another day, once recovered, to ride and enjoy the stunning scenery. There is no need to complete the route. The first time won't be so pleasant, but necessary to get your magic FTP number to nail your accurate zone 2 training zone!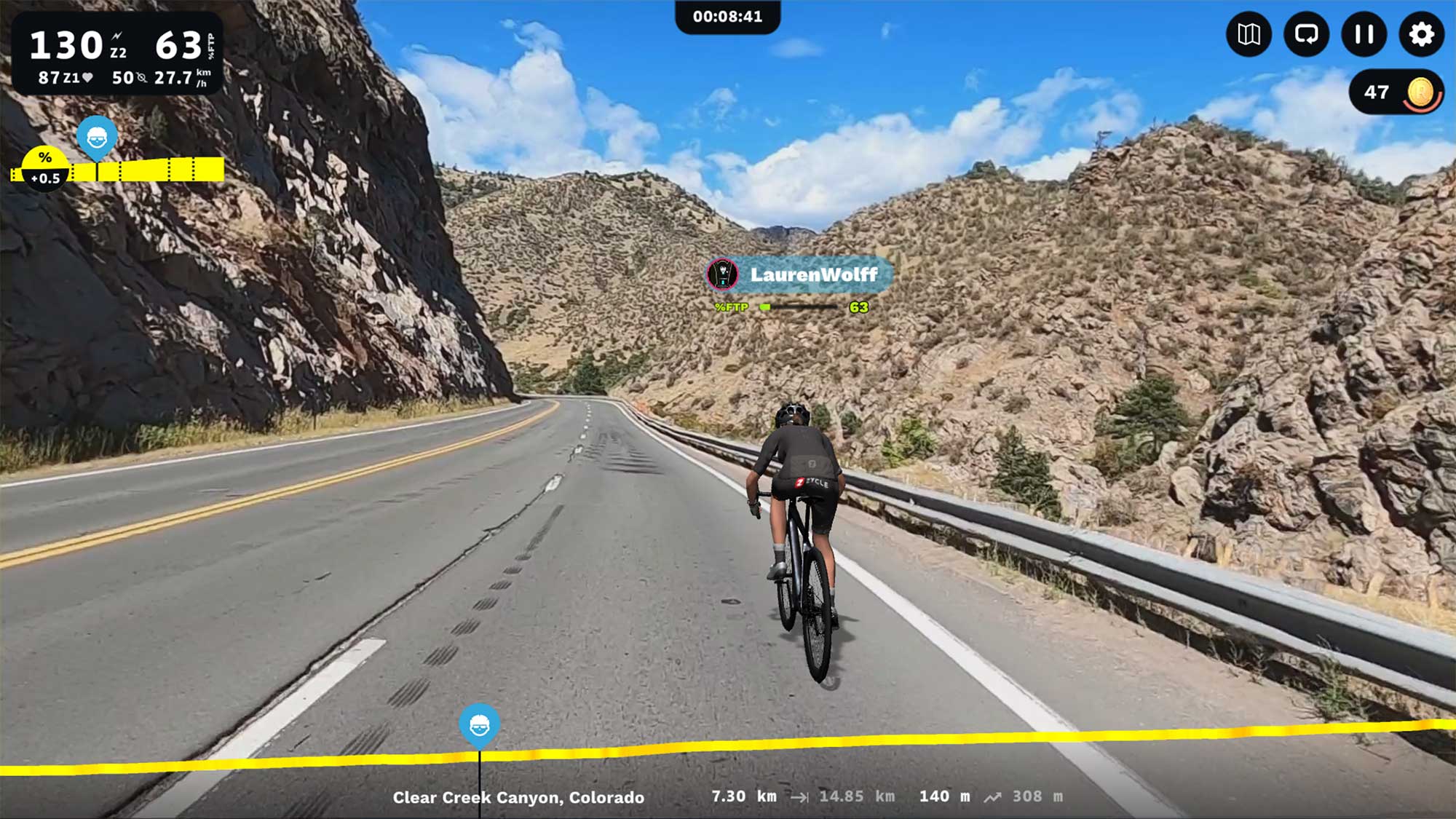 Clear Creek Canyon Park in Colorado, USA on ROUVY for an FTP test
Clear Creek Canyon Park in Colorado offers spectacular views as you ride through the gorge with its steep granite rugged walls towering high above the road and the fast-flowing creek alongside the road. The river originates from the ancient Continental Divide that flows through a deep and wide glacial valley towards Idaho Springs. The valley narrows, and the stream drops as it enters the narrow, relatively undeveloped Clear Creek Canyon.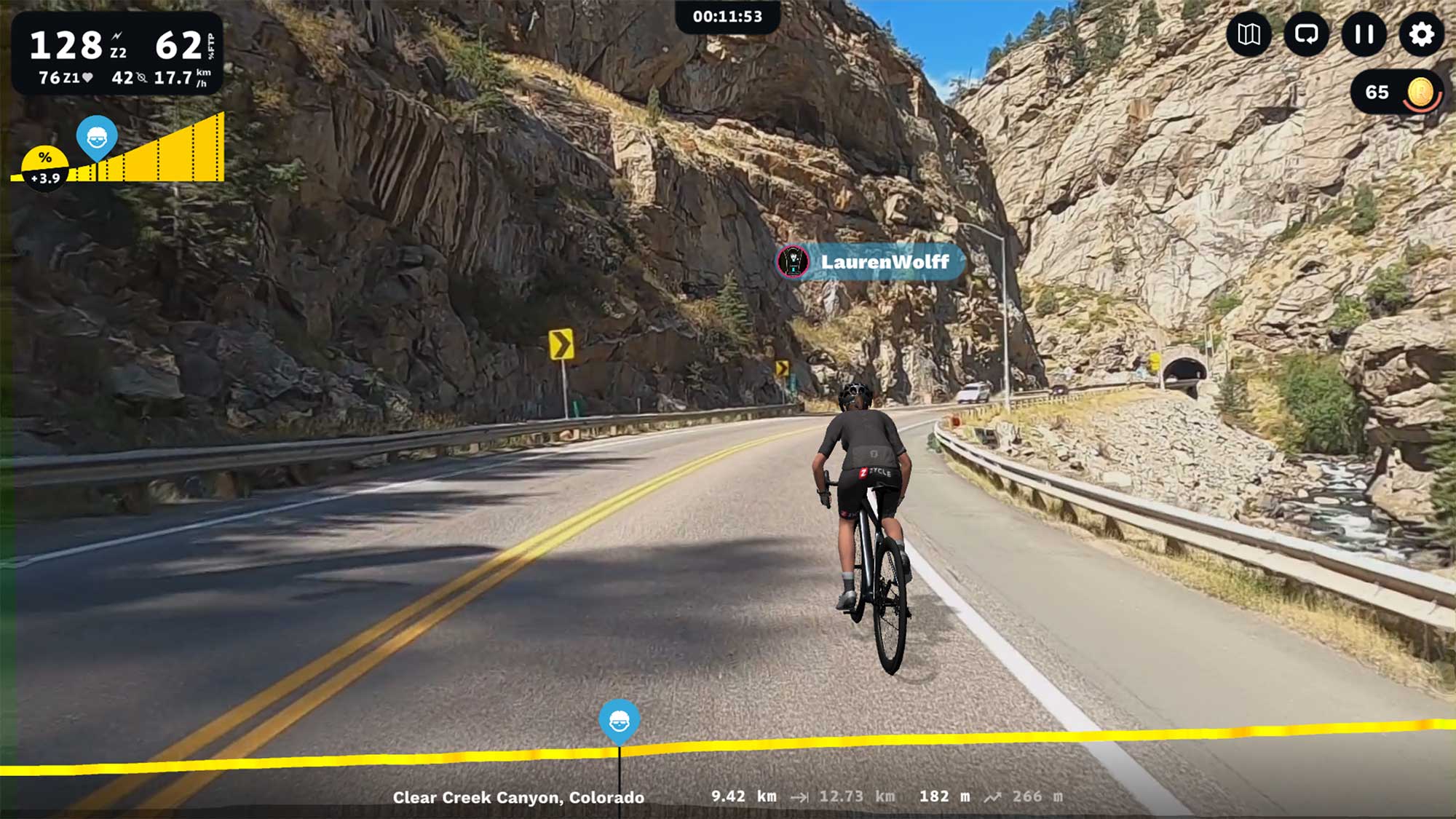 Clear Creek Canyon Park in Colorado, USA on ROUVY
The magnificent Park is in Jefferson County, Colorado, where a 3,384-acre riverside wilderness region features miles of hiking and biking trails and rock climbing and rafting opportunities. The ride winds through this magnificent gorge surrounded by spectacular cliffs and unspoiled nature. Try Clear Creek Canyon on ROUVY
Nusfjord - a Nordic fjord meander
Discover a magnificent narrow winding road in Norway, one of the Scandinavian countries, on a route called Nusfjord to Haukland Beach with its sheltered bays and coves, deep fjords surrounded by spectacular, dramatic and rugged mountain scenery, dense forests, and deep valleys. In summer, when the sky is blue, the fjords take on a rich azure blue colour reflecting the sky and contrasted against the rugged cliffs and deep green vegetation and forests, completing a masterpiece of a landscape unique to Norway.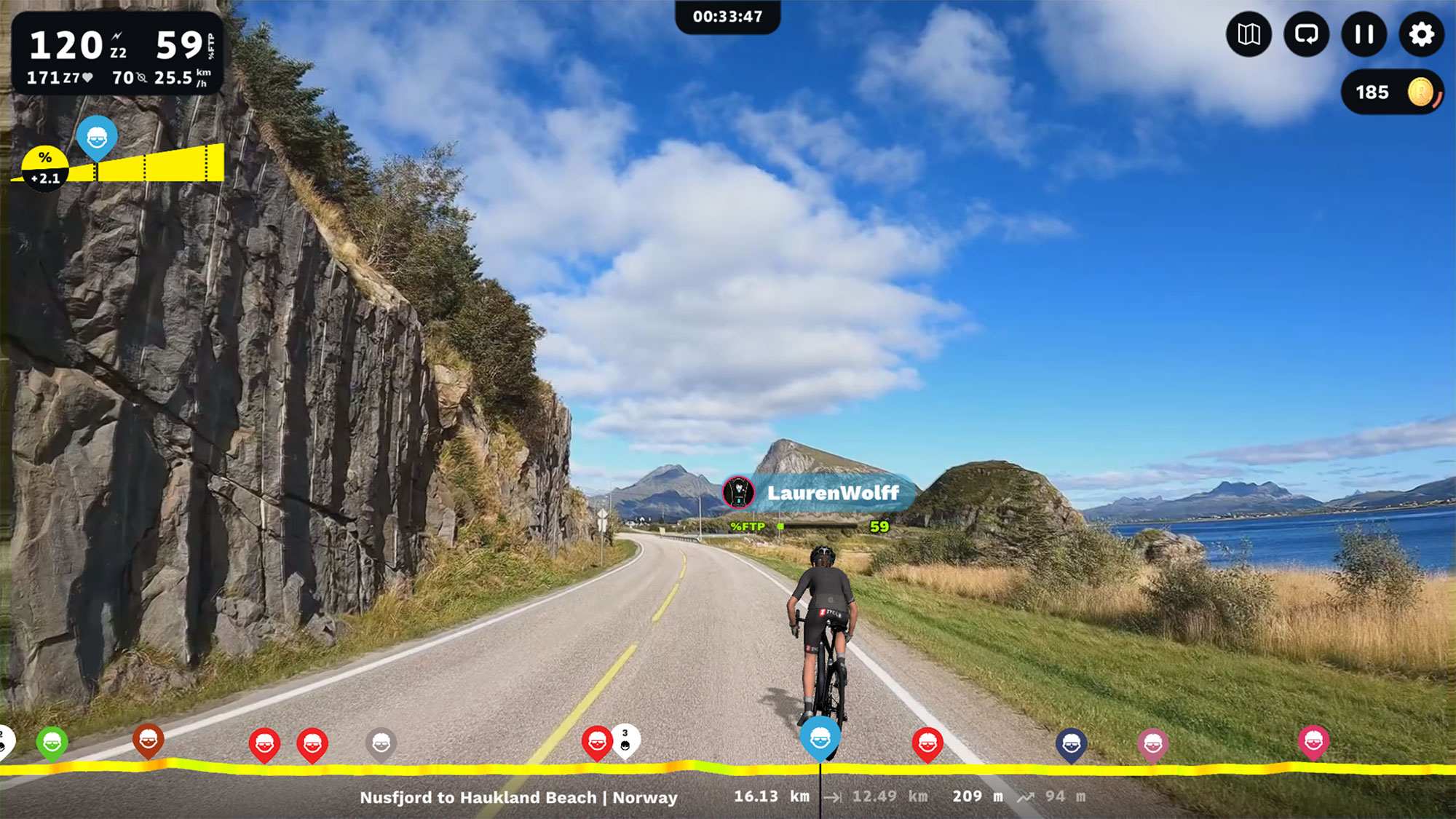 Exploring the beautiful roads in Nusfjord, Lofoten, Norway on ROUVY
Nusfjord is a small fishing village in Norway that lies on the southern shore of Flakstadøya island in Lofoten in the north. Glaciers created the fjords of Norway that, over 2,5 million years, changed and altered the landscape by carving deep valleys into the coast below sea level. Nusfjord is one of the most famous of many fjords found on the coastlines of Norway. The word fjord comes from an ancient Viking phrase for 'crossing over point.'
As you ride along, you will spot here and there the characteristic red and ochre houses and buildings nestled beneath the majestic Lofoten mountain range along the Vestfjorden. The red colour used for the homes and buildings allows the wood to breathe and dry quickly. The minerals of this natural colour preserve the wood, and it helps it to last longer in this damp climate.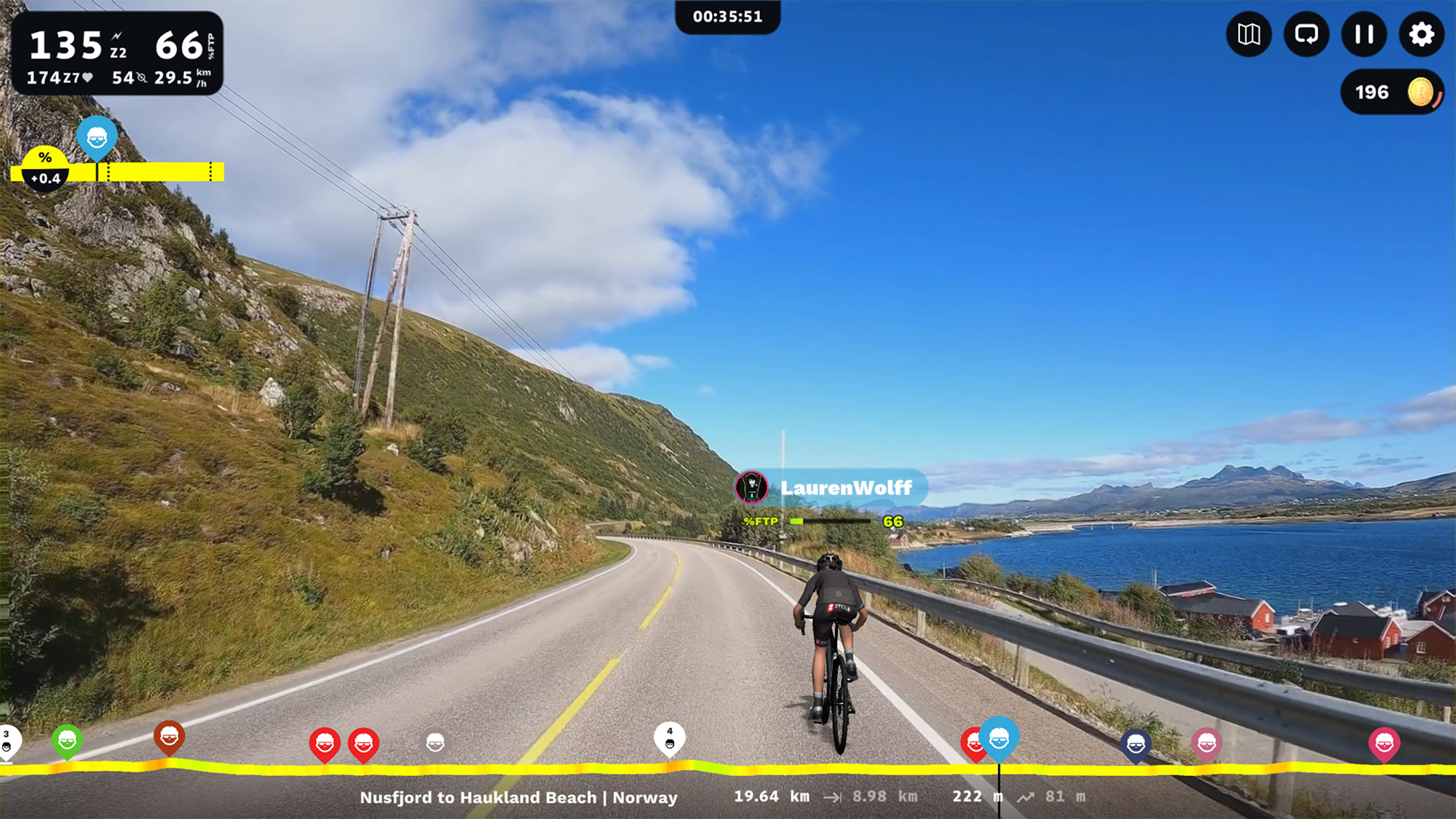 Nusfjord, Norway on ROUVY with the fjord and characteristic red houses
From Nusfjord, located on the western fjords, with its mountain backdrop appearing chiselled out of the sea like enormous towering sculptures, to the northern islands under the midnight sun, there is a lot to discover as you cycle on quiet and peaceful roads in this magnificent and picturesque region of Norway.
René Hanneman, who went to Norway and filmed the route for ROUVY, described his experience,"I was there last September during my big Norway trip. I travelled north from southern Norway to Lofoten and Nordkapp. In the meantime, I was able to film some nice routes along the fjords and over the Fjells (mountains). The routes should be published on Rouvy soon. Nusfjord is the first route on Lofoten. It runs from the old, historic fishing village of Nusfjord, which is now a large open-air museum, to Haukland Beach, one of the more famous beaches on the Lofoten islands. You probably won't want to bathe there. The water is probably a bit fresh (estimate 15 degrees). But the scenery with the steep mountains right by the sea is quite impressive. The roads are rather narrow, hilly and very pleasant to ride by bicycle since the traffic is rather low, at least after the holiday season, which ended mid-August."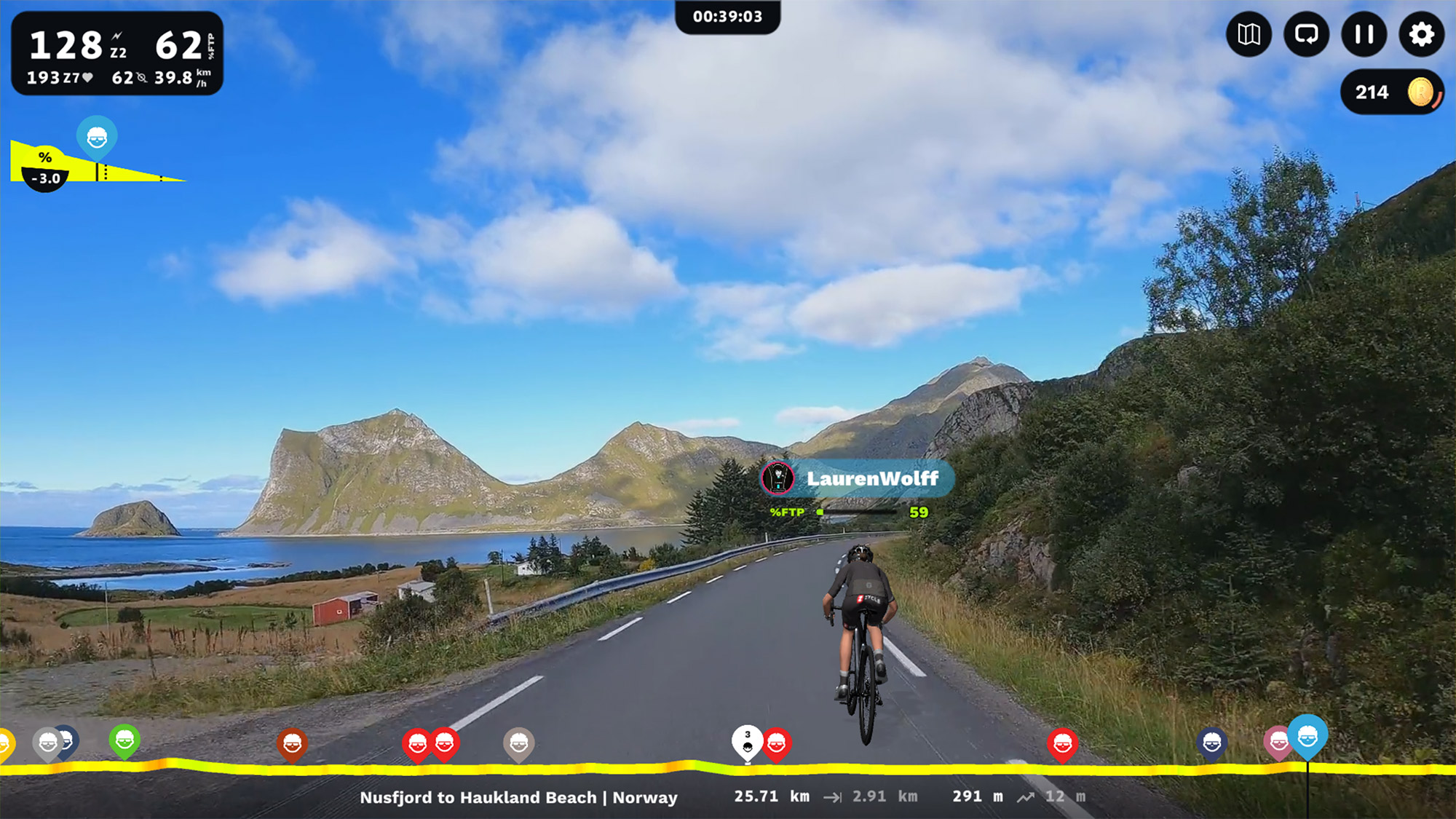 A rugged backdrop of the steep mountains framing the fjords in Norway
Aside from being the first AR route from Norway, this is one of the Northernmost AR routes currently available on ROUVY, apart from Swedish and Canadian routes. Norway lies at the latitude 68°N within the Arctic circle, and you can explore this far-flung and chilly place from home on your trainer.
Estimated time to complete:
3W/kg - 50 minutes
2W/kg - 57 minutes
Lake Zug to Unterägeri - a Swiss Lake paradise
This 34km idyllic and magnificent route in Zug, Switzerland, on the outskirts of the Alps, beginning in the mediaeval and charming town of Zug and ending in ​​Unterägeri (Unteraegeri), will help with your endurance as well as strength with a little bit of gentle climbing. The town of Zug, with its narrow streets, picturesque colourfully painted houses, and beautiful architecture, is situated approximately in the middle of Switzerland, between Zurich to the north and Lucerne to the south on the northeastern edge of Lake Zug (Zugersee).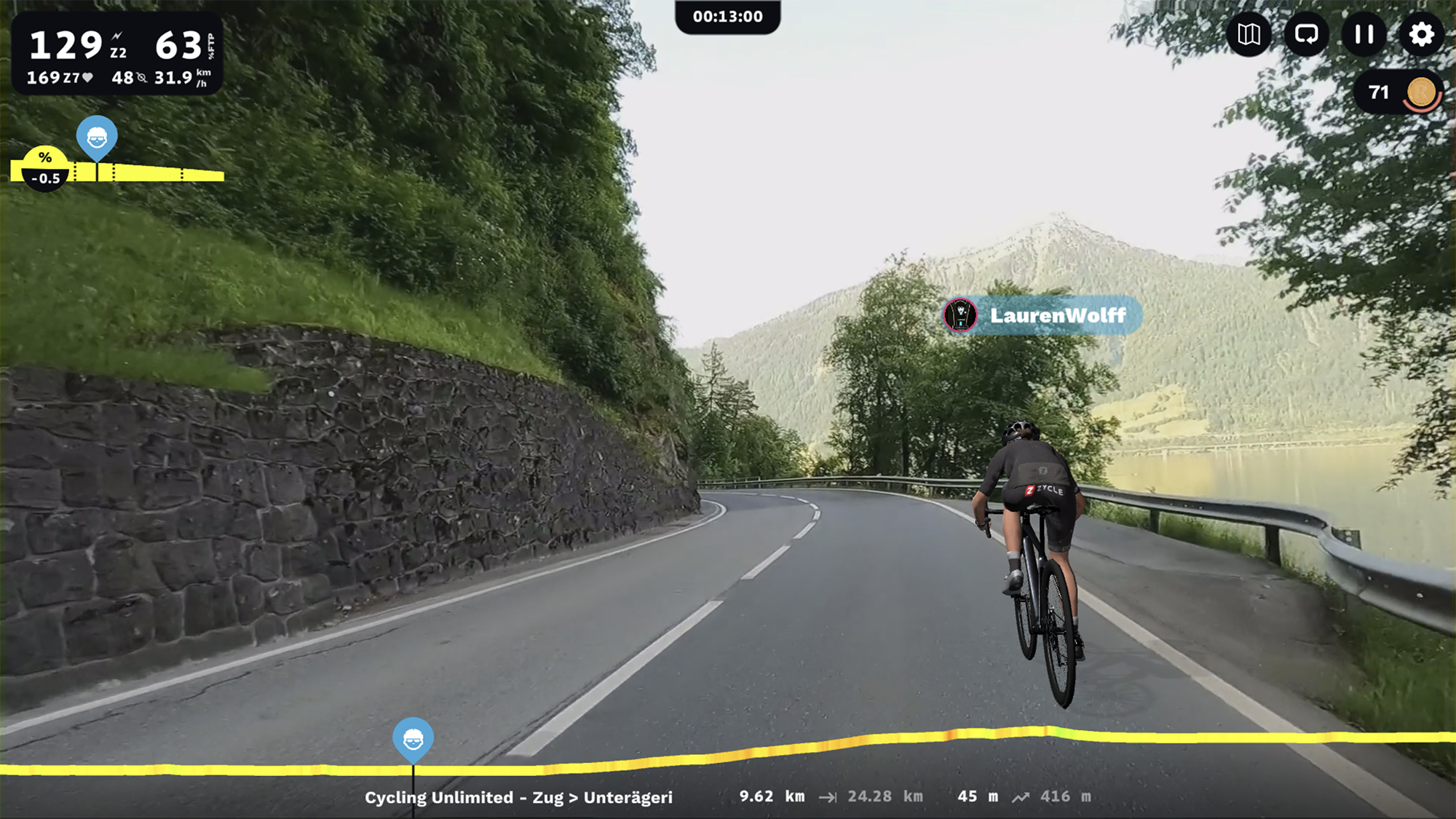 Ride along Lake Zug in Switzerland on ROUVY
The Lake Zug route has breathtaking scenery along its 14km length (5km wide) with picturesque views of the water, Zugerberg Mountain on its eastern side and Mount Rigi, a backdrop on the southern shore with steep sides. Along the way are ancient castles and old towns with their mediaeval houses.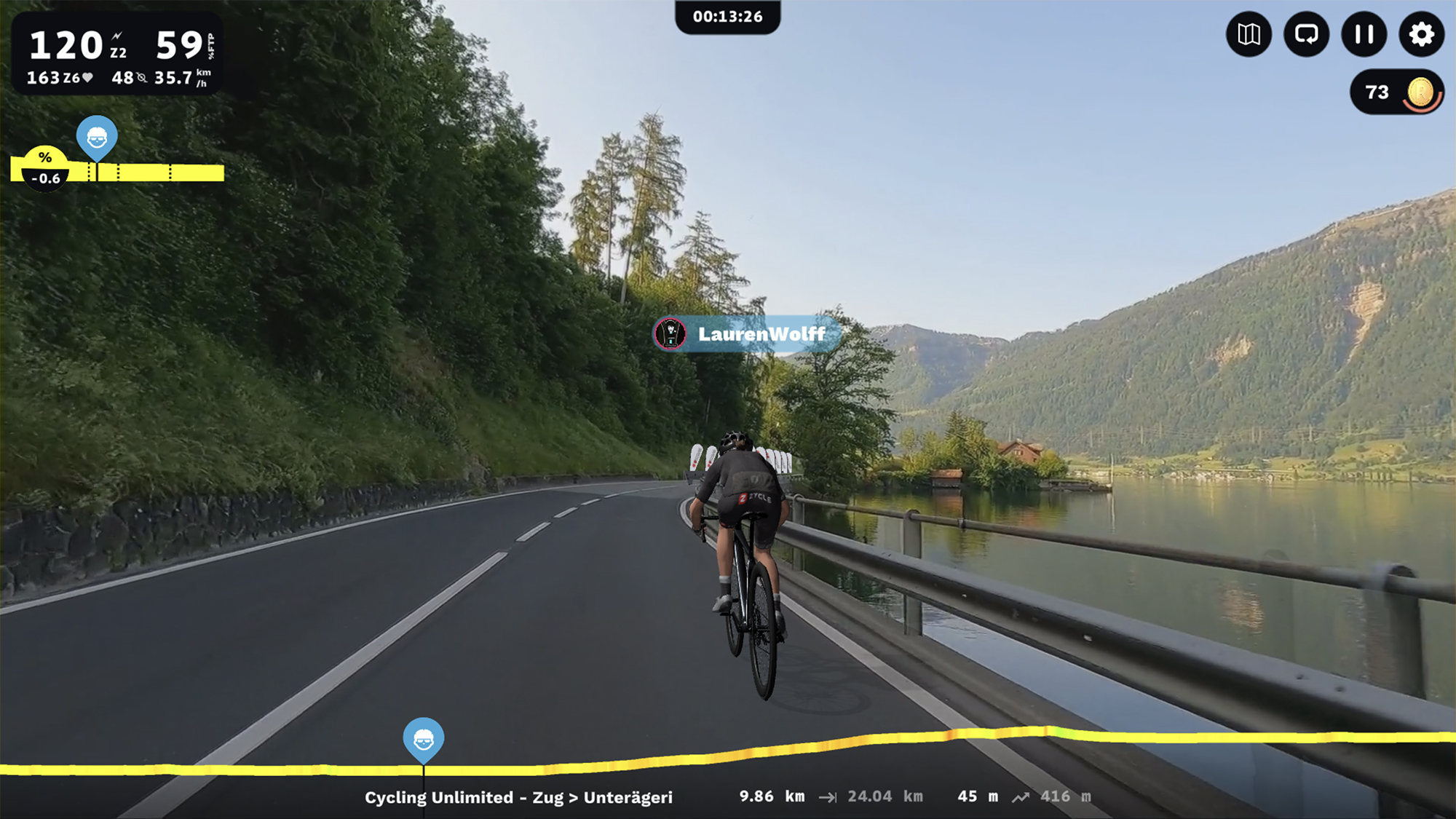 Explore Lake Zug in Switzerland in a magical setting with a mountain backdrop
The first 12 km are flat, followed by 12 km of gentle uphill, followed by some panoramic downhills into a flat stretch to the end of the route. The route takes you around the smaller blue-green Lake Aegeri located in a scenic valley in Unteraegeri, a municipality in the canton of Zug.
A Swiss ROUVY user describes her local route, "My go-to ride route and a very popular "little" loop amongst us locals! The Sattel climb has stunning views of the famous Mythen peaks that tower above the twisty Sattel road. Not a steep climb but has a short sting in it at EchoHome. Fast TT sections or easy spinning can be enjoyed from Zug town, with incredible views across the Zugersee of the highest peak in our region: the Rigi in front of you and Pilatus further to the right, in region Luzern. Then after the climb enjoy a fast TT along lake Aegerisee and sprint finish to the sign post in Unteraegeri - finishing off with a Swiss coffee and Gipfeli at the Zumbach cafe!"
Estimated ride time:
2W/kg 1h20
3W/kg 1h10
Find more endurance rides to improve your fitness located in the 60 plus minute folder (including some climbs as well)
Endurance workouts can be found in the Endurance folder in the Workouts app or search for Zone 2 or on the website.