These incredible giant rocks have unique names that have become well known. Since the 70s, thanks to a combined effort of a group of intrepid and passionate explorers, the area has become a famous tourist attraction: Park Avenue, Courthouse Towers and the three Gossips. You will also pass by the Iconic Balanced Rock; by its shape, one can only wonder how it still holds up! You'll then make a loop past Windows arches and Double Arch. Up next, you'll pass by the turn-off to go to the World Famous Delicate arch that gives Arches its name, rightfully so. However, you won't see it from your bike, as viewing it requires a short hike. Then on to Fiery Furnace, a labyrinth of towering sandstone sculptures. You'll then pass by Sand Dune Arch and Skyline Arch and finish your sunset ride at the base of Devil's Garden, where you'll see and explore Tunnel Arch, Pine Tree Arch, Navajo Arch and the World's longest spanning arch, Landscape Arch.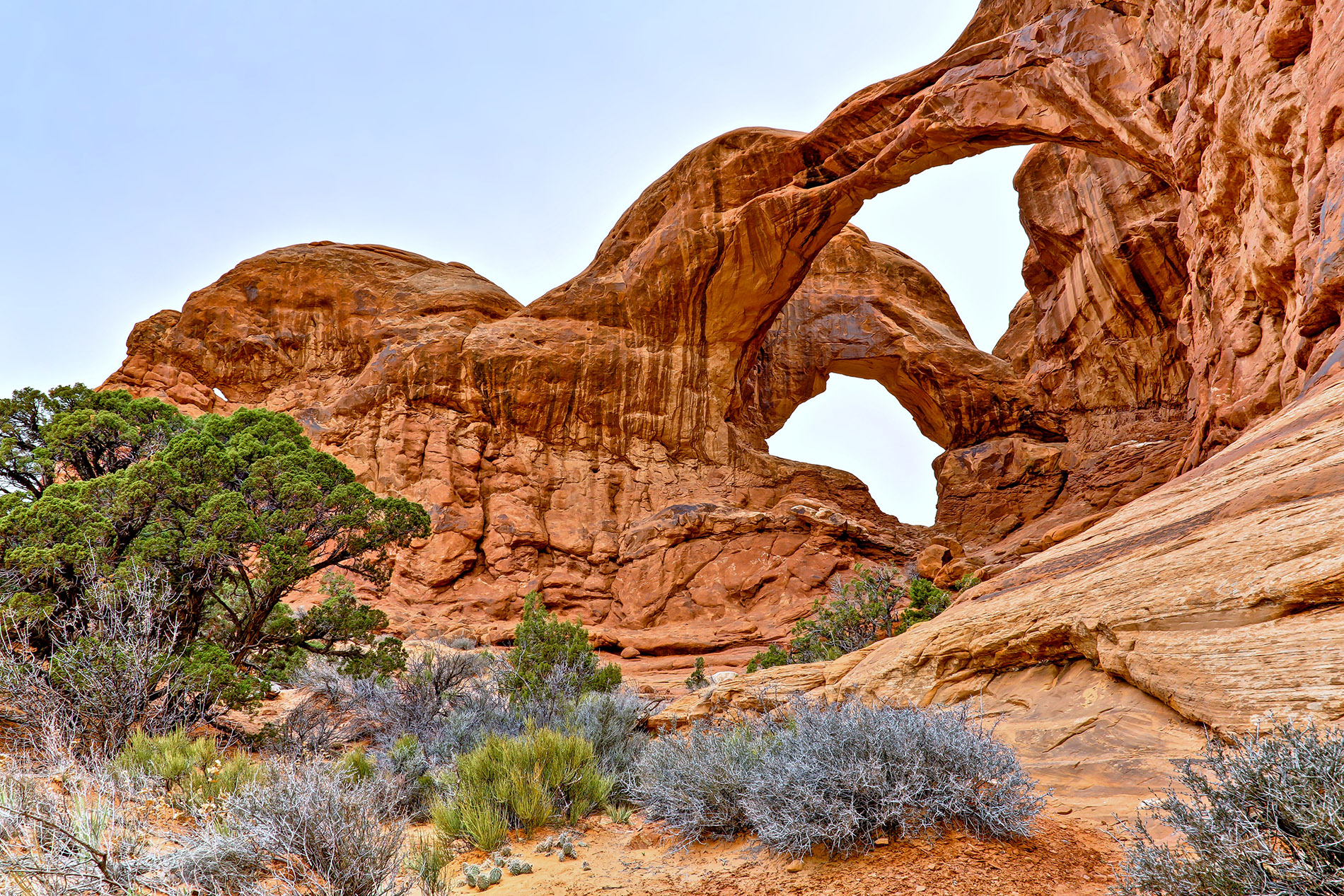 Above: Double Arch
A famous Hollywood backdrop
These rocky and almost alien backdrops showcase themselves majestically in the opening scenes of Indiana Jones and the Last Crusade films. But why are there so many arches here? And how do they form into these unusual shapes?
Geologic Formations
The area began as a seabed stretching out to the horizons, and the land was dry. The rock monoliths visible were non-existent, but their origins began to unfold and evolve below ground. Then the landscape changed 65 million years ago. Geological forces moulded, folded and forced sandstone together, creating folds like pleats in a dress or layers in a cake, each layer representing a different geological existence in the environment's history, telling a story of many bygone eras. As the sandstone distorted, cracks formed, creating the magnificent patterns and designs you see now. After geological forces came water forces from rain erosion, shaping the rocks today.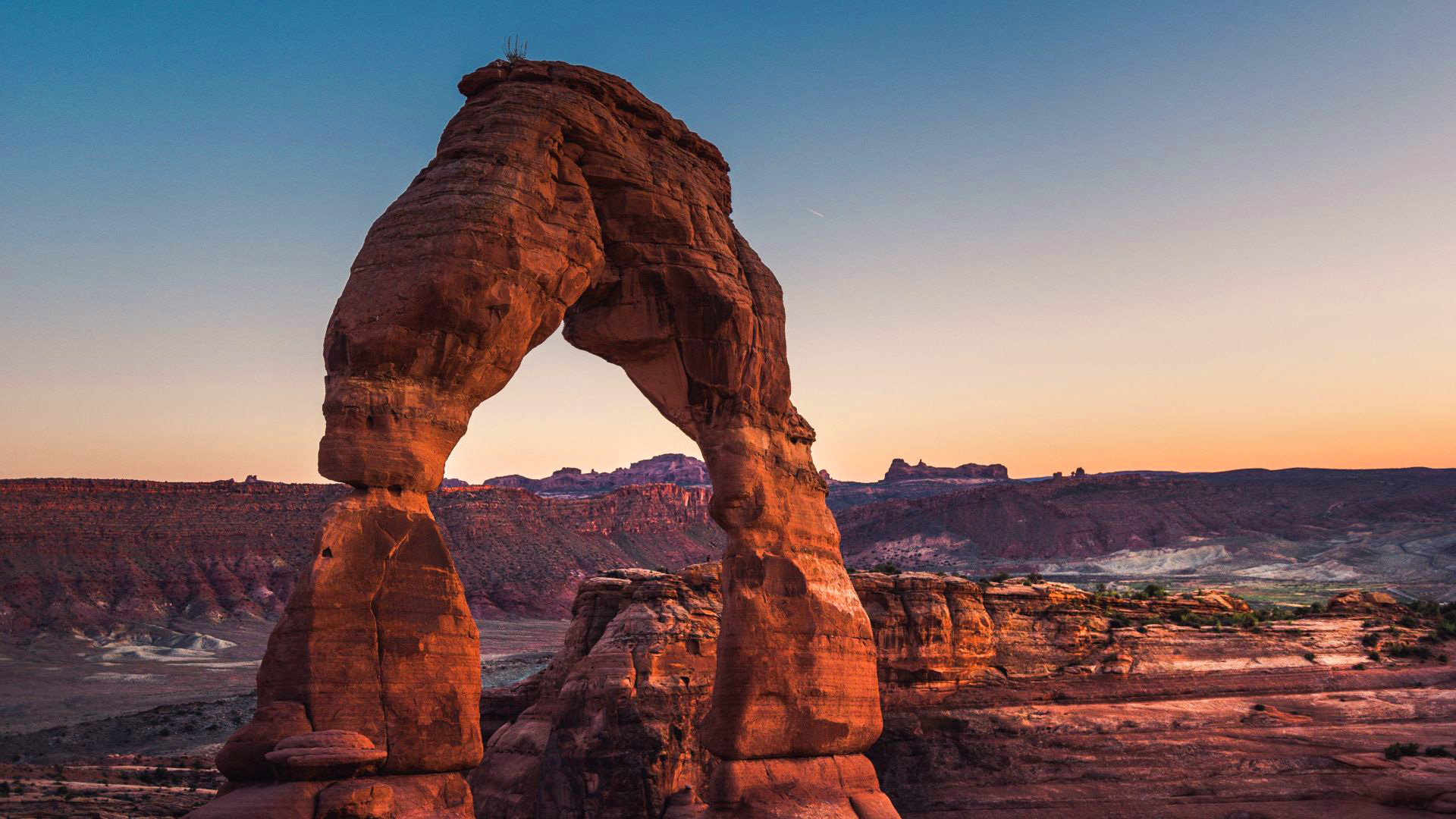 Delicate Arch
Rain erodes the rock repeatedly and carries sediment down streams and canyons to the Colorado River. Desert varnish, also called patina on the rock surface appears where water cascades off cliffs. In winter, snow pools melt in deep fractures and other crevices and then freeze and expand, breaking off sandstone chunks. Small gorges develop and grow bigger with each storm and passing season. This process slowly turns fractured rock layers into fins and these arched formations. These curved bridges also emerge when potholes near cliff edges grow deeper until they wear right through the cliff wall. In addition to grand arches, water erodes beautiful small honeycomb formations out of the rock face.
Over time, these monoliths will eventually break down. While standing next to a monolith like Delicate Arch, recognized worldwide as one of the most notable geologic features of the area, it's easy to forget that these natural giants are not immortal. Yet the fall of Wall Arch in 2008 shows that this otherworldly landscape continues to metamorphose and evolve due to erosion and gravity.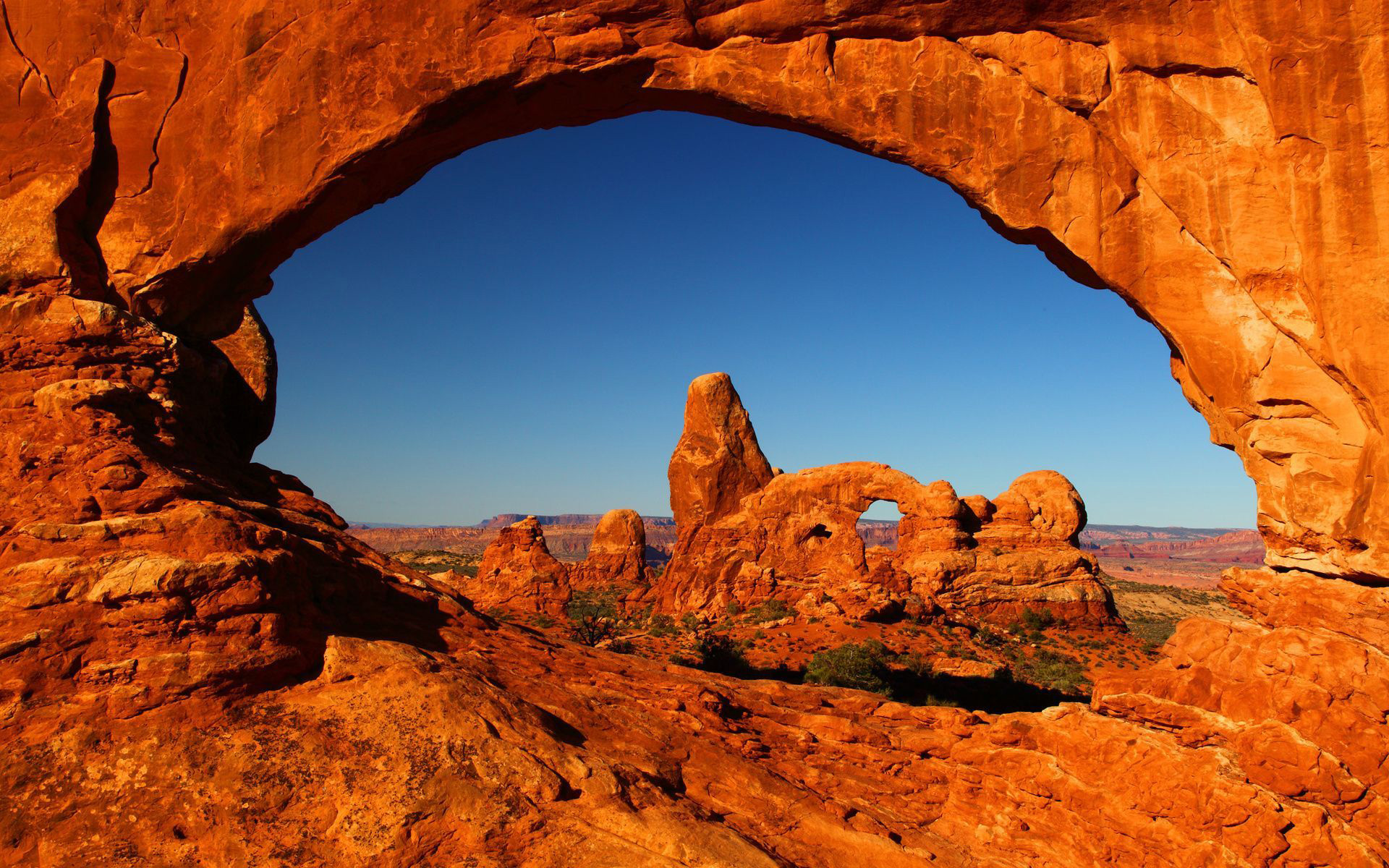 North Window Arch looking at turret arch
Since the ice age, the hunter-gatherers wandered through here thousands of years ago, American Indians since the 1600s and traders and settlers since the 1800s have made their way to this spot to explore and settle.
A rocky and magical playground
One can enjoy numerous activities while taking in the spectacular vistas if you would like to do something else apart from your ride: Auto touring, backpacking, camping, canyoneering, hiking, horseback riding, rock climbing and star gazing. It is a sporting playground in nature.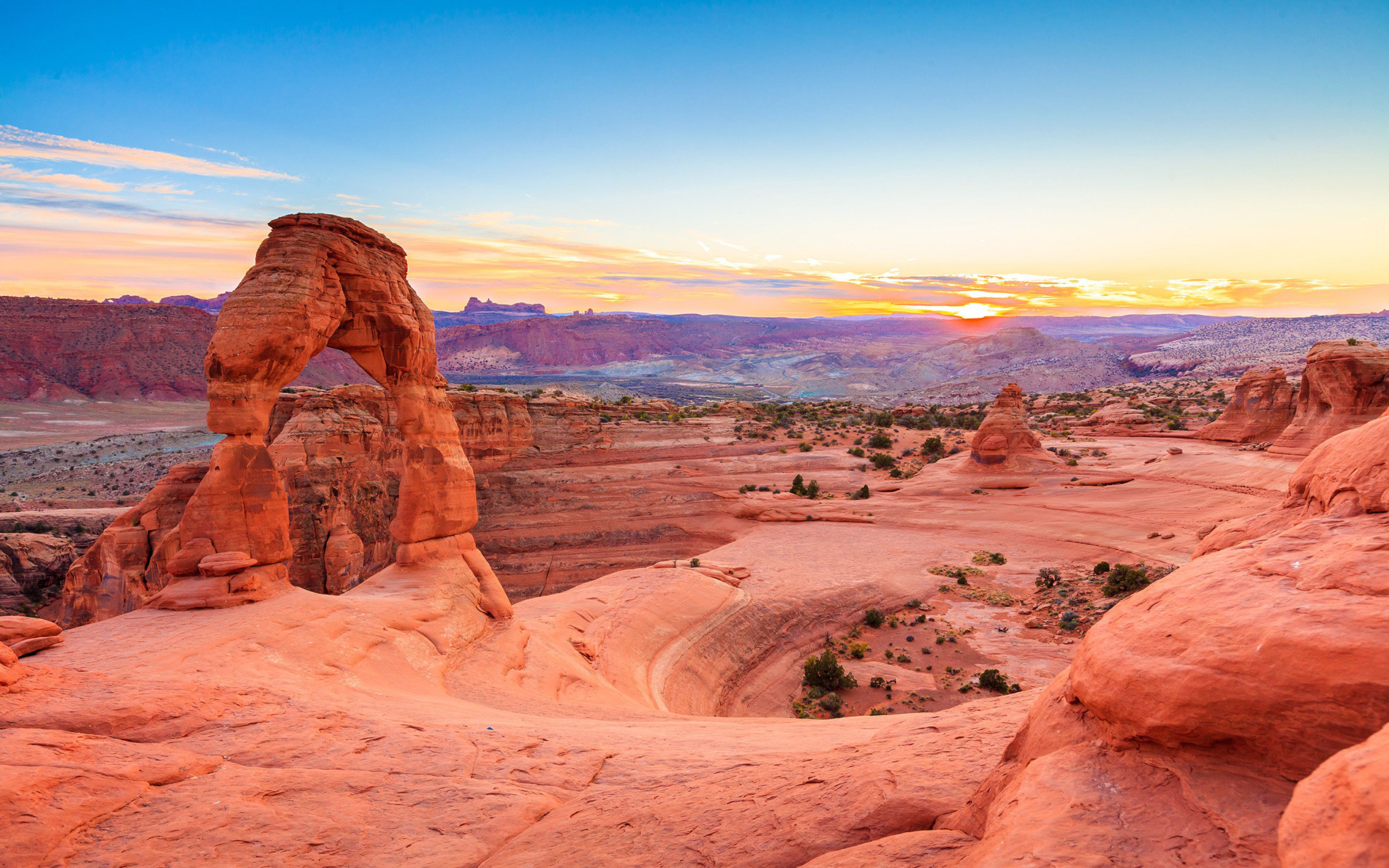 Delicate Arch
How to ride it:
The route of 35km starts immediately on a 3km climb averaging just over 5%, so it would be a plan to do a brief warmup before you start. The next hill is 7km long, averaging 4%. From 15km to 23km, you'll ride over short undulations before a long downhill recovery section. From 26km to 33km is another ascent averaging 3,8%, ending with a quick, almost flat run into the finish. I would ride this by trying to push harder on all the climbs, whether long or short and recover on the downhills.
Read some feedback from fellow ROUVY users' experiences in real life at the Arches National Park on the Rouvy Facebook Page.
Estimated time to completion:
3W/kg - 1h22min
2W/kg - 1h45min