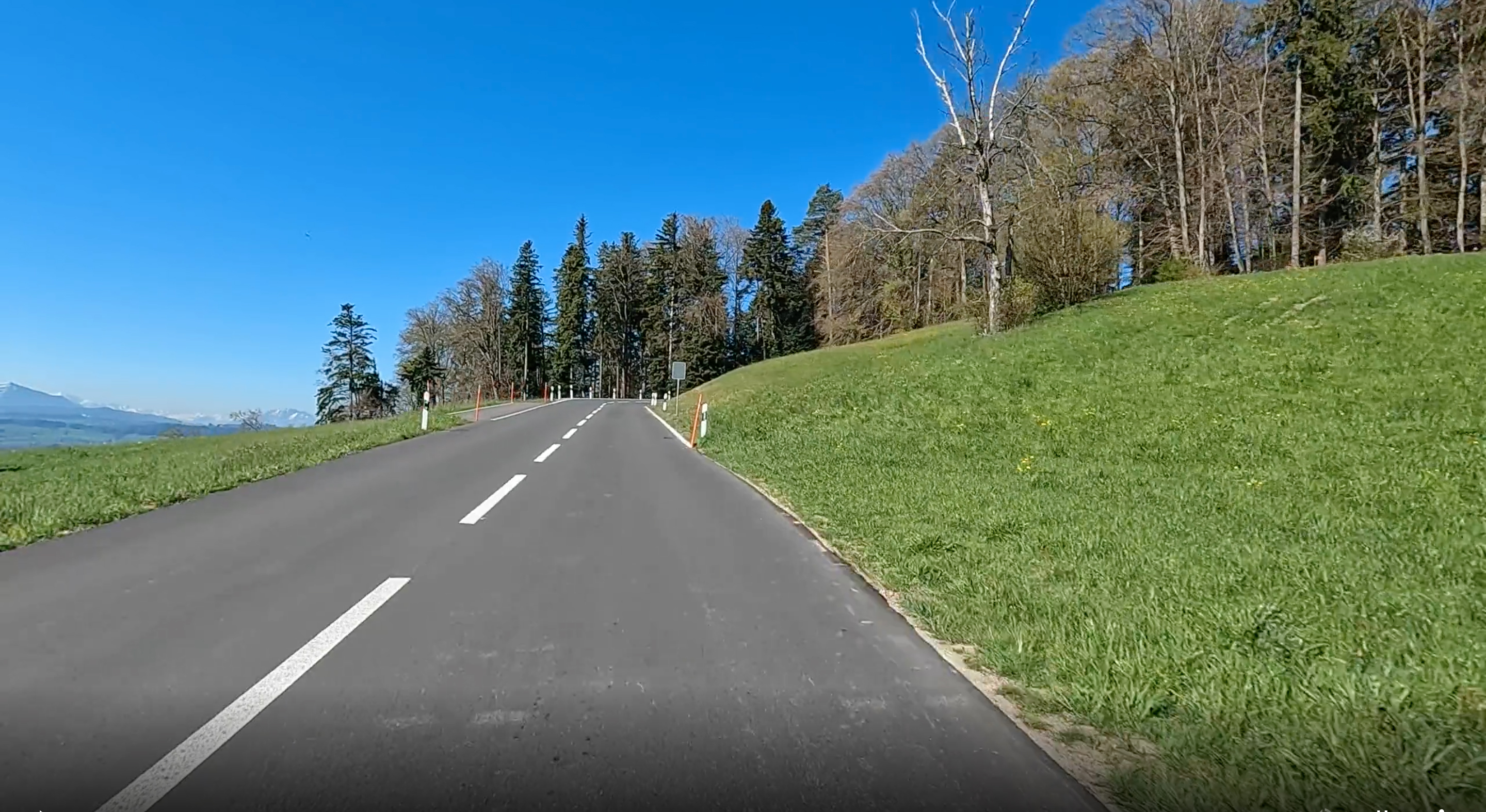 History of the Tour de Suisse (Tour of Switzerland)
The first-ever edition took place in 1933, established by the Swiss Cyclists and Motor Cyclists Federation to support the sport and legitimacy of cyclists on the roads. Half a million spectators arrived to cheer on the first edition of this 1,250km 5-day event which had 64 entrants and 46 finishers cross the line in Zurich. This was after WW2 participants entered with the added motivation to make a living in challenging economic times, where they experienced food rationing and shortages of bicycle tyres.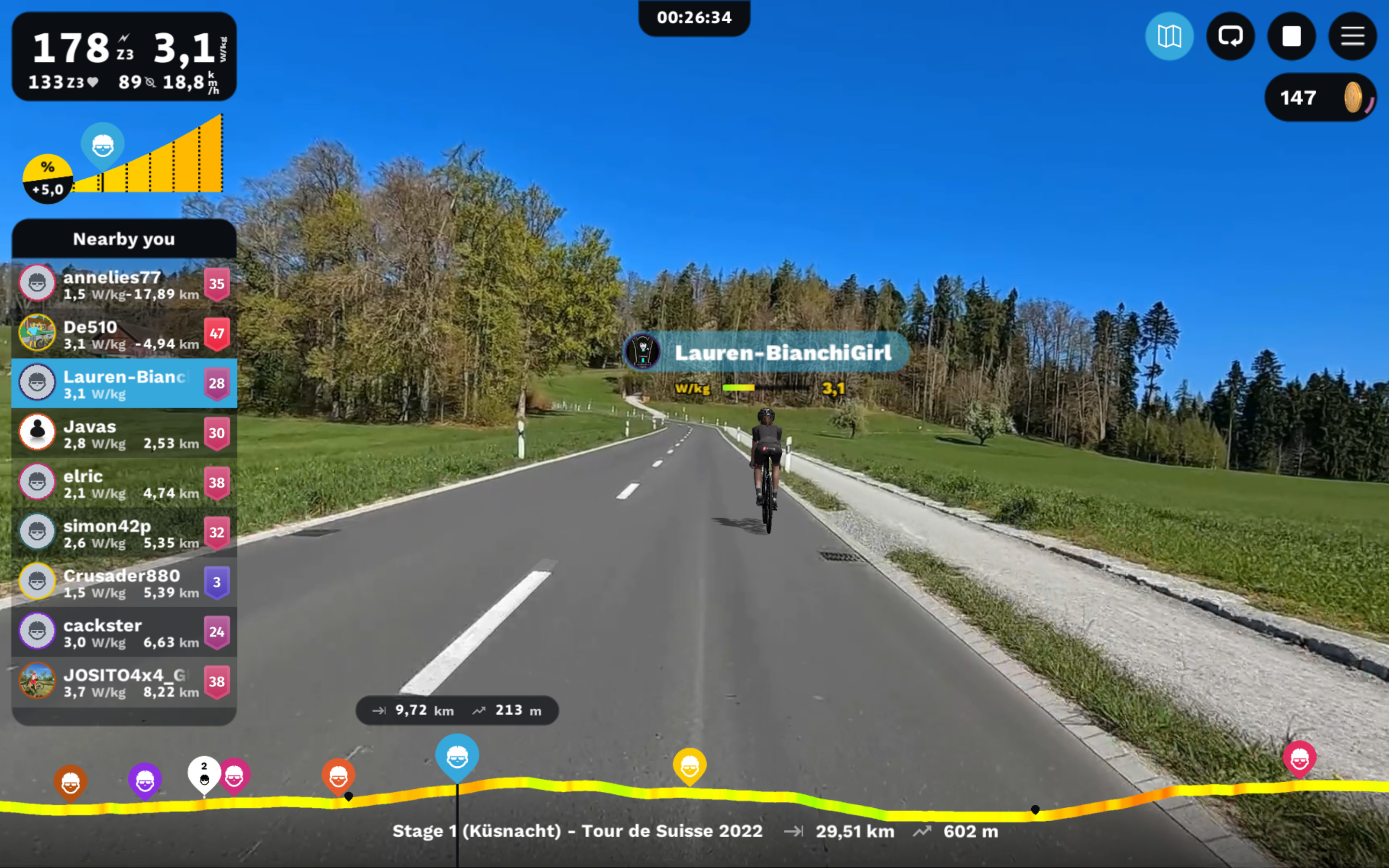 In 1949 the four greats of Fausto Coppi (see historic footage), Gino Bartali, Hugo Goblet and Ferdy Küblet graced the start list. Other famous names to win were Eddy Merckx in 1974 and Sean Kelly, Lance Armstrong and Jan Ulrich in the 90s. Later, Fabian Cancellara and Peter Sagan (see video footage) made their mark. Sagan has won 17 stages since 2011, which is a record. He has also won the points classification every year since 2011, apart from 2016.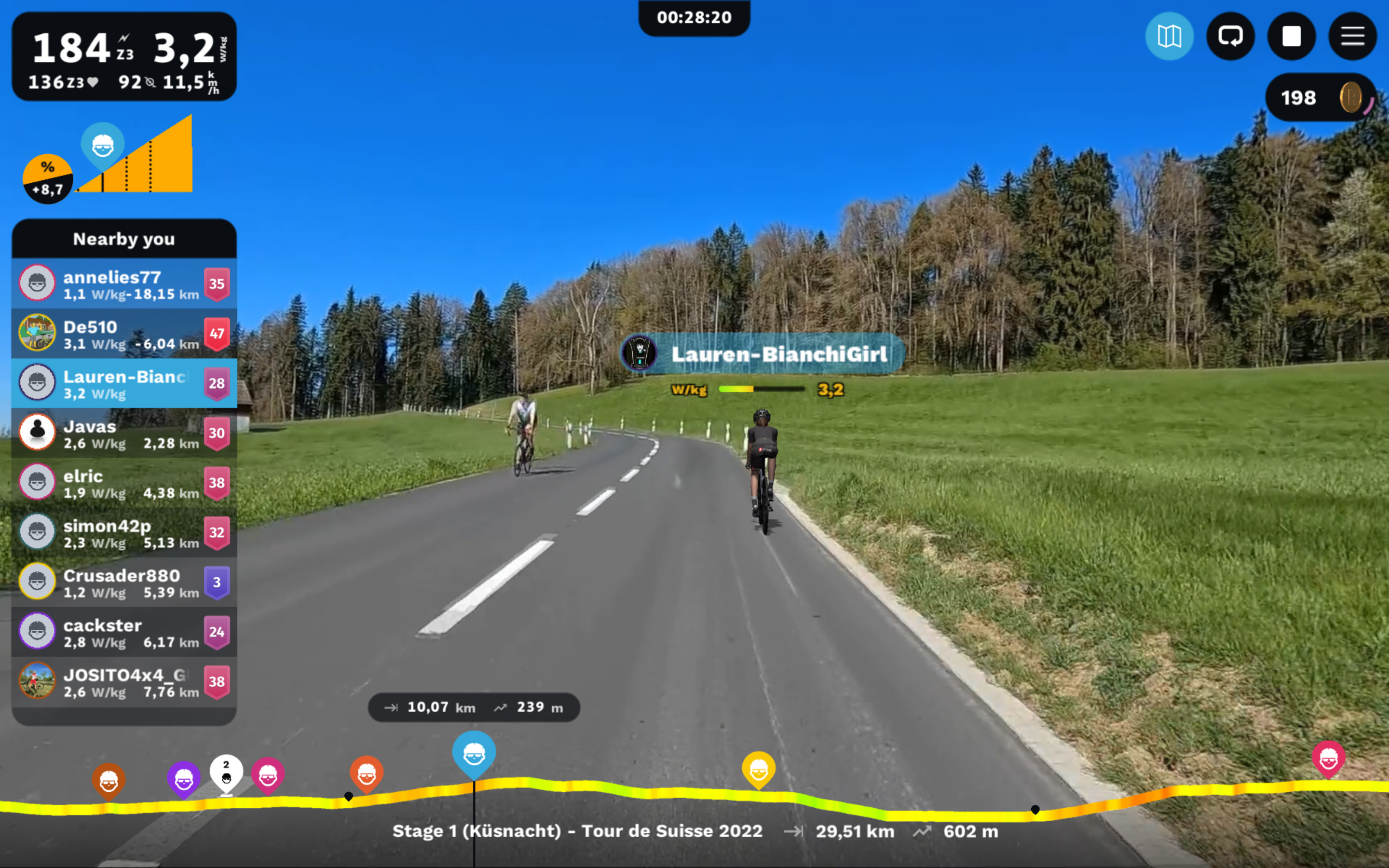 ROUVY segment: Visiting places along the way
The ROUVY virtual rolling route of stage 1 is 29,5km with 602m climbing, an average gradient of 2%, and a maximum of 12%. Near the start, we ride past a landmark: Grünningen Castle at 2,4km. The castle has a café open on Sundays and treats hikers and cyclists to various coffees, homemade cakes and cool drinks. From 7km to 10km, we need to do a short hill climb averaging 5%. The rise is manageable and rewarded afterward by an undulating section and a downhill past Pfannenstiel's picturesque wooded mountain region on the right at about 12km in some beautiful countryside.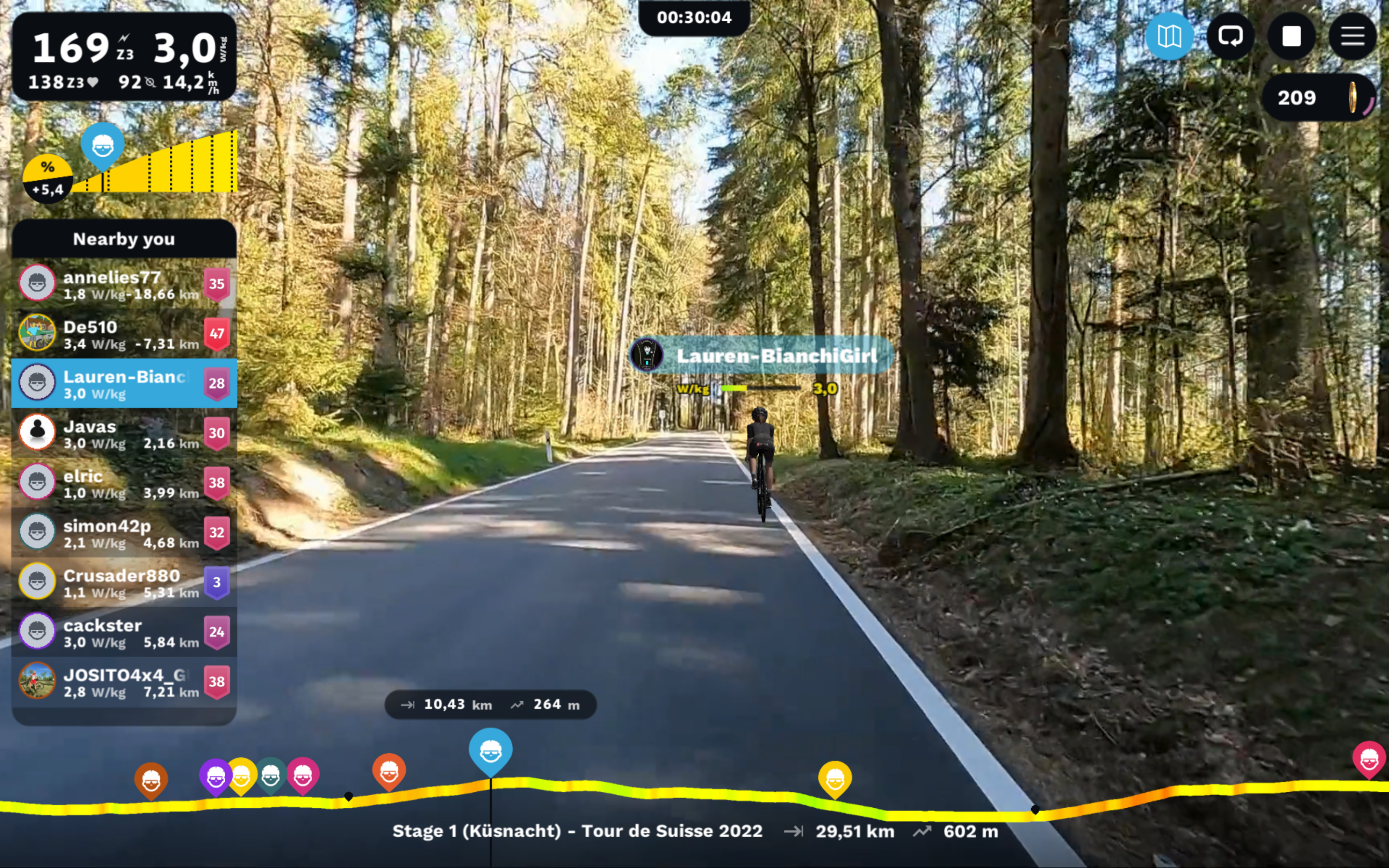 We then head down to Küsnacht to the landmark Lake Zurich, which you'll see a few times on the left. Here is where the locals enjoy swimming, picnicking, cycling the perimeter, and water sports. This lake is one of Switzerland's Big Five in terms of its lakes surrounded by parks and cafes on its periphery.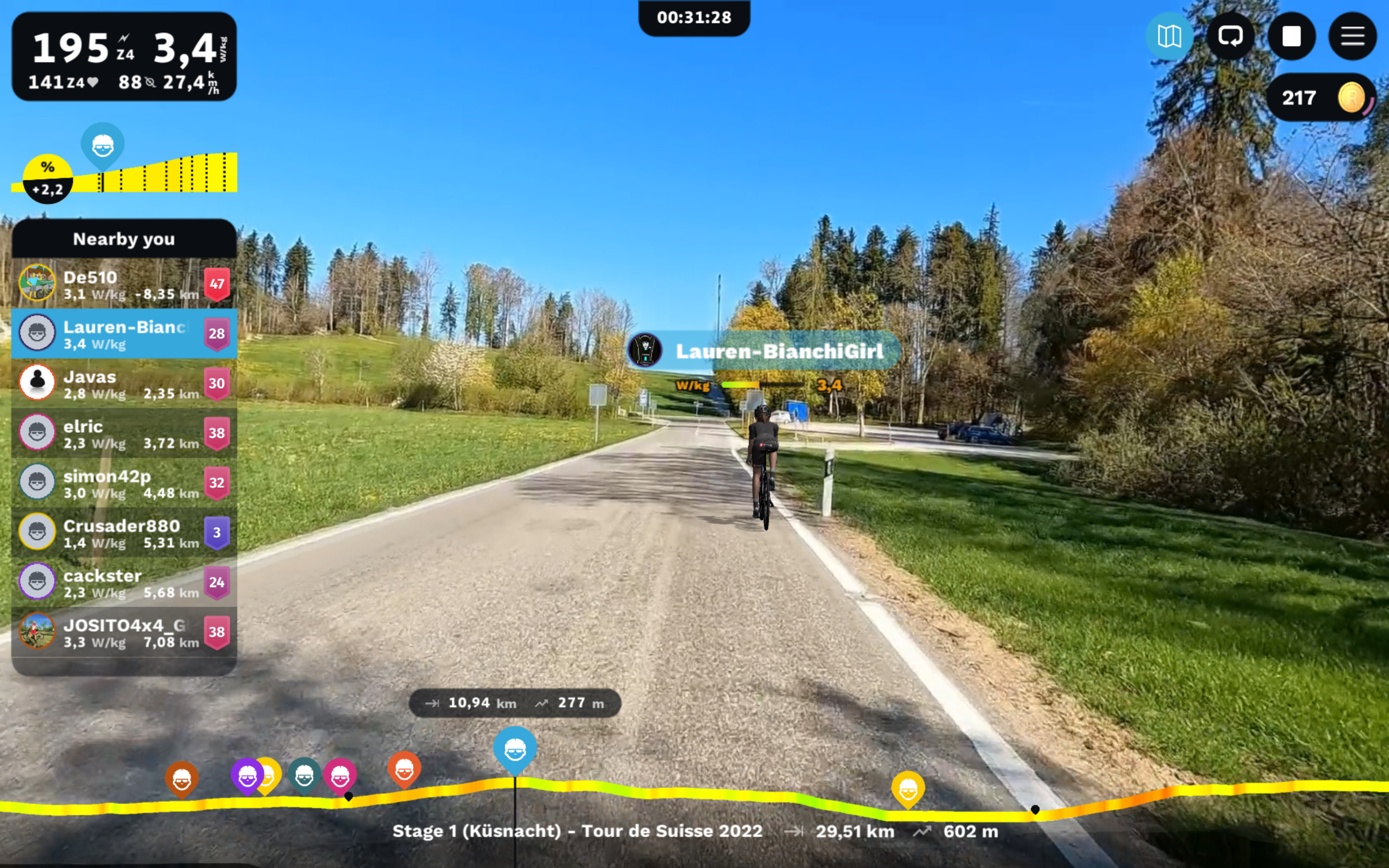 From here we will head uphill for 3km at an average of 7%, followed after the summit by 4km of picturesque rolling hills meandering through farmlands and quasi rural landscape, finally taking you to the finish.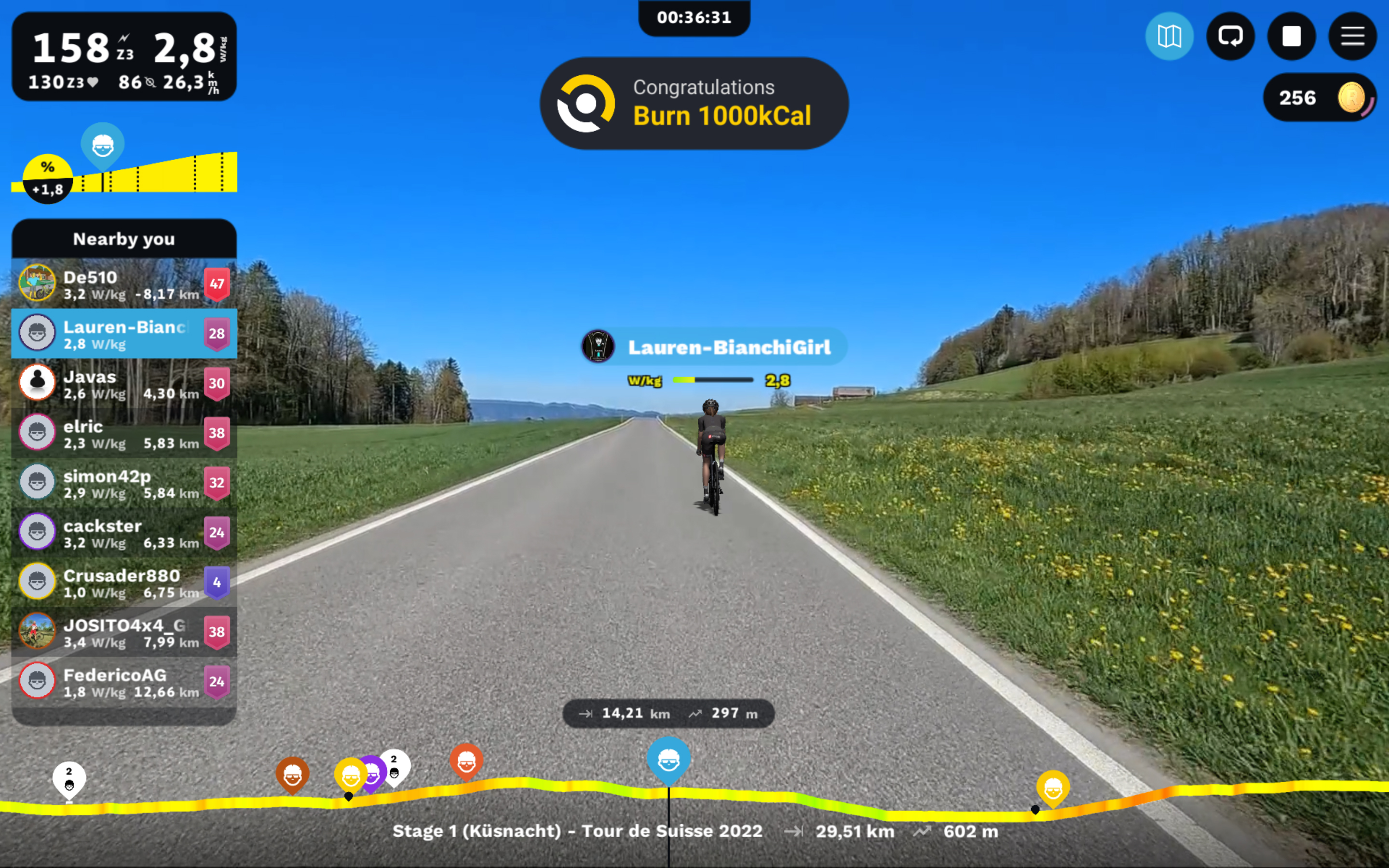 Stage 1 for the Pros
There will be no prologue in the tour this year, but instead, the pros will have to do this stretch as part of a 4-lapped circuit that totals 178km for the stage, starting and ending at Küsnacht with a total of 2,000m of elevation! The route is suited to the puncheurs in the peloton, meaning a pro racer specializing in rolling terrain with short but steep climbs. The course will end on a downhill going into Küsnacht.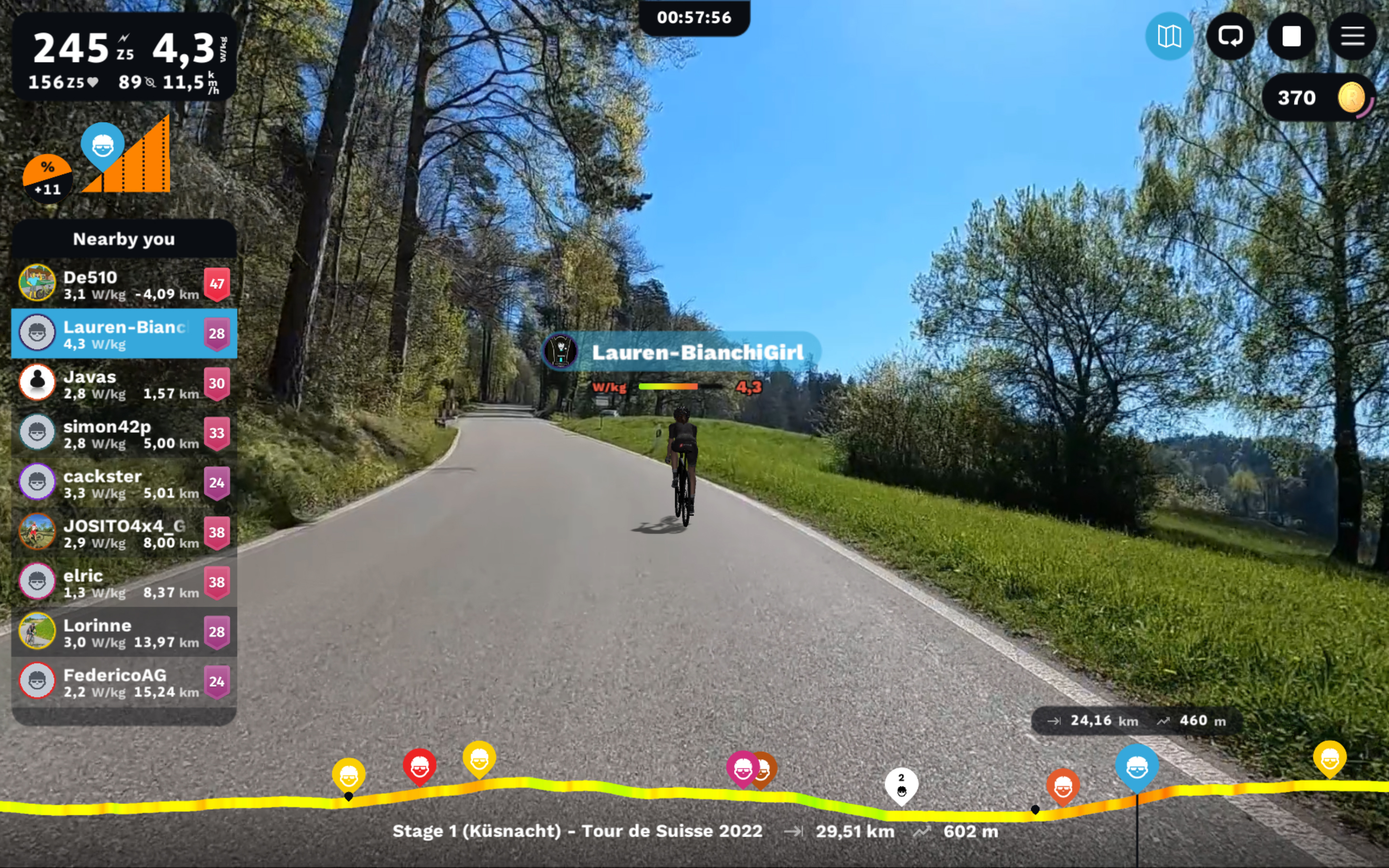 Stage 1 on Rouvy - How to ride it
Type of route: Rolling hills. The course includes two climbs, with the first not too steep with recovery sections. Save your legs for the last part of the second climb, where you will feel the bite of more vertical gradients. It would be here where you can give that extra push to complete it and try and drop your opponents. The last couple of kilometers is perfect for a cool down. Enjoy this beautiful and tranquil course in warm sunny weather.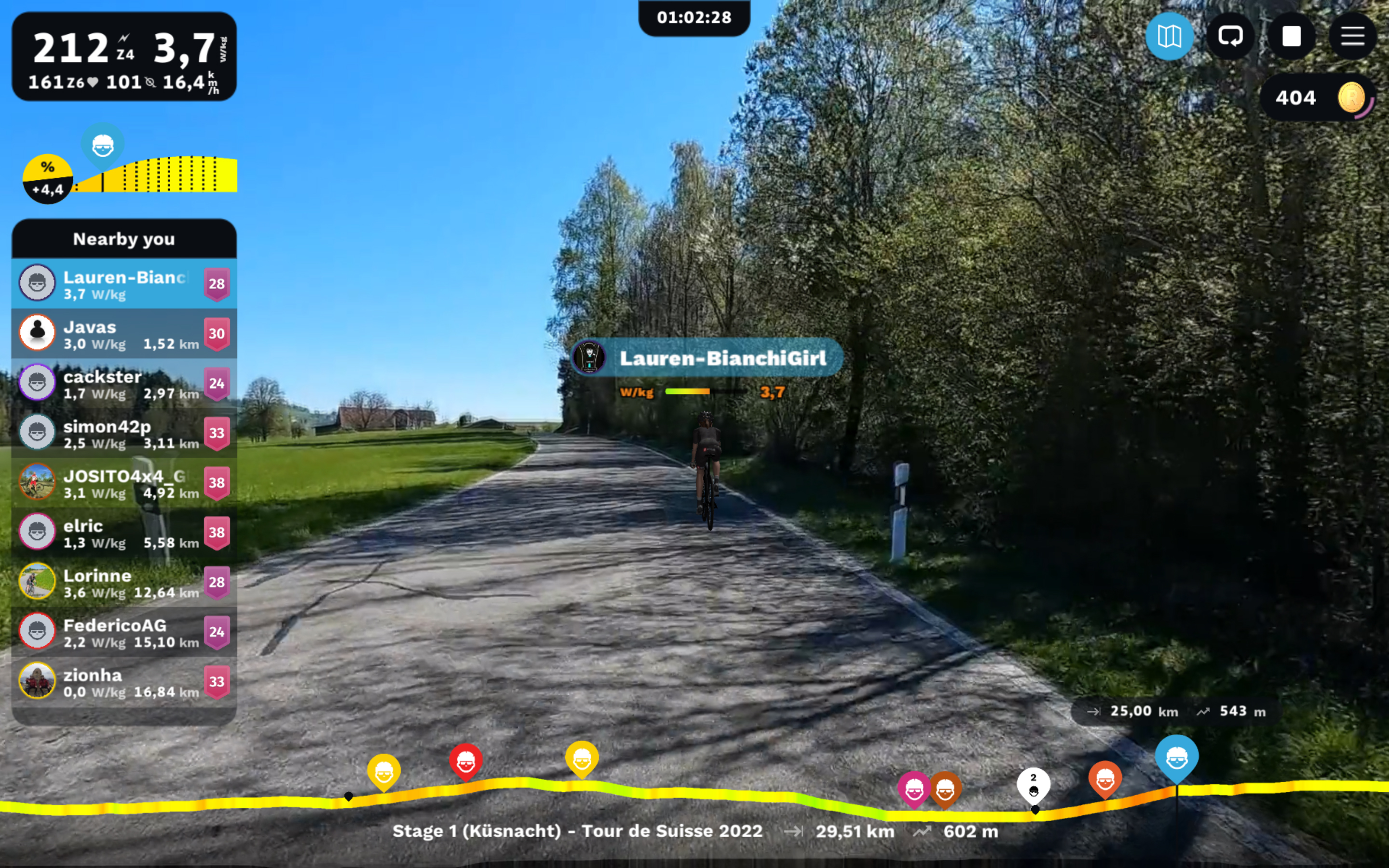 Estimated time to complete
4W/kg - 50 min
3W/kg - 1hour
2W/kg - 1h20
Join the Tour de Suisse Challenge ending June 6th HERE
ROUVY makes the authentic Tour de Suisse experience come to life from home on your trainer bringing the real world into the virtual. Join the races!
The Tour de Suisse digital Challenge finishers will be awarded with unique and exceptional prizes. Connecting indoor training with outdoor reality, ROUVY and Cycling Unlimited provide the VIP experience packages, take a look HERE