Buying your dream bike might be a once-in-a-lifetime event so you need to do it right and choose wisely. In this article we look at some of the things to consider and the process involved.
A bespoke bike tailored to your specific needs and preferences can deliver an amazing riding experience. But the process of buying one requires careful consideration and groundwork.
This planning can be a lot of fun but there are plenty of potholes to navigate. Meticulously researching websites, reading articles and getting tips and recommendations can be time consuming and tedious but there is also a strange satisfaction and attraction to it. As the saying goes, if something is worth doing, it's worth doing well.
Custom bikes are expensive and so you don't want to make a mistake or a bad choice. This is something that you hope will last a lifetime, it will be something you want to look at every day and cherish. It's something that you want to bring a smile to your face.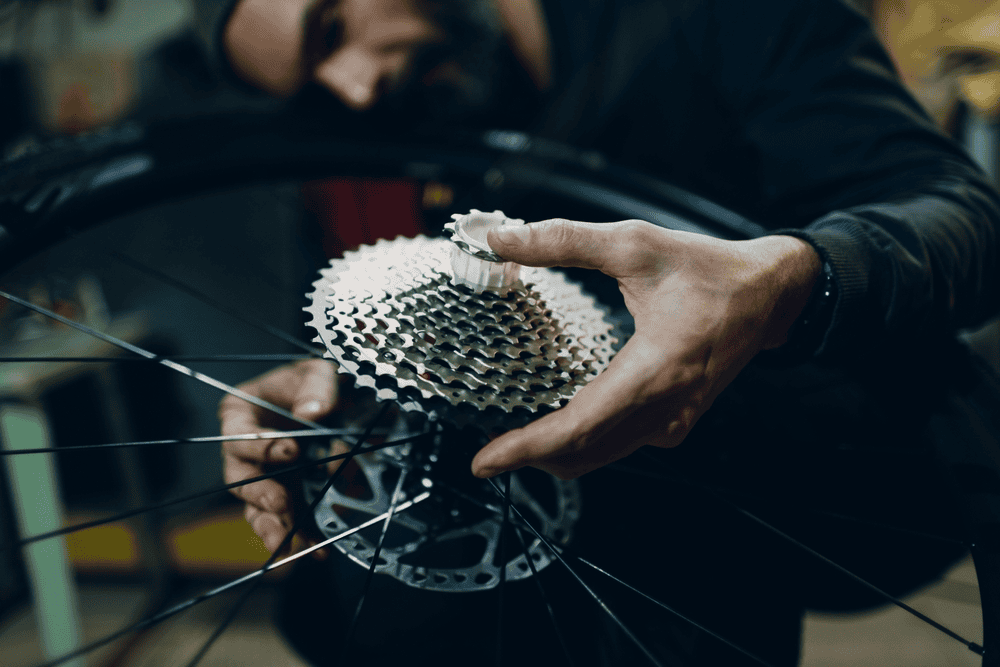 Factors to consider when looking for your dream bike.
1. First things first: The first step towards finding your dream bike is thinking about your own favourite discipline and riding goals. Are you a road cyclist looking to conquer long distances and achieve high speeds? Or are you a mountain biker wanting adrenaline-pumping off-road trails? Identifying your primary riding style will quickly narrow down your options, as different bikes are designed for specific purposes, such as road cycling, mountain biking, gravel riding, or cyclocross.
2. Frame Material and Construction: High-end bikes are built with premium frame materials, such as carbon fibre, titanium or high-quality steel. Even more expensive and more esoteric materials include magnesium, scandium. Each of these offers distinct characteristics in terms of weight, stiffness, durability, and comfort. Carbon fibre frames, known for their lightness and stiffness, are commonly favoured by road cyclists, while titanium frames strike a balance between comfort and performance. Steel frames are renowned for their smooth ride quality and durability, and are often found in high-end touring bikes. Consider your priorities,riding style and what kind of cycling you will be predominantly doing to select the frame material that suits you best.
3. Components and Groupsets: The components and groupset of a bike significantly impact its performance and functionality. Manufacturers like Shimano, SRAM, and Campagnolo produce groupsets that encompass the drivetrain, brakes, and shifters. Higher-end bikes usually feature more advanced groupsets, offering crisper shifting, increased gear range, and better overall performance. However, these premium groupsets come at a higher price. Assess your budget and prioritize the components that meet your riding needs.
4. Wheelset and Tyres: The wheelset plays a crucial role in the overall ride quality and performance of a high-end bike. Carbon fibre wheelsets are popular among road cyclists, providing excellent aerodynamics and responsiveness. Mountain bikers may opt for durable alloy or carbon wheelsets with wider rims for enhanced stability and better tire support on rough terrain. Additionally, tyre choice is just as important, as it affects grip, rolling resistance, and comfort. Carefully consider the tire width and tread pattern suitable for your riding terrain and conditions.
5. Bike Fit and Geometry: A comfortable and efficient riding position is essential for long hours on the saddle. Bike fit and geometry determine how well a bike accommodates your body's dimensions and riding style. High-end bikes often offer customizable fit options, such as adjustable seatposts, stem lengths, and handlebar widths, allowing you to fine-tune the bike's geometry to match your preferences. Prioritize bikes that provide a comfortable fit and handle well, ensuring an enjoyable riding experience.
6. Suspension and Damping (for Mountain Bikes): If you're considering a high-end mountain bike, suspension and damping systems become crucial considerations. Full-suspension bikes offer front and rear suspension, providing improved traction, control, and comfort on challenging terrains. The suspension components, such as forks and rear shocks, come in various designs and technologies, each offering different levels of travel, adjustability, and performance. Research and test different suspension options to find the one that best suits your riding style and terrain preferences.
7. Finishing Kit and Accessories: The finishing kit and accessories that complete your dream bike can be the icing on the cake and really make it stand out from the peloton (if that's your bag).You can personalize your handlebars, stem, saddle, and pedals to ensure maximum comfort and control. You can also consider additional accessories like a power metre, GPS device, or aero bars if they meet your cycling goals and requirements.
8. Research and Consultation: Extensive research and consultation are crucial when purchasing a custom dream bike and corners should not be cut. Always try to seek recommendations from experienced cyclists, visit bike shops, attend cycling events or exhibitions, and explore online resources. As you get closer to your decision, connect with reputable frame builders, discuss your requirements, and ask questions to ensure you make an informed decision. Being totally direct, open and honest is the best policy here as you might regret it later otherwise. Ideally the company that makes the bike should be close to where you live as you might be making regular visits and building a personal relationship with them.
9. Test Rides and Reviews: Whenever possible, test ride bikes with similar characteristics to your vision for your own custom build. This will give you priceless, firsthand experience of the frame material, geometry, and components. Additionally, it's always worth reading reviews and seeking feedback from other cyclists who have purchased custom bikes from the same builder or manufacturer that you're considering.
The most expensive bike in the world?
Got a spare half mil to splash?
You can get an 'ordinary' Trek Madone bike, considered one of the better bikes in the world, for a respectable $5-13,000.
But when the bike used by Lance Armstrong in the 2009 Tour de France, and then customized with some original artwork by Damien Hirst (including actual butterflies embedded in the frame), was put up for auction, it sold for a butt-clenching $500,000.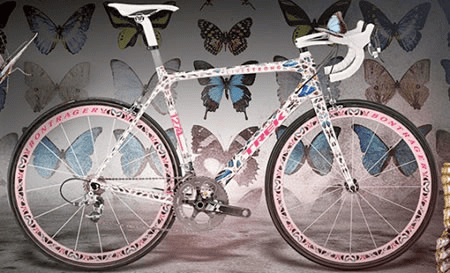 The price of dreams
Your budget is obviously an important factor, probably the most important factor. Unfortunately, between the dream and the reality, there is often a wide gap. It's why taking time on your research is so vital and getting a good deal is down to hard work, bargaining skills and a little luck. More than often compromises have to be made and you might have to settle for 'just' a high-end bike. These can still be beautiful machines that will fulfil all your needs and give you complete satisfaction, despite that familiar nagging feeling that it can always be slightly better.
But let's say, for the sake of this article, money is no object and you can go for any bike you want.
Now we enter the rarified air of top-end custom-made bikes. One-offs and limited editions that are unique and expensive because of the quality of craftsmanship but also because they are exclusive, rare and sought after. And their price reflects this.
There are plenty of custom bike companies around and there will probably be a local one close to you. So again, do your research and find the company that appeals to you. Often it will be the quality of the craftsmanship or it could be the philosophy of the company that strikes a chord. Ideally it will be both as both are important.
Festka
One of the most respected and exclusive custom bike companies here in Czechia is Festka. We visited their workshop and showroom in the hip Prague district of Vinohrady to find out more about their process and attitude towards custom bikes.
Festka is the lovechild of Michael Moureček and Ondřej Novotný, who set up the company in 2010. It's grown over the years and they now employ around 25 people.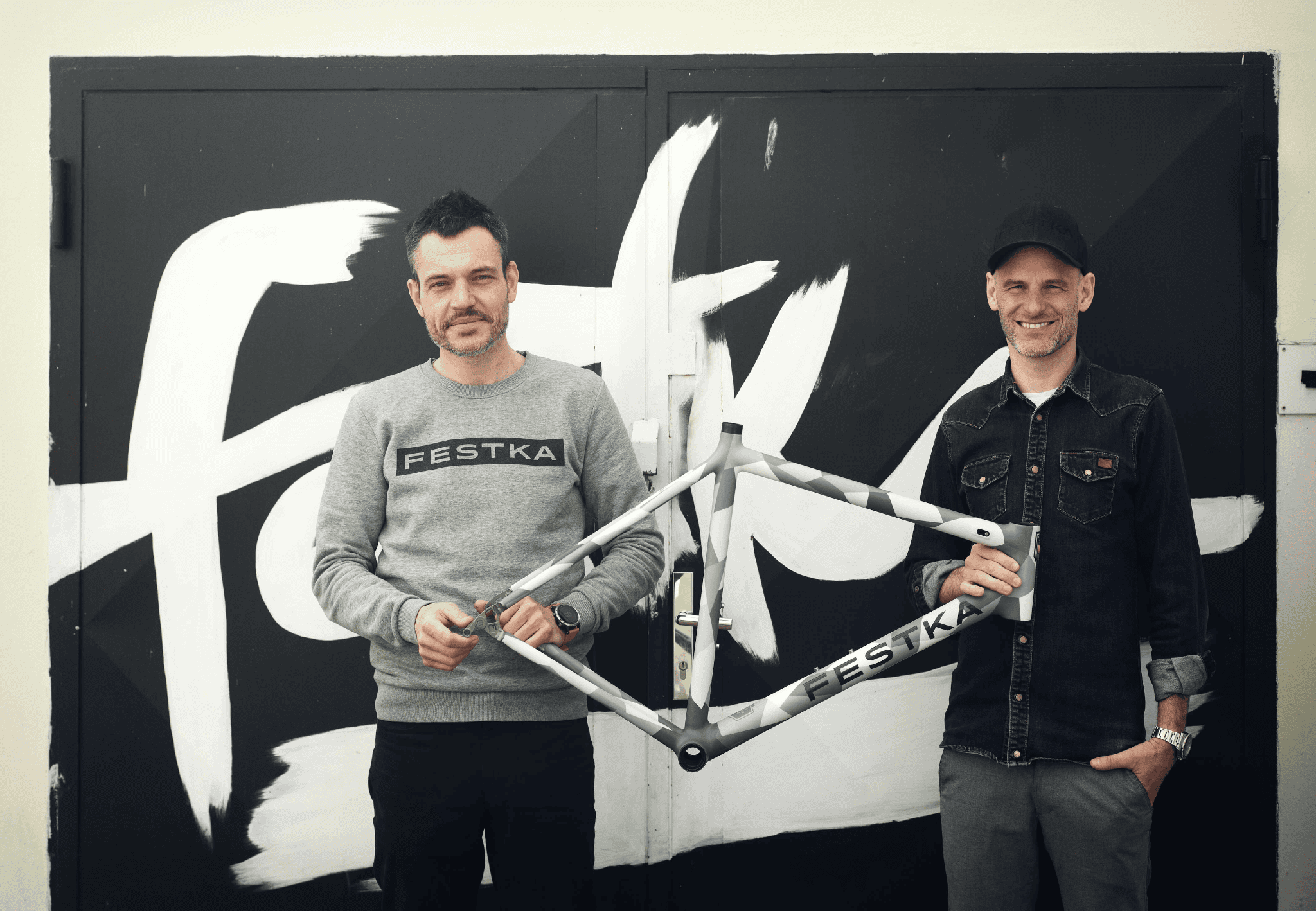 Once passing through the metal doors of the entrance, you find yourself in another world. Dozens of frames in various stages of progress hang on the walls around you. The silence in which the concentrated laminators work is occasionally disturbed by the sound of a diamond wheel cutting tubes. One entire ground floor is dedicated to frame production. The underground space houses the testing lab and the first floor is where the salesmen, designers and developers sit. It's cycle heaven.
Festka's guiding philosophy is that every person is unique - both spiritually and physically and therefore each deserves their own bike, made according to their specific needs.
The company has a small range of models to choose from which can then be customized to each client. In this way, every Festka bike is unique.
When buying a Festka bike, the first part of the process is an in-depth consultation so that the company knows about the client and what kind of bike they want. The client may have a very clear idea of what they want or might prefer to hear the recommendations of Festka with their years of experience.
Festka asks you about your personal style, goals etc. to select the best bike from their portfolio. The conversation then moves on to the set-up - what gearing, wheels, cockpit etc do you prefer, to ensure all the elements are right?
For the design of the bike, you can either select a custom design or go with their recommendation. Going with the custom design is obviously more personal, but not everyone has the eye or confidence to choose good colours and combinations. This is where the importance of the understanding and trust between client and company is so important.
Festka collaborates with well-known local and international artists and graphic designers to create bespoke designs.
It takes about 4-6 months from consultation to completion of the bike and once it is built, a final bike fitting is arranged so it can be fine-tuned. Most bikes in the world are made in Asia - 95% of the bikes sold in the US are made in Asia (with China and Taiwan making most of these). However most custom bike companies make them locally. Festka is no exception.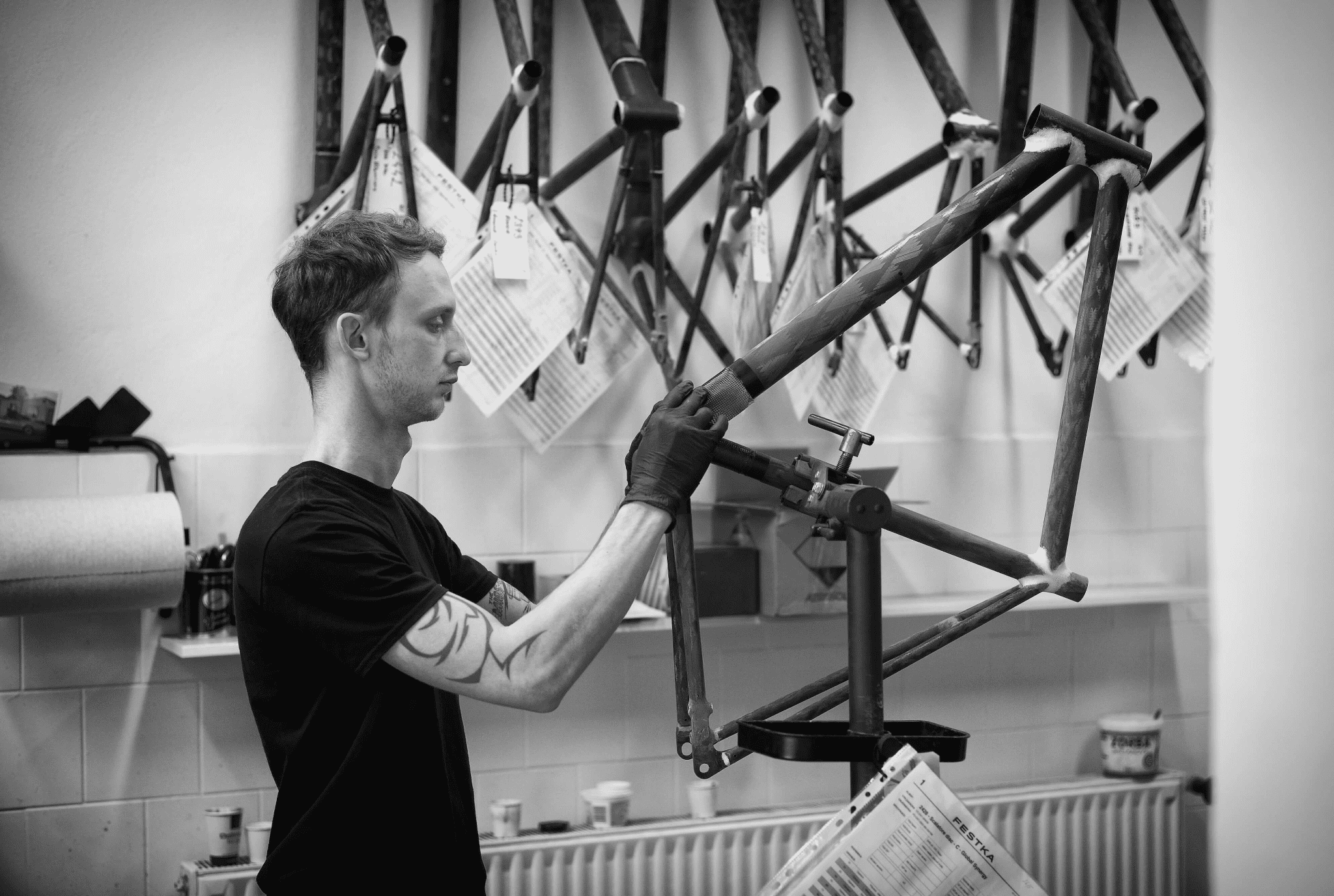 "To build the frames we need carbon fibre, which we buy in Japan, and resin, which is produced in the Czech Republic. There was a problem with carbon and resin during the pandemic times, but the shortages were much more serious in the supply of groupsets and some other components. The delivery time for some of them grew to as much as two years. It was a big problem but thankfully now the situation is almost back to pre-covid times. The top-level components come from many countries of the world, including Italy, Spain, Germany, the USA, Japan and China," explains Michael Moureček, Festka's co-founder.
The most common special requirement Festka gets is custom geometry which is something only a handful of carbon frame producers can offer. A custom frame ensures a comfortable position without any compromises and it often looks better too. For example, a custom-size frame won't need any spacers under the stem, and the exposed section of the seatpost and the length of the stem will be in perfect harmony with the rest of the frame. The option of having a bespoke frame can mean different things for different people. For some it's the freedom to choose every single component, for others it may be the custom design scheme or colours and/or the size of the frame and special geometry. Some clients are happy with minor personalised features while others will take advantage of all the options.
The price range for a Festka varies massively depending on what you want but a frameset starts at €4290 and the package grows from there.
"Buying a Festka is like marrying into a new family," says Moureček. "We help our clients choose everything else they need - jerseys, shoes, helmets as well as on-bike technology such as head units and power metres for home trainers."
The company promotes a feeling of exclusivity. Their bikes are special and so are you if you own one. One unique service Festka provides with limited art editions, is the option to have a piece of art created in collaboration with the artist. The idea is that the art (such as a painting or a porcelain object) complements the bike as a piece of art in itself. A bike leaning against a wall may not be aesthetically pleasing, but a bike leaning against a wall with a matching print above it becomes a living, practical piece of art.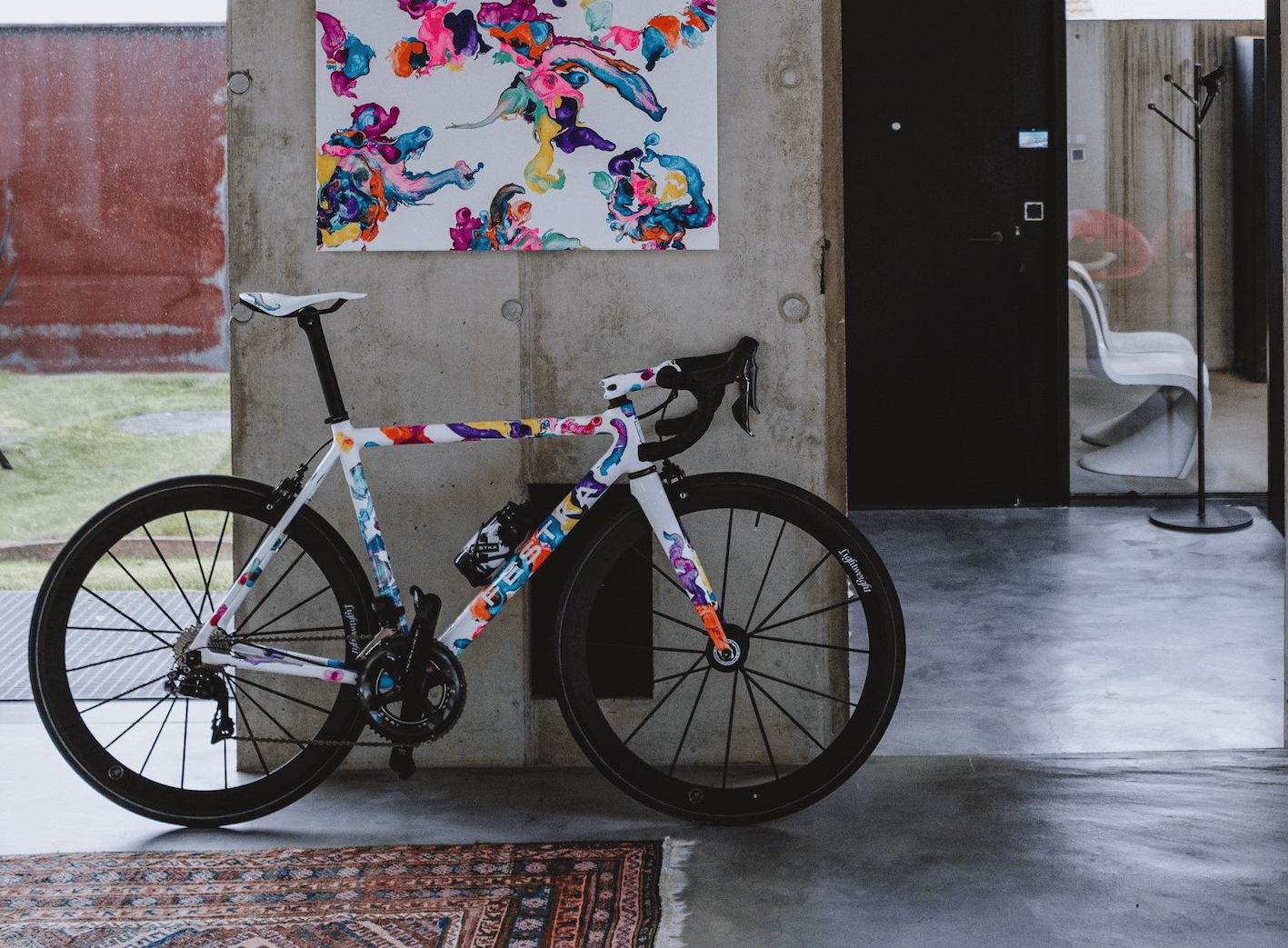 Asked about what bike he rides himself, Moureček gives us a peek into his kitchen: "I am currently building a dream bike for myself. I chose the Spectre model and had it made in a geometry that suits my current body shape and level of fitness which will change with age and should not be taken for granted forever. For the components, I went for my absolute long-time favourites: a Shimano Dura-Ace groupset, Enve cockpit and Lightweight wheels. The design will be a one-off hand-painted scheme by the Polish artist Jakub Kois consisting of various intertwined bodies. It's a bike that's refined down to the last detail."
Wrap up
Getting your dream-bike is certainly many cyclists' dream and the reality is that you'll own a bike that is very special and treasured - it's almost like an extension of your own personality.
For those whose budget won't currently allow it, or to those who want to try one out online, we have a Festka One Spirit 2 available in our Avatar Customization store so start saving your Coins!
Also make sure to enter the upcoming La Vuelta Virtual Challenges where riders will be able to try out (for a limited time) a Festka frame.
Many thanks to the guys at Festka for their help on this article.