We have now merged the best from ROUVY WORKOUTS with the ROUVY AR app to create the ultimate experience just called ROUVY. (ONE) ROUVY is the best and all-in-one solution for your indoor riding all year long!
We are introducing upgraded 'Workouts' now into the ROUVY AR app. No more multiple applications to juggle with! It is a more straightforward, all-in-one solution for all your indoor training needs.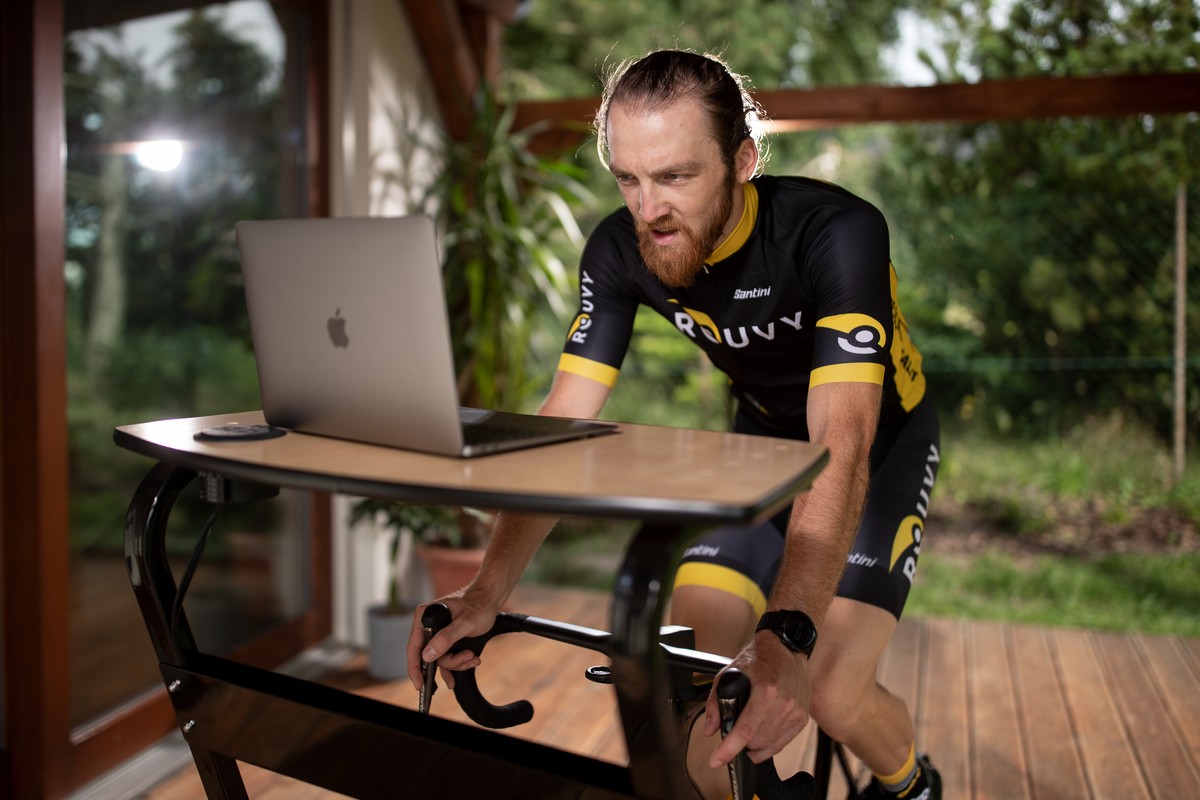 In cycling, structured training is one of the most efficient ways to improve your fitness or reach short-term and long-term training goals. Where is the best place to do a structured cycling workout, you may ask? Of course, it is at home, in your training cave, on ROUVY - where you can have greater control over the environment and focus only on your training and performance.
New Features
ONE ROUVY, which is just the name of the ROUVY AR release 2.0.0 (not the app), brings you the following
'1 ROUVY'
The functionality of the initial app 'ROUVY Workouts', is merged into 'ROUVY AR' - the workout features are now accessible via the present ROUVY AR apps: Windows, MacOS, Android and iOS devices.
[We are still working on Apple TV, which will come later this year, so please kindly bear with us for now. Until then, try out the new Workouts functionality on any other device and cast it to Apple TV.]
NEW UI - WORKOUT SECTION AND WORKOUT SCREEN
The new user-friendly UI incorporates ease of use and clear in-ride visualization of what to do. We have also built an entirely new great Workouts screen which will allow you to:
Get in-ride real-time feedback about your effort
See how well you are following the prescribed intervals
Control the workout with easy-to-use buttons by making it easier or harder depending on how you feel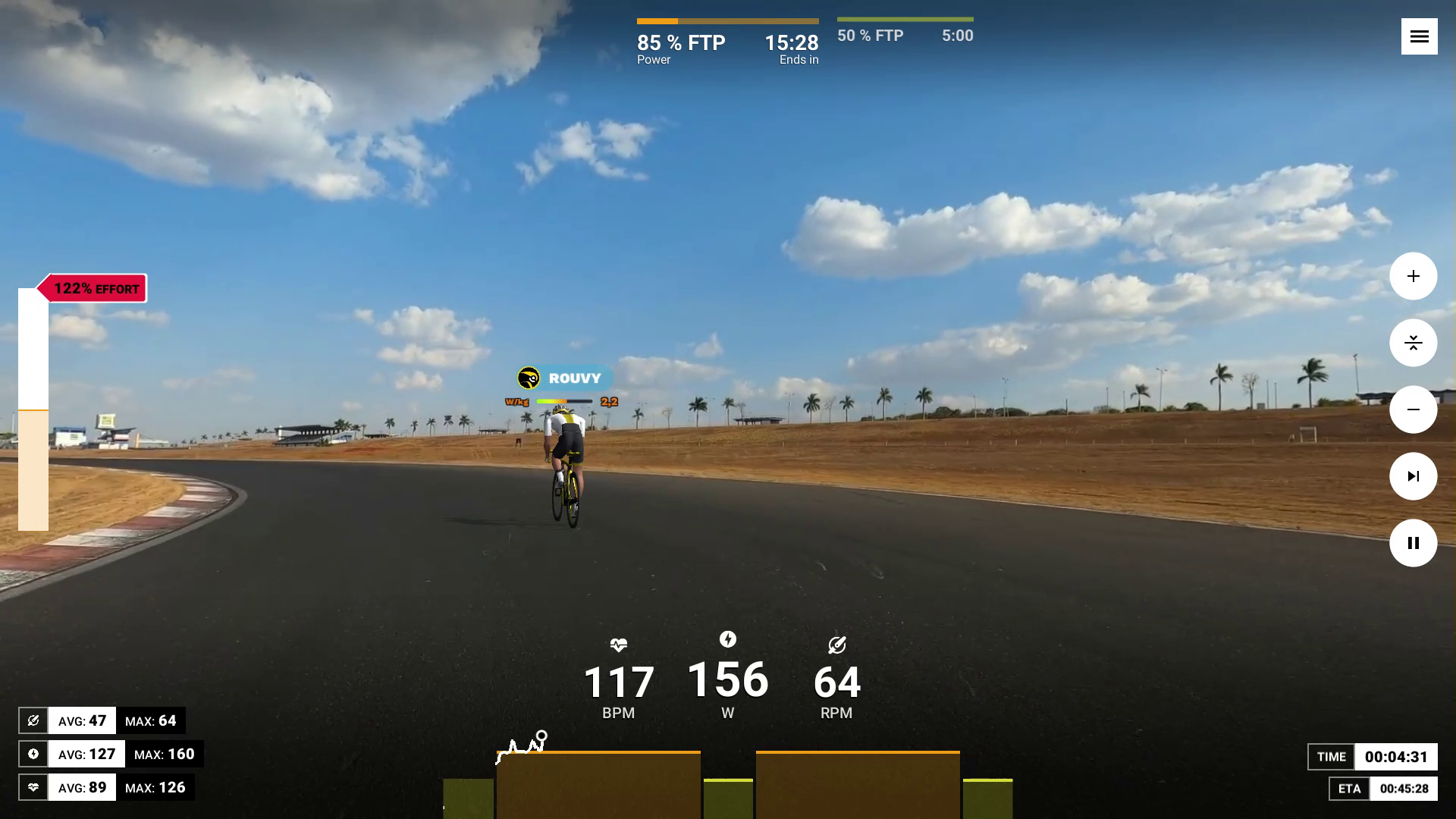 Find more in our Detailed Guide on the New User Interface.
'AUGMENTED WORKOUT' - OVERLAY OVER ANY AR COURSE
Once you choose the workout, you can also select any of your favorite AR routes and enjoy doing a workout in the beautiful landscape of, for example, the Alps or the urban environment of London.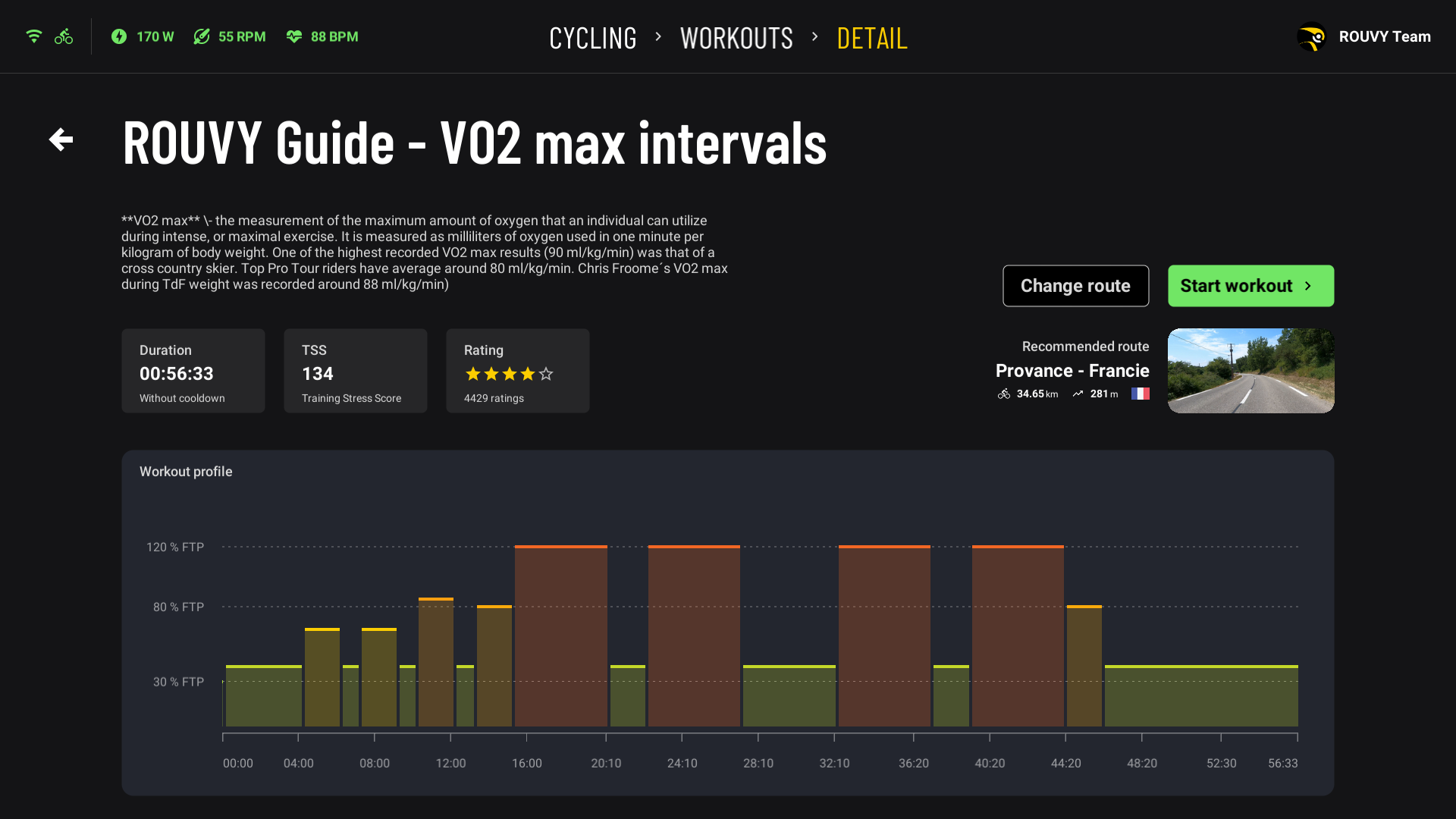 The benefit, of course, is that you will see your avatar as you would during any other rides on ROUVY. (Please note, during the workout other live riders on the course will not be visible for now.)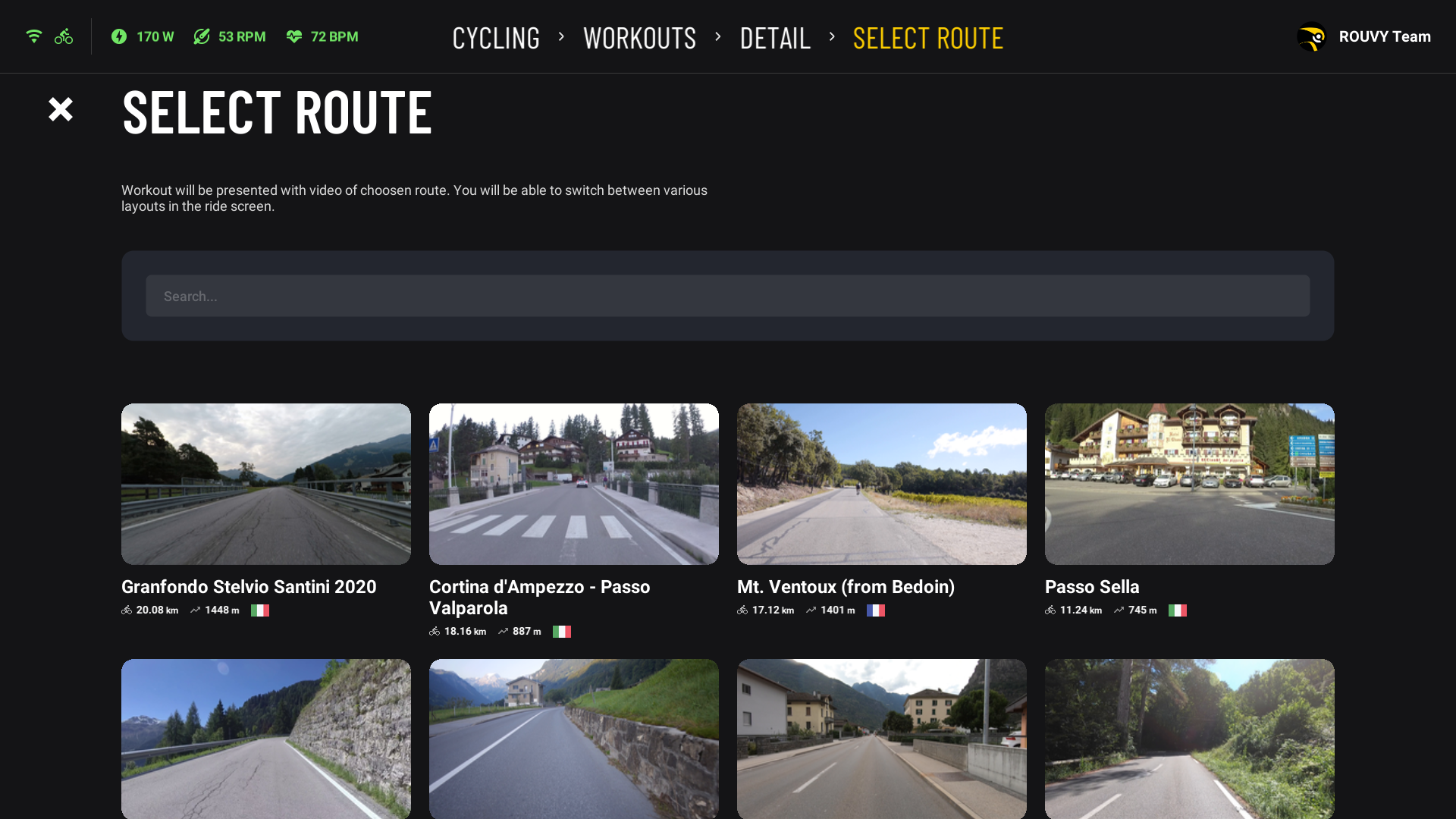 Though not all AR videos are displayed by default, use specific route names in 'search' to get hold of the whole AR catalogue.
REWORKED CATALOG STRUCTURE
The Workout Catalog has received a structural update with revised category folders that enable quicker access. We kick off with a great new UI with fewer categories to keep the workouts offering simple. Additionally, we are already working with excellent coaches to bring you fresh well-structured training content. And you can still access the entire library of the Workouts on MY ROUVY.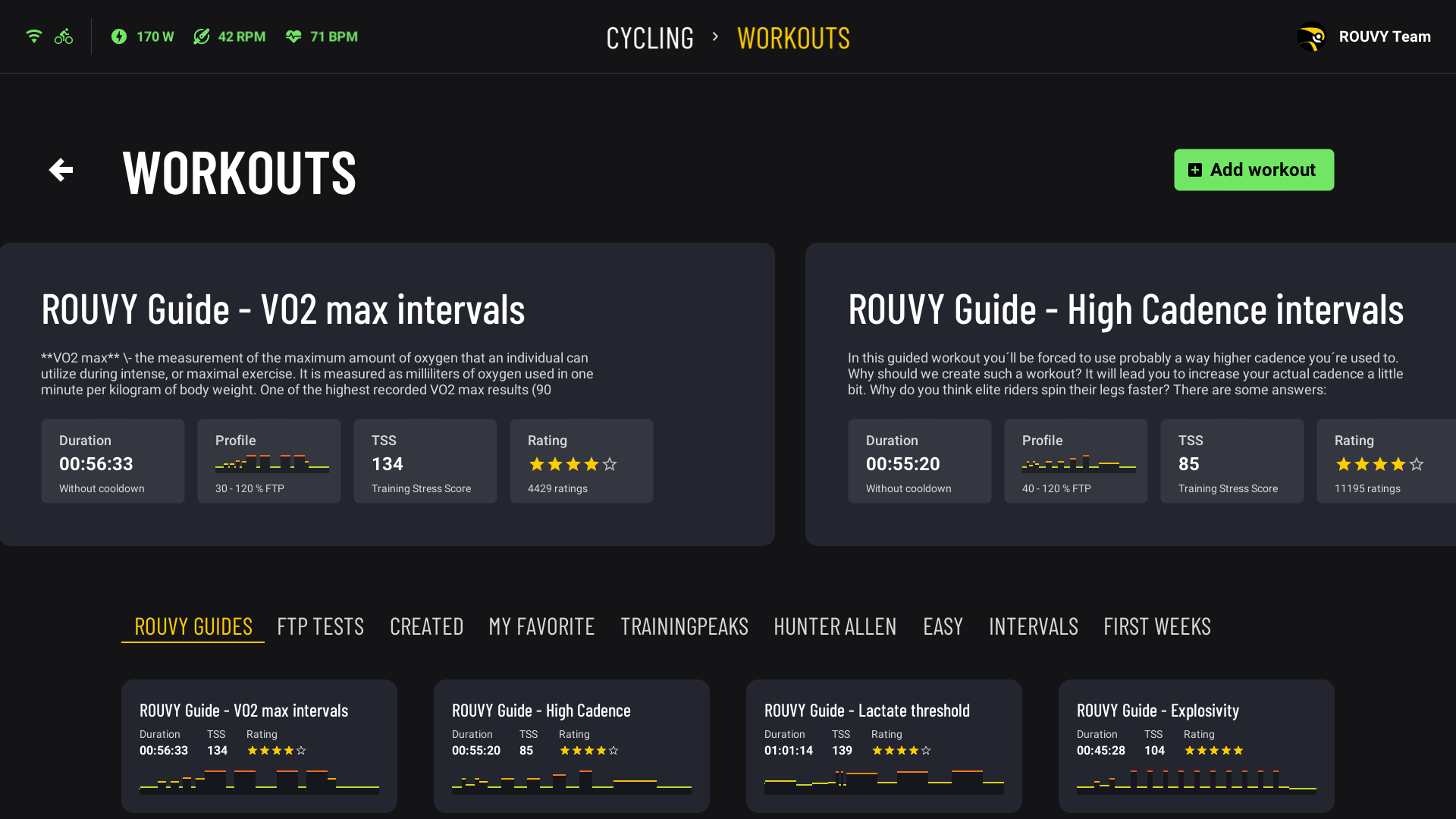 5-WEEK TRAINING PROGRAM FOR BEGINNERS
Please welcome an introduction to the concept of multi-week training plans with a 5-week program aimed at beginners. We have cooperated with our ambassador and coach, Rick Schultz, from Bike Fitness Coaching, to create this five-weeks plan. The goal is to improve your fitness and do it in a controlled and gradual manner, building up your fitness slowly. Make sure to check out the 'First Weeks' category in your ROUVY app.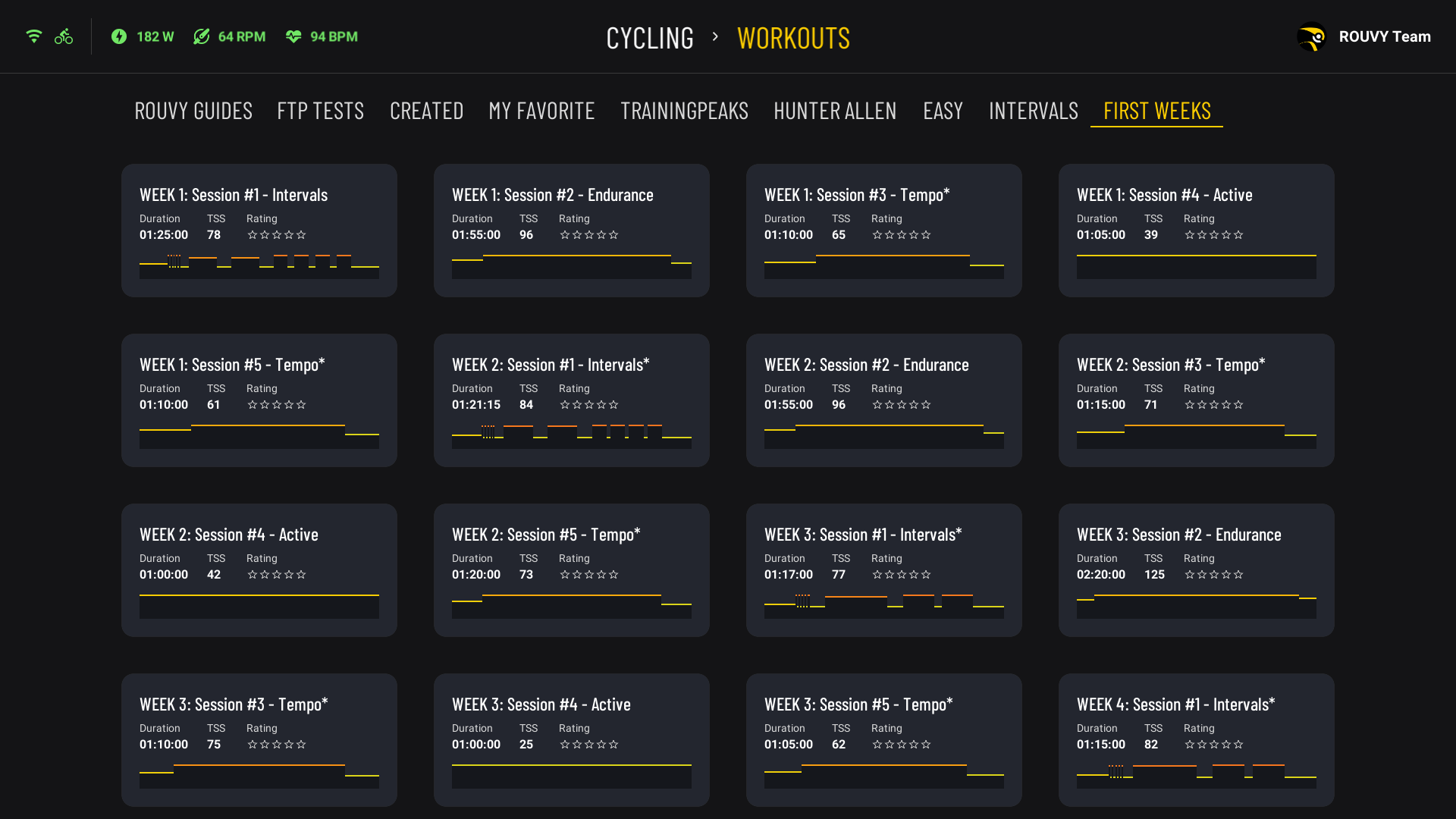 PORTED TRAININGPEAKS INTEGRATION
An extensive ROUVY library provides enough workouts for the most demanding athletes and coaches to fill any individual or team training plan. Additionally, to receive an instant ready-to-go plan from the most popular coaching platform there is an automatic sync of data exchange with TrainingPeaks. Connect your account in the 'Cloud' section of My Rouvy and have your daily workouts uploaded to ROUVY. They will appear in the TrainingPeaks category.
Naming Update
ROUVY AR -> transcends back to -> ROUVY
How It Works
Update your apps first to ROUVY 2.0 or download the new ROUVY 2.0 app.
While performing ERG workouts, you are able to see your avatar over the specific AR course, turning a casual prescribed training routine into a real-time adventure. To access the full library of workouts, start with the 'Search' tab on 'myrouvy' web in the catalog. Then, the chosen Workout is added to "Favourites," which can be easily accessed later in the apps.
-> Launch the ROUVY app, switch to the "Workouts" section, and find the chosen workout in the "Favourite" folder.
Choose the augmented route. For the best experience, it is recommended to download the route in advance in the route section; but in most cases, streaming works fine as well. Click "Start workout" button and complete a workout where the rider's avatar can be displayed in different distance positions or turned off. The intensity of intervals/level of resistance can be adjusted manually with "+" plus and "-" minus buttons on the right side of the screen.
TrainingPeaks members should sync their accounts in the "Cloud" section on 'myrouvy' (in user settings) to be able to locate the 'Workout of the Day' in the TrainingPeaks folder.
If you would like to import a workout, you can do it by clicking the button "Add workout" and importing .ERG or .MRC file.
One more option is to create your own workout via the myrouvy web portal and add to your 'Favourites' folder.
Important notes
While the smart trainer resistance is controlled by the ERG segments, the rider's avatar is moving just by power, like if you were riding on a 0% slope.

The workout session done on the AR route is not considered for this route leaderboard.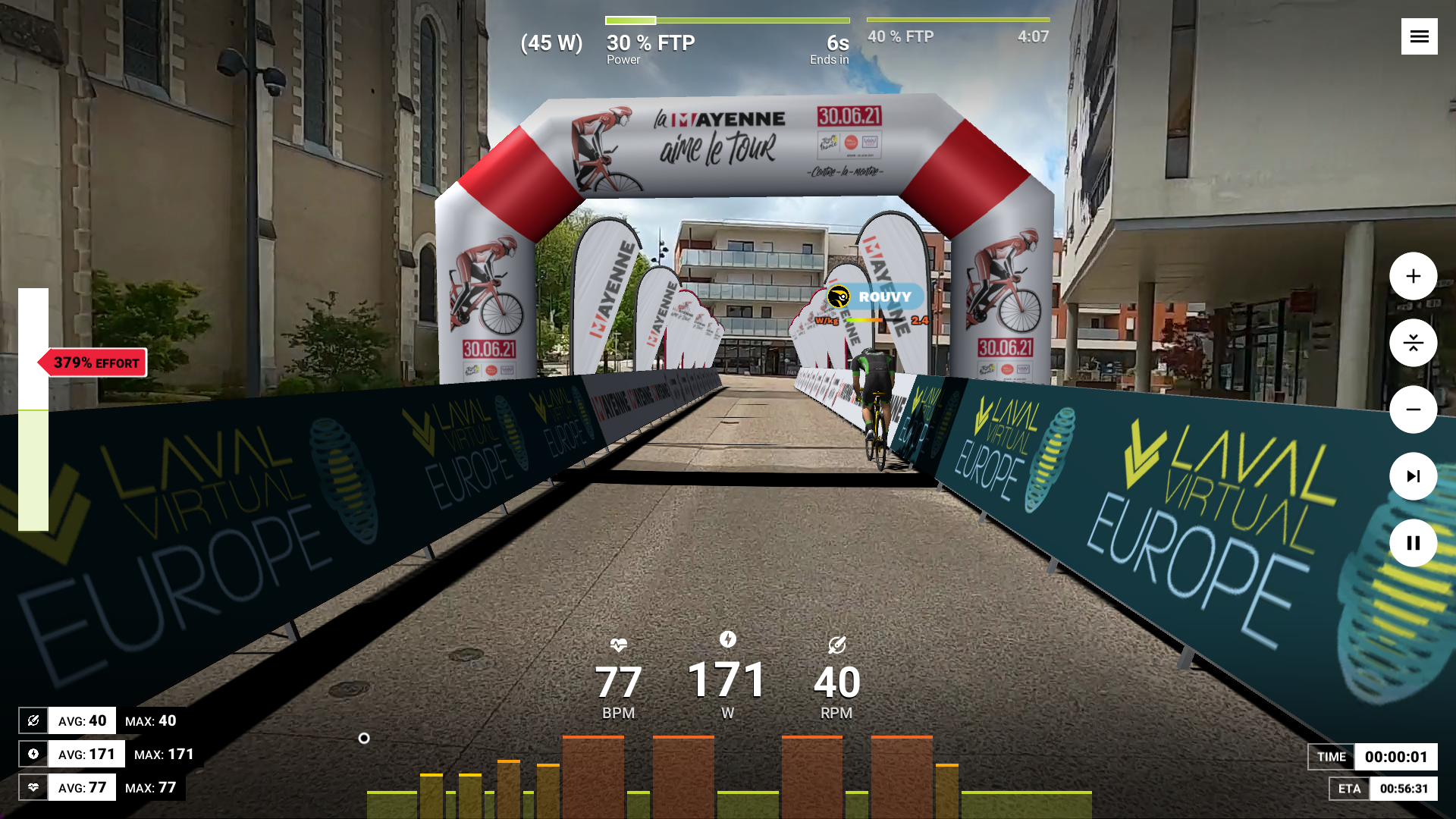 Legacy Apps
Divided into 2 apps after the release of 'ROUVY AR', this app update now finishes the process of merging and unifying ROUVY Workouts into ROUVY AR as a one and single 'ROUVY'. 'ROUVY Workouts' apps are getting set into a deprecation mode; and functioning of these apps will be eventually discontinued. A fraction of riders whose legacy trainers or sensors may not be compatible with the new ROUVY will be provided with a discount from vendor partners and invited to acquire more modern equipment.
Summary
Today ROUVY provides 500 famous and iconic cycling locations in the augmented mode allowing for racing and group riding, and around 10,000 video routes for your individual exploration or race recon. Complemented with 10,000 workout options and more than 60 official race partners, ROUVY is a #1 platform for all your indoor sessions.
With an all-in-one solution and "Family" option (2 more household members on 1 subscription) ROUVY provides the best value for money on the market. A unique mix of efficient structured training, real-life video, interactive 3D world elements and events will keep you motivated all year long. That is all new ROUVY!
Explore our updated and extended ROUVY workout catalog, and discover iconic locations for cycling all over the world.
So, go ahead and start working out!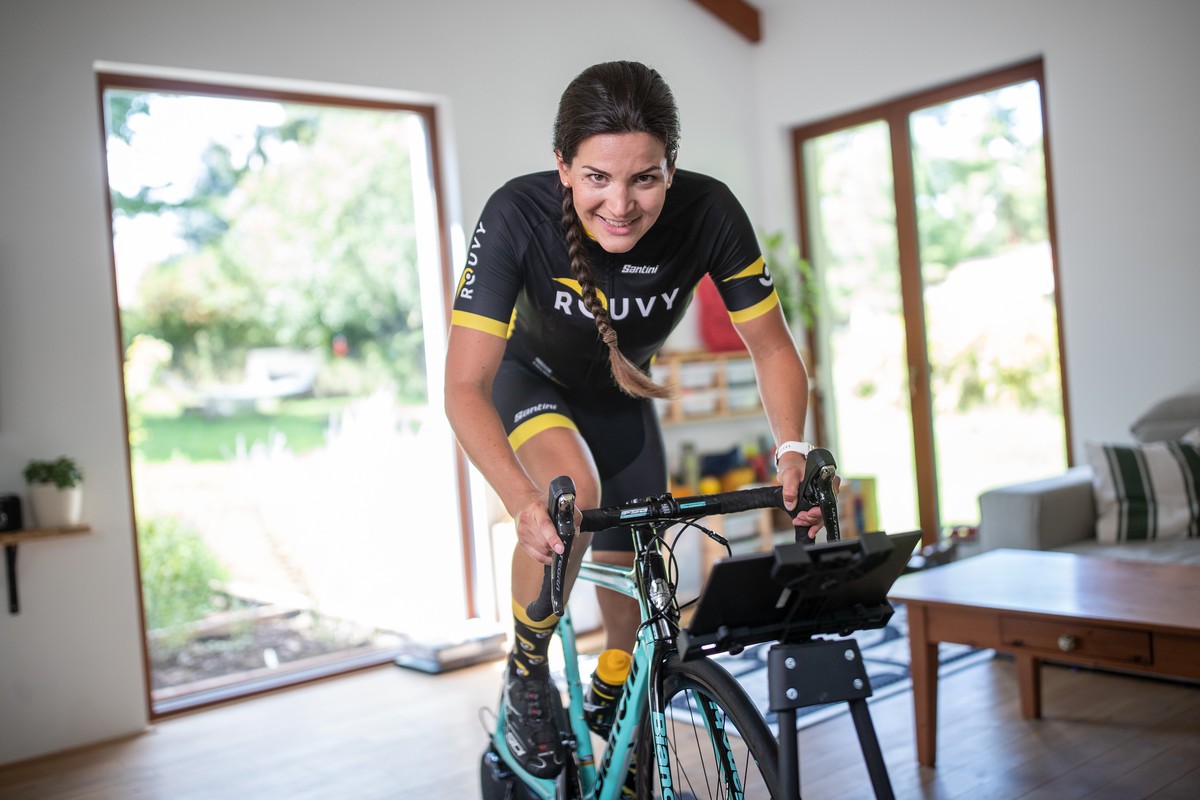 P.S.
Still need help? If you have any additional questions, please reach out to our friendly support team on the support page.