For the culmination of the Standard Chartered Singapore Marathon (SCSM) virtual racing series, ROUVY released two SCSM courses for augmented group running.  Athletes will run through the streets of Singapore virtually, creating a world-class experience for runners around the world. This new format will be free of charge for runners in place of the traditional race due to the COVID-19 pandemic.
Following 13 weeks of the SCSM Virtual Racing series, the Grand Finale, starting from 27 November through to 6 December, offers runners (both locally and around the world), an opportunity to run together and utilize their treadmills on ROUVY on 2 routes: SCSM Grand Finale ROUVY AR 10KM and SCSM Grand Finale ROUVY AR Half Marathon.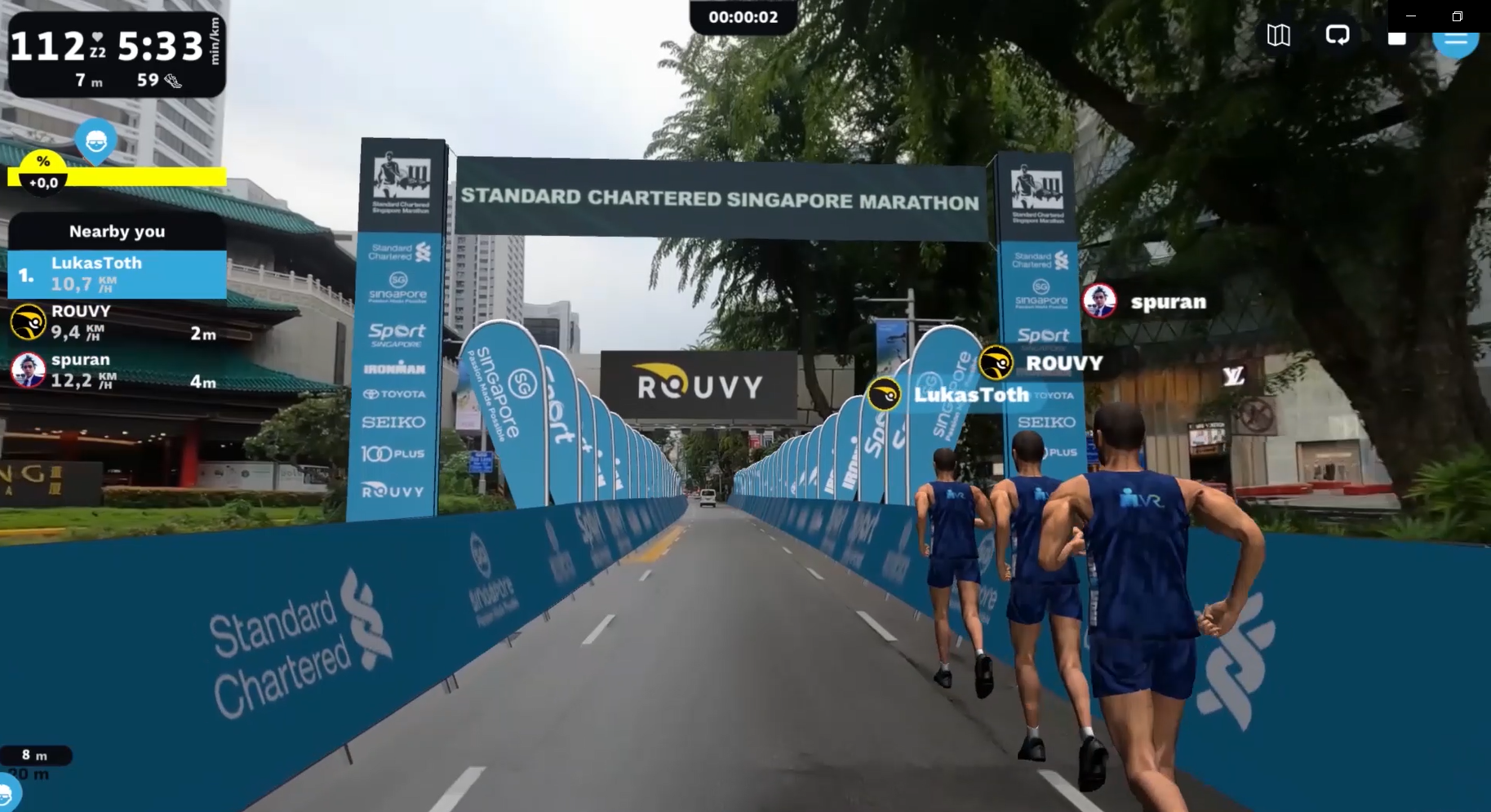 Adopting a hybrid race format, runners can register for the outdoor or indoor race option with a compatible tracking device or join the immersive augmented reality (AR) format powered by ROUVY on a treadmill. The AR format will allow overseas runners to traverse through the spectacular cityscapes in the 'Best of Singapore' routes. 
SCSM Grand Finale ROUVY AR 10KM
Distance 9.92 km

AVG grade 0 %

Ascent   47 m

Max grade 5 %
SCSM Grand Finale ROUVY AR Half Marathon
Distance 21.57 km
AVG grade 0 %
Ascent      83 m
Max grade 5 %
Live broadcast with professional commentary will be streamed on SCSM Facebook page.
The ROUVY's AR format allows runners to be visualized as avatars and see themselves competing with fellow runners in real time, while also emulating the actual race experience through various in-video features.
The Half Marathon and 10K routes featured in the AR format have been specially curated in partnership with the Singapore Tourism Board (STB) to feature some of Singapore's most iconic landmarks and scenic streetscapes such as Orchard Road, Little India, Chinatown, the Civic District and more.
Local Onsites
To allow as many runners as possible to experience this immersive virtual race format, race organisers have also teamed up with Sport Singapore to activate 12 ActiveSG sport centres around Singapore. These gyms will offer bookable slots for the AR Half Marathon and 10KM categories via the ActiveSG app.
In addition, there will be a special 90-minute live Standard Chartered Singapore Marathon 2020 Race As One Show on 5 December starting at 6pm. Runners can tune in via the SCSM Facebook page to catch celebrities and personalities race for a cause in the ROUVY AR Half Marathon Relay Challenge. 
For more information on the SCSM 2020 and registration, please visit www.singaporemarathon.com.
Follow the race:
Facebook: www.facebook.com/SGMarathon
Instagram: @sgMarathon
Twitter: @SG_Marathon
Strava: Standard Chartered Singapore Marathon
About The IRONMAN Group
The IRONMAN Group operates a global portfolio of events that includes the IRONMAN® Triathlon Series, the IRONMAN® 70.3® Triathlon Series, the IRONMAN® Virtual Racing™ (VR™) Series, 5150™ Triathlon Series, the Rock 'n' Roll Marathon Series®, the Rock 'n' Roll Virtual Running™ Series, IRONKIDS®, ITU World Triathlon Series, premier running events including the Standard Chartered Singapore Marathon™ and The Sun-Herald City2Surf®, Ultra-Trail® World Tour events including Tarawera Ultra and Ultra-Trail Australia™, mountain bike races including the Absa Cape Epic®, road cycling events, and other multisport races. The IRONMAN Group is the largest operator of mass participation sports in the world and provides more than a million participants annually the benefits of endurance sports through the company's vast offerings. Since the inception of the iconic IRONMAN® brand and its first event in 1978, athletes have proven that ANYTHING IS POSSIBLE® by crossing finish lines around the world. Beginning as a single race, The IRONMAN Group has grown to become a global sensation with hundreds of events across 55+ countries. The IRONMAN Group is owned by Advance (www.advance.com), a private, family-owned business. For more information, visit www.ironman.com.
About Standard Chartered Singapore Marathon
The Standard Chartered Singapore Marathon is the leading mass participation run and only IAAF Gold Label race in South East Asia. Since 2002, the race has brought runners unparalleled running experiences, threading through the heart of the city seeing iconic heritage buildings and against one of the world's most iconic city skylines and past some of Singapore's iconic landmarks such as Marina Bay Sands and Gardens by the Bay. Comprising six categories; Marathon, Half Marathon, Ekiden Relay, 10km and Kids Dash, the race has been a catalyst to growing the local and regional running community, by bringing together approximately 50,000 professional, amateur, avid and leisure runners yearly. For more information, visit www.singaporemarathon.com.