Did you ever think a certain ROUVY Challenge was too difficult? After reading the story of Terri Buryanov you may see ROUVY Challenges in an entirely different light. Learn how ROUVY ambassador Terri Buryanov became a triathlete, YouTuber and a vegan - some changes just overnight.
Terri Buryanov is an American triathlete living in Las Vegas. Her first triathlon in 2017 was a miserable experience. She decided to try again, signed up for the Ironman 70.3. and qualified for the World Championship in Taupo! Later, COVID slowed her down. But that didn't discourage her from signing up to the Challenge Almere-Amsterdam, her first full distance triathlon.
Terri is an enthusiastic content creator, mother of a 14 year old and an ex-bartender, supporting her famous husband.
Are you curious about where she gets her surname from or what plant-based food she eats as a sports woman riding long distances through the desert and how she manages to keep her lungs healthy after COVID?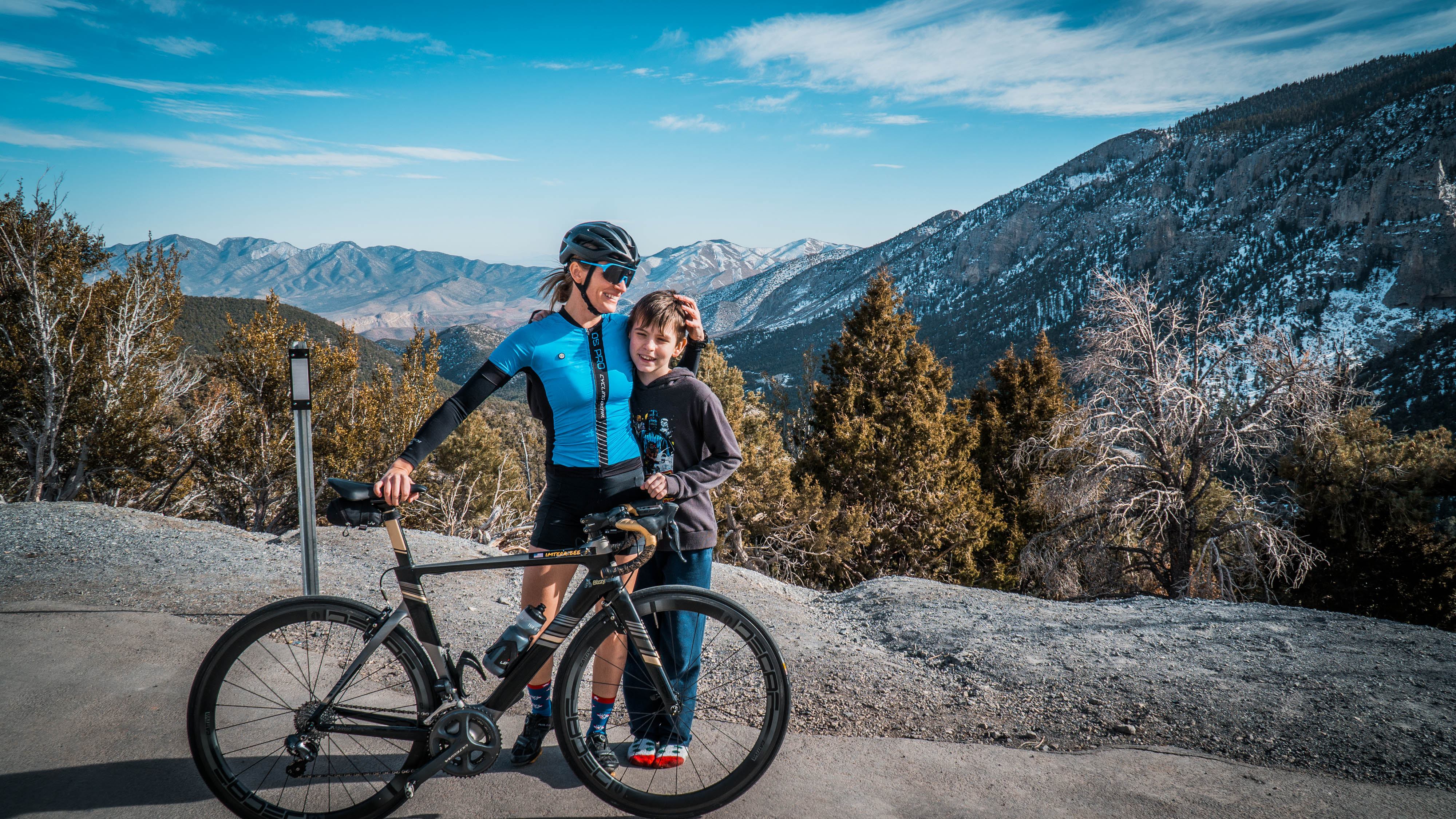 A good Vegas morning to you, Terri! To start with, I am very curious about your surname because it sounds unique. Where does your name come from?
Actually, my maiden name is Leeseberg; I got it from my ancestors. Grandpa was from Germany and grandmother was Irish. But my married name is Buryanov because my husband is from Ukraine.
Your husband is apparently a well-known bartender and YouTuber. How did he become one?
I used to juggle bottles too. We met each other in a competition in Vegas. He started to upload videos on YouTube back in 2015. We opened the bartender school, so we did videos with some small tricks. When COVID happened, our school in Miami needed to be shut down, so he gained more time for videos. Since everybody was staying at home, they wanted more cocktails. His channel went from 100,000 subscribers to 1,500,000 in a very short time. It's incredible. He's just become the no. 2 bartender on YouTube, collaborating with big creators now!
That's impressive. Does he have a small studio with an editor? Or is he working alone?
I used to be really active on my own social media. The reason why I am kind of lagging now is that I'm helping him. I am behind the scenes and do all the boring stuff: emails, brand deals, …
So it's kind of a family business just as the school was? How many students have you had in the school?
The maximum capacity was 26 students per month. Miami was a pretty popular destination. They'd have two classes. One in English and one in Italian or French as well.
Did your students travel from overseas or were they from the U.S.?
It was mostly the European students. Our school was part of the European Bartender School, with headquarters in Barcelona. They have 28 schools!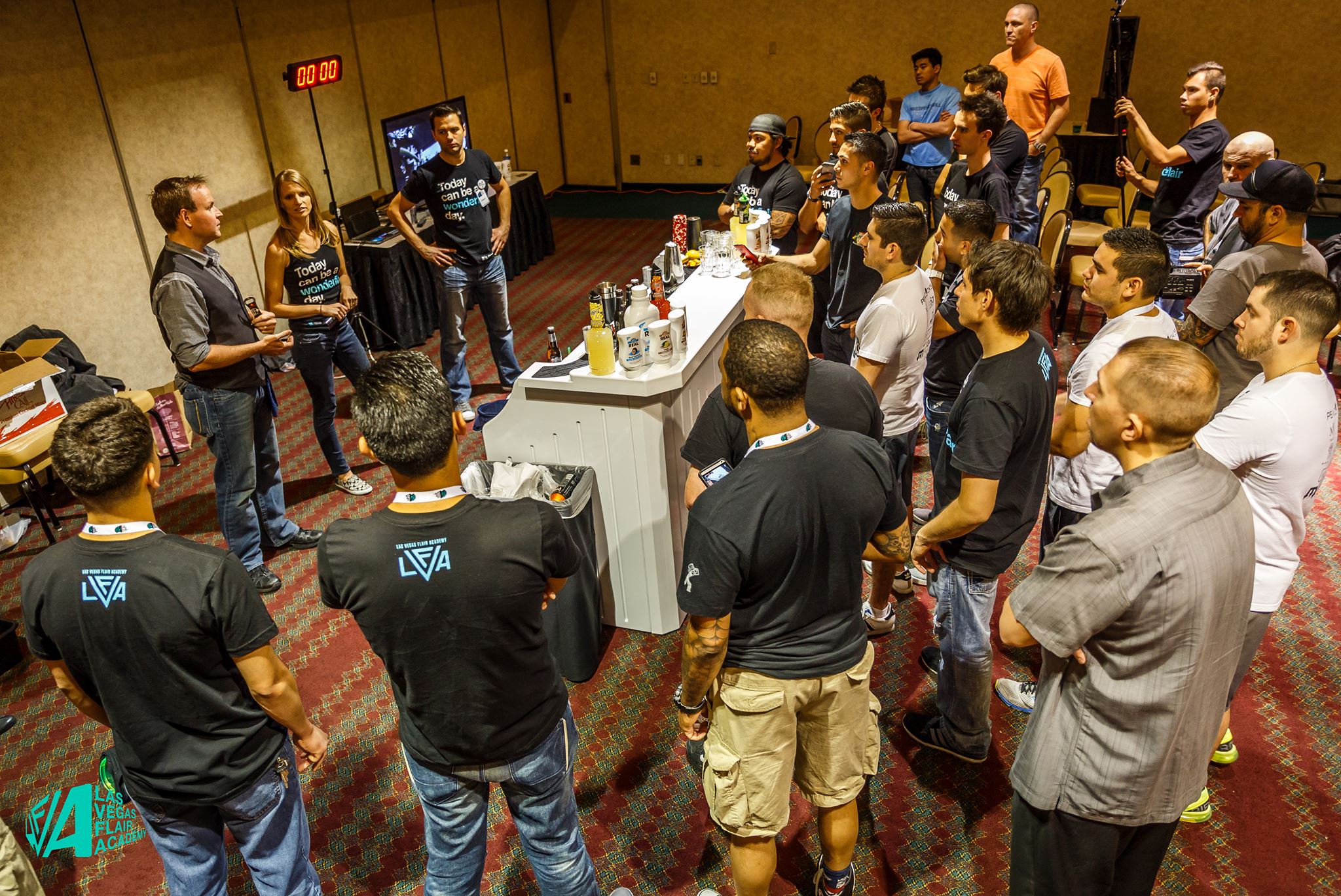 Terri leading a bartender class
You're a very good bartender and a seasoned triathlete! Is your husband a triathlete as well?
Noo! No no. (laughs) He rode his bike with me just once and never again. He does have a nice Cervélo road bike which I bought for him from friends. But he's just like: no helmet, wearing sweatpants, riding with no hands, texting on his phone. We don't match well whilst riding together. :) But back in Miami, he used to ride the road bike and I would ride the beach cruiser and still be faster!
You're based in Vegas and we have some really nice routes from there on ROUVY. Which one do you like the most? Have you tried them in real life?
Las Vegas is a beautiful place to ride! It's impossible to find a flat spot because it's very mountainous. You're gonna get lots of climbing here! I made a video comparison - ROUVY vs. Real from Mt. Charleston. We have a really hot summer here, so at 40° C, you can still ride up there! Thanks to higher elevation, it's a little bit cooler: you don't feel like you're a cookie in the oven.
Red Rock Loop is gorgeous and one of the most challenging routes in Las Vegas. It has 13 miles and the first 5 are just uphill. About 700 meters up! But the rest of it is downhill.
My favorite ride is near Las Vegas, close to Boulder City. You can ride your bike down and across the Hoover Dam and then you come up. I made it my mission once to get QOM (Queen of the Mountain sector on Strava). It took me 33 minutes from the dam, all the way to the top of the hill. I almost died!
Challenges got me addicted to ROUVY
How many outdoor miles a year do you do?
I do 6,000 miles a year in total. Last year was pretty bad; I only did about 3,000 miles.
If you split the 6,000 miles into indoor and outdoor, do you have an idea how many miles you did?
Well, it depends on the year. 2020 was probably 95% indoor, next year was 50: 50. I pretty much got addicted to ROUVY back then because all the challenges helped me to stay motivated. I became the National Champion, but didn't get to the Legend status though!
Do you travel to ride your bike or do you simply focus on training in your home environment and travel only to do races?
Utah! I love Utah! I've done a few relay races across Utah (over 500 miles but with the support team)! It's my favorite state in America. People are really friendly; the drivers even move over for cyclists. So you feel really comfortable and safe.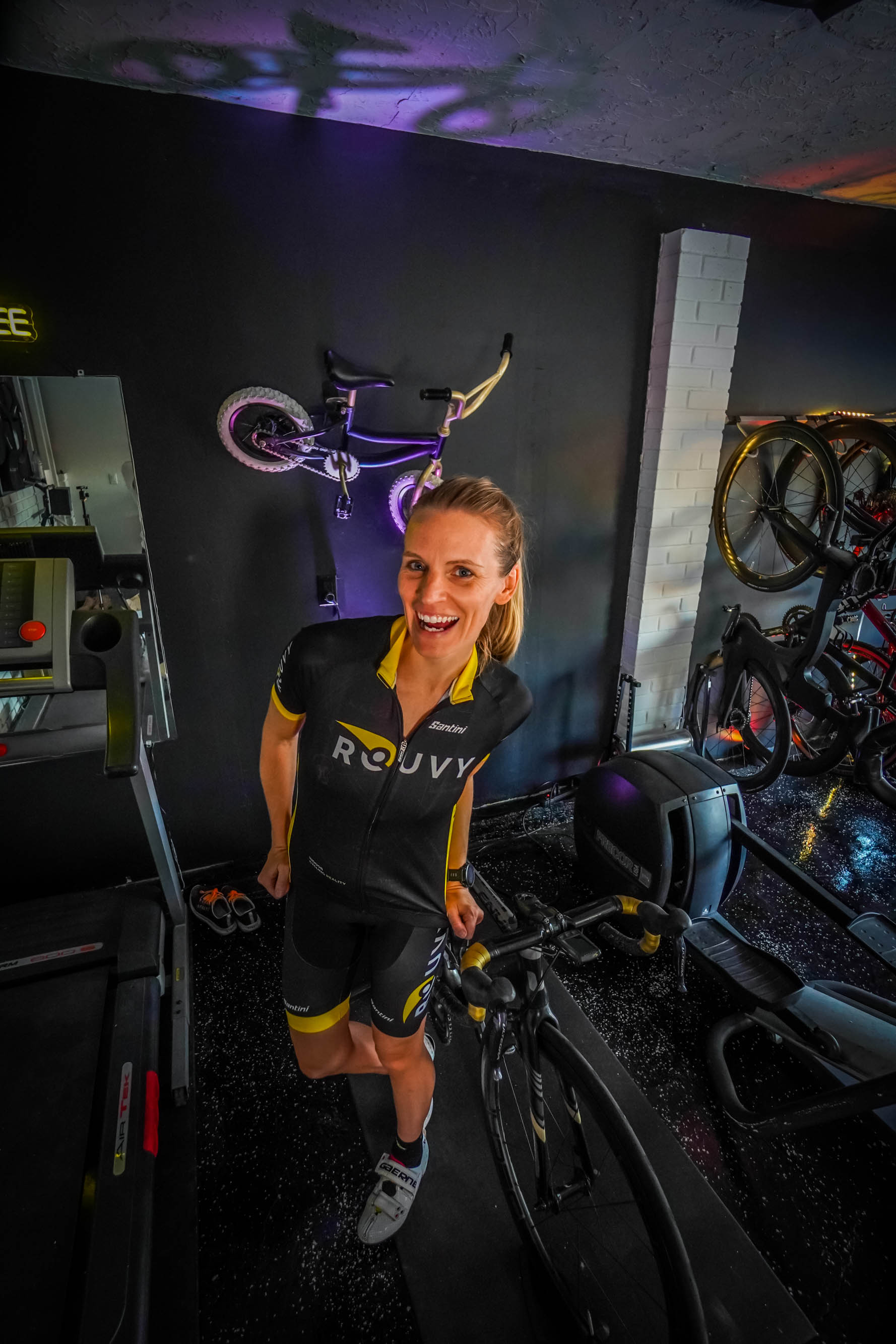 Does it have a similar climate to Vegas?
Yeah, it's very similar. We have St. George, which is less than 2 hours from my home. The IRONMAN 70.3 World Championship will be here in two weeks. It's the exact same climate. Dry and super hot.
I like the positive energy in your videos about long-distance cycling. It seems you really enjoy it! What do you like more - creating content or riding?
Woohoo! Really good question! Watching my husband doing it for years, I decided to give it a go and started creating content back in 2020. He taught me how to edit videos and I love it! Not just creating, but the whole process. But I definitely love riding my bike and sharing it with the world!
I thought so! You don't seem to be wanting only to fulfill the needs of the sponsor, you seem to be sharing your passion for cycling from your whole heart!
I got so many brands reaching out to me. But to be honest, most of the time I just ignore the emails.
I love to ride around the world
Haha, so ROUVY is blessed to have you!
I made a few videos about ROUVY before you reached me, so it makes perfect sense. I'm already addicted to the indoor riding program and I love it as well. I even tried Zwift before, because a lot of my friends have it. But I didn't like it so much. When I got a new trainer, it came with a 30 days trial for ROUVY. I tried. And I loved being able to ride around the world.
Do you use ROUVY for training or do you race as well?
Ironman was doing the virtual races during the lockdown. Lately, I've been doing just the workouts because I got COVID and that led to a really long break. I decided to start with the "First-week program", to see how fit I was. Then I signed up for TriDot. It has a lot of workouts for me. You can download or upload it to ROUVY! Amazing! I don't have to think about workouts anymore!
Can you share more details with us? How does it work?
I'm still learning, but it seems to be an algorithm that figures out what your training plan should be. You don't have a coach! I log in every day, check my workout and train. It also tells me what my warm-up is!
You record the workout on Garmin and then to TriDot, which tracks your progress?
Yeah, I connected Garmin, ROUVY to TriDot, so it can track my progress. I can download workouts from TriDot to my Garmin and train outside! Also, any workout from ROUVY is uploaded to TriDot.
Wicked! You're preparing for Almere. Do you have any milestones for training?
Based on my numbers, TriDot calculated my estimated finish time to be 10 hours 53 minutes. That's pretty sweet, considering am coming out of COVID. I still have 5 months of training left, so let's see! After my second COVID, my numbers were pretty low.
Many athletes have to deal with COVID, what are your tips? What to be careful about and how to start with training?
I've talked to so many people and everyone has had a different experience. Some weren't affected at all; they didn't even know. But it affected my lungs for such a long period afterward. I stopped with the training. I didn't want to make it worse. Then I started with breathing exercises. Garmin was watching my oxygen level and it was just 90%. I started with a honey and mushroom powder cocktail and breathing exercises in my routine. Suddenly it was better. I could take deep breaths and my oxygen level is now 98%.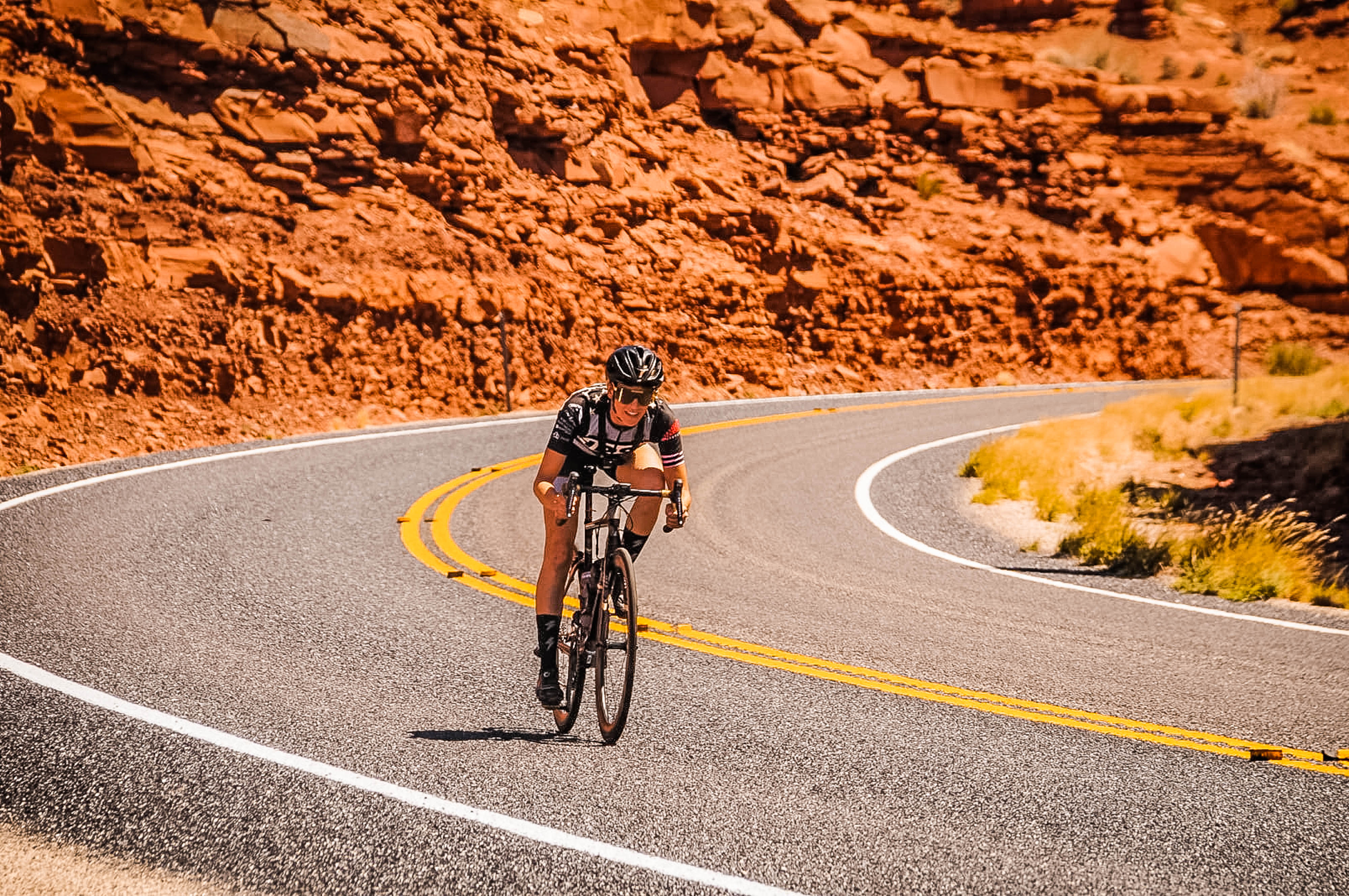 Kokopelli race
Did you just say mushrooms, Terri?
Yeah, I decided to be plant-based. I kept reading all those articles and watched one of the vegan propaganda movies, went to my kitchen afterward, and threw anything with animal products in it. Bought vegetables and fruits and have been plant-based ever since. Over 4 years now.
Can you share your pre-ride and after-ride meal?
It depends on the workout, but it's mostly oatmeal with fresh fruits. And every single day, I make a tofu scramble sandwich with avocado, sprouts, or sourdough bread.
You raced in and finished the Kokopelli 525-mile bike relay race (from Moab Utah to St. George). How did you manage not to get hungry?
Those races are so hard when one is plant-based! There's no fruit in the desert so I survived on peanut butter-jelly sandwiches, bananas and dates. And fig bars.
How long has it been since you recovered from COVID?
It has been about 4 months.
Kudos for taking it easy! Do you plan to attend any smaller triathlon events before Almere? Or do you focus just on the Almere?
I haven't decided yet. But I can throw in a few local races.
I'm looking forward to watching your progress towards the Almere! And I'm glad to have had a chance to get to know you better! Thanks for sharing and see you on a Group Ride!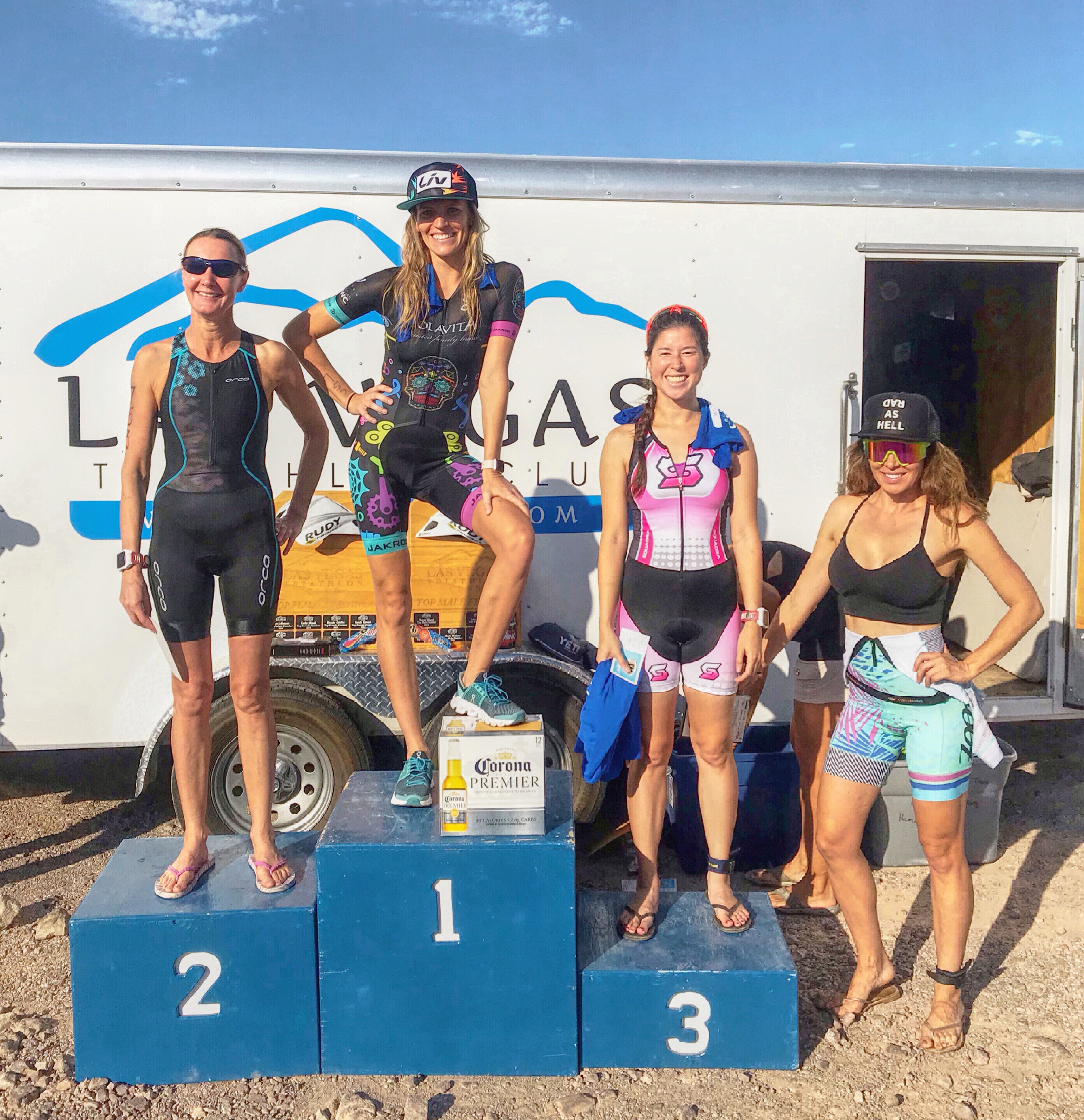 Terri seconf from the left