Ha Giang downhill
Situated in a region with spectacular and utterly unique scenery in a rural landscape, Ha Giang lies in the final frontier, far north of Vietnam. Visitors can explore popular locations with unusual and symbolic names such as Happiness Road, Dong Van Plateau, Khau Vai Love Market, and Quan Ba Sky Gate.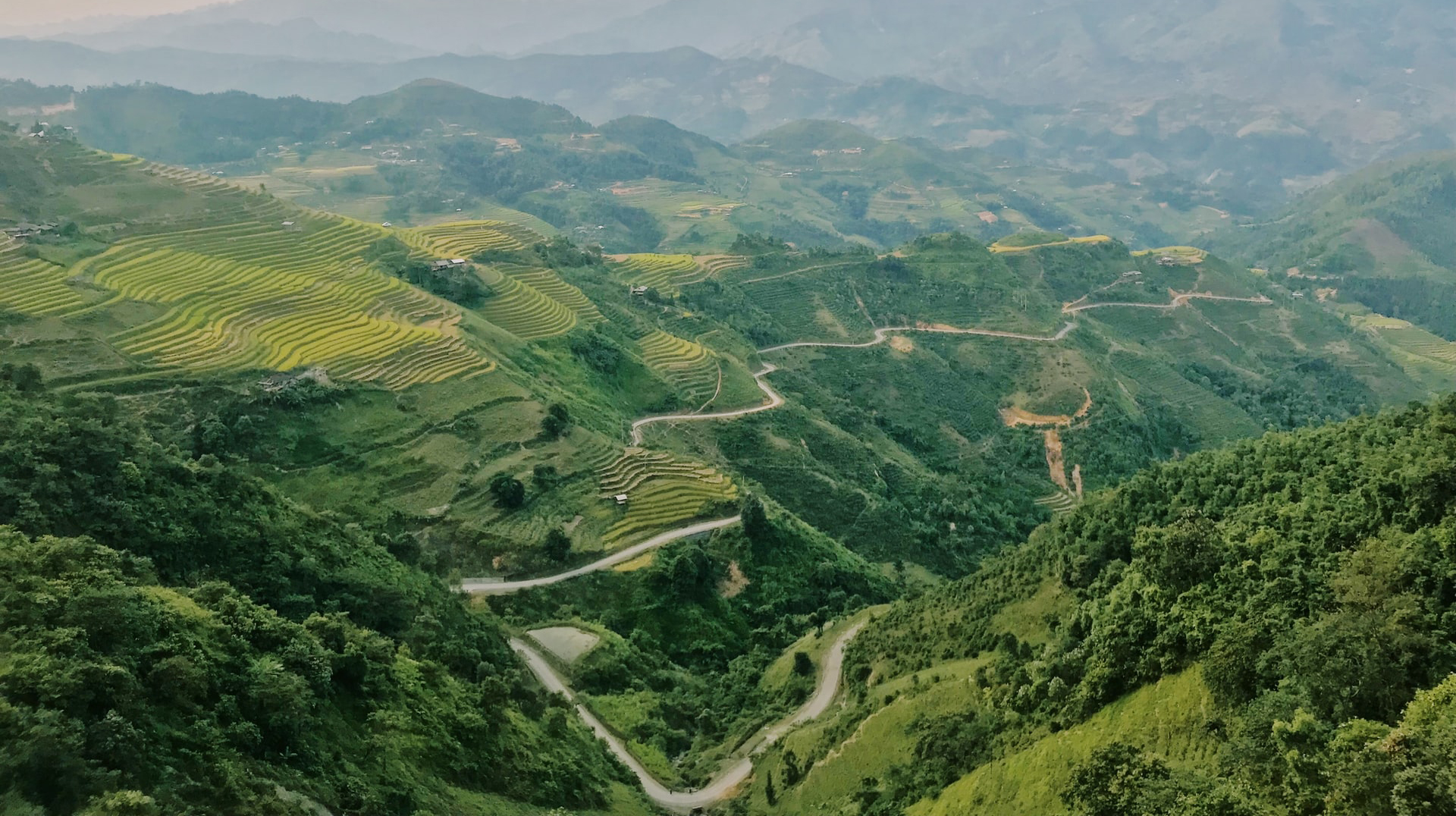 The Rouvy route segment takes you through a unique landscape of limestone mist-cloaked mountain pinnacles displaying some of the most magnificent scenery in the country. You'll be heading south over 15km on a route with a 2% average gradient and 277m of ascent. Here we will explore the hidden charm of the rocky Dong Van plateau, a registered UNESCO Global Geopark, where 80% of the terrain is rocky and where ancient fossils from 400 to 600 million years ago can be found. Because of its mountainous topography, Ha Giang is one of the poorest provinces of Vietnam where agriculture is a challenge.
We will wind our way down a dangerous pass along a cliff edge lined with lush green vegetation, eventually descending into the valley. Bamboo, multi-coloured orchids and banana palms line the road. Simple villages dot the landscape where the ethnic H'mong people live. Here you can find some agriculture consisting of cultivated fields and livestock grazing. The exotic fauna hiding in the dense, indigenous foliage and jungle includes the elusive tigers, peafowl, pheasants, and the endangered and critically endangered pangolin.
Estimated time to complete:
3W/kg - 30 minutes
2W/kg - 34minutes
Let's explore a bit more HERE to add to the experience of your journey.
Ha Long Bay
Hạ Long Bay, on the Gulf of Tonkin off the northeast coast of Vietnam, in the province of Quang Ninh, is known for its serene emerald waters and many towering islands protruding from the water topped by lush green rainforests. The bay is one of the world's seven wonders of nature. These mysterious land formations create a spectacular seascape of limestone pillars and a maze of jewel-like islands, inspiring imagination and wonder with its fantastical outcrops, caves, and coves. Because of their precipitous nature, most islands are uninhabited and remain untouched. The bay has earned its status and is justifiably a UNESCO World Heritage Site.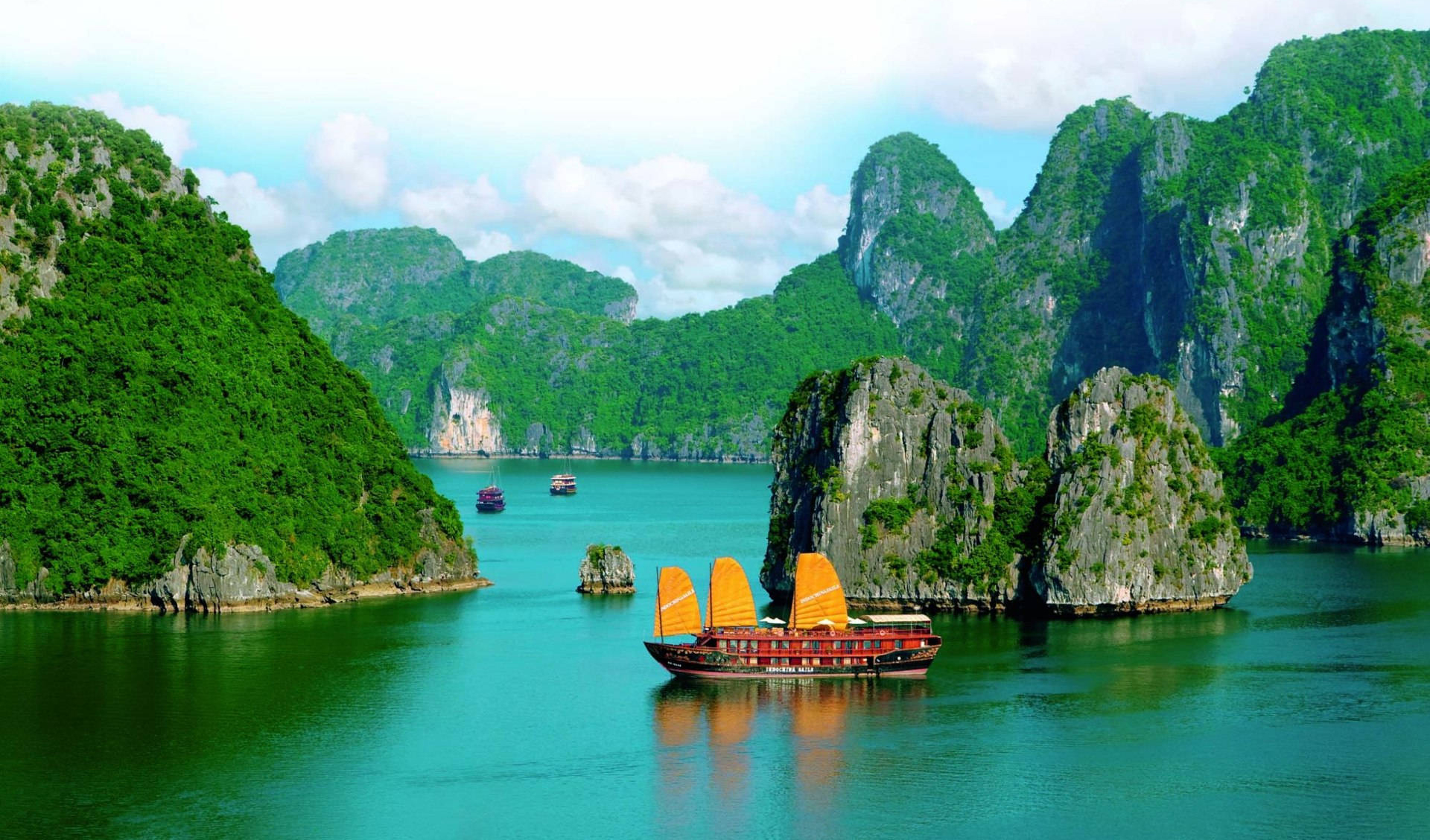 Junk boat tours and sea kayak expeditions take visitors past islands named symbolically for their shapes, including Stone Dog and Teapot islets. The bay region is famous for scuba diving, rock climbing and hiking, particularly in the mountainous Cat Ba National Park.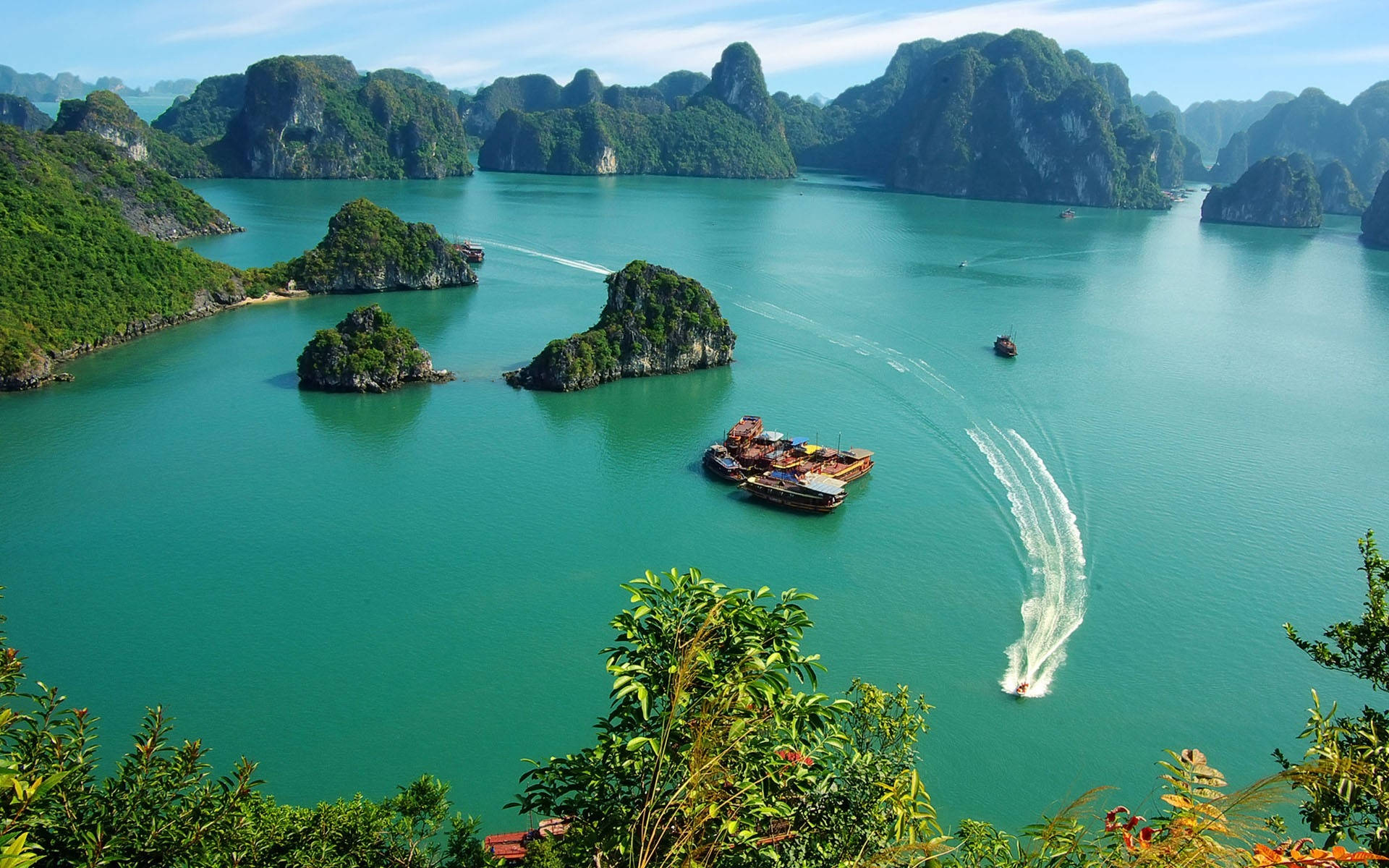 We will be cycling to this beautiful natural wonder. First, we head off on a palm tree-lined road that will lead us to these magnificent hilly outcrops in the bay. Look out for this beautiful sight around the 23km mark onwards in this 30km route which is almost entirely flat, with only 84m of ascent.
Estimated time for completion:
3W/kg - 45 min
2W/kg - 60 min
Khau Pha Pass
The name Khau Pha in the Thai language means "Horn of Heaven" because here, the majestic peaks rise in the middle of a blanket of clouds and resemble horns. This scenic and rugged mountain pass, situated in northern Vietnam at an elevation of 1,500m (4,900ft) above sea level, is located in Mu Cang Chai District, Yen Bai Province. It is one of the country's longest and most dangerous mountain passes in the world with many sharp bends, well known to adrenalin junkies as "One of the four greatest mountain passes" of Vietnam.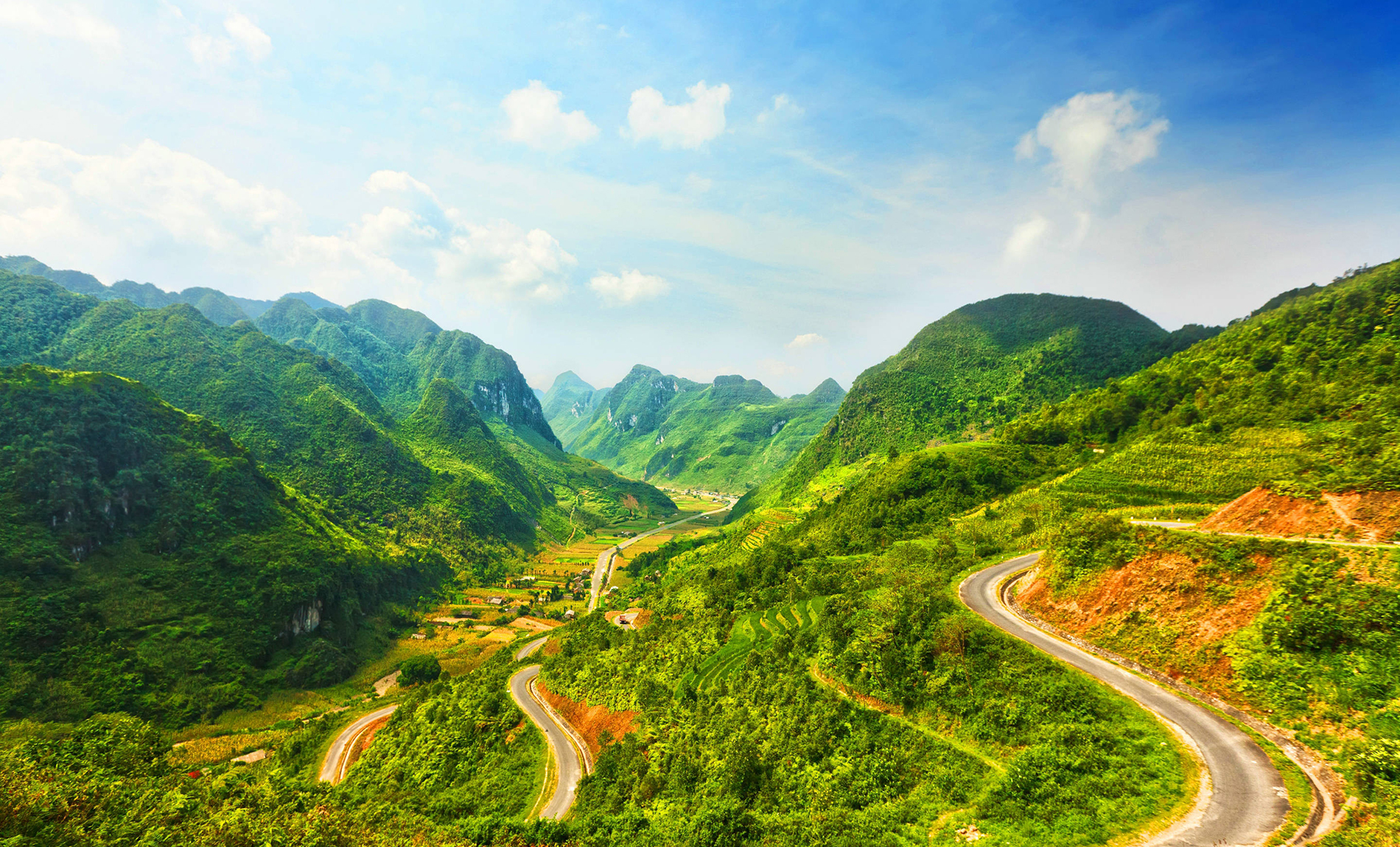 Fluffy white clouds drift and meander mysteriously through the valleys. Pristine jungle vistas cover the hills surrounding the pass, and picturesque terraced rice paddies, cultivated by the ethnic H'Mong people, form beautiful contours. For thousands of years, ethnic farmers in these mountainous regions have expanded their farms by growing rice on the steep slopes. They have carved massive steps into the terrain, forming terraces of many small platforms.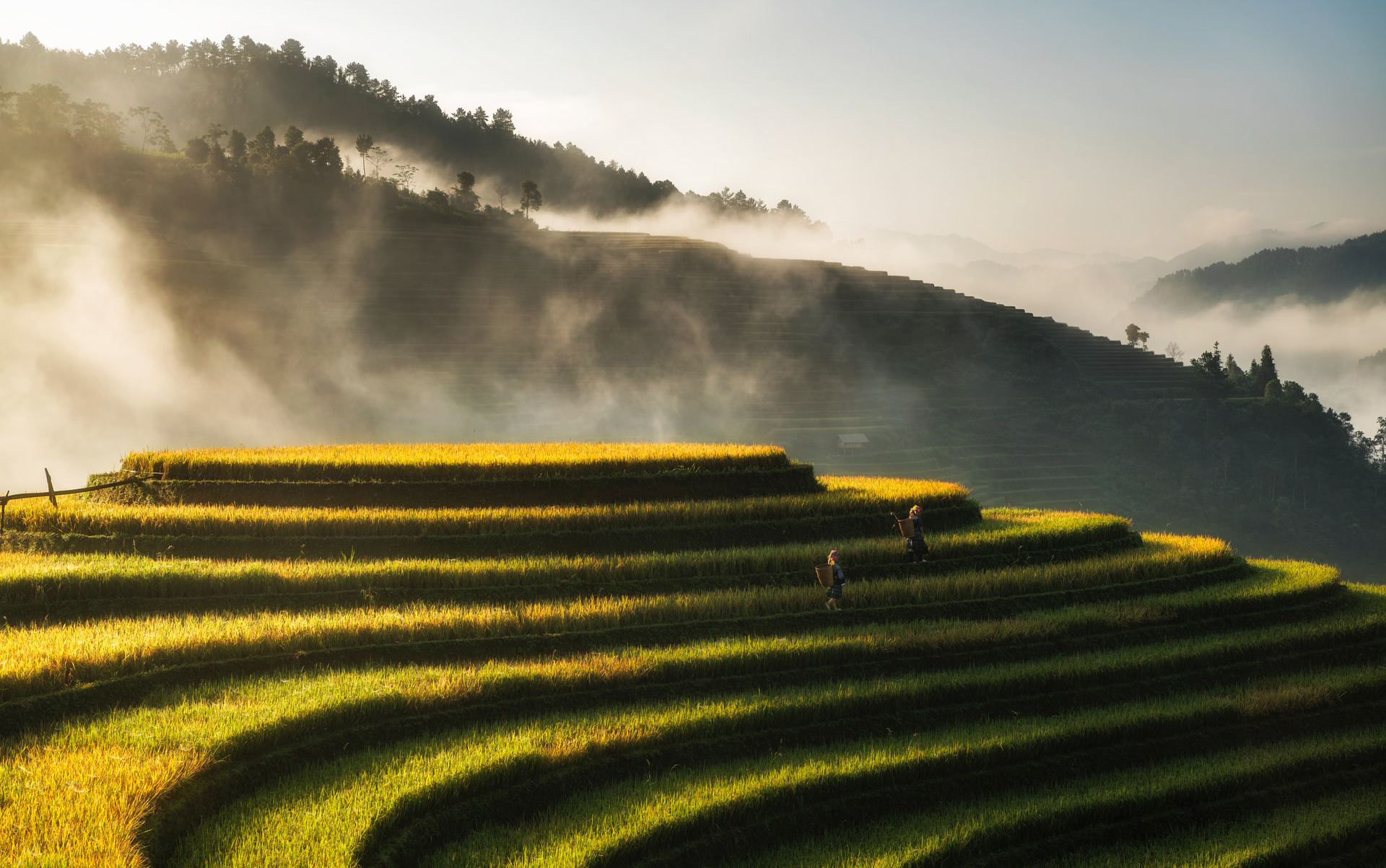 You'll ride up past hill tribe villages such as Tu Le, Lim Mong, and Che Cu Nha villages. On the way down to the valley, the agricultural work and daily activities of the ethnic minorities appear at the foot of Khau Pha mountain in the Lap Thai & Lap Mong villages.
The 30km Highway 32 is highly dangerous due to the thick fog, snow in winters, sharp bends, no barriers with steep mountain drops, and where landslides are common. Riding Khau Pha on ROUVY may be a safer option over the 14km distance, 742m ascent and an average gradient of 5%.
The Mu Cang Chai District offers its authentic Khau Pha's specialty cuisine, including the seasonal delicacy of sticky rice in Tu Le, mixed with forest leaves and turned into five-colour sticky rice with a sweet flavour, dipped in peanut salt.
Estimated time to finish
3W/Kg - 53min

2W/Kg - 1h13
Enjoy your trip through Vietnam riding on ROUVY!