Reasons to do a long epic route indoors that will undoubtedly raise eyebrows can be well worth considering for a few reasons: lack of time, traffic too bad, conditions too unsafe, weather not playing ball, logistics and mechanicals. Did you know you will save a third of your time if you ride inside instead of outdoors? Three hours cycled outdoors equates to 2 hours indoors, for example, based on watt data, provided you choose a flat or slightly uphill route indoors. Remember that downhills don't count - so don't fool yourself! So if you are time-crunched, it's pouring with rain or unsafe, choose the indoors option. It's a winner every time!
From my suggested routes for building up your endurance in Routes to improve your endurance and stamina, we move on to the next step, which covers you for a plan B when forced indoors to do much longer endurance training. You can continue seamlessly to increase your indoor cycling fitness and keep your Career Coins achievements on track!
For this training to pack a punch on your fitness, these rides should be much longer: 3-5 hours in the saddle will provide some super compensation to your program. Long distance indoors is highly intense, so your training zone for these rides should ideally remain in zone 2, between 60% and 75% of your Functional Threshold Power (FTP) and 70-75% of your Threshold Heart Rate.
If you want to extend and push yourself, I'd suggest going into zone 3 and higher only in the last third to a quarter of your ride if you're going to finish what you started. Always plan an active recovery week every 3-4 weeks, and a recovery week after this long ride would be beneficial to get stronger and allow for adaptation for your body to build up again to a higher fitness level.
Stay in your Zone Two lane
Staying disciplined and keeping to these zones on extra-long endurance rides indoors will be of great benefit and will make sure that 1) while keeping disciplined, you can complete the distance and 2) ensure that at a specific wattage output, your heart rate will gradually begin to come down over time (over a few weeks of consistency). Targeted zone training during these long endurance events indoors will build a solid fitness base for the coming season and give you the added confidence to manage most long events or rides indoors or outdoors.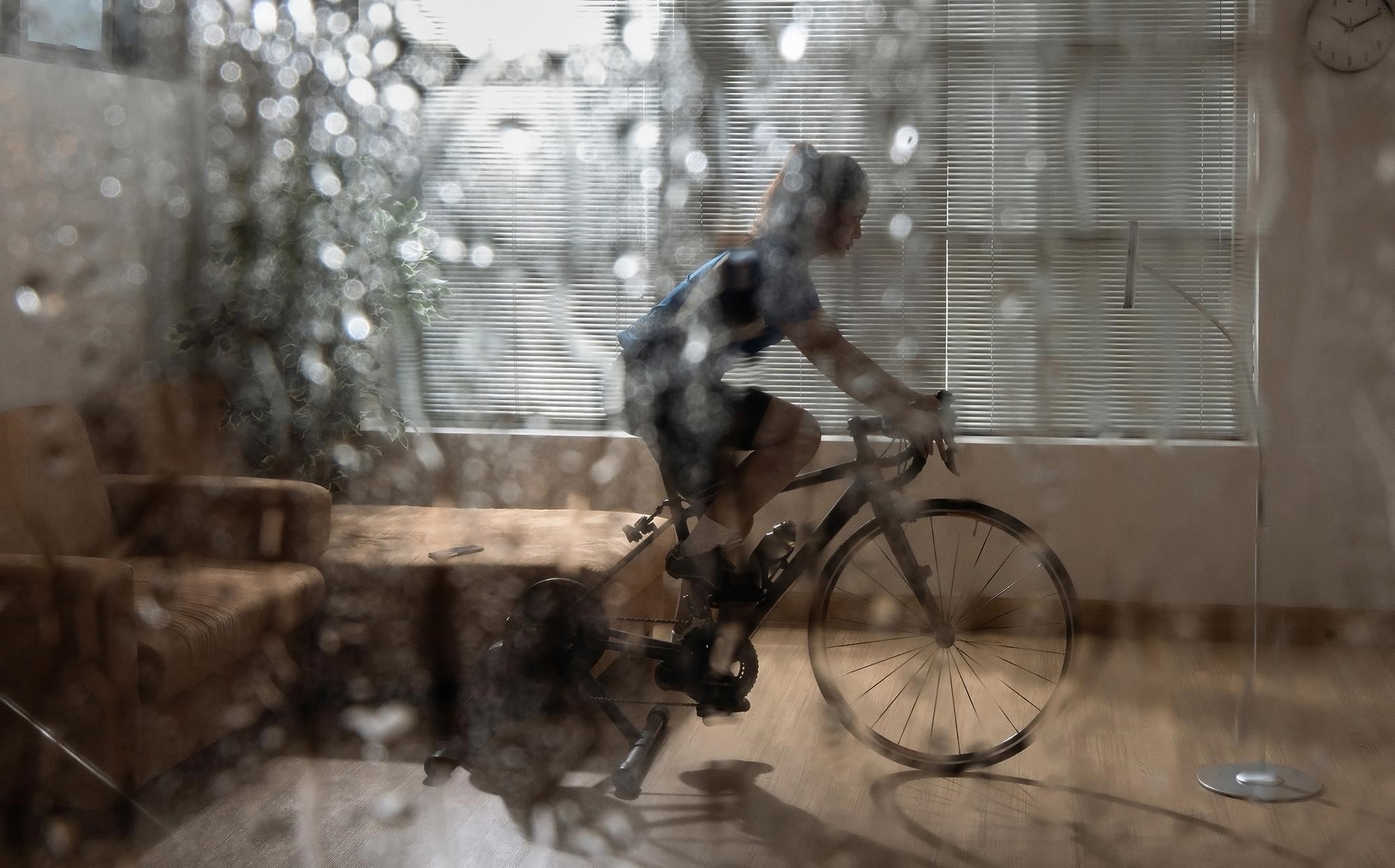 Inside indoor planning
You'll also need some preparation for an indoor journey as you would outside, but it's far more straightforward. Getting the job done indoors is easier for staying focused and disciplined regarding your pacing and concentrating entirely on the ride:
● Exploring a beautiful video without distractions
● Taking in nutrition and liquids more easily and readily
● Keeping an eye on your power and heart rate zones easily

More bang for your buck indoors
The bonus, of course, is that if you've chosen a quality indoor route without too much downhill, you'll need to do a third less than if you were to ride a rolling course outside, saving you time, usually because, on the trainer, you are constantly turning the pedals. You can control and focus on your watts and heart rate more efficiently and monitor more easily what is happening close up with your data. Ultimately, when you look at the stats, your normalised power is what counts, and this equals your average watts effort minus the freewheeling, which is easily measurable.
What you will need for your extra-long endurance quality ride of around 80-100km, or longer:
Some prior endurance training: see my article about three suggested routes for endurance
A good carbohydrate-rich breakfast or meal around 2 hours before you start
Your drink bottles with electrolytes or preferred drink - one hour (so plan for four to five bottles of water)
Shammy cream, apply before and during.
Towels for sweat
Enough energy bars or high-carb snacks x 1 per hour after the first hour or two.
A change of shorts if necessary (best on a short downhill when you can get off the bike)
Music to keep the motivation going. I use a Spotify playlist.
Download the ROUVY route well beforehand and make sure your device is on charge throughout if using a laptop or phone.
Fans for some air movement and an open window
A sense of humour, perseverance and a dash of determination
Experience and share the adventure and journey in a group or race.
A great way to complete such a long ride is to share the experience and adventure with others. A study published in the Annals of Behavioral Medicine observed 58 women who exercised with a virtual partner and found that those exercising with a cycling partner pedalled longer. You can set up a group ride with one of my suggested routes below or ask a fitter friend to lead it and invite others to join. Group Rides are straightforward to set up; your friends will get an email inviting them to join. They will follow the leader at a lower reality level of resistance at varying distances behind the leader because the elastic algorithm effect keeps everyone together, and you won't get dropped. Another way to share the adventure is to set up a user-created race and invite your friends. Those who are fit and brave enough will join to avoid a dose of FOMO competition! See how easy it is to set up a race.
I have chosen three memorable long-distance routes in France, New Zealand and the USA, starting from the shortest to the longest:
Provence, the most visited area in France after Paris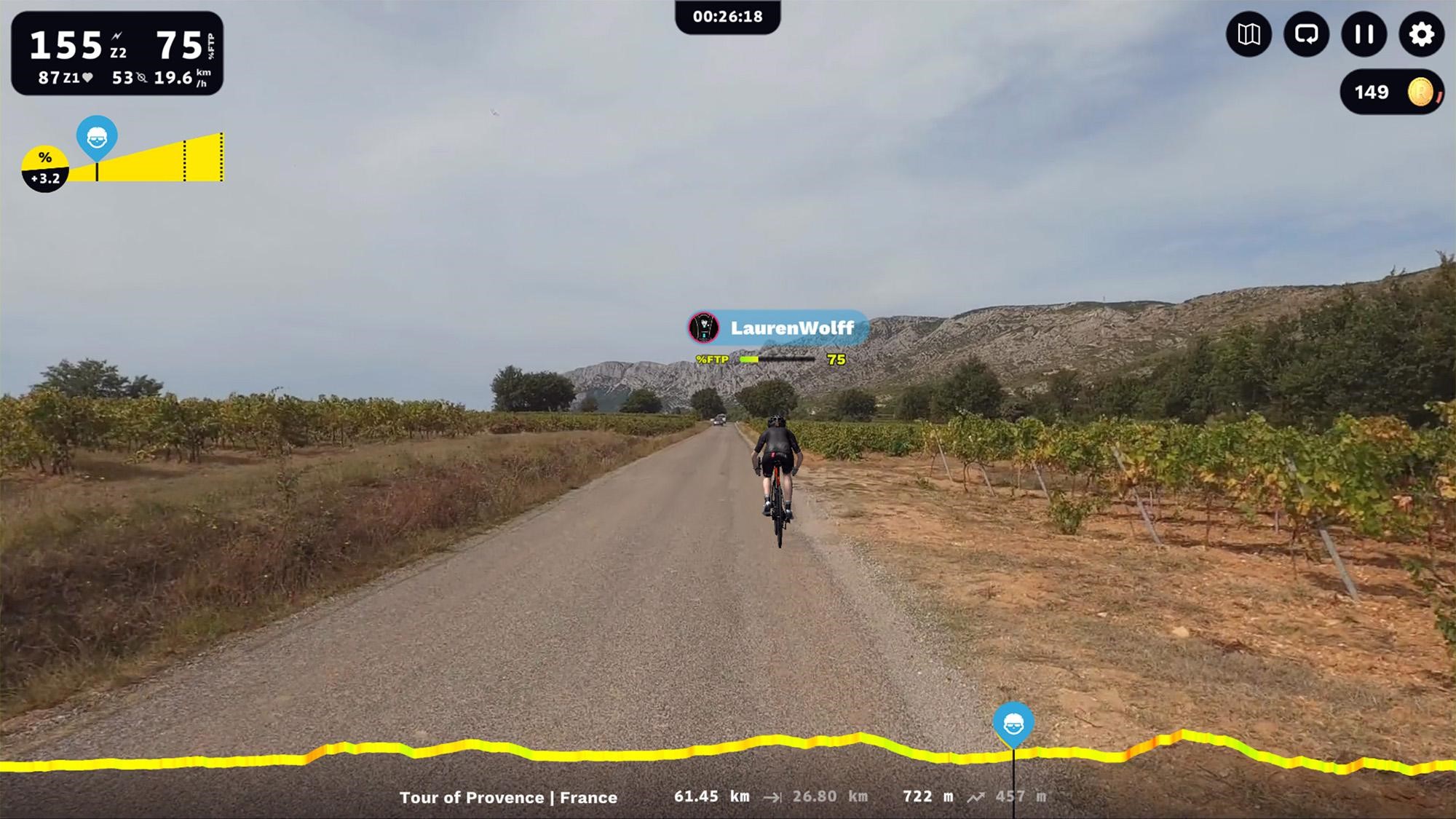 Riding through Provence, France on ROUVY
Provence, a region in southern France, is known for its diverse and magnificent landscapes. From the Southern Alps as a mountainous backdrop to the plains of Camargue in the South-East, this picturesque area is famous for its mild weather, olive trees and vineyards, pine forests and lavender fields you'll explore on this 88 km route.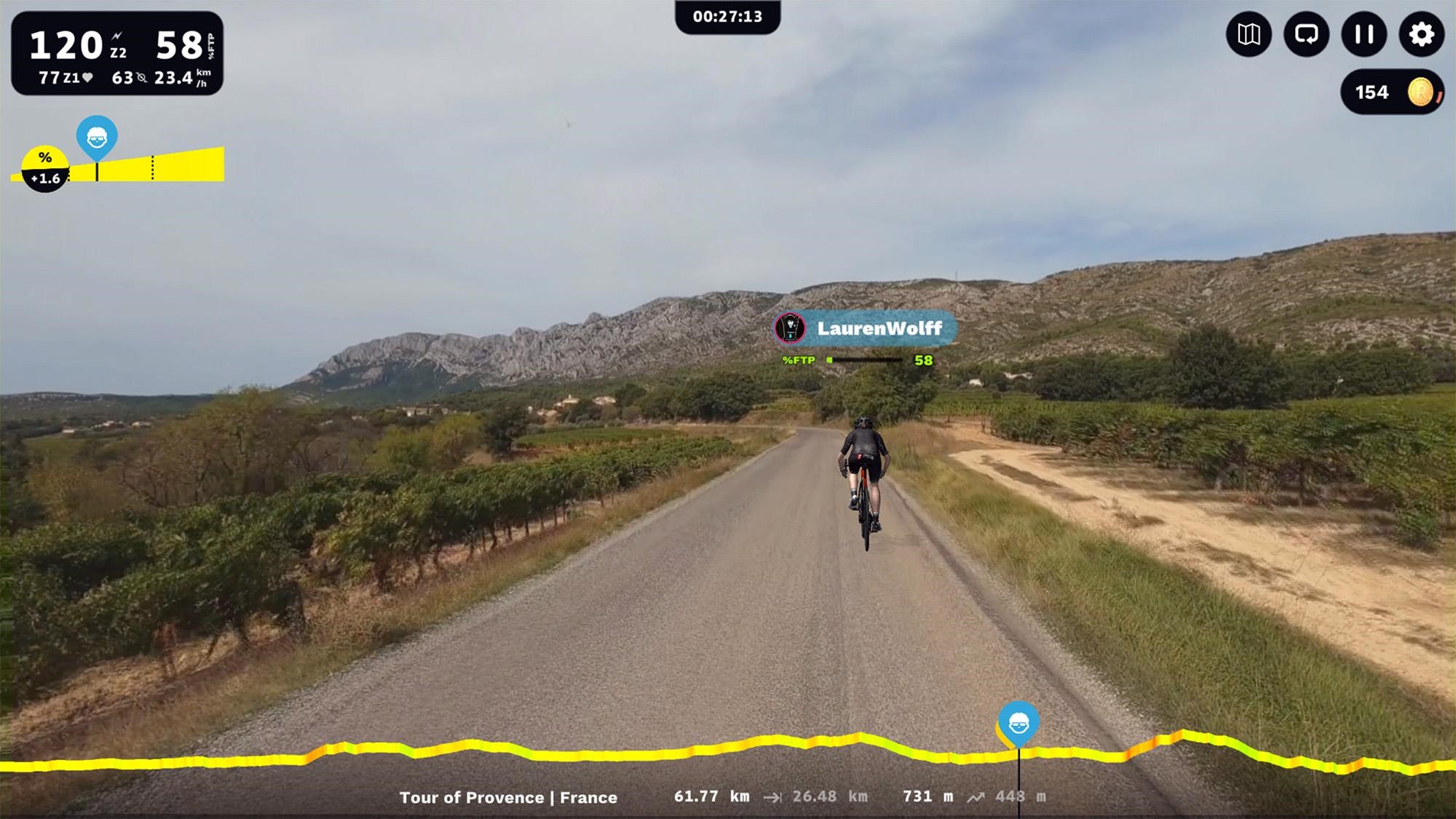 Above: Riding through Provence, France on ROUVY
Enjoy a gently rolling terrain that takes you through small villages knitting together rural scenic countryside and quaint towns that have inspired art lovers. The journey will finally take you to Aix-en-Provence, a city in the Provence-Alpes-Côte d'Azur region and the birthplace of Post-Impressionist painter Paul Cézanne. The white limestone mountain Sainte-Victoire overlooking the town and the surrounding countryside were frequent subjects of his paintings, and you can appreciate these rural landscapes on your ride.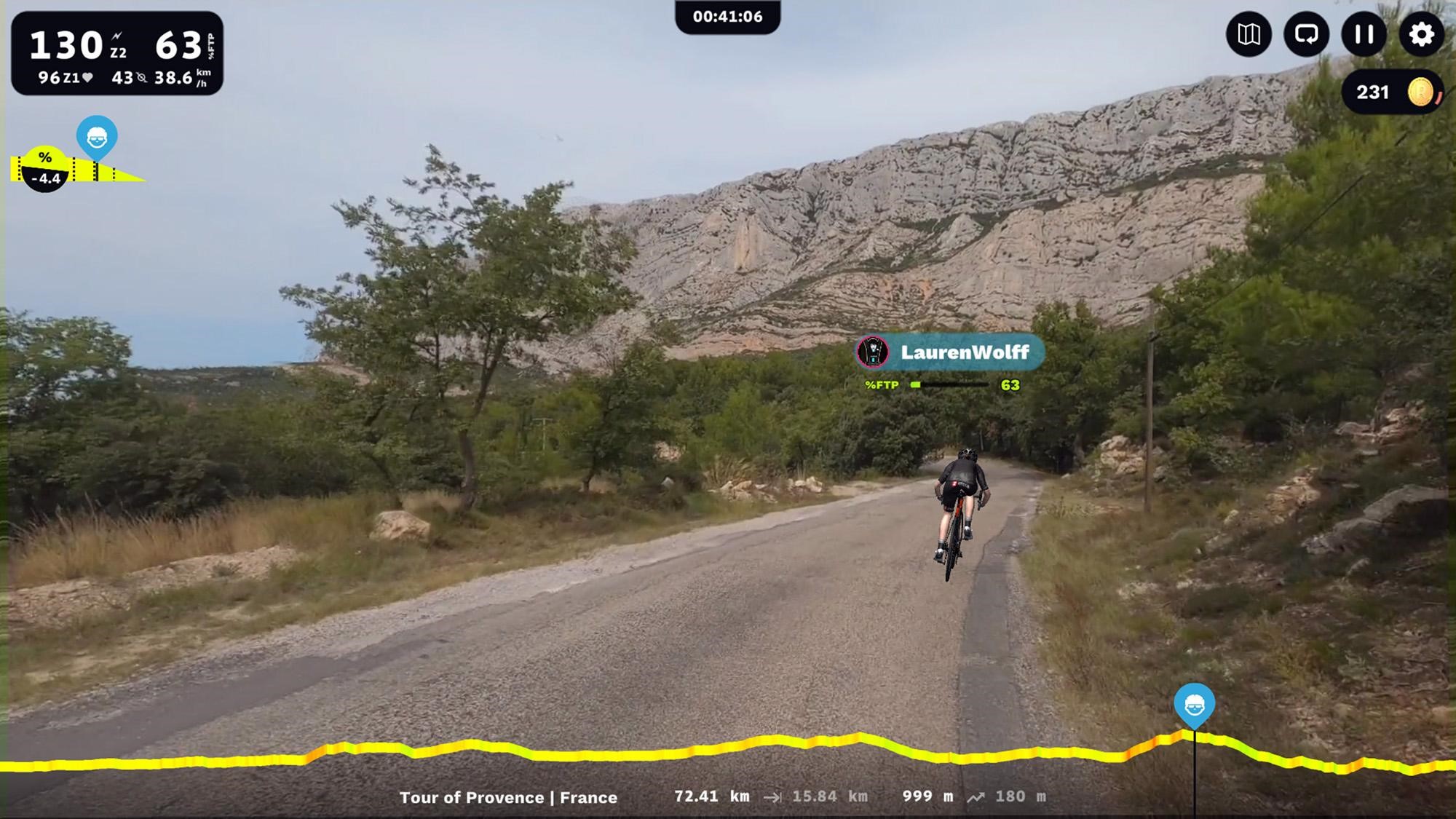 The white limestone mountain Sainte-Victoire, Provence, that inspired artists at 72 km
The terrain is undulating over a distance of 88 km, 1,179m of climbing, a 1% average gradient, and a maximum of 13%, with many places to recover over short intervals. Save your legs for the climb that comes at 68 km. By that time, your legs will feel it! At 2W/Kg, the ride will take you about 3h08min. Experience this long-distance and picturesque route in Provence, France, on ROUVY. If you'd prefer something shorter, try the Lavender fields of Provence on a 34 km route.
Westport to Greymouth | New Zealand
The Great Coast Road from Westport to Greymouth on New Zealand's South Island is one of the most popular coastal roads in the world. This coastal drive will take you along the beautiful West Coast and Tasman Sea sights: mountains, forests and beaches.
You'll ride through rugged and dramatic scenery and see extraordinary folded pancake rocks and soaring cliffs covered in indigenous and unique bush, foliage, and the sea, always keeping you company. The area is famous for many outdoor activities, especially jet boating, rafting, caving, white water rafting and kayaking. The distance to ride has 1,275 m ascent, and at 2W/kg, the route will take around 3h30. Try this beautiful 100 km long route in New Zealand on ROUVY. If you'd prefer to start on a shorter section, try a 42 km stretch.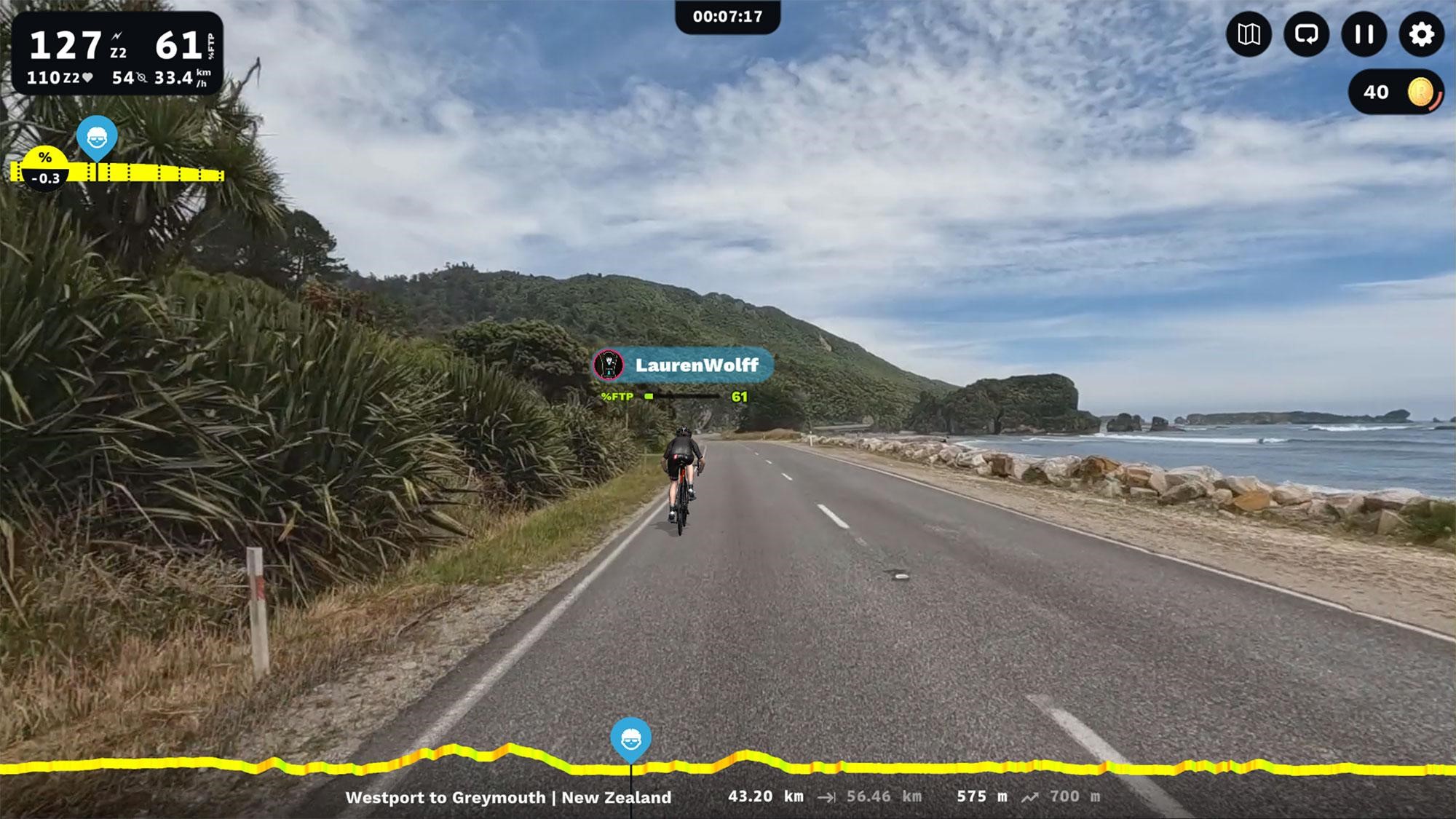 The Great Coast Road from Westport to Greymouth, New Zealand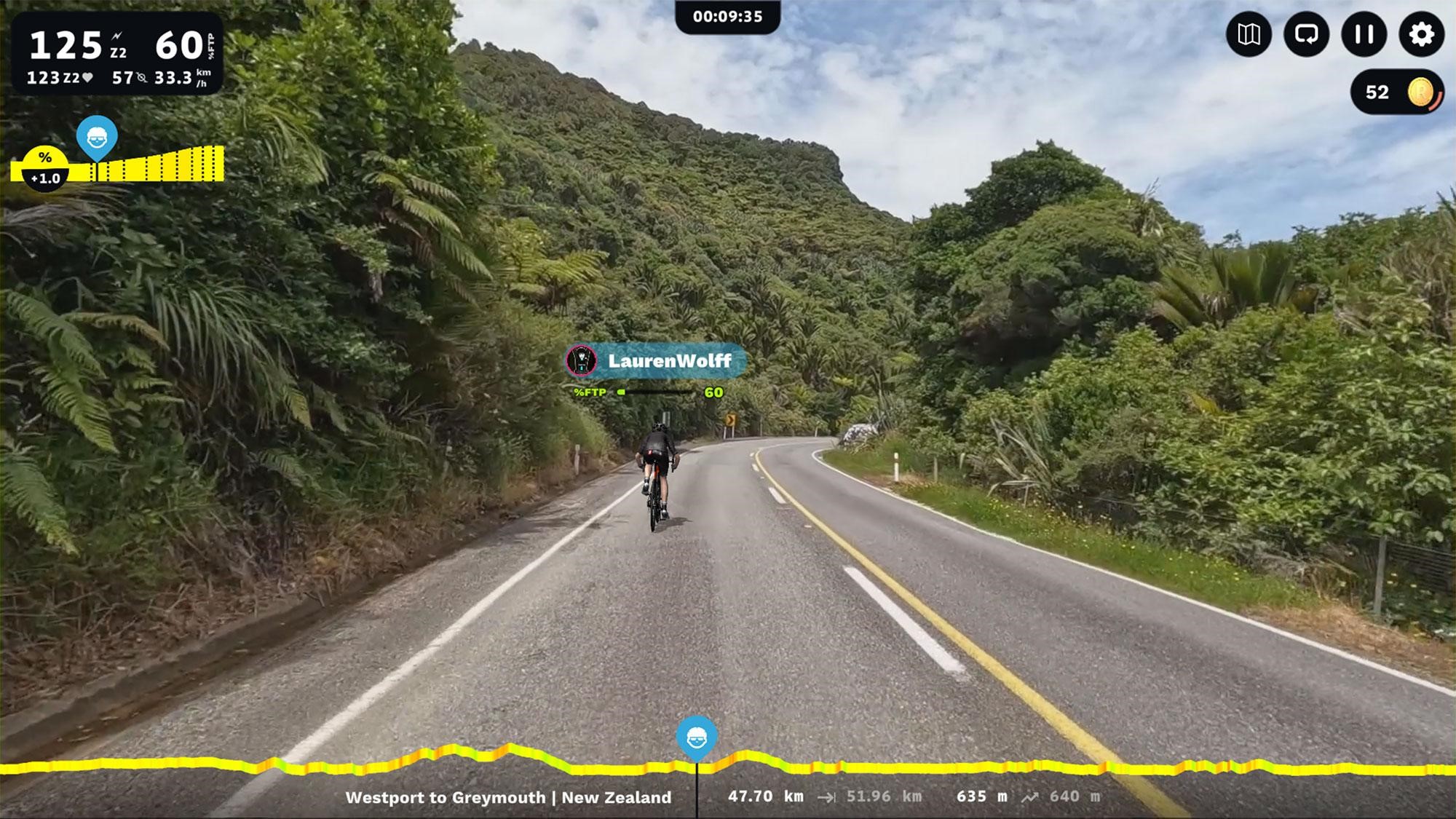 The Great Coast Road from Westport to Greymouth, New Zealand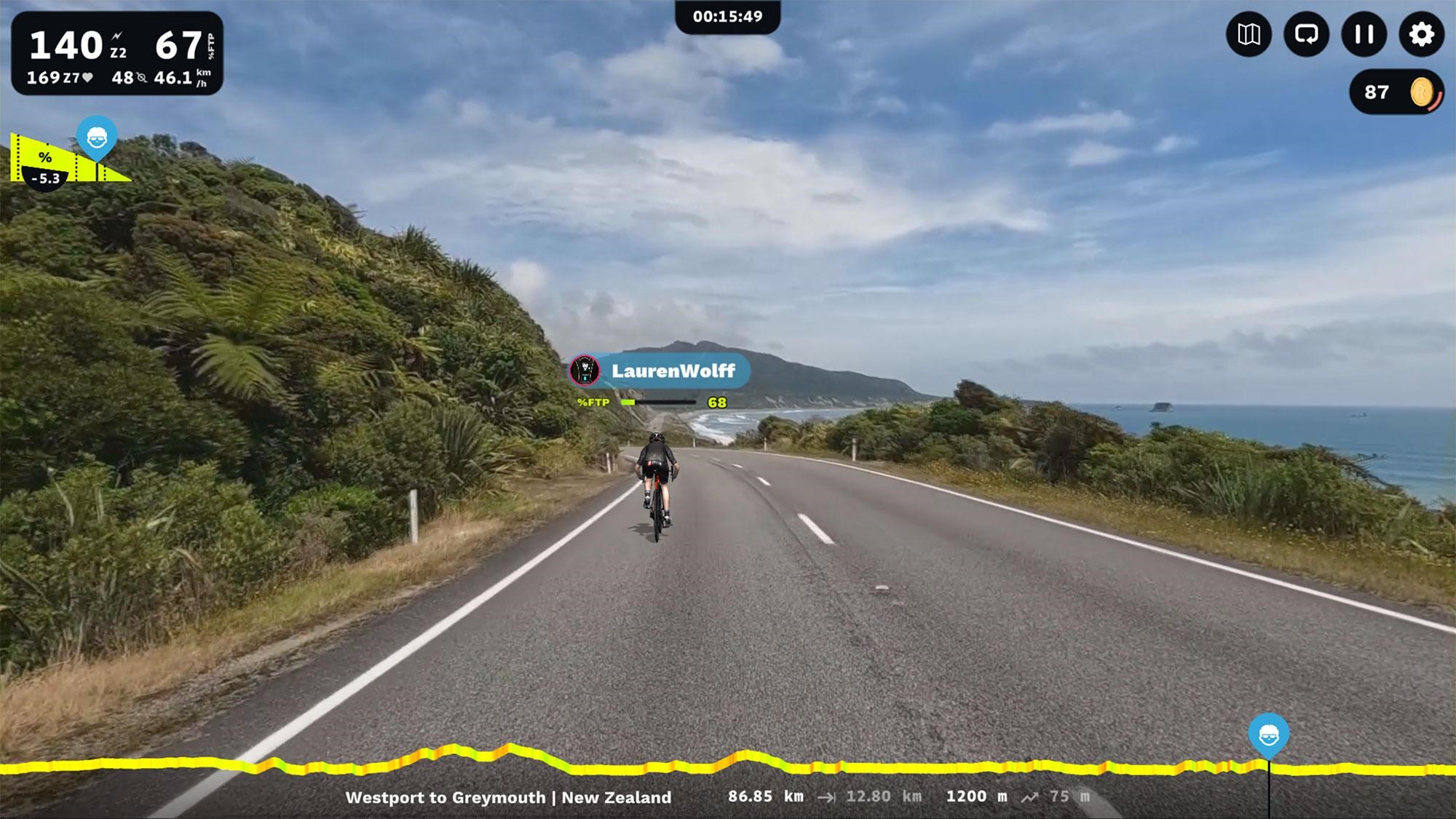 The Great Coast Road from Westport to Greymouth, New Zealand
St. George 120km | UTAH | USA
We venture into the far southwest corner of Utah in the USA, begin along the southern shore of Sand Hollow State Park reservoir, and finish in St George on this beautiful 127 km route touring Utah State Parks and conservation areas.
From Sand Hollow state park, you reach Gunlock State Park, nestled in scenic red rock country in a rugged and primitive setting along the Gunlock Reservoir to your left, known for its beautiful waterfalls. Next, you'll pass the small town of Vero, famous for its pie shop and the Veyo volcano at 98 km. Further, heading into Snow Canyon State Park at 107 km, you'll pass the Santa Clara Volcano. Neither the Veyo Volcano nor the Santa Clara Volcano will erupt again because they're both cinder or scoria cones and are monogenetic, meaning they erupt only once and, therefore, become extinct.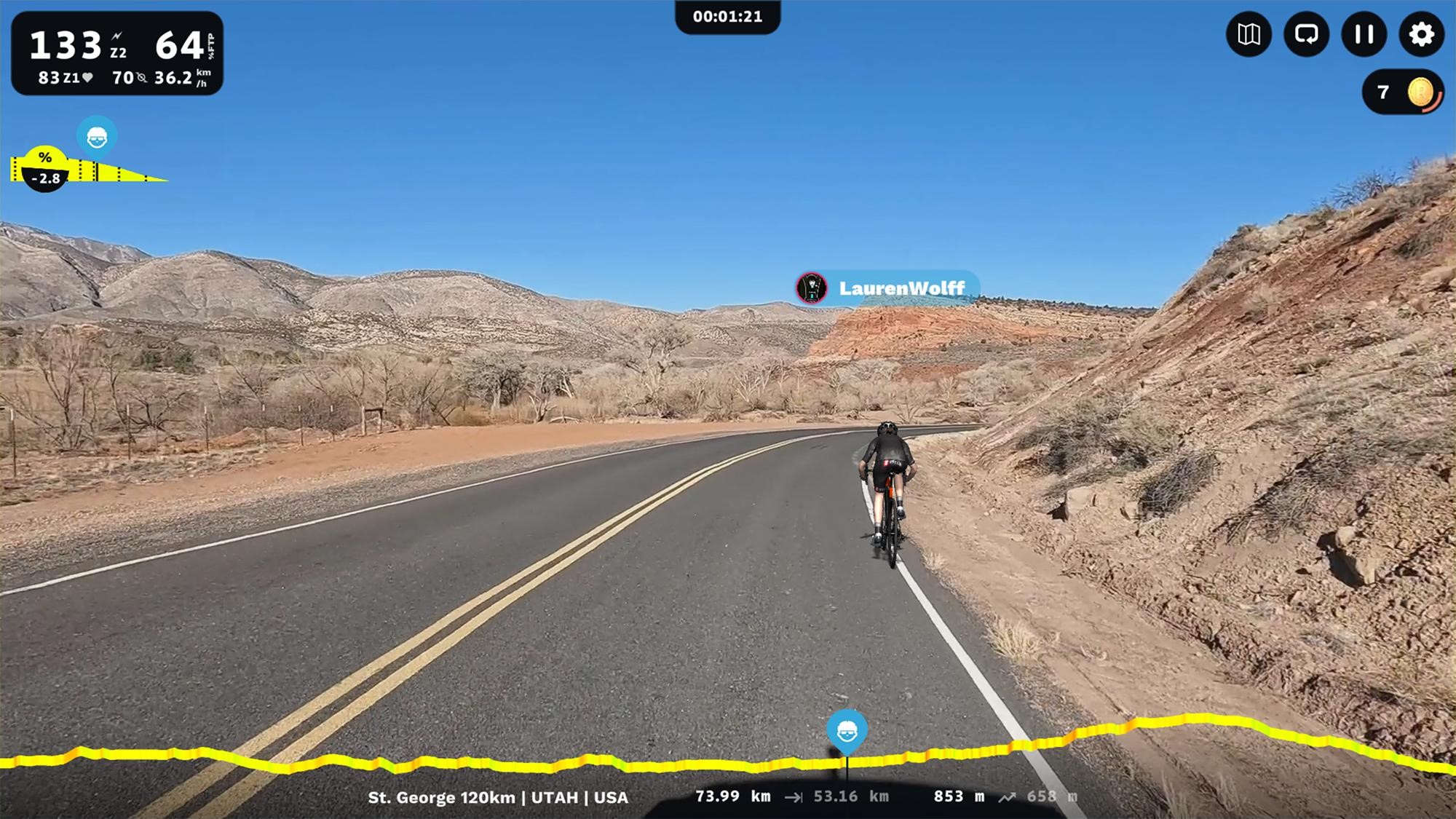 Heading into Snow Canyon State Park
Snow Canyon State Park, in Washington County, includes the Red Cliffs Desert Reserve with its incredible rock formations and different areas of rugged coloured rock with red sand that resembles a martian landscape with white and black rocks and petrified sandstone, and a magnificent location for hiking and caving.
The park features a majestic canyon carved from the red and white Navajo sandstone of the mysterious Red Mountains, with lava tubes, lava flows, and dunes. The unique setting is famous in Hollywood for the film site for Butch Cassidy and the Sundance Kid. From the Santa Clara Volcano, you head to St George. The estimated time to complete the ride at 2W/kg will take approximately 4h45min. But if you'd prefer something shorter, here is a magnificent short segment from that route in the Snow Canyon State Park.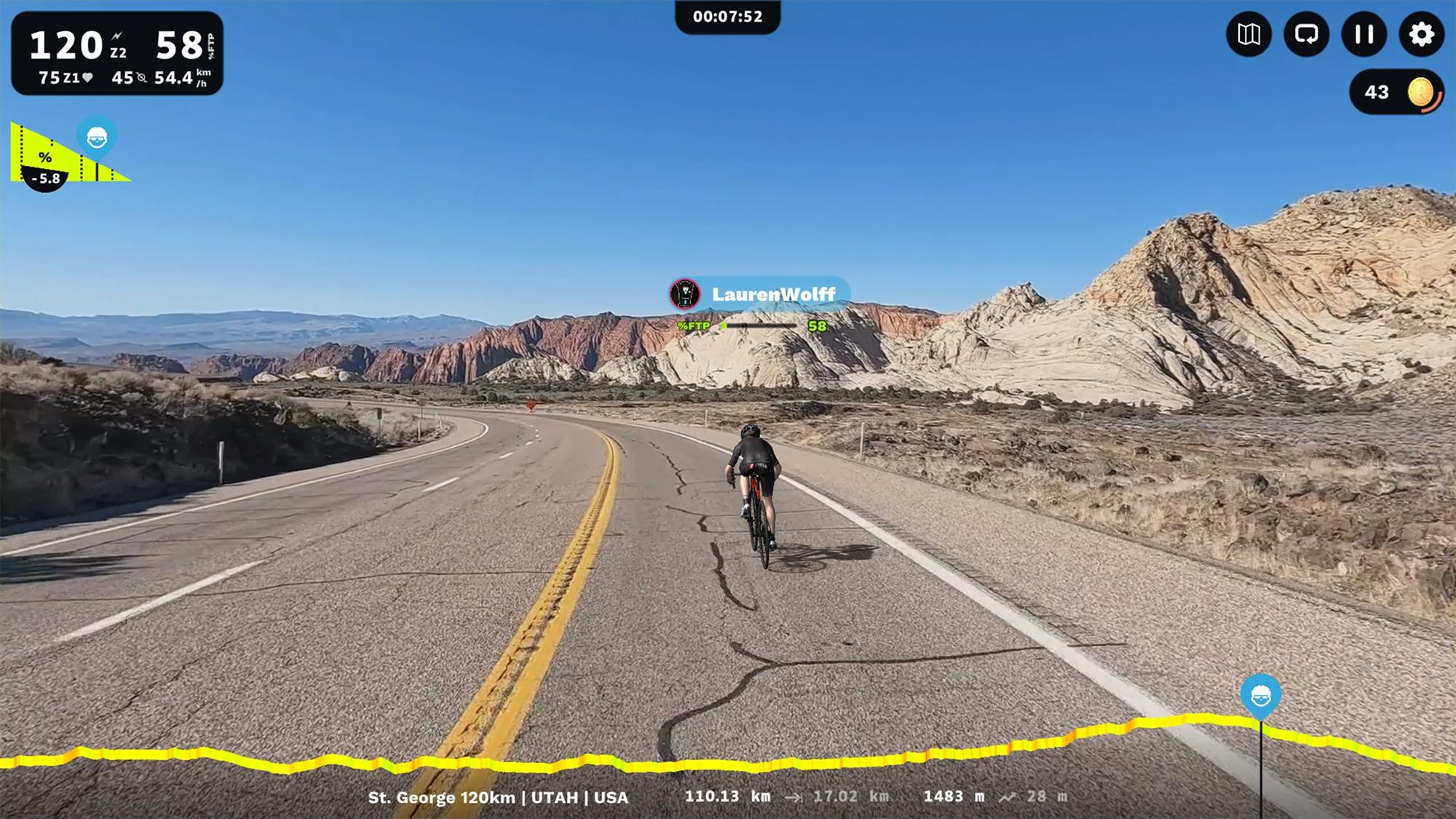 Or ride it in baby steps and when you want.
Suppose you feel your fitness is not quite ready for such a challenge and prefer to ride the long route in stages. You can choose to use the Just Ride mode and continue your journey from where you left off at a later time or date, so there is no need to avoid the route altogether if you are not fit enough.
There are many fantastic routes that you can search for in the route library on the website that will provide you with a wonderfully immersive long-distance ride when you have conquered all of these, some even longer!
Experience the joy, fun and fulfillment of completing a long, challenging route to take your fitness to another level and leave an indelible mark in your memory bank!