The National Day of Spain - What is it?
The National Day of Spain (Fiesta Nacional de España) takes place each year on 12th October. It's a day when Spain celebrates its unique history, culture and achievements. Symbolically chosen for the day when Christopher Columbus first set foot in the Americas in 1492, it is an opportunity for Spain to celebrate its important legacy at home and around the world. It is a celebration of global unity and community.
And it's a great excuse to have a party. Because everyone loves a party right?
Why we Want to Celebrate
In this spirit, ROUVY is running a virtual 5 day fiesta of cycling using routes from La Vuelta. It's a chance for you to compete on some of the most famous cycling routes in the world. ROUVY ambassadors José Hermida and Lauren Wolff will be leading the group rides. At the same time we are giving away goodies and prizes that all entrants who finish a route can win. It's also a chance for you to experience a taste of the Spanish landscape in all its beauty. How can you say no to an opportunity like that?
Spain's Passion for Cycling
Like much of the rest of the world, Spain has seen a big boom in cycling in recent years (especially amongst women!) as people discover the multiple benefits of indoor and outdoor riding.
But Spain's connection to cycling is a deep one. Many Spanish cyclists have won the Tour de France over the years and in Miguel Indurain, they have a national hero who won the Tour 5 consecutive times between '91 and '95 as well as many other honours. This has inspired a whole new generation of cyclists to get on their bikes.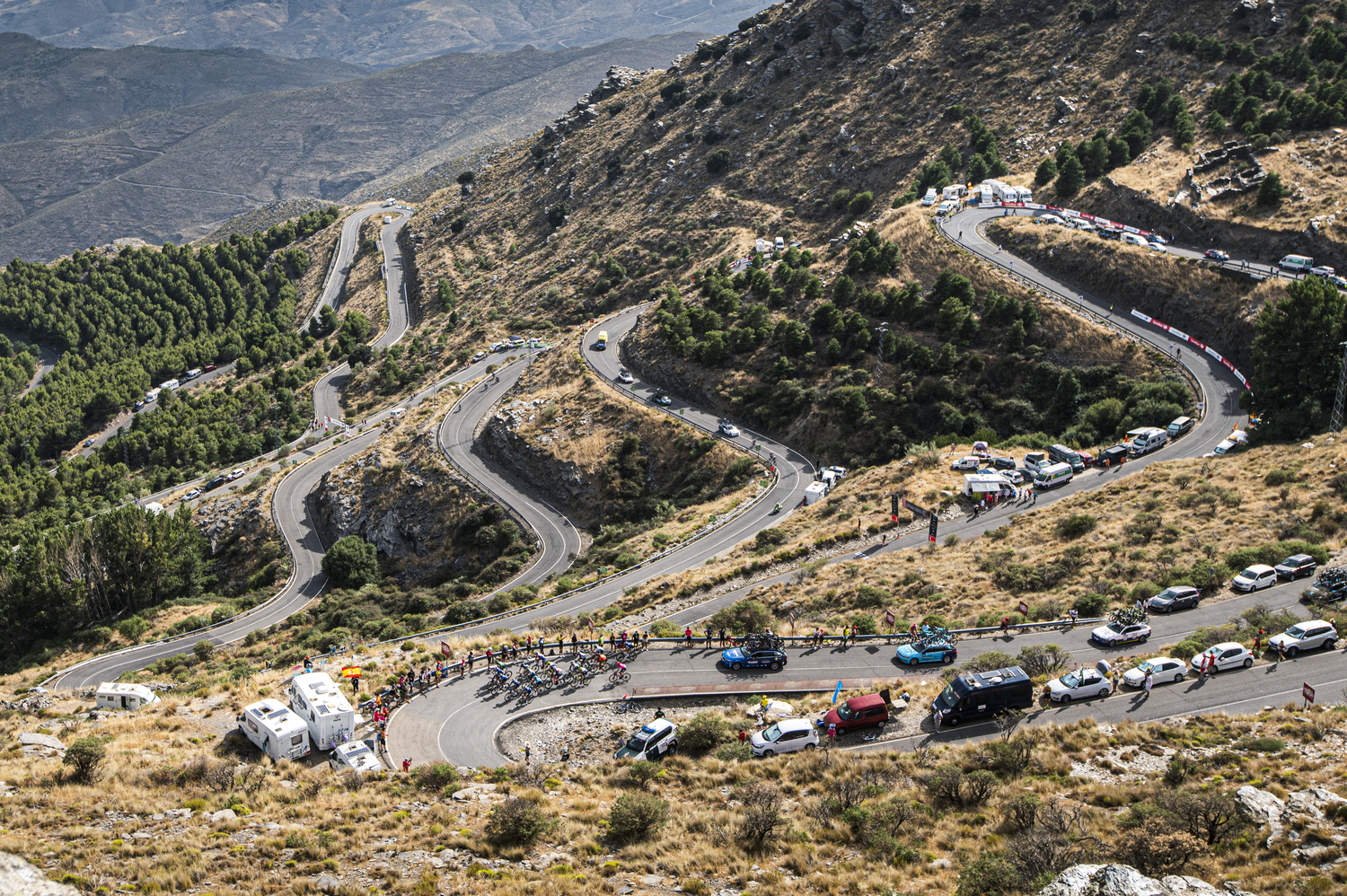 Photo credit
La Vuelta a España
This national passion has helped La Vuelta to become one of the most prestigious events in the cycling calendar and is now firmly established as a Grand Tour in Europe along with the Tour de France and Giro d'Italia.
The first event took place in 1935 and over the years, the race has reinvented itself to find its own special character. Initially the race struggled to find popular appeal as the routes were through flat, uninspiring urban areas. But then the organisers decided to move the routes into the rural areas of the Spanish heartland and suddenly it became more attractive to riders and audiences - both at home and around the world. Now the race also ventures into mountain areas with the infamous Angliru (a.k.a. The Mount Olympus of Cycling) rivalling anything the Alps can offer in terms of formidable challenges.
For many years it was mainly Spanish riders who competed but as the reputation and appeal of the race grew, more and more riders from around the world were drawn to take part. Today it has a truly international attraction, drawing the best riders around the globe. That's why it connects so well with the spirit of the National Day of Spain.
Meet your Ambassadors
One of the many wonders of the ROUVY indoor cycling experience is the ability to let you ride and connect with some of the best cyclists in the world.
For the Group Ride on October 13th at 18.00 CEST, we are super-excited to be joined by ROUVY ambassador José Hermida, a native of the Spanish city of Girona and a living legend who specialises in competitive mountain biking. Jose won the silver medal at the 2004 Olympics after a 4th place in the 2000 Olympics. He has multiple gold medals under his belt for 4 World Cups, 4 EU Championships and 6 World Cups. But even with all these accomplishments, he's always down to earth and friendly. José led a Group Ride with us on La Vuelta Virtual and he was buckets of fun so expect more of the same.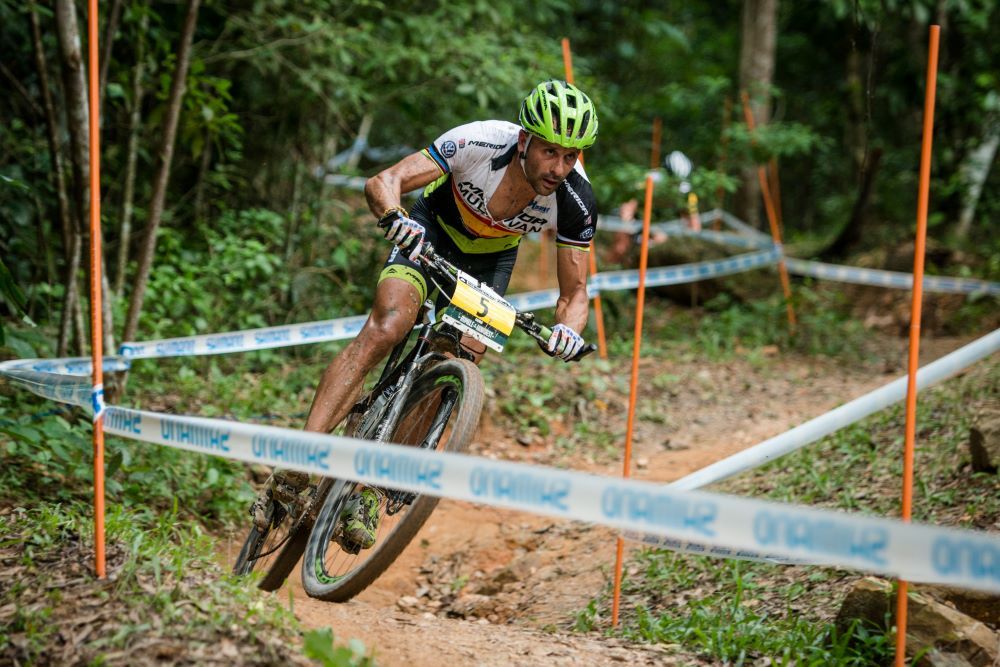 Lauren Wolff will lead the closing Group Ride on October 16th. Born and raised in South Africa, Lauren is now based in Belgium. She's been a passionate cyclist and triathlete all her life with several podium positions in real life and on ROUVY.
You probably also know her as one of the key contributors on ROUVY's social media and web pages. Her inspiring posts on Rouvy routes and challenges have opened up the world of indoor cycling to many. We're proud to have her as an Ambassador and now's your chance to ride with her and say hello.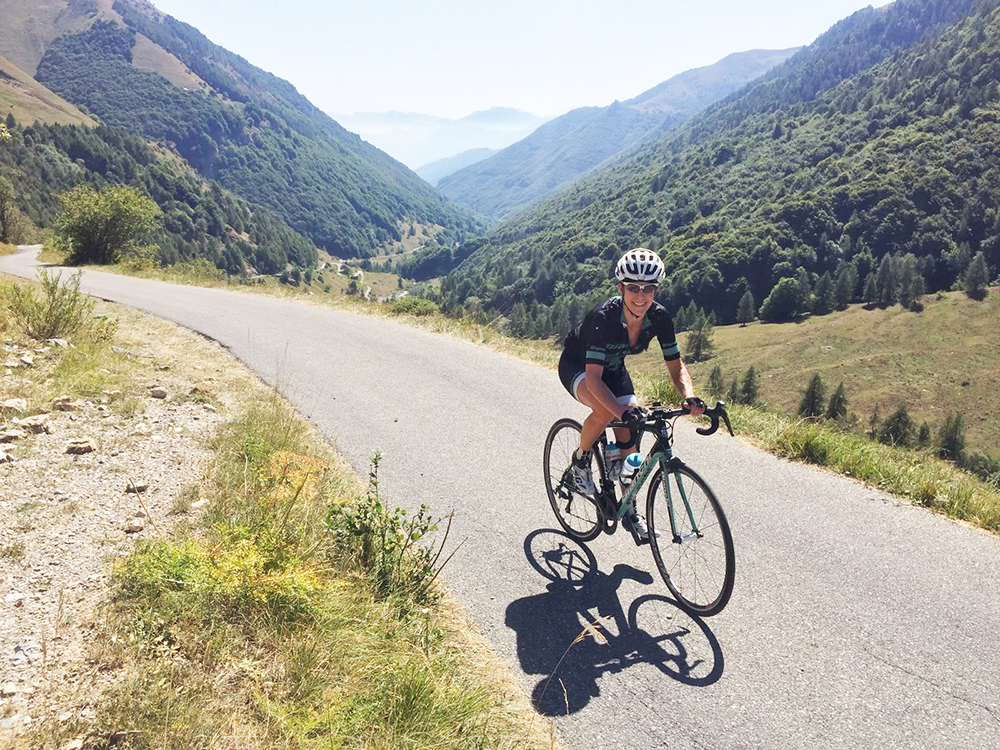 Prizes Galore!
Some people ride to win, some people ride for enjoyment and some people ride to stay fit. Whatever your motivation, these rides aim to combine fun, fitness and a competitive edge. And if you need a little extra push, as an additional bonus we'll be handing out free giveaways on each ride of a genuine Santini La Vuelta jersey as well as a bunch of free subscriptions. Everyone who finishes a route has a chance of winning so don't miss out.
Everyone's a winner with ROUVY so we'll also give out free virtual La Vuelta jerseys to all finishing entrants.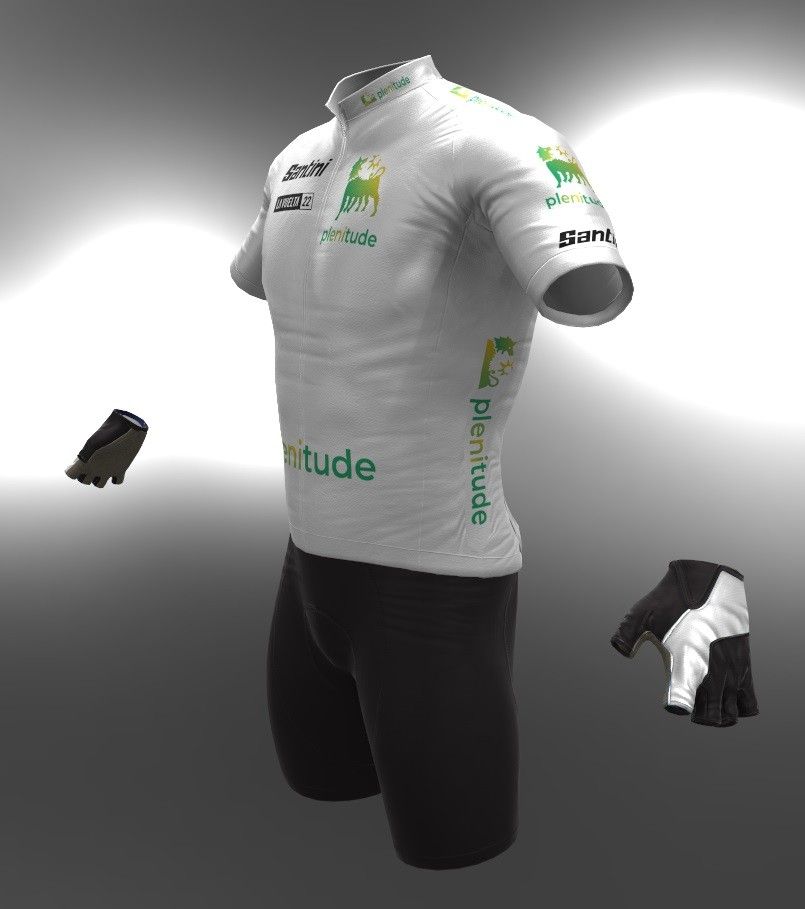 The Schedule
La Vuelta is famed for its challenging climbs and its wild unpredictability. So we've created five brand new classic routes for you to really get a feel of the race and the rugged contrasts and beauty of the Spanish landscape. We've got 2 group rides and 3 races in 4 time zones so there's something for everyone and here's the schedule.
---
RACE - Wednesday 12.10.22 @ 04:00, 13:00, 18:00, 0:00 CEST
La Vuelta 2022 | Stage 14 - Jaén
https://my.rouvy.com/virtual-routes/detail/93332
The mountain goats will enjoy this course profile in the south of Spain, where we head to Jaén on a rolling course where you'll wind your way through rugged terrain and vast stretches of olive groves. The provincial capital of Jaén has the most significant number of protected spaces, castles and fortresses in Spain. There are three rolling climbs, the last being the longest, passing the ancient and Renaissance-style Cathedral de Jaén and ending at the Mirador Los Villares in the green jersey.
---
GROUP RIDE - Thursday 13.10.22 @ 18.00 CEST (with José Hermida)
La Vuelta 2022 | Stage 11 - Cabo de Gata
https://my.rouvy.com/virtual-routes/detail/93790
Our race journey on this 24,7km segment in the deep south of Spain is on a slightly rolling but primarily flat profile, starting and ending on the coast. You'll make your way through the natural park of Cabo de Gata or Cape Cat near Almería. The naturally arid landscape creates a desert-like lunar landscape in contrast with the tropical coastline, seen briefly around the 3km mark. Grab a wheel and draft on this fast and flat course, and finish with a well earned white jersey for your avatar.
---
RACE - Friday 14.10.22 @ 04:00, 13:00, 18:00, 00:00 CEST
La Vuelta 2022 | Stage 18 - Alto de Piornal
https://my.rouvy.com/virtual-routes/detail/93411
Puerto del Piornal is a manageable and gradual climb in the region of Extremadura, in the municipality located in the province of Cáceres in the west and central part of Spain. After a scenic and flat initial 6km, the climb begins and continues in beautiful surroundings with spectacular panoramic views until the summit. Over the 20km route, you ascend just over 800m, climb several switchbacks, and summit in the blue polka-dot jersey.
---
RACE - Saturday 15.10.22 @ 03:00, 10:00, 15:00, 19:00 CEST
La Vuelta 2022 | Stage 18 - Plasencia
https://my.rouvy.com/virtual-routes/detail/93683
Ride over a lumpy course crossing the Jerte river and then make your way through the ancient city of Plasencia, known for its medieval walls and old quarter. You'll step back in time as you ride past the stone remnants of the 13th-century Romanesque fortress wall and 15th-century renaissance-style cathedral that once surrounded the city. Explore the rocky and oak-covered Spanish province of Extremadura along the Ruta de la Plata, and finish the route in the red leader's jersey.
---
GROUP RIDE - Sunday 16.10.22 @ 18.00 CEST (with Lauren Wolff)
La Vuelta 2022 | Stage 13 - Montilla
https://my.rouvy.com/virtual-routes/detail/93678
Explore this flat route with very short bumps along the way, starting and ending near the town of Montilla in the rural region of Andalusia situated in the Province of Córdoba. The historic and centuries-old area is famous for its wines and olive oil, so you will see vast stretches of vineyards and olive groves as you ride along this fast course finishing in the white jersey.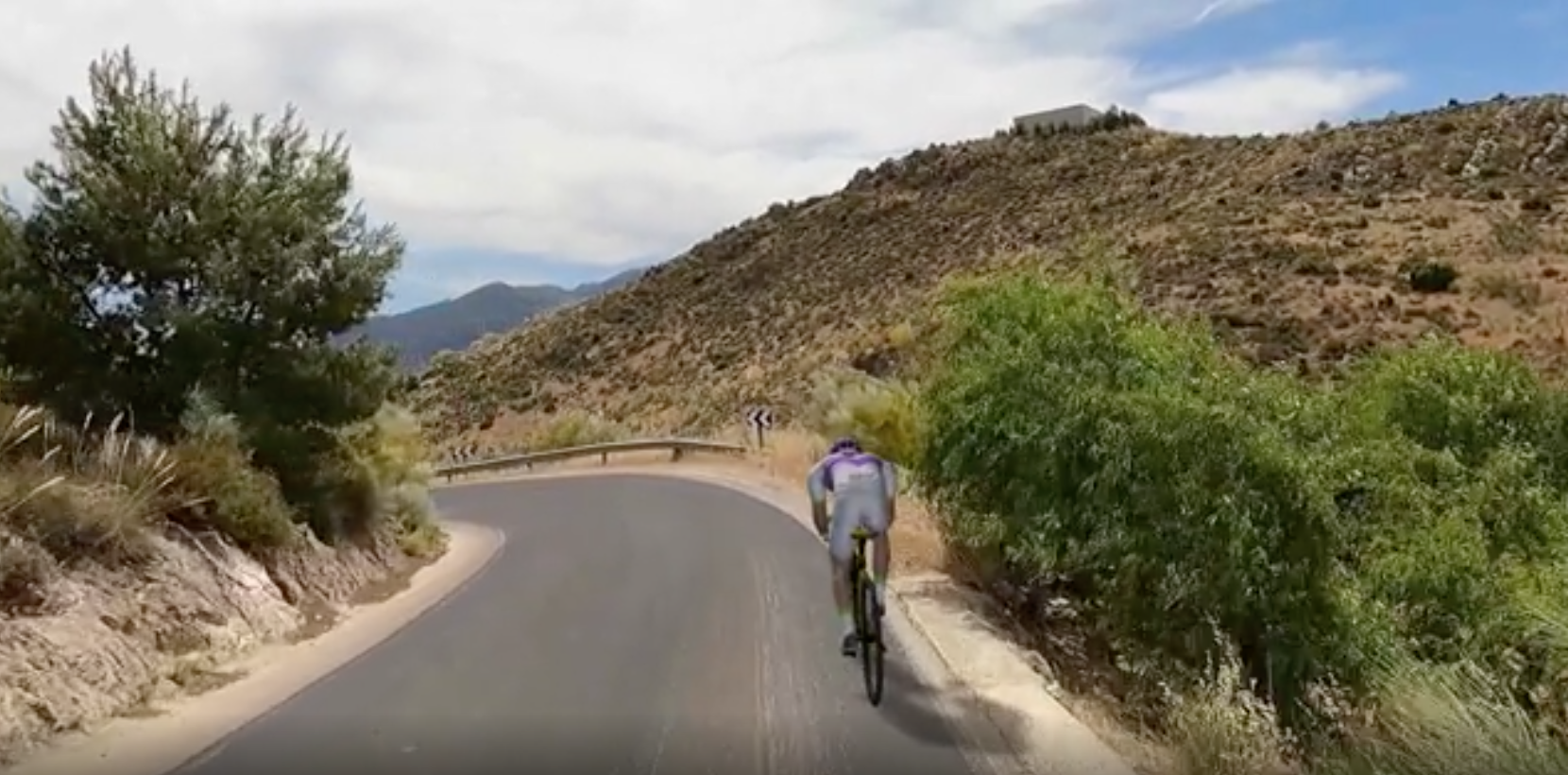 So choose your route, pack some snacks and liquids and we hope you'll join us for this very special event!
VENGA!