One gear. No brakes. 330 km and 8,500m in altitude. All in one day.
Patrick Seabase set off at 3am in early September 2020 on his fixie track bike. Alongside a camera crew, he started a day that will see him cross five iconic Swiss mountain passes and pedal past personally meaningful places. The tour demanded superhuman powers to deal with temperature differences of 28°C, steep descents and brutal headwinds. 
A highly technical challenge
In his case, not only was the ride to the top of every pass a challenge, the race downhill was also a test to his limits. His bike had no gears or brakes. It possessed just a fixed gear i.e. the cog was directly tied to the motion of the pedals. This meant his legs were in constant movement – even when he was going downhill. The only way to brake was by counter pressing the pedal, blocking the back wheel and sliding on the road. 
A very personal tour
But why this particular route? Seabase chose the tour as it ran past places that personally meant a lot to him. And with that, it became not only a unique challenge but also a trip down memory lane that was reminiscent of his childhood holidays.
«Unbrakeable» starts in Innertkirchen, from where Patrick Seabase crossed the Grimsel and Simplon Passes on his way to Locarno by the Lago Maggiore. The tour follows his crossing the Gotthard Pass, Furka Pass, and once again on the back part of the Grimsel Pass to reach Oberaarsee.
With «Unbrakeable», Seabase probably faced the biggest challenge of his career. The tour was  as beautiful as it was difficult for the swiss athlete: «The descent towards Gletsch was really tough and tricky to handle because of the conditions. For the first time in my life, I was actually afraid on my bike.»
Thanks to ROUVY, anyone can now become part of the adventure from the comfort of one's own home. A 34km Furka  Pass - Oberaarsee, the 27km Grimsel Pass, 24 km Simplon and the king of Swiss climbs, the legendary and must-visit 13km Gotthard Pass, will deliver the essence and emotions of Alpine Switzerland to any rider joining the Challenge. ROUVY's augmented reality technology enables athletes to experience magnificent mountains, breathtaking views and stunning locations all-in-all with 1:1 realistic efforts, requiring just a bike, a smart trainer and any computer device with a screen.  
Prizes
Each of the three fastest women and men who complete all the 4 courses from February 15 to March 14 will receive a 30% discount code for alphatauri.com and a tray of 24 cans of Red Bull Energy Drink. 
Registration for the Challenge, as well as the iconic Swiss courses, are now available here.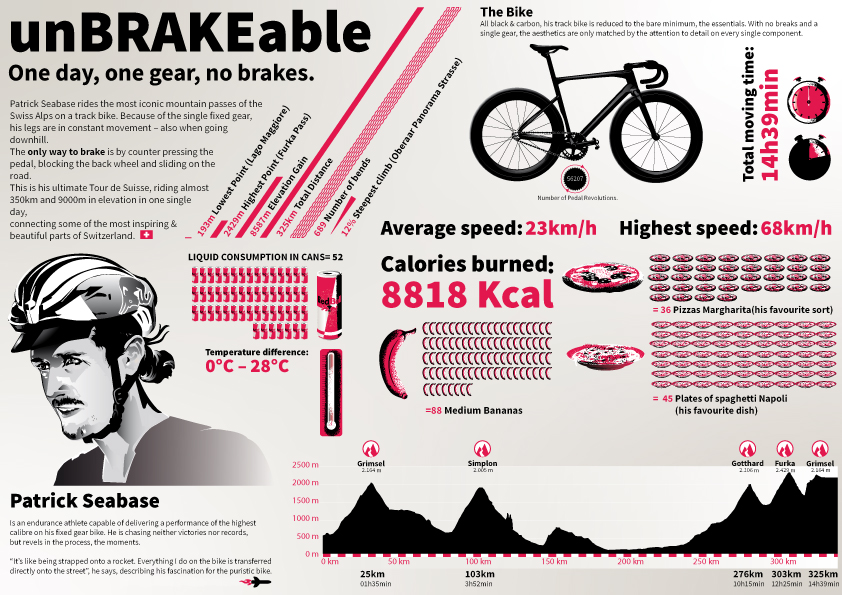 ABOUT PATRICK SEABASE
On his fixed-gear bicycle, the athlete from Bern has already conquered many of the existing cycling monuments. To this date, his toughest test was recreating the legendary first mountain stage of the Tour de France, which was done in 1910 for the first time. Why does he do this to himself? Because for him, this is the purest form of cycling. Only the process matters to him: the greater the suffering on the road, the better the feeling when you reach your goal.
ABOUT RED BULL TV
Giving you front row access to live events, the very best in action sports, the hottest dance competitions and thrilling videos from world adventurers, Red Bull TV takes you beyond the ordinary with high quality on-demand and live streams. Discover music from trend setting artists, watch live events with top athletes and follow globetrotting daredevils to the most exciting corners of the planet. Red Bull TV content is constantly updated and playable on all of your mobile devices. There are no ads, in-app purchases, or surprise paywalls.
ABOUT ALPHA TAURI
AlphaTauri is a stand-alone fashion brand founded by Red Bull that offers innovative fashion technologies integrated with high-quality and uniquely designed styles. The brand combines textile innovations, purposeful designs and premium materials to add value to both body and mind. What makes AlphaTauri unique is its combination of Innovation and purposeful design, Pioneering technologies and Premium fabrics and materials. This level of cutting-edge technology, combined with aspirational fashion silhouettes, is what AlphaTauri stands for. AlphaTauri – Fits Body and Mind.