The first La Vuelta Virtual in 2022 was an incredible success. So many people were involved and so many friendships and memories were created that will last forever.
But for one person, it was more memorable than most. Ward Simons was one of 10 qualifying competitors on the podium in Madrid competing in the Grand Final of La Vuelta Virtual 2022, which included 300 other riders riding remotely from around the world. Ward Simons describes himself as an 'ordinary guy', but after winning the in-person Grand Final of La Vuelta Virtual 2022, he's a little less ordinary. We spoke to the humble pharmacist after the event to ask him about his life, his passion for cycling and his experience in Madrid.
Hello Ward and first of all, huge congratulations on your success in Madrid! Could you tell us a little about yourself and your background?
I'm 36 years old and live in Sint-Katelijne-Waver in Flanders, Belgium. I grew up in a traditional Flemish family and today, together with my partner Ina, we have 3 little children. I work as a pharmacist in my own pharmacy.
How did you get into cycling? What is it about the sport that you love the most?
When I was growing up, cycling was always very popular in our family. We always watched the big races together on television like the Flemish spring classics - Paris-Roubaix, the World Championships. Although I loved watching cycling, I never did it myself when I was young and that's something I regret now. Like most of the kids I played football in the local football club. But I started riding my bike from time to time when I started working and slowly got more into it.
A lot of things attract me in this sport, which for me is the most beautiful sport in the world. I enjoy the physical battle, man to man, in the final of the race on famous climbs like the Kwaremont, the Muur van Geraardsbergen, the Cauberg, the Kemmelberg or the cobbles from Carrefour de l'arbre or le Bois de Wallers-Arenberg. The scenery is also beautiful to watch, especially mountain stages. In recent years, since I started cycling myself, the scientific part of training is also very interesting.
Cycling, for me, goes back to the origin of sports: competing physically against each other. But in a public environment with innovative, modern tools (the bikes), surrounded by scientific data like wattage and aerodynamics.
How did you start using Rouvy? What have your experiences been with it so far?
In 2014 I achieved a big cycling goal by finishing La Marmotte Gran fondo, But in the following years I started my own pharmacy, and we had kids and started to build our house. Because of this, I had little time left for cycling. But I was really missing it and I felt like I was getting out of shape so I started using ROUVY in October 2020.
I really liked using ROUVY from the beginning. I raced all the famous courses that I knew from watching professional cycling. After a working day, I enjoyed riding a course like this in my pain cave. It is easy, you just choose a course and you start pedalling for 45 minutes to 1 hour. The first months I did this a couple of times a week and I felt I was getting stronger daily. By the end of 2020, I did my first races as well. The more I did it, the more I liked it. In 2021 I participated in more races, started to listen to podcasts about training and started to build workouts. Every 3 to 4 months I do a FTP test. I always set a new goal and try to keep improving my FTP. ROUVY is a perfect partner for achieving this.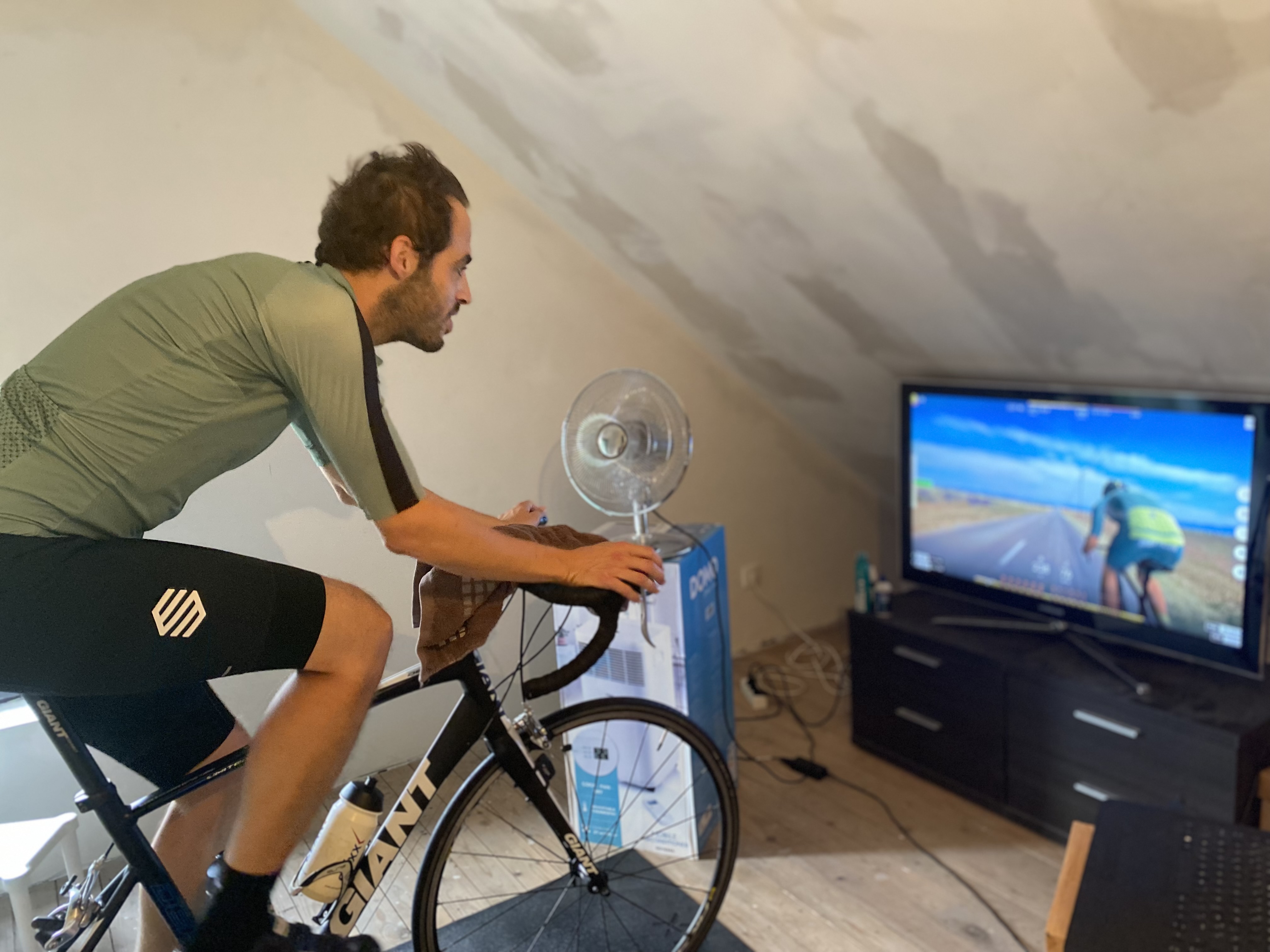 Photo Credit: Ward Simons
So you ride indoors more than outdoors? Even in the summer?
As I am really time-crunched, I practically only ride indoors. I get home from work after 7 PM. Then I try to eat as quickly as possible and help to get the kids in bed. During the weekends, I spent my time during the day with my family. Cycling happens in the morning or evening, inside. Sometimes when we go on a weekend trip I take my bike and then during our summer vacation in Austria and Italy this year I finally found some time to ride properly outdoors.
What were your expectations going into the La Vuelta Virtual Grand Final and how did you prepare for it?
I qualified for the podium race back in July. I didn't have specific expectations for the final and thought I would just let it come to me, though of course I really wanted to do my best for it. But the timing of the race was fortunate as we had our summer vacation the last 2 weeks of August and I did a lot of cycling around Lake Garda. The week we got back, I did my intervals every evening and on Sunday a last long ride, the Mt. Ventoux Circle II on ROUVY. I think the training volume of the last 2 weeks made the difference that made it possible for me to deliver the best values I have ever had during the Grand Finale.
Tell us a little about your thoughts while you were racing. When did you start to believe you might win?
My plan was to just race without looking at my direct opponents. I know in an e race you have to start as fast as possible, so from the beginning I had to give almost everything I had. The eventual remote winner of the race Carlo Calcagni went hard from the beginning. But with two other riders that I know, (Anton Sommer and Jean Carlotti - two of the best ROUVY riders who are stronger than me) we could make a small group. I knew the longer I could stay with these two, the harder it would be for some of the other podium riders to catch me. I saw my lead was increasing, so I knew without a real breakdown the win would be possible. In the last kilometre, Sommer and I dropped Carlotti. I had to sprint with Sommer but my legs were nearly empty. Nevertheless I was very happy because it was the first time I could compete with them until the end.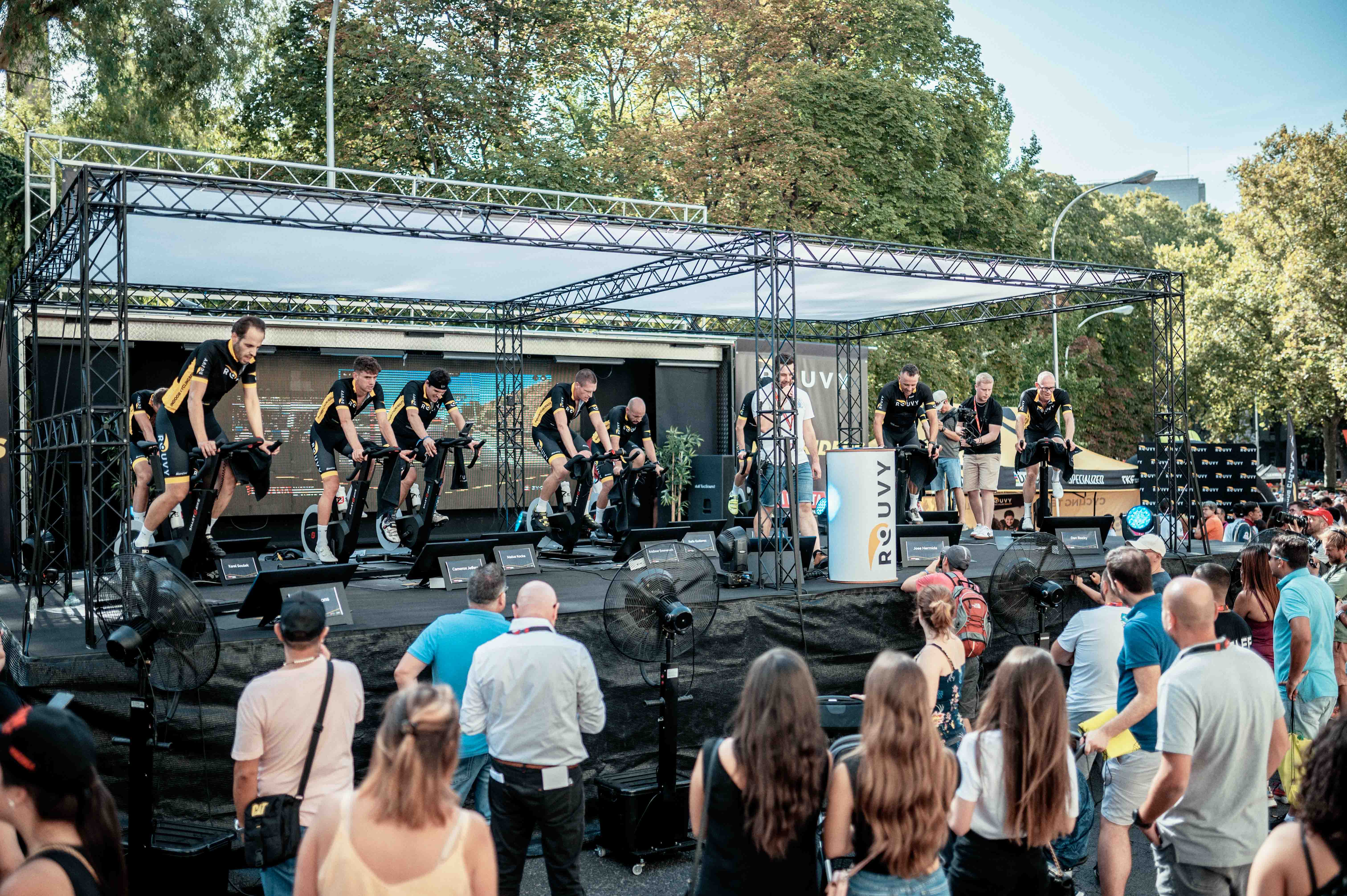 Photo Credit - Sergi Colome
And what were your feelings when you finally won?
I was very satisfied with my performance. Especially because I delivered my best values. As I said, I always set new goals in improving, so my main opponent is myself. In a race I always start like it's possible to win. Because that is what makes the races the most fun. But it depends a lot on the quality of the opponents. But that is very relative, because everybody doesn't have the opportunity to train as much as others. That's why I always look at my own values first.
My satisfaction was really boosted because of the atmosphere. It was a fantastic set up, with the big stage, the live presenter, the fellow riders all wearing the ROUVY shirt and the presence of my girlfriend and youngest son. I felt a little bit like a professional cyclist. We had to bring our own pedals and shoes. It was the first time I travelled with pedals in my hand luggage! 1,5 hour before the race we had to prepare our bike, the paddles were mounted and we logged into the Rouvy platform. Everybody was wearing the official ROUVY shirt and you could start to feel the tension building.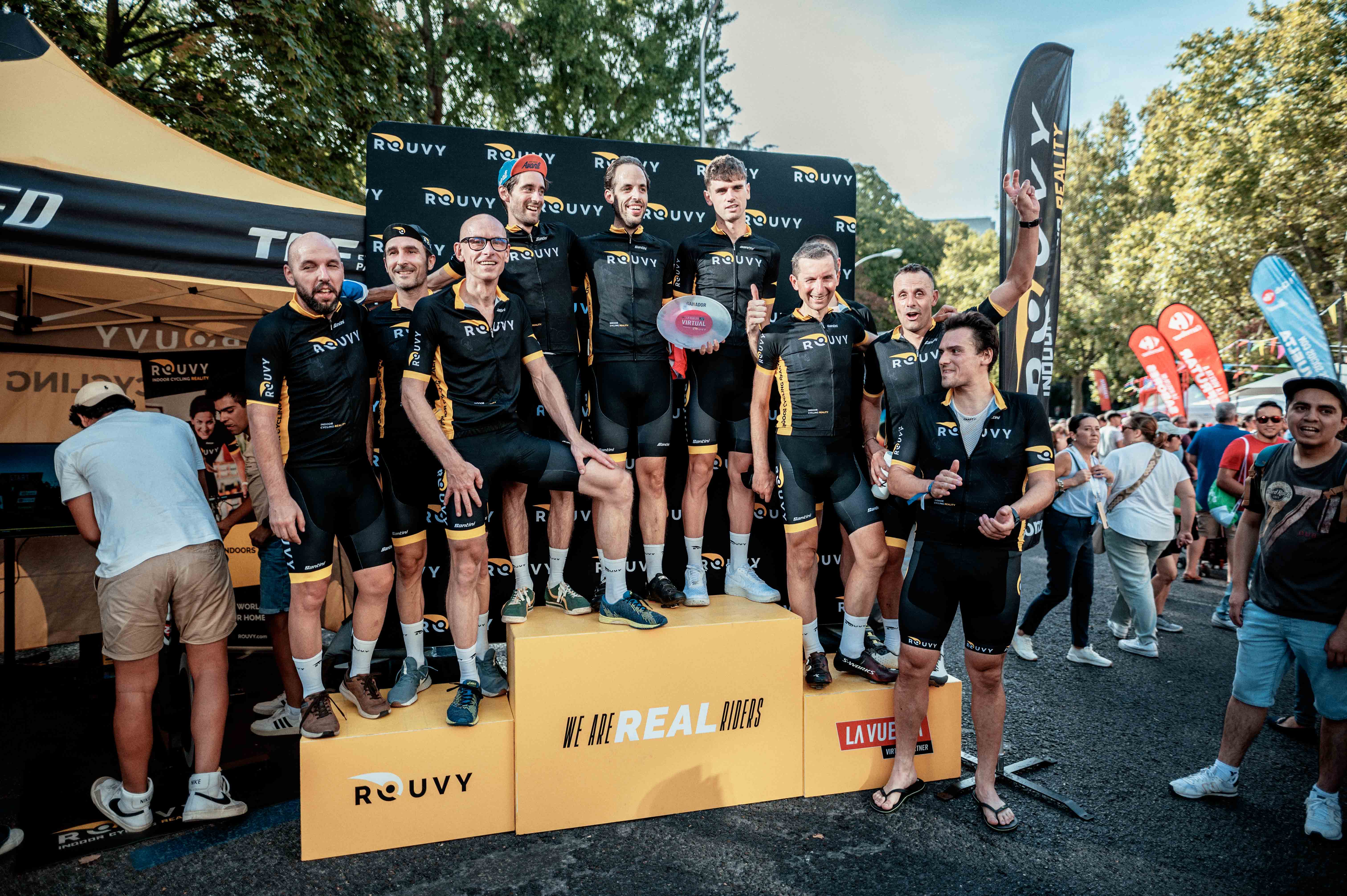 Photo Credit - Sergi Colome
Did you have any idea you'd share a stage with Remco Evenepoel? That must have been surreal, especially as you are both Belgian. What did he say to you?
Some minutes before the race, we were told the winner would have a picture together with Remco Evenepoel, later in the evening. But there were no details as to the circumstances. The funny thing is, in the morning we had a call with my two other children and the first thing my oldest son asked was, "do you have a picture with Evenepoel". That was something that was going through my mind when I realised I was going to win.
During the big podium ceremony, I was waiting, together with somebody from Rouvy in the VIP area. Suddenly people of the Vuelta organisation called me to go to the stage. 10 seconds later I was standing on the big stage next to Remco. On the stage, there was no time to have a chat. He was in his winning podium haze and all the cameras were fixed on us. I only asked if he wanted a dry red shirt because his was soaking wet with champagne. I noticed he was surprised I asked it in Dutch. And of course I congratulated him with his historic victory.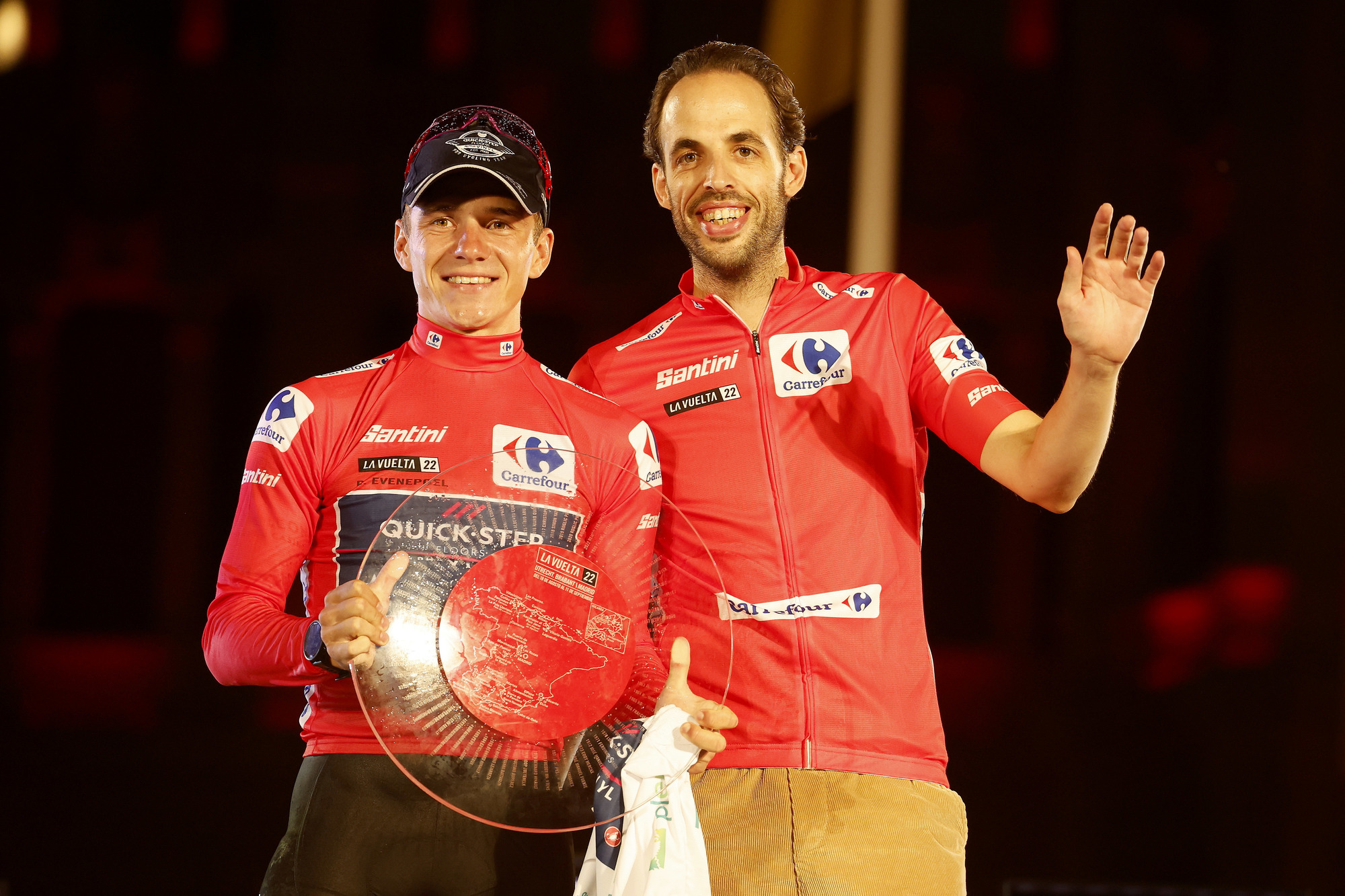 Ward with Remco Evenepoel. Photo Credit: Unipublic _ Sprint Cycling Agency
What was the most special memory for you from the whole experience?
I have two. First of all, the weekend in its totality. On Saturday my girlfriend and I, together with our youngest son, had a city trip day enjoying the beautiful city of Madrid. On Sunday we had the amazing La Vuelta experience with the Grand Final and afterwards the VIP Area with drinks and food in the middle of the Paseo del Prado. We also had some drinks with fellow ROUVY riders. I remember one of them saying "I wish this day would never end". This makes it clear what an extraordinary experience it was.
The second special memory is a more symbolic one. Belgium, and especially Flanders, is the most cycling crazy country. We've had the biggest cycling champions and the most popular races, like the Tour of Flanders, Gent – Wevelgem, Liege-Bastogne-Liege,... Strangely enough it took us 44 years to have another grand tour winner. We even had a special talk show on television about it, that it was finally going to happen again. It is absolutely incredible that I was on that stage with that Belgian champion.
For the future, Ward plans to simply carry on enjoying his cycling, both indoor and outdoor. We hope to see him at La Vuelta Virtual in 2023!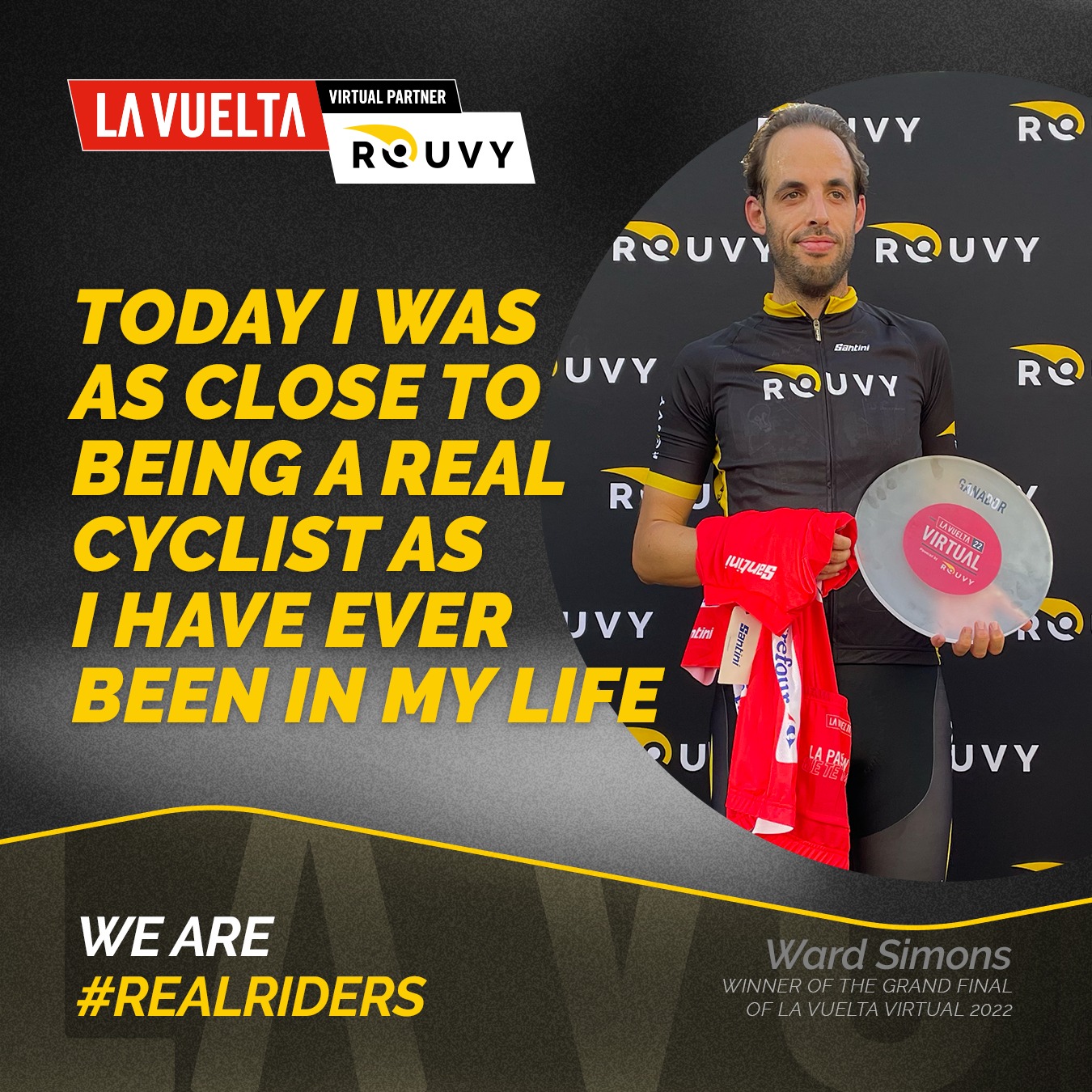 Ward Simons - A Real Rider