The same ROUVY. But better.
It's important to make clear that there are no major changes to the ROUVY app. It still works the same… but now it will be better. The changes being made are partly aesthetic and partly functional and are designed to improve the user experience without altering the fundamentals. This article will look at some of the developments coming to ROUVY - firstly some general changes and then focus on the rebrand.
The hallmark of ROUVY's indoor cycling app has always been its use of video to create a realistic, authentic experience. And at the very heart of that experience is you, the rider. This commitment to authenticity is embedded in our DNA.
Now a car can have a fresh coat of paint and some nice go-faster stripes, but it will never be a great car unless it has a great engine. The ROUVY rebrand is just one part of a focus on improving everything about ROUVY, or ROUVY 3.0 as we call it. This means a concerted focus from the dev team to increase the functionality and performance of the app. No gimmicks, just an app that works well. Choice is also an important factor and we remain committed to adding more and more AR routes to the existing 1300 to give riders the options and freedom to ride wherever they want without fear of repetition.
Pricing
Don't worry. We're not increasing prices. What we are doing is introducing a new, simplified pricing model with more flexible options that offer better value and encourage you to ride with family and friends.
There's a new Duo option for two users and Group membership now includes up to 5 riders. These options will provide significant savings on Single memberships. ROUVY is probably the first virtual cycling platform to offer group subscription packages for up to 5 riders, with no requirement for them to be registered at the same address.
You can now choose a 1 or 12 month subscription with the 12 month deal saving you around 2 months of riding against a monthly plan and helping you to stay fit and motivated all through the year. You can find out more details about subscription plans on the website.
'With our new pricing model, we're opening doors to a broader range of cyclists, regardless of their commitment time-frame. We made this change because we want to provide more options and better value to our diverse community of users, whether they are individual cyclists or a family of five. Everyone knows riding is better with your friends, so we are offering these packages to encourage riders to train together!'
Petr Samek, CEO of ROUVY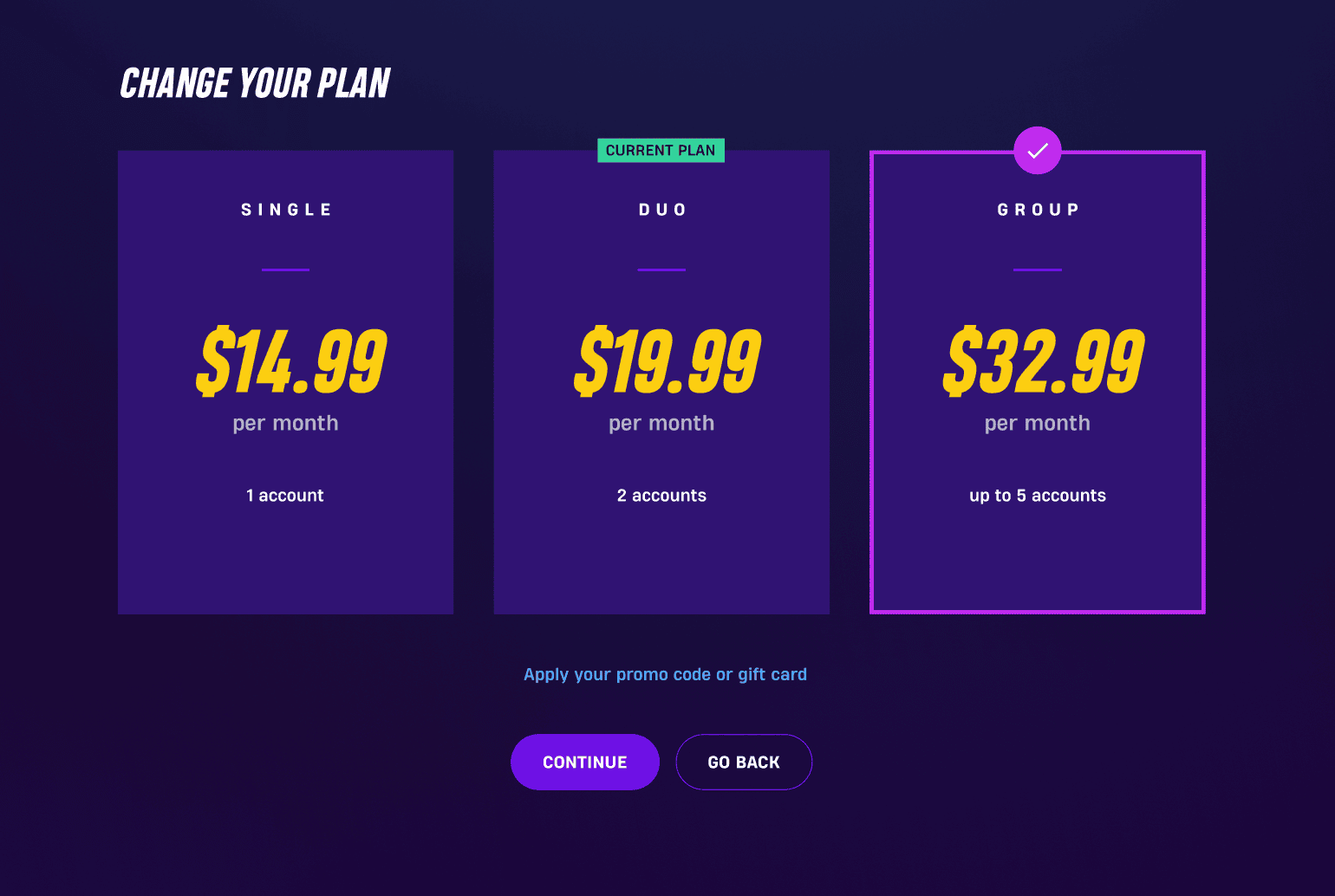 What other changes can be expected?
The entire website is being given an overhaul, with a redesign to make it more user-friendly and intuitive.

There will be a newly created Riders Portal and with an improved interface to make it easier to navigate. All the information for your account on the web will be unified, so info about your activities or settings on ROUVY will be in the same interface.

The companion app is now fully functional with new features like Snapshots to record screenshots of your favourite riding moments that you share with friends and family or on Strava. The companion app makes a nifty addition to your ride, with more options and control at your fingertips.
Forward movement
In a world where technology is advancing faster than ever, the sports industry is not exempt from the need to adapt. And change is good. ROUVY's rebrand is born out of a desire to revamp our image, align it with its evolving goals, and embrace the passionate spirit of our community.
ROUVY was originally designed to create an authentic training platform for pro-riders and avid cyclists. While that is still part of its core purpose, the rapid rise in the popularity of indoor cycling in recent years has meant that ROUVY is also being enjoyed now by a much wider cycling community with various levels of fitness, experience and riding habits. So the rebrand is also a move to speak to that wider audience and embrace indoor cycling as an inclusive activity.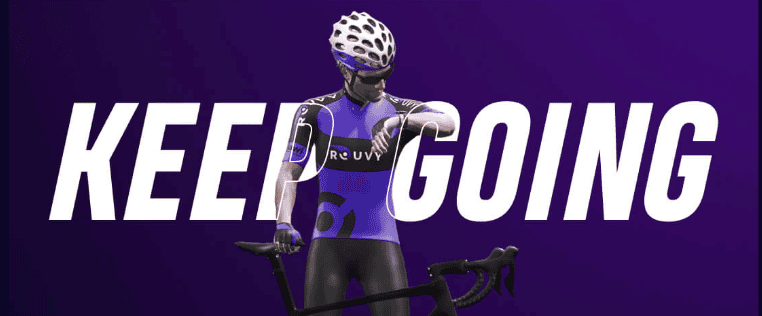 The rebrand
Central to this rebrand is a new visual identity that embodies the transformation that cyclists undergo as they embark on their fitness journeys.
The rebrand took several months to finalize. It was a collaboration with top Czech advertising agency WMC Grey. The team at WMC Grey was led by brand strategist Jan Kořán. Jan is a keen cyclist who also worked on cycling campaigns with Škoda, so the project was close to his heart. He had this to say:
"From recognizing the need to evolve beyond just a product communication and unifying visions in a fast-growing team, and to infusing an emotional spark in the communication, our journey with ROUVY has been about finding the brand's true voice in global conditions. Embodying the new bold and strong claim, 'Keep going', we've expanded Rouvy's horizons to welcome not only the competitive enthusiasts but also those who cycle for fitness and well-being. Today, ROUVY stands distinct in the global market, rooted in shared insights and tailored to resonate with every member of the diverse cycling community. Moreover, this new strategy is effortlessly adaptable across the entire communication ecosystem, a feat that presented both our greatest challenge and our most enjoyable journey to execute."
In an era where health and fitness are increasingly prioritized, the ROUVY rebrand signifies a commitment to revolutionize how athletes train, making it more engaging, immersive, and motivational.
Logo
We have a new logo! Inspired by the circular movement of pedals, it's a sleeker progression from the previous version, and signifies movement and dynamism.
Colour design
We're keeping the yellow but also adding purple (or Electric Indigo if you're a graphic designer). This bold combination will strengthen ROUVY's visual identity and make it stand out from the pack.

Gear shift in perception
At its core, this rebrand is about wellness – not just physical but mental too. Indoor cycling is not just about achieving a target heart rate; it's about clearing your mind, finding enjoyment in the rhythm of the ride, and emerging stronger. The rebrand encompasses this holistic approach, emphasizing the importance of mental strength and emotional well-being alongside physical prowess.
With this in mind, our messaging has shifted from promoting a product to promoting an experience. Rather than being perceived as a piece of software with cool features, ROUVY is there as a Cycling Buddy to riders, helping and empowering them on their cycling journey.
Don't forget
Change is not just about aesthetics; it's about progress, empowerment, and inspiration. The ROUVY rebrand ushers in a new era of indoor cycling, promising an invigorating journey for every cyclist, whether they're an amateur rider or a seasoned pro. So, hop on, gear up, and pedal your way to a stronger, healthier, and more motivated you. The journey is just beginning, and the future's looking good.