The Gran Fondo World Tour (GFWT®) has managed to continue to operate globally with its bold digital transformation, overcoming the uncertainty caused by the continuing Covid related travel restrictions. It has expanded the number of events in the Tour and included new virtual events to the 2021 calendar. 
"We have just 5 days to go for the second event of the year in the virtual format. The new era of virtual cycling is here and we embrace it to offer you alternative options to your events, in these complicated times of "post Corona era", says Dani Buyo, CEO of Gran Fondo World Tour ®. 
The race will take place on ROUVY's 6.7km AR course of Coll de Beixalis in Andorra. It may be short but consists of an impressive  559 m elevation. Riders will have the chance to earn bonus points for the final GranFondo World Tour®  ranking. This will enable them to earn their qualification directly to the semi final event of the first Gran Fondo World ® Virtual Championship ®  with a 3.000 USD cash prize pool waiting to be claimed in November 2021.
Broadcast: The race will be streamed live with professional commentary in English here and Spanish here, on twitch.tv. The broadcasting will start with 2 journalists driving the action, Sergio Perela (DAZN) and Antoni Alix (Eurosport analyst). The special program will showcase connections with different cyclists, present the calendar and will telecast the GFWT Rouvy Andorra Challenge event live.
Social tags: @andorraworld @granfondoworldtour 
Registration (and participation) is free of charge:
The organizer provides 2 convenient time zones for Asian and European-South American regions.
Gran Fondo World Tour ® ROUVY Challenge Asia | 13:30 CEST, April 27th 
Register here. 
Gran Fondo World Tour ® ROUVY Challenge CET | 19:30 CEST,  April 27th
Register here. 
2021 Gran Fondo World Tour® Virtual Race Series Calendar
February 27th, 2021, Ordino-Arcalis Rouvy Virtual Challenge (summary in Spanish)
April 27, 2021, Andorra ROUVY Virtual Challenge Race
*November 2021, Gran Fondo World Tour® Virtual World Championship (*date to be confirmed)
FORMAT
For the 2021 Gran Fondo Virtual World Championship®, there is no qualification round required to participate in the 2 semi-final virtual heats. 
Direct entry to the final event, to be organized in November by the GFWT®, is FREE for all cyclists.
Open Men / Women Category: There are no category or age restrictions in Men / Women categories.
Once a participant finishes an event, he/she automatically gets entered into the series ranking. 
PRIZES
Each month, a random ranking number will be drawn for a rider to receive the GFWT gift.
A 3,000 USD prize pool awaits the final World Champion winners, in both categories (Men and Women), in the Gran Fondo Virtual World Championship® finals to be held in November 2021.
Race Rules:
Gran Fondo World Tour® Series ranking is open to all cyclists, regardless of ability.
All finishers will enter the GFWT® ranking with 100 "bonus" points and will receive a digital badge.
Participating in the 27th April event and finishing in the top 20 will enable direct entry into the semi-finals of the World Championships event to be held in November.
The race isn't for smart trainers only; it is open to all trainer setups.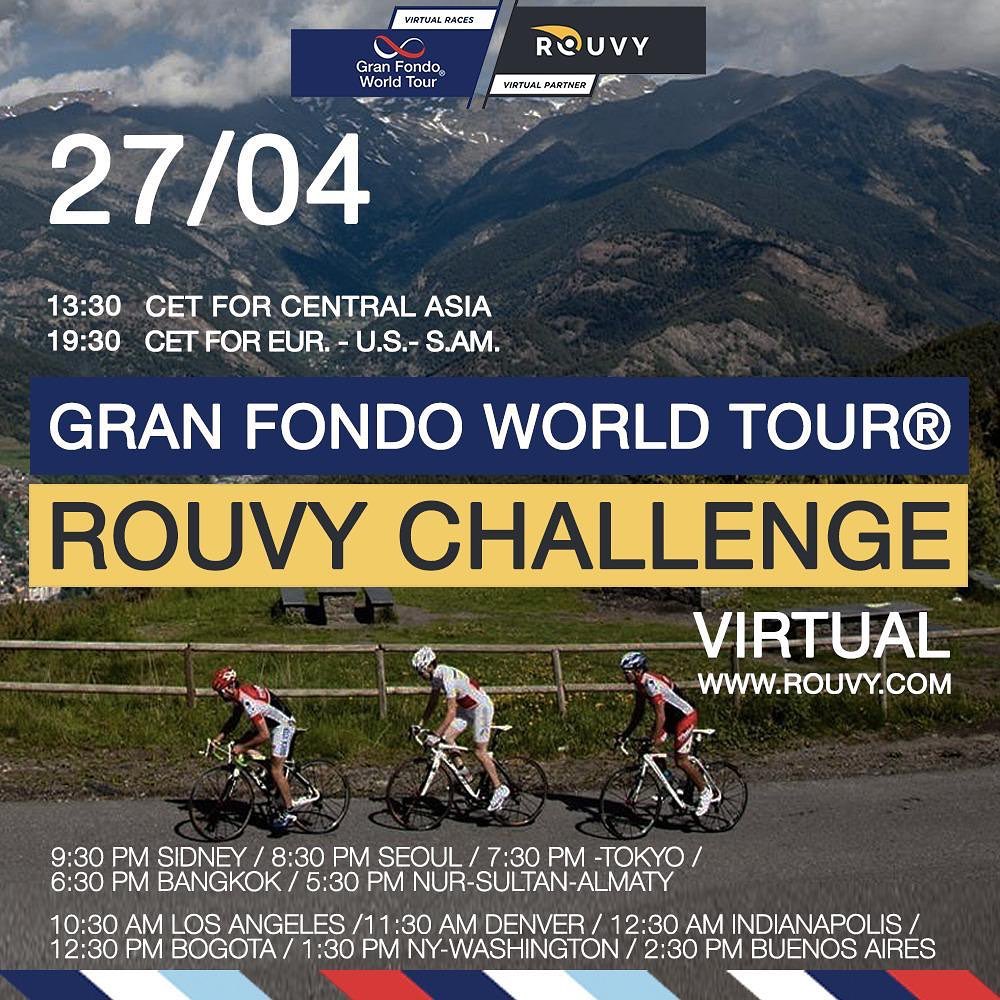 About Gran Fondo World Tour (GFWT®)
GRAN FONDO WORLD TOUR ® offers sportive, amateur or hobby cyclists the experiences of a lifetime. GFWT provides the splendor of cycling in the most remarkable landscapes and the experience of unique cultures while challenging yourself on two wheels. By taking part in the events in the series, riders collect points for the world ranking system of the GRAN FONDO WORLD TOUR®. The ranking is open to all cyclists, regardless of one's cycling level. The concept is to build a community of avid cyclists and inspire others to ride. For more, visit https://www.granfondoworldtour.com/