Esports competitions are gaining more and more fans throughout the world, taking an outdoor sport and recreating it  100% in an indoor format. Cycling, today, is one of the frontrunner sports in this combination of the real and virtual world where the advancement of technology, equipment and interactive software allows real routes to be recreated in virtual environments, offering the entire competitive experience to athletes and the spectator audience.
1st RACE of the BVC
Brazilian Virtual Cycling and the ROUVY platform start their partnership through the TOUR DE BRASÍLIA; a stage valid for the Brazilian Virtual Cycling Championship. (Brazilian athletes will be happy to note that the stage also includes points towards the BRAZILIAN CHAMPIONSHIP OF VIRTUAL CYCLING, an event approved by the Brazilian Confederation of Electronic Sports (CBDEL) and by World Esports Consortium (WESCO).) This virtual competition, representing real-life effort, will also have 5 more stages throughout 2021, offering athletes from all over the world the opportunity to ride in the Brazilian capital in celebration of the 61st anniversary of the City's foundation.
With an emblematic 38.5km long route, in airplane format, athletes from all over the world will be able to learn more about the Brazilian capital, which is considered a World Heritage Site by UNESCO due to its architectural and urban complex.
The competition will be held on April 21 at 7pm CET.  Registration here.
(Brazilian athletes will have to register through the website, www.ciclismovirtualbr.com.br)
SOCIAL RIDES
For recreational cyclists who may prefer a less stressful non-competitive format, BRAZILIAN VIRTUAL CYCLING organizes social rides, where participants are welcome to know the Brazilian capital being led by the Champions and Cycling Champions:
- Ricardo Alcici: 2x Brazilian Elite Cycling Champion, Top 10 at America Cycling Cup 2015-2016, Elite Cycling Athlete since 2001, Official ambassador of Brazilian virtual cycling.  
- Franklin Almeida: Panamerican Champion 2019, 2x Pan American Champion, 3x Brazilian Champion, 6 x Brazilian Vice-Champion, 12 Open Games Medals
- Cristiane Duque: UWCT Rio de Janeiro Champion 2012, Brazilian Master Road Cycling Time Trial Champion 2017 - 2018 - 2019, Brazilian Master Road Cycling Champion 2017 - 2018 - 2019, Pan American Champion Road Cycling Master 2019, Pan-American Master Time Trial Champion 2019, Official ambassador of Brazilian virtual cycling.
GROUP RIDE #1 – APRIL 17 – 13:00 CET  
Participating pros: Franklin Almeida and Cristiane Duque
Registration here.
GROUP RIDE #2 – APRIL 19 – 19:00  BRAZIL  
Participating pro: Ricardo Alcici
Registration here.
BROADCAST
BRAZILIAN VIRTUAL CYCLING will also provide live streaming of TOUR DE BRASÍLIA  on the ROUVY YouTube channel (in English) and PEDALENTO channel (in Portuguese).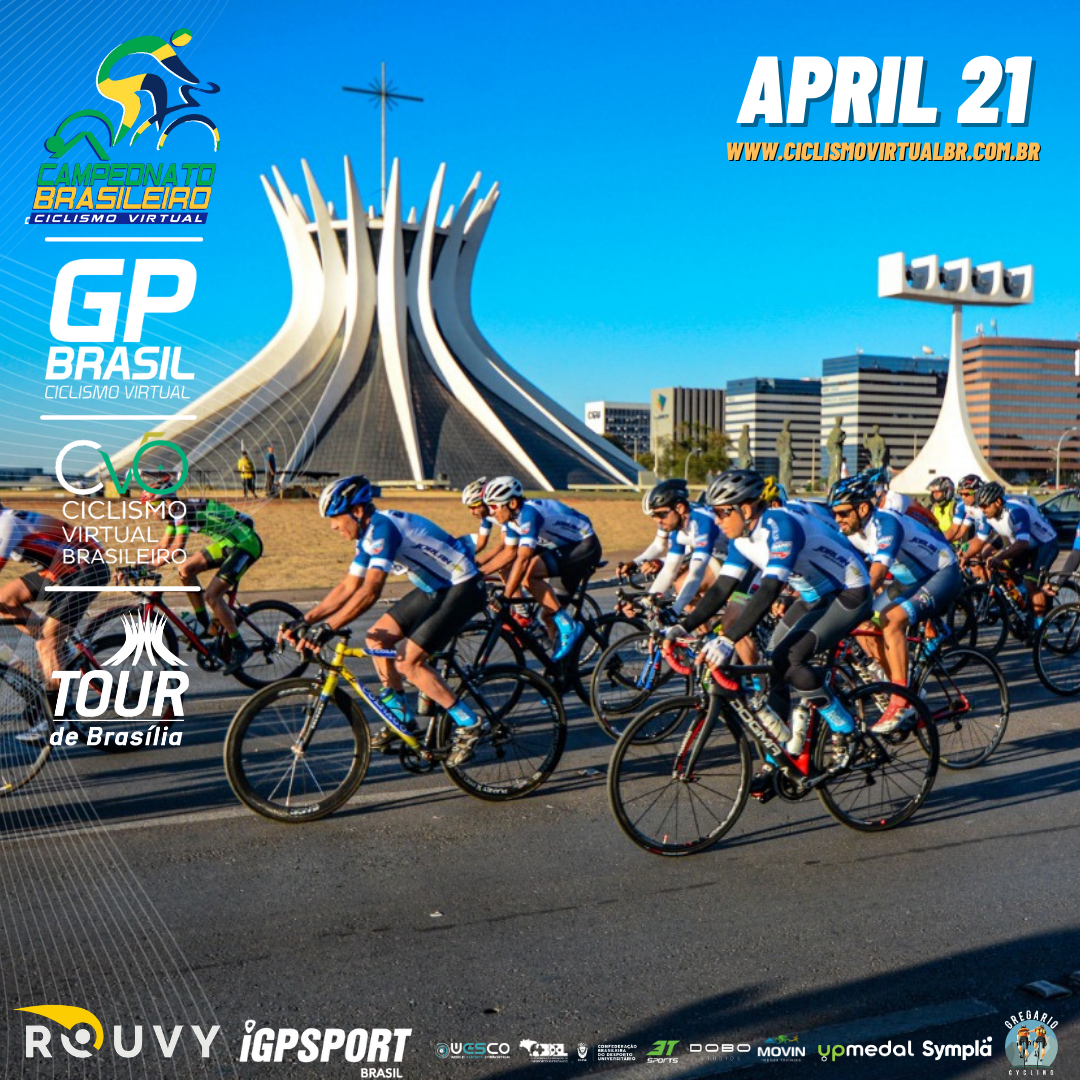 About BRAZILIAN VIRTUAL CYCLING
BRAZILIAN VIRTUAL CYCLING was born from a start-up formed by specialists in the technical, marketing, logistics and live streaming areas. A unique and innovative project in the Brazilian sports scene that mixes competition, entertainment and tourism through virtualized cycling.