BRAZILIAN VIRTUAL CYCLING was created in 2020 with the aim of offering athletes the option to remain competitive and sponsors to strengthen their brands in a new completely digital world. With the premise of VIRTUAL COMPETITIONS in REAL ROUTES, the BRAZILIAN VIRTUAL CYCLING held its series of events called GPBRASIL of VIRTUAL CYCLING, with 4 stages and 100% Brazilian routes, the very same year.
Now, to enhance this concept, BRAZILIAN VIRTUAL CYCLING announces the official partnership with ROUVY, an internationally renowned indoor cycling platform, which in addition to having routes in augmented reality for major world sporting events, launches the first official route in Brazil with this technology through GPBRASIL of VIRTUAL CYCLING-TOUR OF BRASÍLIA.
"Innovation is the creation or successful exploration of new ideas. It is the key to sustaining and being successful in an era of the unforeseen thrown by pandemics. We are very happy and pleased with the recognition of our work; having ROUVY in our project demonstrates all the growth potential that virtual cycling will have in the coming years," says Schubert Abreu,  Technical Director, Brazilian Virtual Cycling.
Brasília is the federal capital of the country located in the midwest, along the geographical region known as Planalto Central. The Brazilian capital is the largest city in the world built in the 20th century. The capital's original urban plan, known as "Plano Piloto" was developed in 1956 by the urban planner and architect Lúcio Costa, who took advantage of the region's relief. It was then built accordingly by Costa aided by the architect, Oscar Niemeyer and by the structural engineer, Joaquim Cardozo. Inaugurated on April 21, 1960, by the then President Juscelino Kubitschek, Brasília formally became the third capital of Brazil, after Salvador and Rio de Janeiro. Seen from above, the main area of the city is often described as having the shape of an airplane.
The city, commonly referred to as "Federal Capital" or "BSB", is considered a World Heritage Site by UNESCO, due to its architectural and urban development and has the largest listed area for a city in the world, with 112.5 square kilometers.
The BRASILIA TOUR will be an official ROUVY event on April 21st, 2021 in partnership with the BRAZILIAN VIRTUAL CYCLING. Brazilian athletes will be happy to note that the stage counts points for the BRAZILIAN CHAMPIONSHIP OF VIRTUAL CYCLING, an event approved by the BRAZILIAN CONFEDERATION OF ELECTRONIC SPORTS (CBDEL) and by WORLD ESPORTS CONSORTIUM (WESCO). While Brazilian athletes will have to register through the website, www.ciclismovirtualbr.com.br, athletes from other countries will have to go through the website, rouvy.com.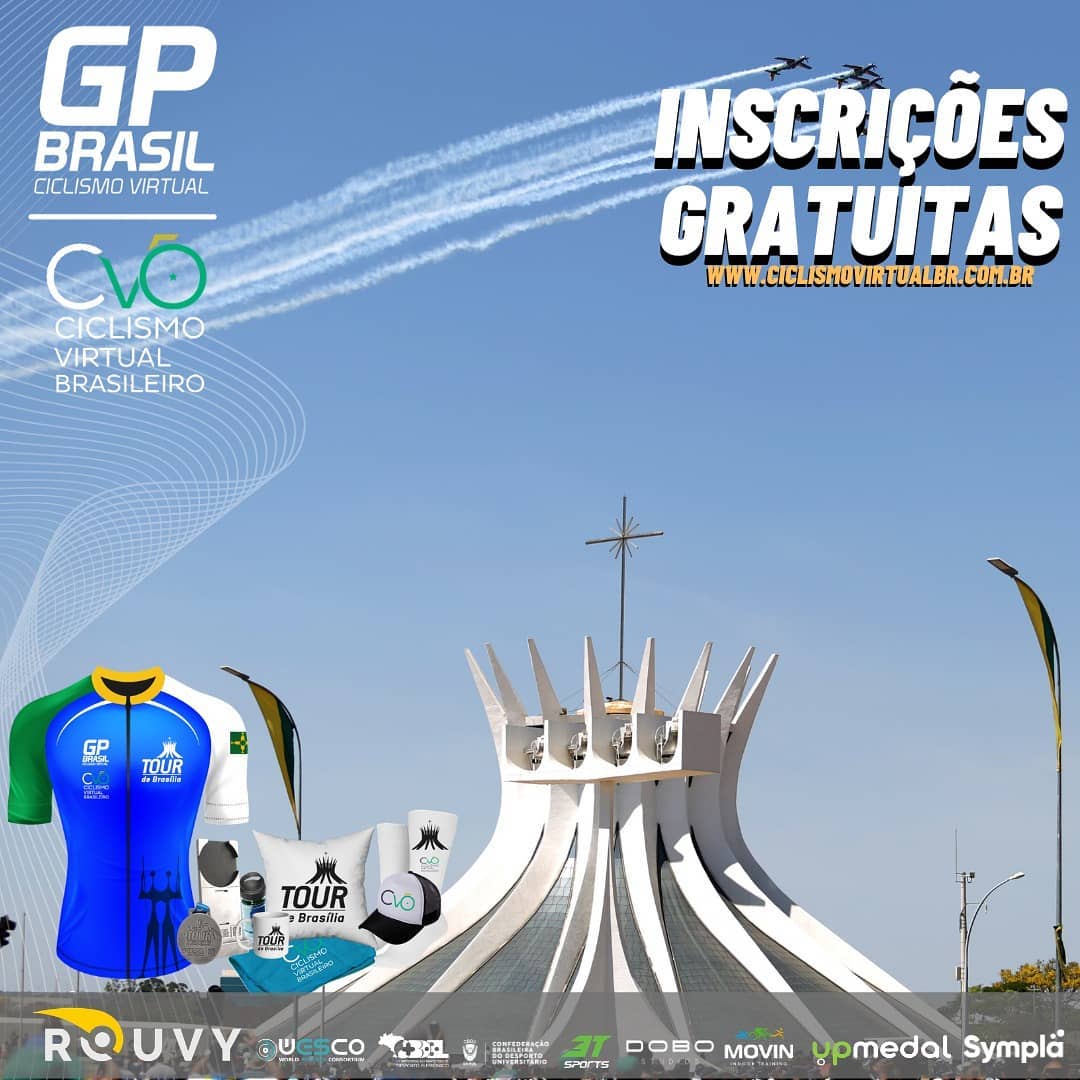 About BRAZILIAN VIRTUAL CYCLING
BRAZILIAN VIRTUAL CYCLING was born from a start-up formed by specialists in the technical, marketing, logistics and live streaming areas. A unique and innovative project in the Brazilian sports scene that mixes competition, entertainment and tourism through virtualized cycling.