With the quick follow-up on the announced partnership, ROUVY releases Oberalp Pass and Sedrun - Andermatt part from Stage 7. Stage 7 takes us to the splendid Swiss Alps. This stage is a Time-Trial: Disentis-Sedrun - Andermatt - Disentis-Sedrun.
Petr Samek, CEO: "ROUVY's team is happy to be in partnership with the Tour de Suisse. It's organizing team is on the way to provide the most innovative pro-tour race, and we are helping to bring it to the global community. Turning pro-tour stages into Augmented Routes is a very, very challenging task from a technical point of view. Our team is working hard to bring you the best parts of TdS, with the mid-term goal of full 1:1 digitalization. More 2020 Tour de Suisse roads are coming for an exciting g'ROUVY-ing experience."
OBERALPPASS
Oberalp Pass sits 2,044 m. above sea-level, on the border between cantons, Graubünden and Uri. On ROUVY, this route goes about 12 km., and over this distance, you will climb 634 meters. 
Details and course profile: https://my.rouvy.com/virtual-routes/detail/39061
SEDRUN – ANDERMATT - TIME TRIAL PART
Sedrun, sitting at 1,450 m. above sea level, is a quiet mountain village in the picturesque vicinity, situated in the innermost interior of the Swiss Alps. The clash of cultures, climate and Romansh history forms a fairy tale landscape. So, for you, it means you will have inspiration to give it your best, and demonstrate fairytale results on the trainer through the whole 23 km. distance of the trial - with an average grade of 4%.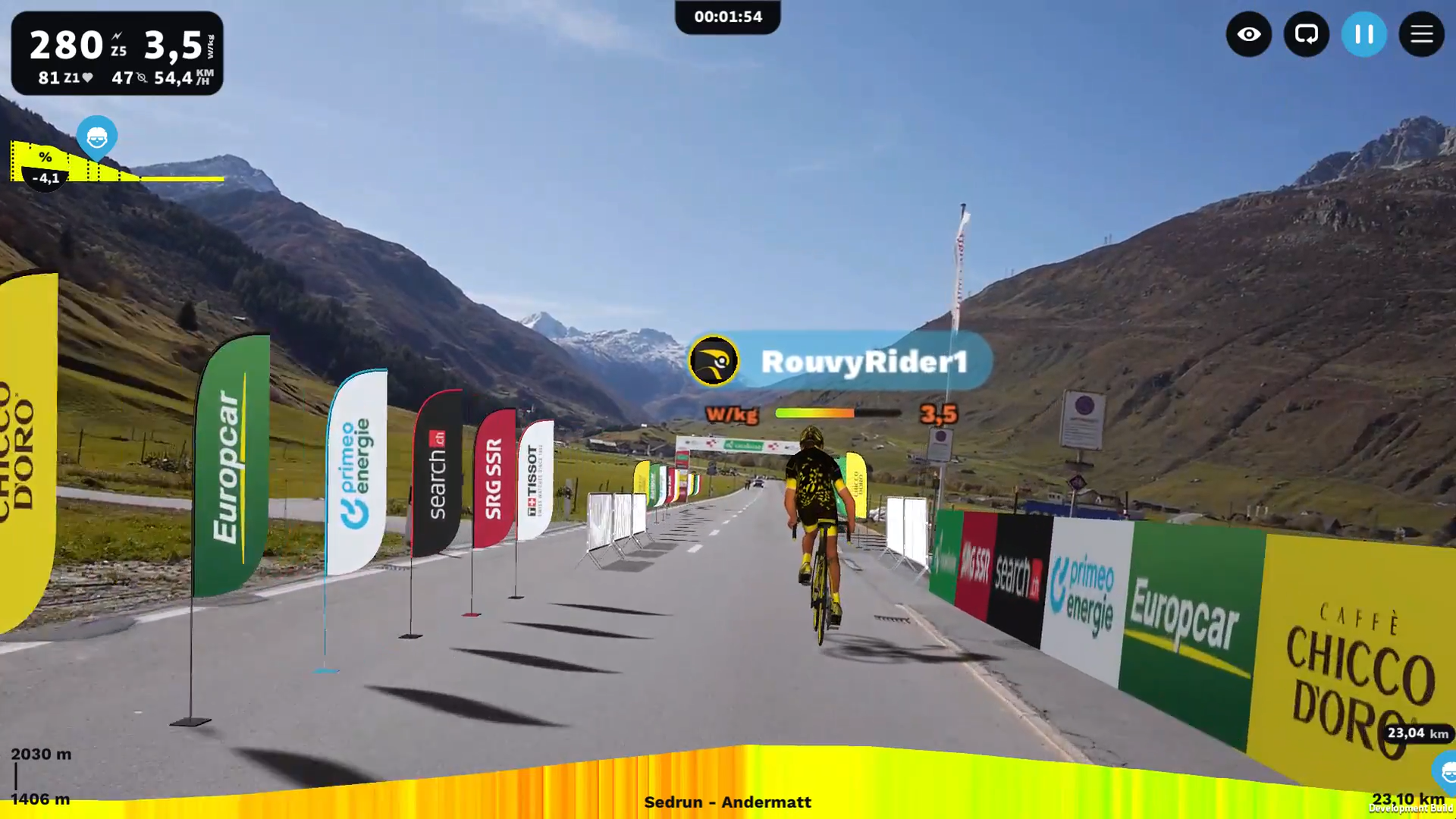 Details and course profile: https://my.rouvy.com/virtual-routes/detail/39061
(The more detailed description of the TdS Stage 7 is here.)
Tour de Suisse
The Tour de Suisse (Tour of Switzerland) is an annual cycling stage race in Switzerland. Raced over nine days, the event covers two weekends in the latter half of June. Since 2011, the event has been part of the UCI World Tour, making it the 4th biggest and toughest professional road cycling race globally, coming just after 3 Grand Tours.
https://www.tourdesuisse.ch/