Tsunoshima is an island with a population of 900, located in the northwest of Yamaguchi Prefecture, rising from the Sea of Japan. The beautiful scenery here is similar to the scenic beaches of lands to the south. The Great Tsunoshima Bridge is one of the longest (1,780 m) bridges in Japan, featuring a public road, free to tour without a toll. It is also a famous location featured in many movies and TV shows.
The head of the Yamaguchi E-sports Union, Kazunari Ueda states, "We are happy to launch the virtual race in one of the most prominent attractions of Yamaguchi. The bridge, which is in perfect harmony with nature, combined with the beauty of the island and the colour of the sea is a sight to behold! Everyone is welcome to discover the place online via ROUVY and one can be sure that every athlete will wish to visit this magical place one day, in person."
The Augmented Route on ROUVY
The digitized course is 13,4 km, taking riders on a loop via the Great Tsunoshima Bridge, the panoramic island coastline, the lighthouse stand and back again. The Tsunoshima lighthouse is one of only five first-class lighthouses in the country and is famous for its spectacular views. The lighthouse is now a symbol of the island and is considered to be one of the most beautiful sights in the world.
The augmented race is open for anyone with a smart trainer and is set to take place this weekend:
YAMAGUCHI Virtual RIDE FESTA in Tsunoshima
Sunday, June 20th, 15:00 JST (08:00 CEST)
Register for free HERE.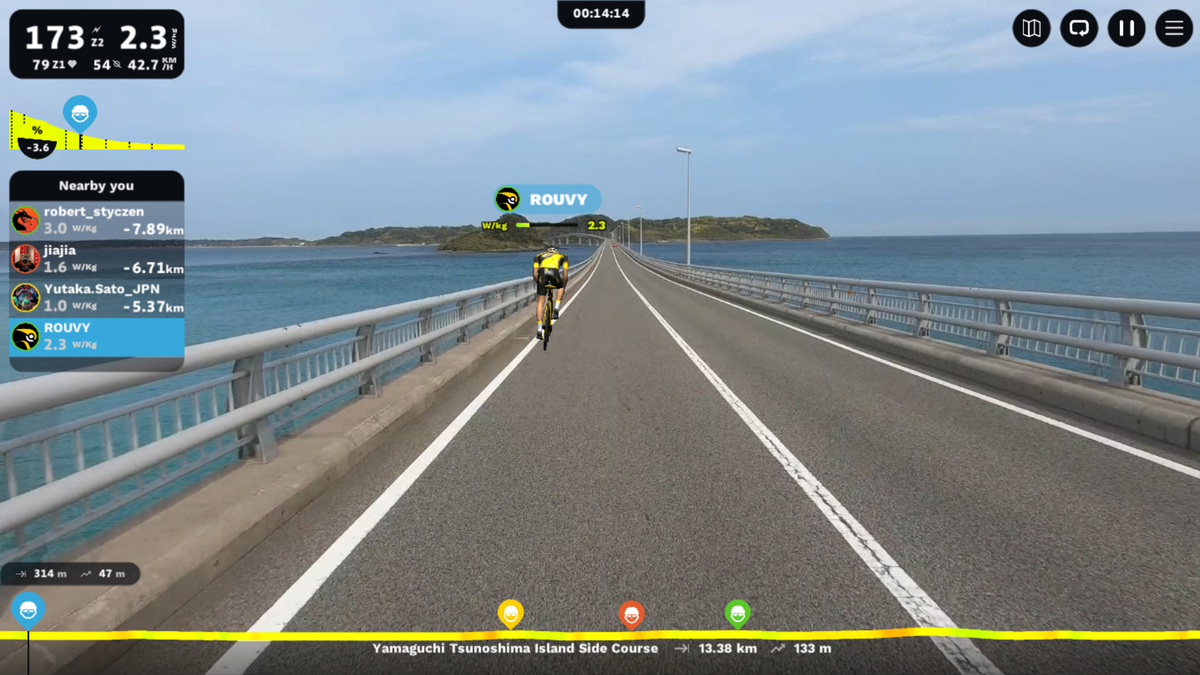 ###         

About Tsunoshima island
Tsunoshima is about 4 square kilometres in size and takes its name from the two capes at either end of the island, Makizaki and Yumesaki, which look like the horns of a cow. The Tsunoshima Lighthouse stands tall at the western end of the island at Yumesaki. This Western-style lighthouse, built of granite by British engineers, has been illuminating the seaway every night for 140 years since its completion in 1876. It is the third tallest lighthouse made of stone in Japan at 29.6m high. The lighthouse's presence is overwhelming and with the sky and the sea as its backdrop, it is a picturesque sight to behold. With its beautiful, crystal clear waters and it's fine, silky white beaches, the island attracts beach goers every year to its two different beaches available in this area.
Yamaguchi e-Sports Union, Inc.
The Yamaguchi e-Sports Union is an organization dedicated to the promotion of e-Sports and ICT education in the Yamaguchi Prefecture. It collaborates with companies and local governments related to e-sports to contribute to the region's development.
About ROUVY
ROUVY is a digital racing platform that enables everyone to cycle the world online and train with friends for fun. The application simulates real outdoor riding on a bike using high-quality, geo-located videos and augmented reality. Its unique technology combines animated 3D riders with real-life video footage; so anyone can enjoy the endless variety of legendary and beautiful, exotic locations from the comfort of one's home. www.rouvy.com
Media contact:
ROUVY's Representing Agency in Japan
Mi Tanaka, project coordinator
e-mail:mtanaka@p-growb.co.jp
tel. +81 03-3556-1540